RIP America, Born 1776, Died 2012
Politics
/
US Politics
Nov 07, 2012 - 05:09 AM GMT

Craig Maus Submits:
Dear Patriots,
Tonight, this Country's Special Interest Groups, by a narrow margin, decided that their own self- interests were more important than that of the Country's and in so stating said: to hell with the Country as long as the Feds and Obama provide me with more continued Free-Bee's.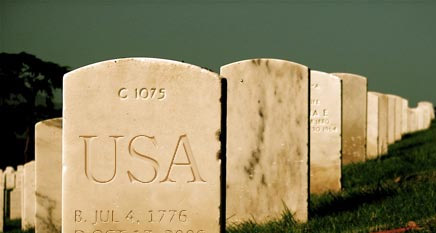 Every group created and expanded over time & routinely, thanks to this Federal Government & it's various entitlement departments and agencies, as we have stated, became the end result that decided our end.
America, as a consequence, WILL NEVER EVER AGAIN BE THE SAME.
It will now accelerate its Downhill Slide into oblivion.
Higher taxes, further retarded approaches to basic and fundamental policies including energy and foreign policy, will make America a second rate power totally dependent upon a Socialist mechanism in which Obama and Company will destroy the remaining bulwarks of our Constitutional basis.
They will rule, as mentioned, via Executive Fiat and the ultimate result I fear, will be an eventual Civil War.
More from the Middle Class and what's left of it, to pay for those who simply WANT, via a Redistribution Policy cloaked in a Political Policy of Transformation, will require more and will take more until the inevitability of the Founders' predictions regarding the Enemy from Within is realized from which the only recourse will be that as described above & undertaken.
Obama won simply because those States that emulated the Federal Demagoguery of entitlement, provided the impetus that carried this 'man' to yet another ominous term in which his lies and transgressions will be realized.
The blind and decapitated in this Country are clearly running it.
The Country is screwed as a result & because of that which THEY HAVE CREATED over these decades.
The so-called 'BattleGround' States were won via several counties within each who command a high population of People's who BENEFIT from Federal hand-outs in one form or another.
Thus, those few counties containing large areas of per capita residency, overwhelmed the remainder of their States giving it to Obama while Three-Fourths of the remaining area of those States voted AGAINST OBAMA.
These are the type of Demographics WE have been warning YOU of.
They have been DELIBERATELY created as part of a larger plan relating to an Ideology that was put in earnest play beginning in the 1960's but whose roots can be traced back to April, 1865 as we have asserted.
Tomorrow, YOU can look at the map and the various counties within Each State that will support this claim.
It is entirely possible that Romney will win the Popular vote but lose the Electoral Vote thanks to this Federal Government's creation of homogenized locations across this Country in which general welfare in one form or another is freely distributed from the backs of tax-paying Americans.
America will NOW get FOUR MORE YEARS OF THE SAME but ONLY WORSE, and far more WORSE, than their ability to think or contemplate ever surmised.
The welfare lines will grow larger as will the arrogance and impunity of those who shared a mutual hand in this Country's destruction and for No OTHER REASON THAN THE same 30 pieces of silver Judas received when he sold out Christ.
And in the end, America will hang itself just as he…. in order NOT TO FACE THE REALITY OF WHAT EACH HAD DONE.
In closing, I will say to one and all and perhaps for the LAST TIME this: this country must separate. There are TWO clearly distinct and opposite Ideologies in play and this most basic and elementary fact can NO longer be denied or swept under the rug any longer with the mundane excuses provided us by this Federal Oligarchy in Power.
Yes Folks, WE Confederates Told YOU So, but HALF of this Country has decided to buy the Snake Oil that the Other Half will Now have to Produce & Pay For….Simply to keep the other half in their comfort to which they have become accustomed… thanks to a Central State that 150 Years ago changed the Direction in which we were to have gone.
So Long America.
© 2005-2019 http://www.MarketOracle.co.uk - The Market Oracle is a FREE Daily Financial Markets Analysis & Forecasting online publication.

Only logged in users are allowed to post comments.
Register/ Log in