Gold Breaks New Record - Public Waking Up!
Commodities
/
Gold & Silver
Feb 21, 2008 - 06:07 PM GMT

Gold just broke to another all time high yesterday rising above $944 per ounce.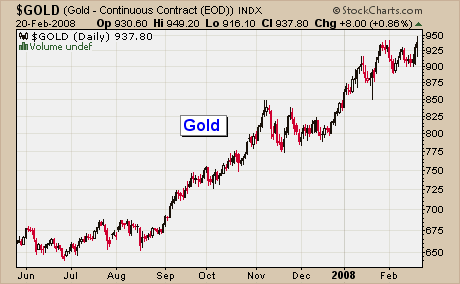 Silver roared up with it to over $17.80.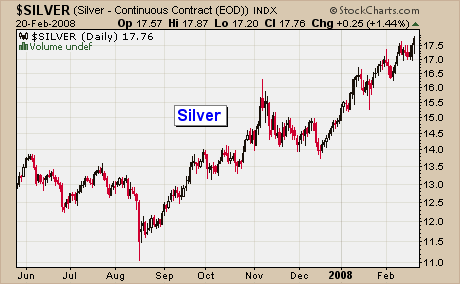 Compare this to stocks. Here is a chart of the Dow during the same time period.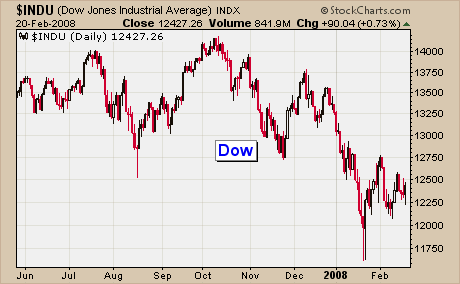 And here are the companies in The Dow Jones Real Estate Index.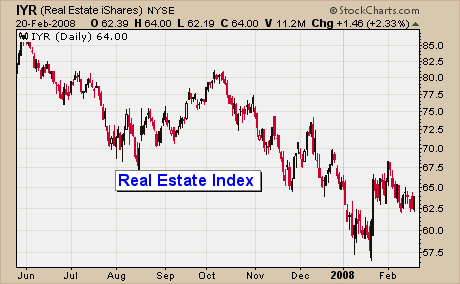 As Mike Maloney has been shouting from the rooftops: "This is not the time to be in stocks or non cash-flowing real estate. As investors we are in the rare situation where the safest investment (the investment that has been a valued form of wealth for over 5,000 years) is also the investment that history says will offer the greatest potential gains in the upcoming years."
Since this huge shift in the foundation of investing gold has increased 3.36 times and silver 4.24 times. The amazing thing is that history shows we are not even close to being done with this cycle.
His forecast? $6,000 gold and $600 silver by 2016. Nope, that was not a typo (and that is even using his conservative formula).
Sounds crazy right? But would you have guessed $900 gold was just around the corner when the price was less than $300? This same mentality happens in every bull market. People just can't believe that the investment that the cycle is favoring is going to keep going up until the investors all decide at once that it must be for real and then it becomes the "can't lose investment." This is when the public rushes into the investment that had been going up steadily and drives the price vertical. This happened in tech stocks in the late 1990's and more recently in real estate.
Of course if you look back even further you find history repeating itself yet again. In 1970 gold was $35 an ounce and in 1980 in had risen to $850 an ounce turning every $10,000 into over $230,000. Of course gold then went into its down cycle from 1980 to 2000 but the clock kept turning, as expected, and we are in the upwave precious metal cycle again. These cycles just repeat over and over and are one reason why some people are able to predict the correct investments to be in while others sit in yesterday's investment just hoping they will come back up.
As these precious metal prices hit record after record the general public start to wake up to this sector when they see it on the news night after night. These are the folks who really light a fire under an investment when they try to jump on it in increasing numbers. This period for the precious metals is just starting now.
By Brent Harmes
Subscribe or Manage Your Newsletter Subscription Here | Buy Gold and Silver Online
Copyright © 2008 Brent Harmes
GoldSilver.com offers vault storage accounts at Brinks Security in Salt Lake City, Utah. The minimum investment required for vault storage account is 20 ounces of gold or 1,000 ounces of silver. For more information call us at: 702-799-9000
Disclaimer : All claims made by GoldSilver.com should be verified by the reader. Investing is not suitable for everyone and readers are urged to consult with their own independent financial advisors before making a decision. Past performance is not necessarily indicative of future results. GoldSilver.com will not be liable for any loss or damage caused by a reader's reliance on information obtained in any of our newsletters, special reports, email correspondence, or on our website. Our readers are solely responsible for their own investment decisions.
© 2005-2019 http://www.MarketOracle.co.uk - The Market Oracle is a FREE Daily Financial Markets Analysis & Forecasting online publication.
Comments
Lynda
14 Nov 08, 00:21
A Precious Metal


I clearly insist the fact that Gold is the metal of hope. It is reaching pinnacle heights now. People are always fond of Gold. It is a amazing fact that Gold is spreading all over the world.

----------

Lynda




Only logged in users are allowed to post comments.
Register/ Log in