The Pangaea Resource Mountain
Commodities
/
Energy Resources
Dec 13, 2012 - 09:55 AM GMT


The supercontinent Pangaea was as above all vast, and its formation then movement have left vast resources of all hydrocarbons, often located more than 2000 metres below current land surfaces and ocean floors. Plate tectonics helps us understand the processes.
One example of how different the world was about 220 million years ago, was India's status of an island separated from the Asian continent by the vast Tethys Sea. When Pangaea broke apart, India began moving north-east away from the future Africa, taking about 170 million years before it collided with Asia.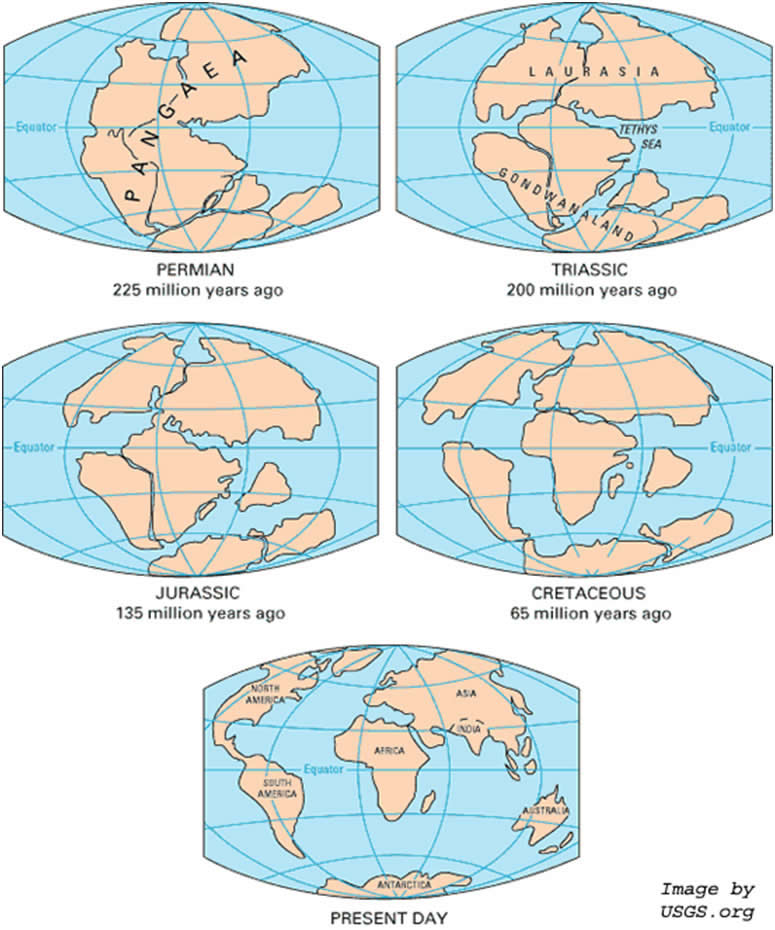 When India rammed into Asia about 50 million years ago, India's northward advance slowed as it
folded and buckled the Himalayan mountain chain, which continues today. One trace of this is the rise of Everest and other mountains in the Himalayan chain at about 5-40 mm per year, and their north-eastward drift at about 5 cms a year. How and why the Earth's mantle forms, breaks up and then spreads is the focus of geological research and theory, but current research suggests the main driver of tectonic change are mantle plumes, which are motors of mountain building and continent spreading processes. The plumes originate as little as 2750 metres below the earth's surface in large regions with low mantle thickness like the Pacific ocean floor, and are the contact zone where upper parts of the liquid/metal outer core meet the lowermost parts of the semi-fixed rocky mantle, neither of these parts being smooth and spherical.
The probable mechanism is that core spikes channel heat flows to produce plumes of molten rock capable of penetrating the thick mantle, and in the form of volcanoes reach the Earth's surface, creating new islands on a very regular basis, in the Pacific ocean.
PLATE TECTONICS
The link with oil and gas is important. In a January 2006 'Scientific American' article, Roger N. Anderson of the Lamont-Doherty Earth Observatory at Columbia University wrote:"Plate tectonics determine the location of oil and gas reservoirs and is the best key we have to understanding why deserts and arctic areas seem to hold the largest hydrocarbon reserves on earth.....other important locations of large reserves (are): river deltas and continental margins offshore. Together, these four types of areas hold most of the oil and gas in the world today".
The critical roles of depth, time and heat - rather than the carbon and hydrogen "raw materials" which are ultra abundant - have until recently been taken as setting relatively fixed and certain amounts, or "endowments" of the hydrocarbon fuel energy resources of the Earth's crust.
Coal for example is usually considered a deeper, more compacted and older resource than either oil or gas, but improving knowledge of plate tectonics shatters this easy categorization. New techniques, especially "fracking" or hydraulic fracturing have also shattered older ideas on what amounts of energy, on a net basis, can be extracted from hydrocarbon resources. Plate tectonics creates the "pressure cooker" that generates coal, oil and gas from organic and inorganic materials, especially their carbon and hydrogen content.
For oil and gas, this process can take from tens of millions to more than 175 million years, and for coal can take 350 million years, also giving the hydrocarbon deposits plenty of time to move around with tectonic plate spreading. The constant movement of the plates, and mantle plume action, as well as rifting, collisions between land masses, and other tectonic forces such as crustal warping and local collapse can trap these solids. In the case of oil and gas they can be trapped in what we call oil and gas fields and provinces.
Depending on depth, time and heat and the interactions of these parameters, it is possible to have Permian era natural gas (300-250 million years before present), but also oil from the Triassic, or even the Jurassic era which occurred more than 100 million years after the Permian. Hard or "old" coals from the Carboniferous can be nearly 350 million years old and are often highly mineralised and metallized, that is containing heavy, toxic or radioactive metals, but geologically young coals extend to brown coal and lignite of the Eocene, about 55 million years before present and can outcrop very close to present land surfaces. "Immature" lignite, called peat, can be less than 50 000 years old and located at the present land surface.
THE VARISCAN HERCYNIAN OROGENY
For world unconventional shale-based oil and gas resources the key event was what is called the Variscan-Hercynian orogeny, dating to a mega change in Earth tectonics, at the end of the Paleozoic super era and start of the Mesozoic super era, at around 240-220 million years before present.
The processes involved were tectonic plate movements, as well as horizontal, vertical and shearing orogenic action. This orogeny produced or modified mountain ranges from the Alleghennies of the USA and Atlas mountains of Morocco, to the European Alps, the Urals, Pamir, Tian Shan and other east Asian fold belts, as well as causing massive Atlantic and Pacific seafloor spreading. Probably all present continents were affected. Very large and geologically rapid seafloor spreading also occurred outside the Atlantic and Pacific, over several tens of millions of years.
One clear example of the link between conventional and then unconventional oil and gas resources, and this orogeny occurred in the future-Europe. The orogeny formed then trapped North Sea oil and gas resources, by the process which petroleum geologists call the "Iapetus suture" or joint. This occurred in the late Caledonian phase of the Variscan/Hercynian global orogeny, and this volcanic fault zone in the central North Sea region is the major hydrocarbon bearing zone of the oil and gas province.
In addition, as with most other oil-gas provinces, the North Sea conventional oil-gas zone sits above older phases of the Variscan /Hercynian orogeny, making it certain that the North Sea region has large unconventional oil and gas reserves, but often at considerably deeper levels. Some of these reserves can already be extracted, including Total Oil's Elgin-Franklin fields which suffered a blowout in early 2012 and which operate at around 5500 metres depth, 600-1100 bar pressure and have a typical fluid temperature of around 193 degrees C.
This could be considered as producing "young" or "fresh volcanic" oil and gas dating from as recently as 130 million years before present. Above all, the so-called source rocks for North Sea oil and gas resources were formed during the Variscan/Hercynian orogeny, and this orogeny had global reach.
This orogeny generated massive hydrocarbon bearing areas almost worldwide, and certainly in all current oil and gas provinces. Most of these resources are deep-located and need fracking plus horizontal drilling to extract the oil and gas. Well-explored shale oil deposits, either in production or in many cases moving fast to recoverable reserve status, include deposits in the western United States, deposits in Australia, Sweden, Germany, France, Estonia, Poland, Jordan, Turkey, Brazil, Argentina, China, and Russia. This is not an exclusive list but is based on very approximate analysis of deposits able to yield at least 40 liters of liquid hydrocarbons (a quarter barrel) per metric ton of shale. On this basis, and including only the above land-based deposits, a first estimate is of about 5 trillion barrels of "potentially recoverable" shale oil.
One of the simplest ways to understand why these figures are massive relative to conventional oil, gas and coal reserves is the thickness of the Earth's crust involved. Unlike conventional oil resources and recoverable reserves located in stratigraphic zones only one or a few hundred metres thick, shale oil and gas hydrocarbon resources are - in large areas of the world - often found in zones that are 500 - 1500 metres thick. World-wide remaining conventional oil reserves are of course controversial but already include unconventional resources and the total can be considered as about 1.25 trillion barrels.
At least 25%-33% of these conventional oil resources are located off-shore with the offshore component constantly growing, making it reasonable to include potentially-recoverable offshore unconventional shale oil resources, for comparison. Extending the shale oil resource to include offshore resources, the about 5 trillion barrel estimate of the past can easily be extended to at least 7.5 trillion of potentially recoverable oil. Present world consumption of oil is about 31 billion barrels per year.
Again due to geological fundamentals, especially the vertical thickness of gas-bearing shale dominant strata which is larger than shale oil strata, the oil equivalent of world potentially recoverable shale gas resources is probably far above 5 - 7.5 trillion barrels oil equivalent, possibly 10 trillion boe. Present world total consumption of natural gas is about 24 billion barrels oil equivalent per year.
Defined as "deep coal", meaning coal seams and strata located at more than 500 metres and up to 3000 metres depth, which are currently impossible to utilise, unconventional coal resources probably total at least 25 trillion barrels oil equivalent on a very highly conservative basis. Some estimates go well above 150 trillion barrels oil equivalent. Present world total consumption of energy coal is about 30 billion barrels equivalent per year.
THE RESOURCE MOUNTAIN
Only since about 2005 has the world become aware of what plate tectonics and "unconventional oil and gas" mean for global hydrocarbon resources and potentially recoverable reserves. To be sure, the "net energy" of shale hydrocarbons tends to be lower, sometimes a lot lower than conventional coal, oil and gas production, but as the US shale gas revolution already clearly shows, cheap gas energy is possible to produce and the output can be sustained and increased, probably for several decades ahead.
Other advantages of shale-based hydrocarbons include the generally much lower level of contaminants in the extracted resource, that is "light sweet" crude and low sulphur gas. In situ extraction of gas from deep coal seams and strata (sometimes several hundred metres thick, over areas as large as 100 square kilometres) can avoid the multiple and dangerous contaminants found in "old" coals.
Still ignored at present, but as shown in Total's Elgin-Franklin ultra-deep field and similar oil and gas production fields, the extreme high temperatures of liquids found point to a future for geothermal energy. Temperatures near 200 degrees C enable the efficient operation of an increasing range of equipment, such as used in OTEC (ocean thermal energy conversion) power plants. Even existing technology permits this "post-hydrocarbon" geothermal energy production, the main problem being sustaining heat output, then utilising the heat for economic benefit.
For the present and near-term future decades, with remaining high dependence on hydrocarbon energy, the Pangea Resource Mountain totally changes the outlook of coal, oil or gas depletion and shortage. The only economic question concerns the pricing of this energy bounty.
(Shortened version of article to appear in 'Energy and Environment Journal (2013)
By Andrew McKillop
Contact: xtran9@gmail.com
Former chief policy analyst, Division A Policy, DG XVII Energy, European Commission. Andrew McKillop Biographic Highlights
Co-author 'The Doomsday Machine', Palgrave Macmillan USA, 2012
Andrew McKillop has more than 30 years experience in the energy, economic and finance domains. Trained at London UK's University College, he has had specially long experience of energy policy, project administration and the development and financing of alternate energy. This included his role of in-house Expert on Policy and Programming at the DG XVII-Energy of the European Commission, Director of Information of the OAPEC technology transfer subsidiary, AREC and researcher for UN agencies including the ILO.
© 2012 Copyright Andrew McKillop - All Rights Reserved Disclaimer: The above is a matter of opinion provided for general information purposes only and is not intended as investment advice. Information and analysis above are derived from sources and utilising methods believed to be reliable, but we cannot accept responsibility for any losses you may incur as a result of this analysis. Individuals should consult with their personal financial advisor.
© 2005-2019 http://www.MarketOracle.co.uk - The Market Oracle is a FREE Daily Financial Markets Analysis & Forecasting online publication.

Only logged in users are allowed to post comments.
Register/ Log in