Hedge Fund Disasters Are Hurting Gold
Commodities
/
Gold and Silver 2013
Jan 09, 2013 - 09:29 AM GMT


The price of gold has been kept down by hedge fund redemptions. These redemptions will end in a week and after that a nasty hand that has been holding the price of gold down will be lifted. As we begin this new year news is starting to trickle out demonstrating that hedge funds as a whole have had a horrid performance last year.
According to incoming data nine out of ten hedge funds failed to beat the S&P 500 last year. According to a recent report by Goldman Sachs their average return was 8% while the S&P 500 posted a 13% gain for 2012.
What is worse is that the third worst fund tracked by HSBC was the Paulson Advantage Fund. This fund of 19 billion dollars lost 19% last year due to bets that the European euro crisis would continue and that gold would rise. It is one of the largest holders of the SPDR Gold Trust ETF (NYSE: GLD) and has been forced to meet investor redemptions.
These redemptions have undoubtedly caused selling in GLD in the past few weeks and will probably continue to hold gold prices down for another week. John Paulson also runs a gold fund that gave its investors a negative 25% return last year too. Paulson is not the only hedge fund manager facing big losses being forced to sell to meet investor redemption requests.
Most funds though didn't generate huge losses, their program trading algorithms simply failed to beat the market. Ironically a few funds did beat the market last year by investing in places others wouldn't. Dan Loeb's Third Point hedge fund posted a 21% gain in 2012 by betting big on Yahoo and by buying Greek bonds. Pine River Capital Management also made 30% by holding depressed mortgage securities.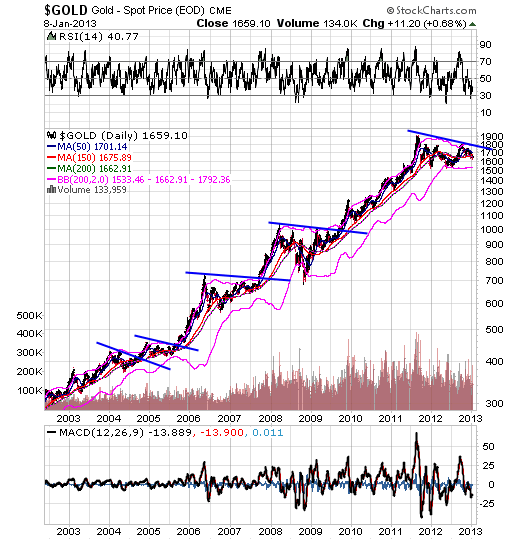 If you are a gold investor I do not think you should worry. Gold prices peaked out in the Fall of 2011 and since then have been consolidating in what I believe is a mere pause in a long-term secular bull market. The price of gold now has resistance at 1800 and support in the 1550-1600 zone. I think it will likely break out above its 1800 resistance level later this year, probably in the summer, and then begin a new bull run.
I know it's easy to get anxious and worried when you see gold just slug around. I want you to know that much of the recent selling from hedge funds will soon be over. That will take one force of selling in gold out of the market. For disclosure purposes I have a position in GLD. We have seen several similar periods of consolidation in this secular gold bull market that have lasted well over a year. This one will come to an end the same way they did - with gold prices reigniting and leaving those that doubt the power of gold behind.

To get future updates from me about the price of gold and actionable investment ideas subscribe to my free newsletter at

http://www.wallstreetwindow.com/newslettersubscribeforfree.htm

By Michael Swanson

WallStreetWindow.com
Mike Swanson is the founder and chief editor of WallStreetWindow. He began investing and trading in 1997 and achieved a return in excess of 800% from 1997 to 2001. In 2002 he won second place in the 2002 Robbins Trading Contest and ran a hedge fund from 2003 to 2006 that generated a return of over 78% for its investors during that time frame. In 2005 out of 3,621 hedge funds tracked by HedgeFund.Net only 35 other funds had a better return that year. Mike holds a Masters Degree in history from the University of Virginia and has a knowledge of the history and political economy of the United States and the world financial markets. Besides writing about financial matters he is also working on a history of the state of Virginia. To subscribe to his free stock market newsletter click here .
Copyright © 2013 Michael Swanson - All Rights Reserved.
Disclaimer - WallStreetWindow.com is owned by Timingwallstreet, Inc of which Michael Swanson is President and sole shareholder. Both Swanson and employees and associates of Timingwallstreet, Inc. may have a position in securities which are mentioned on any of the websites or commentaries published by TimingWallStreet or any of its services and may sell or close such positions at any moment and without warning. Under no circumstances should the information received from TimingWallStreet represent a recommendation to buy, sell, or hold any security. TimingWallStreet contains the opinions of Swanson and and other financial writers and commentators. Neither Swanson, nor TimingWallstreet, Inc. provide individual investment advice and will not advise you personally concerning the nature, potential, value, or of any particular stock or investment strategy. To the extent that any of the information contained on any TimingWallStreet publications may be deemed investment advice, such information is impersonal and not tailored to the investment needs of any specific person. Past results of TimingWallStreet, Michael Swanson or other financial authors are not necessarily indicative of future performance.
TimingWallStreet does not represent the accuracy nor does it warranty the accuracy, completeness or timeliness of the statements published on its web sites, its email alerts, podcats, or other media. The information provided should therefore be used as a basis for continued, independent research into a security referenced on TimingWallStreet so that the reader forms his or her own opinion regarding any investment in a security published on any TimingWallStreet of media outlets or services. The reader therefore agrees that he or she alone bears complete responsibility for their own investment research and decisions. We are not and do not represent ourselves to be a registered investment adviser or advisory firm or company. You should consult a qualified financial advisor or stock broker before making any investment decision and to help you evaluate any information you may receive from TimingWallstreet.
Consequently, the reader understands and agrees that by using any of TimingWallStreet services, either directly or indirectly, TimingWallStreet, Inc. shall not be liable to anyone for any loss, injury or damage resulting from the use of or information attained from TimingWallStreet.
© 2005-2019 http://www.MarketOracle.co.uk - The Market Oracle is a FREE Daily Financial Markets Analysis & Forecasting online publication.

Only logged in users are allowed to post comments.
Register/ Log in