Gold Thrust to Break the Magic $1000 Number Imminent
Commodities
/
Gold & Silver
Mar 02, 2008 - 10:52 AM GMT


You can't argue with success. The thrust by gold to get to that magic $1000 number looks within the grasp. Who knows? Another week or two just might do it.
GOLD : LONG TERM
Last week I showed the long term P&F chart. With this past week's action another two Xs could be plotted on the chart. This week I show the Very Long Term chart, or what I refer to as a very long term. It is my weekly chart with a simple 52 week moving average line and a 52 week RSI. It provides another simple view of the long term trend and position of the gold price.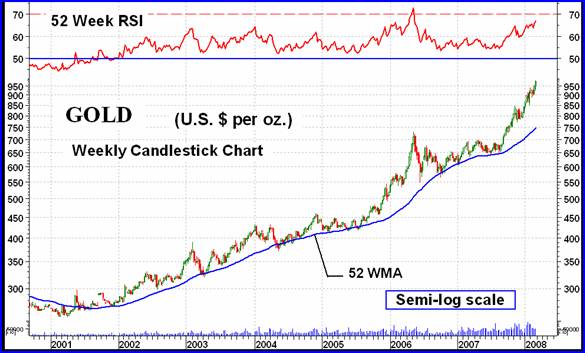 As we see, the bull market that started in mid-2001 continues. For a reversal to a very long term bear market I would require the RSI to move below its neutral (50%) line and the price of gold to be below a negative sloping moving average line. We are far from any such occurrence. However, the RSI is well within the area from which previous price trends came to a temporary halt. It is also zeroing in on that overbought zone from which we previously (2006) had a year long lateral period. I remind my readers of the P&F projections, next to the $1020 level and on to the $1125 level. For now, no worries.
As for the normal long term that's a no brainer. Gold remains above its positive sloping long term moving average line and the long term momentum indicator continues to move higher in its positive zone. Unlike the intermediate term momentum indicator, the long term indicator is confirming the long term bullish move by its move into new high territory. The long term rating can only continue as BULLISH .
INTERMEDIATE TERM
As mentioned above, the intermediate term momentum indicator (50 Day RSI) is not showing the strength needed to confirm the intermediate term price move into new highs (the very long term momentum is also showing the weakness). This is not a killer yet but is a warning sign that up to this point in the advance, the advance has been on lower strength than on previous advances. As we see, the momentum indicator is not only below its previous peak from the November activity but is below its lower peak from the January high also. With some more upside activity it should exceed the January high but we'll just have to wait for it.
Despite the weakening nature of the momentum indicator it is still well inside its positive zone and is heading in an upward direction. The price of gold is some $75 above its positive sloping moving average line so all is well with the world. The intermediate term rating remains BULLISH .
SHORT TERM
I think it was the old grand master Charles Dow himself who came across this idea that there are three distinct time periods in the stock market, long term, intermediate term and short term, and the market may be going in different directions for each period. I'm not sure if he actually definitively defined what was meant by each period as far as days or weeks were concerned. Everyone has their own idea of what each time period involves. My use of the term refers to the time period used for the indicators to understand the market action. Short term indicators are usually based upon time periods from a few days to a few weeks. They may be giving us the same message for many months but that does not negate the fact that they are based upon very short term time periods.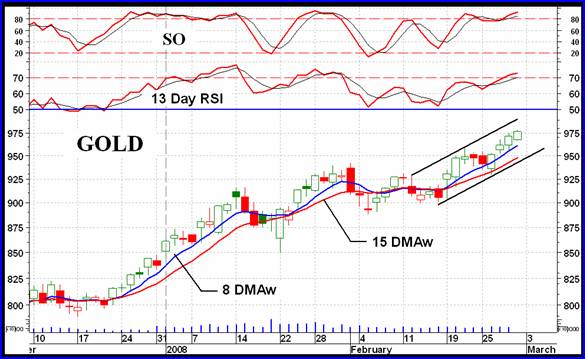 What we see here is a short term momentum (13 Day RSI) that has remained positive for over two months. It has remained positive, with only a few periods where it just barely breached its neutral line, since last August. We also see a few periods where the price of gold turned downward for a brief spell. This I call the immediate term direction and one can gauge it by the fact that the momentum indicator has moved below its trigger line or one can go to the more aggressive Stochastic Oscillator (SO) and see the move below its trigger line. So, we can have the immediate term direction in either an up or down direction, both still within a short term positive indicator.
What we have here is a short term trend that is positive, a momentum that is positive and its immediate term direction which is positive. The only warning is the fact that both the momentum and SO are now in their overbought zones ripe for a reversal or at least a trend hesitation. Until a reversal comes the short term rating remains BULLISH .
SILVER
Up, up and away. So looks the chart of silver. A better than 10% gain this past week and the sky looks like the limit. Not wanting to put coals on the fire (or whatever the say) but this looks more like a blow-off than the on going bullishness of silver. I have this FAN PRINCIPLE that I have developed over the years. Most of the time it works but like ALL techniques there are times when it doesn't work as expected. What you see on the chart is my BEARISH Accelerating FAN trend lines. In a bull market these trend lines become progressively more vertical. It's that third FAN trend line that is the real killer. If a trend gets into a third FAN situation such a trend becomes unsustainable because of its steep climb. There is no forecasting as to when this climb will end but always, it will end. When the price drops below this third FAN trend line the blow-off is over and one can expect a continued decline, the length of which depends upon the previous advance. The first goal would be to the middle, second FAN trend line but more likely back to the original first FAN trend line. At this point that third FAN trend line may not be accurately drawn. It may be revised as the trend continues but is okay for now.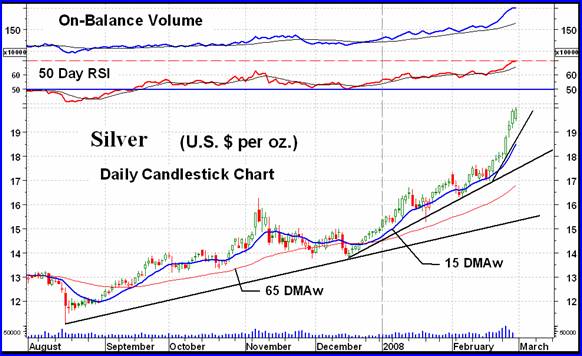 Unlike gold where we have some question about the momentum indicator, all indicators for silver are positive and getting more so. The intermediate term momentum here has just entered its overbought zone and this gives us additional reason to be cautious. But until something negative is confirmed I must go with what I see and that gives us a BULLISH rating.
Merv's Precious Metals Indices
The Composite Index of Precious Metals Indices is a composite of all component Indices in the Precious Metals Indices Table. It has made a new all time high this past week but not with a great deal of enthusiasm. The momentum indicators are still lagging the Composite. The recent indicator value is far below its peak from early 2006 and even below its recent peaks from November and January. We'll just have to wait and see if this develops into a weaker market ahead or not.
MERV'S GOLD & SILVER 160 INDEX
The average stock in the universe of 160 gained 5.7% on the week. The largest gainers were in the gambling variety of stocks while the quality did okay but a lot less than the gambling. See the Table for their relative performance.
Overall there were 113 winners and 45 losers, a better than 2.5 to 1 ratio on the plus side. As for the summation of ratings for the 160 component stocks, these have all improved. They stand as follows.
Short term: BULL 77%, BEAR 12%
Intermediate term: BULL 69%, BEAR 23%
Long term: BULL 57%, BEAR 32%
As we see most stocks are in bullish territory for all three time periods now. For all five sector Indices, the three gold and two silver, the only one with a still majority bearish rating is the long term rating for the Gamb-Gold Index. Here, the BULL is 37% and the BEAR is 50%. All other summation ratings are majority bullish.
For all sector Indices and all time periods, the momentum indicators are positive and the Indices are above their moving average lines. BULLISH for all Indices, for all time periods.
Merv's Precious Metals Indices Table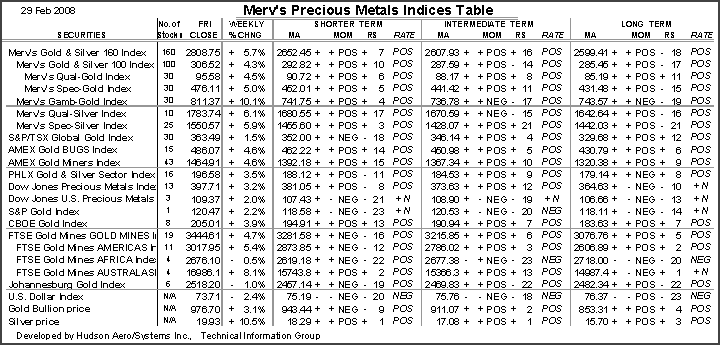 That's it for another week.
By Merv Burak, CMT
Hudson Aero/Systems Inc.
Technical Information Group
for Merv's Precious Metals Central
Web: www.themarkettraders.com
e-mail: merv@themarkettraders.com
Before you invest, Always check your market tirming with a Qualified Professional Market Technician
For DAILY Uranium stock commentary and WEEKLY Uranium market update check out my new Technically Uranium with Merv blog at www.techuranium.blogspot.com .
During the day Merv practices his engineering profession as a Consulting Aerospace Engineer. Once the sun goes down and night descends upon the earth Merv dons his other hat as a Chartered Market Technician ( CMT ) and tries to decipher what's going on in the securities markets. As an underground surveyor in the gold mines of Canada 's Northwest Territories in his youth, Merv has a soft spot for the gold industry and has developed several Gold Indices reflecting different aspects of the industry. As a basically lazy individual Merv's driving focus is to KEEP IT SIMPLE .
To find out more about Merv's various Gold Indices and component stocks, please visit www.themarkettraders.com and click on Merv's Precious Metals Central . There you will find samples of the Indices and their component stocks plus other publications of interest to gold investors. While at the themarkettraders.com web site please take the time to check out the Energy Central site and the various Merv's Energy Tables for the most comprehensive survey of energy stocks on the internet. Before you invest, Always check your market timing with a Qualified Professional Market Technician
© 2005-2019 http://www.MarketOracle.co.uk - The Market Oracle is a FREE Daily Financial Markets Analysis & Forecasting online publication.

Only logged in users are allowed to post comments.
Register/ Log in