Making Sense of U.S. Money
Politics
/
Fiat Currency
Apr 15, 2013 - 07:30 AM GMT


What possibly has happened to the finest invention in the long history of nation-states?

With the Greatest Depression grinding along the deepest of cliffs, with America's Afghan wartime ally Harmid Karzai accusing US forces of homicide bombings to spread terror in his country and with our President no better able to stage-manage the federal sequester than he has accomplished with the general economy, the present state of affairs seems dire for the US monolith, a quite Soviesque look actually.
What though can still prove our President's greatness and rejuvenate America and the remaining world? What could Obama's finest legacy quickly become?
It would be to finally make sense of money.

No, not abolishing the Federal Reserve System and returning to a value-backed monetary standard, heck no.

No, no, not even a Rooseveltian call to to drone-hit the big bankers (supposedly) while "safeguarding" all tax-deferred US retirement accounts with a mandate to buy US Treasury bonds. No, not quite yet for that option.

This new policy change in mind here in this article is something much more historic, but even more importantly to our President and Congress, splendid from a mass optics point of view over time.
US Coins Presently in Circulation

The Coinage Act of 1792 was passed by the First Congress of the United States establishing the US Mint under the authority of the Treasury Department. All of the present relative denominations of coins in circulation today were launched by the mint in the following years, all bearing silver or gold content, except for the penny. Since this early origin in US history, only one US coin once in wide use by the public has disappeared entirely, the lowly half-cent. Some of the US Mint's metal-money creations, past and recent, the half-dollar, the dollar, the two-dollar coin and the much older five-dollar coin, lost most of their usage over time and some never caught on in the first place.

Long ago robbed of their intrinsic value and now made mostly of cheap zinc, US coins today still have the same general, bulky look going back twelve generations now. While the US dollar has depreciated by 97% against the price of gold during the century of central banking, the customary sidelong looks from George Washington and Thomas Jefferson have always been there to greet Americans as they paw through their loose change.

Nationwide, American businesses and consumers spend millions of man hours over time fumbling with pennies. The US Mint presently spends $.0126 to create a penny coin. It is believed that more than two-thirds of the overall store of US pennies is stagnant, lying in vases and drawers and especially between seat cushions. The majority of people do not bother to pick up a penny or even a nickel in the street when they see one.

Indeed, the penny has been denounced by many throughout our lifetimes as useless and bothersome. Nothing changes. It is whispered state sales tax collection is the diehard core for the US penny.

So, it is well past time by now for an even much longer leap in money to be made.

It is breathtakingly simple. Abolish the penny and the nickel along with the present half-dollar coin while increasing the value of a quarter to a half-dollar.

Only two change cups per cash register needed now. No need to factor in an odd five in mathematics of ten-multiples. The ever-present metal lump in your pocket is only half as big now. There will be no pennies and nickels littering the streets soon. Mega-tons of metal becomes available as vases of pennies and nickels leave their isolation all at once, all bound for the smelter. American retailers will prosper no longer trading nickels and pennies with customers. The US Mint should enjoy a 50% plus reduction in coinage production costs. Americans can spend a couple of hours a year longer watching mindless programming while munching away instead of getting change for a nickel hundreds of times.
And once central banking economics reaches full flower sometime soon the US will also be poised to eliminate both the one-dollar and the five-dollar paper bills, replaced by the one-dollar dime and the five-dollar quarter, keeping a memory anyway of a coin's natural value.

The cost for this revolution in coins is near zero, nominally speaking that is. Those absent costs are alongside, of course, the substantial economic gains, though the gains benefit mostly the common person and small business. The coins would still be zinc, not worthy of the faces of the substantial figures they bear. No large downsides are visible to this author.
But why should Obama, of all, stop at nickels and pennies? Our President is much, much more grandiose in his policies than settling for greatly effective bottom up economics only.

When the US dollar loses another 97% of its value again there will be a need for a new paper currency edition. Obama is hell-bent on having it become his Presidential image now staring out of the wallet of every American needing to pay for a tank of gas.

Just Four or So Years Away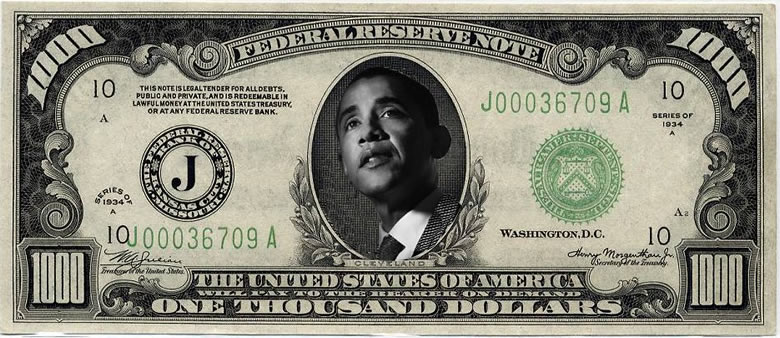 Central bankers' needs for real cash though are on a completely different scale now with the "new normal" in place. One never knows when a secret bailout of big banks or of foreign countries might be needed, so a good stash of cash on the side for the Fed is a quite necessary policy accommodation in looking after the public welfare, just like President Obama also does for the people. No need for the awful digital money trail when the transaction is made by the Fed in cash.
The new large denomination US bill will commemorate the reign of the greatest (sic) prince of US money.
Courtesy of the Maestro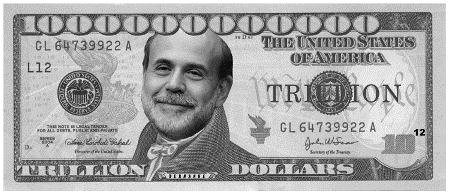 So, so long to the metallic images of Thomas Jefferson, Abraham Lincoln and JFK! A new era in money has dawned.
Mr. Merrill served in the Navy Judge Advocate General's Corps and as a Navy Reserve Intelligence Officer.
Mr. Merrill is the editor of the Alaska Freedom News, formerly the Hampton Roads Freedom News.
© 2013 Copyright Stephen Merrill - All Rights Reserved
Disclaimer: The above is a matter of opinion provided for general information purposes only and is not intended as investment advice. Information and analysis above are derived from sources and utilising methods believed to be reliable, but we cannot accept responsibility for any losses you may incur as a result of this analysis. Individuals should consult with their personal financial advisors.
© 2005-2019 http://www.MarketOracle.co.uk - The Market Oracle is a FREE Daily Financial Markets Analysis & Forecasting online publication.

Only logged in users are allowed to post comments.
Register/ Log in