Gold $1000 Sees Right Through Fed's 'Strong US Dollar Policy'
Currencies
/
US Dollar
Mar 13, 2008 - 12:52 PM GMT

Imagine that, an entire economy built around the ability of the American consumer to borrow and spend money he can never conceivably pay back. A consumer so gorged in debt that he eventually stops making payments on his mortgage, credit cards and others debts, putting an end to the gravy train ride of the financial institutions that facilitated the funneling of credit to the now beleaguered spender.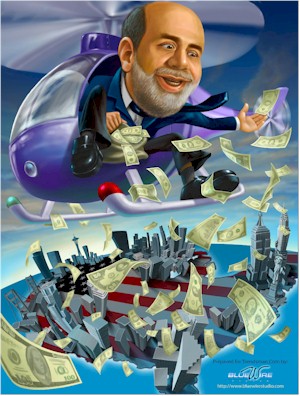 Helicopter drops, bailouts, tax rebate checks and other ideas are bandied about in the belief, or shall we say hope, that the consumer can be revived.
Since on the subject of gluttony, let's also imagine an economy built around a heavy eater. As this person keeps putting on the pounds, more and more fast food eateries open up around his home. As time goes by and the orders increase, the restaurants can't believe their good fortune -- at this pace, they all agree, we will all be rich in no time.
The eater eventually gets so huge he is confined to his room, unable to squeeze through the bedroom door. Steel reinforcements continue to be added to his bed and chair, creating demand for businesses that provide that service. An entire economy, now booming, has come to be completely dependent on this eater.
But eventually bad health requires his hospitalization, a stomach stapling and a new life elsewhere.
The result is that an entire economy comes crashing down with the eater's removal from that home. Every business around the home goes under, bringing on massive unemployment and a recession. The capital allocated to those businesses goes up in smoke as the businesses fail. Years will be needed to rebuild a viable economy, and to replenish the capital that was misallocated and lost.
All the while, local government officials spew out lines about a 'strong fast food sales' policy. It is agreed that a few Big Mac's and pizzas should be delivered to the eater's hospital bed, for free.
Sound familiar? Does it make any sense?
What is this strong dollar policy all about anyway? Treasury secretary Henry Paulson continued to make the same statement this morning during questioning at a news conference, where he issued a call for U.S. financial institutions to raise capital quickly in order to continue to lend, and pledged tougher rules for the mortgage industry.
It was interesting to watch the various markets we like to cover -- precious metals and energy -- move higher as he repeated the now famous 'strong dollar policy' words.
What do those words mean, anyway, with the dollar tanking by the hour.
Is it merely just something you say, perhaps a little white lie, the way an interviewee might speak about his abilities in an effort to dupe and sucker in a prospective employer?
Or is it code to foreign countries, as in: Yes we do have a strong dollar policy, and it's up to you to ensure it!
Could it be that the strong dollar policy is simply any level above zero? "Strong" is such a subjective term for a lot of people. Does anyone really know? Does Paulson?
The dollar fell below 72 this morning on the dollar index, a huge drop from the pop of just two days ago, when the most recent Federal Reserve operation was announced – more short covering than anything it turns out.
Gold hit 1000$ per ounce this morning as well. This is still well below inflation adjusted highs already hit by oil, so it seems to me the stars may be aligning just right for a significant catch-up trade here for the precious metal. If that were to happen, our favorite gold stocks, and especially our juniors, will have a banner year.
The MurkyMarkets.com website by Christopher G Galakoutis is a running macroeconomic commentary on the state of the financial markets with emphasis on gold, silver, the currency markets and energy. Visitors to our new site are always welcome.
By Christopher G. Galakoutis
CMI Ventures LLC
Westport, CT,
USA Website: www.murkymarkets.com
Email: info@murkymarkets.com
© 2005-2008 Christopher G. Galakoutis
Christopher G Galakoutis is an independent investor and commentator. A student of finance and economics, he has in the last few years directed his attention to studying the macroeconomic issues that he believes will impact the United States, and the world, for many years to come. While working diligently to cater investments for his own portfolio to the changing economic landscape, he also decided to start writing about these issues in an effort to reach as many people as possible. In that respect Chris also highly recommends tuning in weekly to the Financial Sense Newshour with Jim Puplava, and Peter Schiff's book "Crash Proof: How to Profit From the Coming Economic Collapse."
© 2005-2019 http://www.MarketOracle.co.uk - The Market Oracle is a FREE Daily Financial Markets Analysis & Forecasting online publication.

Only logged in users are allowed to post comments.
Register/ Log in