The End Of The Financial World As We Know It? 
Stock-Markets
/
Credit Crisis 2008
Mar 24, 2008 - 03:22 PM GMT


The end of the world as we know it is coming. That's right – according to the flamboyantly named Ambrose Evans-Pritchard – where it's likely a challenge just attempting to live up to his name – life as we know it is about to change – big time . And while I in fact agree with this assessment in terms of inevitabilities, at the same time putting this sentiment together with a perceived widening acceptance financials are all toast, it appears time to put on our contrarian's hat again, especially with the business cycle for financials set to turn positive in mere days. This means based on a growing number of pivotal factors (sentiment, cycles, and technicals), and as evidenced by the price action in the market over the past few days, we are growing increasingly skeptical stocks will swoon much further in the immediate future, not before an exhaustion of negative forces set for this month cause a sharp reversal higher.


The following is an excerpt from commentary that originally appeared at Treasure Chests for the benefit of subscribers on Wednesday, March 5th , 2008.
In this respect you will remember this discussion from several weeks ago (and our constant reminding), where we explored the possibility of a repeat of the 1948 patterning (another year ending in '8' in a commodities bull market decade), with a low is seen by mid-March, followed by a moon-shot in the stock market. And while new highs may not be in the cards this time around, at the same time short sellers must beware, because there are growing reasons past those outlined above suggestive prudence is likely the better part of valor at the moment. Here, three more important factors can be identified in this regard. First, we have US index put / call ratios beginning to tic higher, which as you may know from numerous discussions on the subject, help support the perpetual short squeeze in stocks along side what appear to be permanently high short sales these days. And with the public now in 'acceptance mode' with respect to an impending financial meltdown, I wouldn't be a bit surprised to see these ratios at elevated levels for some time.
Next we have an apparent parabolic top in the commodities complex, where not only did we have an outside reversal in the CRB yesterday, the same is true for gold , silver , Amex Gold Bugs Index (HUI) , and of course the Philadelphia Gold And Silver Index (XAU) , as per our warning in this regard on Monday . Of course word on the street is the Fed might come in with a surprise half-point rate cut any time now as interest rates spreads in the futures market are now discounting a full-point cut due to increasingly stressed credit conditions. Such an outcome would likely spike gold up over $1,000 before a more substantial correction sets in despite the apparent reversals noted above, once the totality of an additional half-point cut at the FOMC Meeting on March 18 th is fully discounted. Here, the extreme Fibonacci resonance related target on the monthly chart (seen below) is suggestive the $1,030 to $1,050 area would be a reasonable interim topping target to shoot for on the cash market for all you bullion traders out there. (See Figure 1)
Figure 1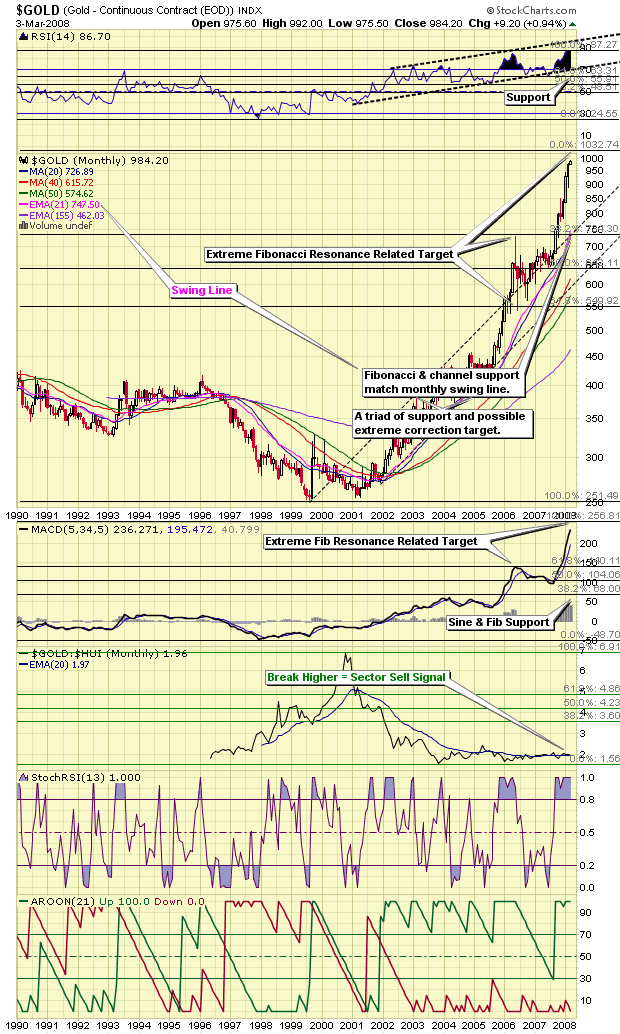 In terms of a correction target, as you can see above, gold could easily pull all the way back to the $750 to $800 range in testing the break above the 1980 high again, but at this point such an outcome is not anticipated. More specifically, and as pointed out last week here using Figure 3, if a top is established in early March like in 1978, expect to see an approximate 10-percent correction into late April before gold turns around on its way into four-figure territory. This would mean gold would be a buy in the $900 area if yesterday's reversal holds.
Returning to our focus now, and bringing this factor into the reasoning then, once momentum is lost in the commodities / metals, expect the hedge fund community to reverse the sell stocks / buy tangibles trade in spite of accelerating monetary debasement rates purely due to technical reasons. The news sources will read retail demand for gold is dwindling, but make no mistake about it, the real reason gold would go down is simply because the gamers perceive better returns being long stocks.
This brings us to the next factor that supports the idea index short sellers need to be cautious now, that being, believe it or not, financial stocks are set to turn higher soon. Have I gone over the deep-end considering all the bad news on financials out there these days? Perhaps, but that being said I will tell you this, as a contrarian one must consider all this news is known now. What's more, we must also consider even the news that has not made it into the media is known, with unannounced Chinese bank exposure to subprime as good an example as any at present. Add to this the knowledge Martin Armstrong's last Pi Cycle turn day identified the top in financials last year in February (see Figure 1 ), meaning it marked the larger credit cycle top, in my opinion one would be foolish to ignore the fact the next turn day higher is fast approaching on March 21 st , just a few weeks away now.
What's more, and adding a sense of reality to this hypothesis, it should be noted that mortgage resets are peaking this month convergent with Martin Armstrong's Pi Cycle turn date, which is just to much of a coincidence to be ignored. (See Figure 2)
Figure 2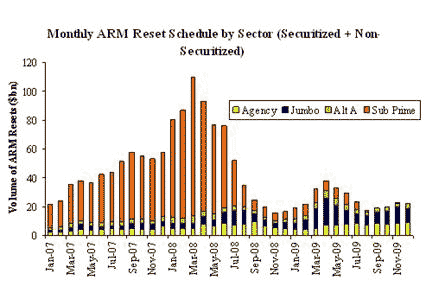 And I can keep going in this regard, meaning the technical front. Here, and in relation to extremes since we appear to be witnessing many these days, it appears LIBOR rates (the inverse of the index presented below) are also likely plumbing the lows, meaning from a definitional / sentiment related perspective, and although a reversal will likely prove fleeting, things can only get better from here . (See Figure 3)
Figure 3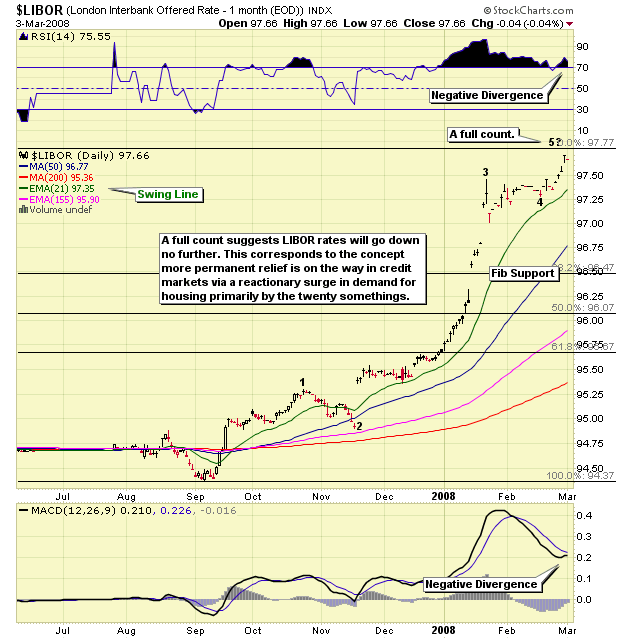 Is there more on the technical front? You bet – with a apparent interim top in the Yen also put in yesterday, meaning hedge funds will theoretically be heading back to Japan for increasing amounts of leverage in coming days. Here, I would expect the correction lower in Yen to run convergent to that of gold, where again, as mentioned above a bottom should be anticipated by late April approximately 10-percent below current levels. (Ed Note: While timing and price extremes were slightly off, the end result should be the same as we move into April.) (See Figure 4)
Figure 4


Unfortunately we cannot carry on past this point, as the remainder of this analysis is reserved for our subscribers. However, if the above is an indication of the type of analysis you are looking for, we invite you to visit our newly improved web site and discover more about how our service can help you in not only this regard, but on higher level aid you in achieving your financial goals. For your information, our newly reconstructed site includes such improvements as automated subscriptions, improvements to trend identifying / professionally annotated charts , to the more detailed quote pages exclusively designed for independent investors who like to stay on top of things. Here, in addition to improving our advisory service, our aim is to also provide a resource center, one where you have access to well presented 'key' information concerning the markets we cover.
On top of this, and in relation to identifying value based opportunities in the energy, base metals, and precious metals sectors, all of which should benefit handsomely as increasing numbers of investors recognize their present investments are not keeping pace with actual inflation, we are currently covering 68 stocks (and about to grow again) within our portfolios . This is yet another good reason to drop by and check us out.
And if you have any questions, comments, or criticisms regarding the above, please feel free to drop us a line . We very much enjoy hearing from you on these matters.
Good investing in 2008 all.
By Captain Hook
http://www.treasurechestsinfo.com/
Treasure Chests is a market timing service specializing in value-based position trading in the precious metals and equity markets with an orientation geared to identifying intermediate-term swing trading opportunities. Specific opportunities are identified utilizing a combination of fundamental, technical, and inter-market analysis. This style of investing has proven very successful for wealthy and sophisticated investors, as it reduces risk and enhances returns when the methodology is applied effectively. Those interested in discovering more about how the strategies described above can enhance your wealth should visit our web site at Treasure Chests
Disclaimer: The above is a matter of opinion and is not intended as investment advice. Information and analysis above are derived from sources and utilizing methods believed reliable, but we cannot accept responsibility for any trading losses you may incur as a result of this analysis. Comments within the text should not be construed as specific recommendations to buy or sell securities. Individuals should consult with their broker and personal financial advisors before engaging in any trading activities, as we are not registered brokers or advisors. Certain statements included herein may constitute "forward-looking statements" with the meaning of certain securities legislative measures. Such forward-looking statements involve known and unknown risks, uncertainties and other factors that may cause the actual results, performance or achievements of the above mentioned companies, and / or industry results, to be materially different from any future results, performance or achievements expressed or implied by such forward-looking statements. Do your own due diligence.
Copyright © 2008 treasurechests.info Inc. All rights reserved.
Unless otherwise indicated, all materials on these pages are copyrighted by treasurechests.info Inc. No part of these pages, either text or image may be used for any purpose other than personal use. Therefore, reproduction, modification, storage in a retrieval system or retransmission, in any form or by any means, electronic, mechanical or otherwise, for reasons other than personal use, is strictly prohibited without prior written permission.
© 2005-2019 http://www.MarketOracle.co.uk - The Market Oracle is a FREE Daily Financial Markets Analysis & Forecasting online publication.

Only logged in users are allowed to post comments.
Register/ Log in