NSA Tapes 1 Billion Mobile Phone Calls Per Day - Spy Versus Spy
Politics
/
Intelligence Agencies
Jul 03, 2013 - 11:15 AM GMT


HOW MANY CALLS?
European media reports including highly publicised 'Guardian' and 'Der Spiegel' reports using documents and insights directly supplied by Edward Snowden say the US NSA regularly intercepted and monitored about 60 million telephone calls and Internet connexions – per day – only in Germany. Other reports suggest the average rate may have been "as low as" 600 million per month. Spying on French-based phone and Internet connexions was said to run at about 180 million per month.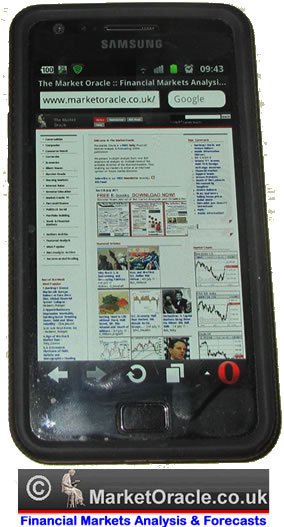 According to the Guardian's Glenn Greenwald, the NSA possesses a "brand new technology", only for cell phone calls, enabling it to channel 1 billion calls – per day - into its data hoard for surveillance and analysis.
We can provisionally stop the music right here. Very rapid keyword-based search is the only possible method to sweep data hoards of this size. Allocating 1 second of treatment to each call among 1 billion cell phone calls needs 31 years and 252 days operating on a 365-day and 24-hour basis.
If the cell phone calls are being intercepted and stored on a basis of 1 billion more stacking up, every day, the manpower and machine-power needed to handle the intercept and analysis task soon becomes awesome. Without enough manpower and machines, and tight lines of access to political deciders of what to do with the information, the probability – not potential – of dysfunctional response and reaction becomes a permanent threat.
Cited in the book "Top Secret America" by Dana Priest and William Arkin, an obviously anonymous NSA "top official" at its sprawling headquarters near Washington in Fort Meade, Maryland said he could give a guesstimate of how many persons are employed by the agency. He joked that the workforce was "somewhere between 35 000 and a billion". Based on Wikipedia's page on the NSA its site has about 18 000 car parking places and Fort Meade uses about 65 MW of electric power, so we can make guesses as to its workforce. With a billion workers fantasy however, a little more than 3 times the entire population of the USA but not working 365-day 24-hour work schedules, we might imagine the NSA could keep abreast of the workload it seems to have set itself.
Otherwise this is only junk information hoarded by a dysfunctional or even junk intelligence agency. Our need to be awed by this disappears – we only need to fear why it is being done.
MUSHROOM GROWTH
According to the above-cited book and articles published by Intellihub tracing the origin and growth of the NSA, this agency started in the late 1940s as the Cold War drove increasing US needs for intelligence, and in 1949 the NSA inherited the Shamrock program of intercepts - of 5000 telegraph messages per day, on a maximum flux basis. American telephone and telegraph service suppliers of the telegraph messages were the equivalent of today's Google, Yahoo, Apple, Microsoft and Skype, Facebook and others – and like them agreed to supply despite their worries about its legality.
The ultra secret nature of the agency was shown by its delayed formal creation, authorized in a letter written by President Harry S. Truman in June 1952 some 3 years after the start of its operations. It was formally and finally established through revising the National Security Council Intelligence Directive on October 24, 1952. Then as now, but heavily increased since 9/11 and the US Patriot Act, the "turf war" between the CIA, FBI and NSA was never resoolved.
Today's tsunami of electronic communications – emails, Internet connexions, landline and cell phone calls and fax messages – result in a daily intercept by the NSA cited as a total of about 1.7 billion emails, phone calls and other types of communications per day. These are given a primary sort into "70 separate databases" by the NSA, according to 'Top Secret America'.
Speaking in Berlin at the Brandenburg Gate, 19 June, to a crowd estimated as a maximum of 4000 compared with the Obama-mania score of 200 000 who crowded to the same venue, 10 July 2008, President Obama attempted to talk around the rising criticism of US snooping mania. After saying "We must redouble our efforts to close the prison at Guantanamo', a classic police state entity outside of all law, but only getting polite applause from the small crowd, he went on to apologize for the police state he runs. He said that NSA surveillance and intercepts "had prevented at least 10 terrorist attacks" in the USA. Due to security concerns, of course, he could give no further details.
From 1 billion cell phone message intercepted per day, 10 terror attacks are foiled. With almost no doubt, NSA "Securocrat" defenders will argue that 10 billion daily message intercepts can thwart 100 deadly terrorist attacks.
WE HACK EVERYONE, EVERYWHERE
Securocrat paranoia is so close to power that it is the classic ally of power. Certainly since 9/11, counter-terrorism has manically inflated its enemies - and thereby itself - into a massive new industry of cold-war proportions. The NSA, for example, early in 2013, easily won a $565 million building and facilities expansion award from the Obama administration. More sinister than the paranoia, agencies like the NSA need to justify their performance as well as their existence – needing more frequent terror alerts and a minimum number of real atrocities to flash on nighttime TV news shows.
Body parts in the streets of Kabul or Baghdad following highly regular and 'normal' car bomb attacks are no avail. The viewers at home in the Western democracies riddled with security cameras are more satiated with those images than the junk takeout food they imbibe.
Since 9/11 the body parts in the street on nighttime TV have to be Homebase Atrocities.
The political elite response to any criticism, any questioning of mass intrusion and the destruction of privacy is already well-honed. "We collect significant information on bad guys, but only bad guys," says the Obama White House. The British foreign secretary, William Hague, claims "The law-abiding citizen has nothing to fear" from the UK's obsessional mimicry of US snooping mania, but this is no more than the tawdry and arrogant cliche of the police state throughout history.
The bin Laden Al Qaeda story is one of overreach by security services. French anti-terror laws include the misdeed of connexion to Web sites inciting young Muslims in France to enrol for fighting against the regime of Bashr el Assad – while the French government supplies arms to jihadist fighters in Syria bankrolled by the Qatari petrostate. Business is business!
The Snowden affair tells us to greet the vast paranoia and arrogance of the Securocrats with a hollow laugh, noting that Snowden himself would never have hit the headlines without his previous role as "national security expert and operative".
Whistleblowers like Edward Snowden are vital antidotes to the culture of mas surveillance that is in fact the backstop to "jihadism" of the now outdated and laughable bin Laden type. As these "jihadists" know, the existence of the Paranoia State is their best justification for existing, their best confidence-sapping weapon. Making the citizen of the western democracies lose trust in their governments and the institution of democracy is a vital first step for greasing the entry of the real Police State.
Those who cry "better safe than free" will end up being neither. Those who wanted to bring Snowden to the corrupted justice of the police state are the true "useful idiots" of the next Osama bin Laden.

By Andrew McKillop
Contact: xtran9@gmail.com
Former chief policy analyst, Division A Policy, DG XVII Energy, European Commission. Andrew McKillop Biographic Highlights
Co-author 'The Doomsday Machine', Palgrave Macmillan USA, 2012
Andrew McKillop has more than 30 years experience in the energy, economic and finance domains. Trained at London UK's University College, he has had specially long experience of energy policy, project administration and the development and financing of alternate energy. This included his role of in-house Expert on Policy and Programming at the DG XVII-Energy of the European Commission, Director of Information of the OAPEC technology transfer subsidiary, AREC and researcher for UN agencies including the ILO.
© 2013 Copyright Andrew McKillop - All Rights Reserved Disclaimer: The above is a matter of opinion provided for general information purposes only and is not intended as investment advice. Information and analysis above are derived from sources and utilising methods believed to be reliable, but we cannot accept responsibility for any losses you may incur as a result of this analysis. Individuals should consult with their personal financial advisor.
© 2005-2019 http://www.MarketOracle.co.uk - The Market Oracle is a FREE Daily Financial Markets Analysis & Forecasting online publication.

Only logged in users are allowed to post comments.
Register/ Log in