Sudden 25% Crash in Homebuilder Stock Prices
Housing-Market
/
Housing Stocks
Aug 12, 2013 - 05:16 PM GMT


Michael Lombardi writes: Homebuilder stocks are heading into dangerous territory and investors need to take note—even if they don't own these stocks—because the move to the downside for this barometer of activity in the U.S. housing market is significant.

The most important factor that sets the fate of the homebuilder stocks is the housing market. If the housing market has growth potential ahead, then you can bet on homebuilder stocks to provide a stunning performance to the upside. If it's the opposite scenario, with the housing market looking shaky, then homebuilder stocks usually tank. In other words, homebuilder stocks are very fickle, but they are also a great indicator of future activity in the housing market.
Right now, the U.S. housing market is being threatened by the mixed messages the Federal Reserve is sending to the marketplace.
Our central bank has "helped" lower the interest rates by buying bonds and keeping interest on overnight lending artificially low. As a result of this, the conventional mortgage rates in the U.S. declined to record lows—this created an opportunity for those who were sitting on the sidelines to get involved in the housing market. This is what has happened over the past four years.
Now, the Federal Reserve is sending mixed signals of its next action: will it pull back on quantitative easing, or will it continue to create new money and keep interest rates artificially low? There's a significant amount of speculation around the Fed's future actions, and this has created a major problem for the housing market, causing mortgage rates to skyrocket in a very short period of time.
Take a look at the 30-year fixed-term mortgage rates tracked by Freddie Mac. In July, they stood at 4.37%. But this past January, the same rates were 3.41%—an increase of almost a third in just seven months. (Source: Freddie Mac web site, last accessed August 8, 2013.)
No doubt, these rates are low compared to their historical average, and those who were around in the 1980s could vouch for this.
As mortgage rates climb now, the cost of owning a home rises, which obviously puts the brakes on participation from would-be homebuyers.
This is bad news for the homebuilder stocks. If those who drive the housing market are stepping back, it's very likely the overall market conditions will deteriorate, impacting business activity for homebuilding companies.
Please take a look at the chart below.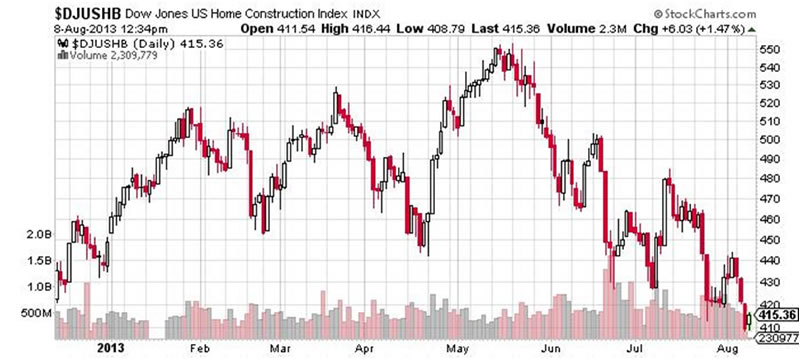 Chart courtesy of www.StockCharts.com
Since mid-May, the Dow Jones Home Construction Index has plummeted roughly 25%, and it's in negative territory year-to-date. In addition, the index consisting of homebuilder stocks has broken below a key support level around 430—it tested this level in January, and then broke that support three more times in July.
What's happening with the leading indicator homebuilder stocks couldn't be clearer: risk in the U.S. housing market has increased substantially.
Michael's Personal Notes:

The jobs market in the U.S. economy is anemic; don't for a second let the key stock indices make you believe the economy has improved.

While the mainstream and politicians are concerned about the numbers of jobs created in the U.S. economy, I look at their quality. Readers of Profit Confidential know this very well.

From my point of view, the quality of the jobs being created in the U.S. economy is very poor and deteriorating.

You see, with all the printing and easy monetary policy, one would assume, over time, the jobs market would improve. At least that was the original intention, but this is not happening. The problematic trend continues—low-wage-paying jobs are prevailing, while those that pay well are lagging behind in the jobs market.

The Bureau of Labor Statistics (BLS) reported that there were 3.93 million job openings in the U.S. economy at the end of June. In May, this number was 3.90 million. On the surface, this is good, but looking deeper into the details, it shows the poor state of the jobs market.

Combined, retail trade and leisure and hospitality industries made up 28% of all job openings in the U.S. economy in June. In May, this number stood at 25% of all job openings. (Source: Bureau of Labor Statistics, August 6, 2013.) Going back a little further, in April and March, job openings in these industries amounted to 24.30% and 23.84%, respectively—clearly a rising trend in the wrong direction.

What about the jobs in construction and manufacturing? In June, combined, these industries made up only 8.9% of all the job openings in the U.S. economy. In March, this number was almost 10%—another trend moving in the wrong direction.

Consider this scenario: For a family who is earning minimum wage, or close to it, they can't go out and buy a new car, nor can they afford to make payments on it or lock in a 30-year fixed-rate mortgage to "take advantage" of the low interest rates. This family is forced to keep their old car, hoping it doesn't break down, and rent because they cannot afford mortgage payments…nor would they qualify for a mortgage.

It's a known fact: consumer spending drives the U.S. economy towards prosperity. The quality of work created in the jobs market remaining poor adds pressure on consumer spending.

When I look at the poor conditions in the jobs market of the U.S. economy, and then look at the rising key stock indices, I see major disparity. Euphoria has certainly taken over this year for the stock market, and we know very well from the past that it won't end well.

Public companies are sending warning signals, but no one's listening. As of August 2, 61 S&P 500 companies issued negative guidance about their corporate earnings for the third quarter. This represents almost 80% of all the companies that have provided an outlook for their corporate earnings so far this quarter. (Source: FactSet, August 2, 2013.) The future is not looking good.
Source -http://www.profitconfidential.com/housing-market/
Michael Lombardi, MBA for Profit Confidential
http://www.profitconfidential.com
We publish Profit Confidential daily for our Lombardi Financial customers because we believe many of those reporting today's financial news simply don't know what they are telling you! Reporters are trained to tell you the news—not what it can mean for you! What you read in the popular news services, be it the daily newspapers, on the internet or TV, is the news from a "reporter's opinion." And there's the big difference.
With Profit Confidential you are receiving the news with the opinions, commentaries and interpretations of seasoned financial analysts and economists. We analyze the actions of the stock market, precious metals, interest rates, real estate and other investments so we can tell you what we believe today's financial news will mean for you tomorrow!
© 2013 Copyright Profit Confidential - All Rights Reserved

Disclaimer: The above is a matter of opinion provided for general information purposes only and is not intended as investment advice. Information and analysis above are derived from sources and utilising methods believed to be reliable, but we cannot accept responsibility for any losses you may incur as a result of this analysis. Individuals should consult with their personal financial advisors.
© 2005-2019 http://www.MarketOracle.co.uk - The Market Oracle is a FREE Daily Financial Markets Analysis & Forecasting online publication.

Only logged in users are allowed to post comments.
Register/ Log in