Buy Chinese Stocks Like Crazy!
Stock-Markets
/
Chinese Stock Market
Apr 10, 2008 - 12:27 PM GMT

Larry Edelson writes: If you're serious about making some money and you haven't already acted on my recent suggestions to buy the heck out of China, then I urge you not to waste another minute.
Look, five years ago the Shanghai stock market was flat on its back. The Shanghai Composite 300 Index was trading at the 1,300 level, and I dedicated one of my Asia trips to China. I wanted to be on the front lines to see what was going on ... and the economy I saw was on fire.
After returning to the U.S., I told everyone who would listen to buy the heck out of Chinese investments. In the five years that followed, the Shanghai stock market soared to 6,124 — gaining an incredible 371%!
Today, China's stock markets have pulled back almost 45% from their recent highs. And nearly every analyst and talking head in the U.S. and overseas is calling this the end of the Chinese economic miracle.
And yet, as I write this from Asia, I am still seeing the same economic vibrancy in China that I saw five years ago.
Chinese investors are pouring money into new construction. Into new factories. Into Macau. Into Taiwan. Into new businesses and joint ventures.
Chinese consumers are buying up goods like crazy. Retail sales are soaring. Loan growth at Chinese banks is still on fire. Now, even the rural areas of China are exploding higher with economic growth.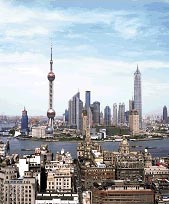 Towering over the Huangpu River, Shanghai is a 21st Century boomtown.
Some recent economic stats you need to be aware of ...
Bank of China Ltd., the country's third-largest bank, just reported a 31% increase in earnings!
Industrial & Commercial Bank of China Ltd. announced that its 2007 full-year profits jumped an amazing 65%!
China's 14 publicly traded banks bolstered profits by an average of 70%!
Sichuan Province reported a 40.1% rise in fiscal revenues in 2007 while Inner Mongolia's soared 43.4%!
As a whole, China's western provinces are seeing their GDP grow at an astounding 13.9%!
There's more ...
China's manufacturing sector saw its purchasing managers index rise to 58.4 in March, extremely bullish on the economy and the highest level since April 2007.
February crude oil imports soared a whopping 18.1% to 3.6 million barrels per day; February's diesel imports soared tenfold compared to a year ago.
China's retail sales jumped 20.2% in both January and February over the same two months last year, including a huge 33.8% increase in spending on automobiles. Over 500,000 new autos are hitting the streets in China every month.
Get the picture? Does it look like China's economy is slowing? Heck no!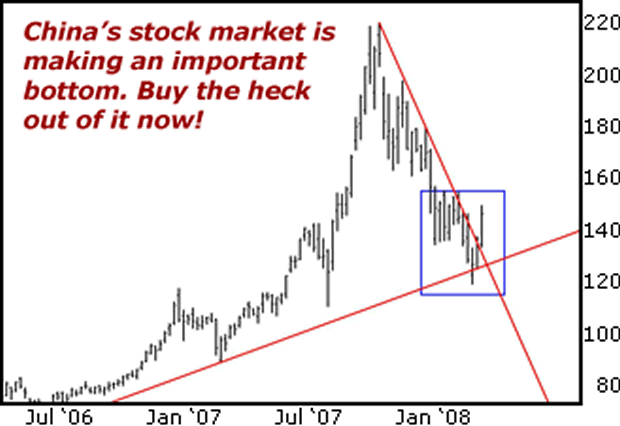 Indeed, the charts also support buying the heck out of China. Take a look at my chart of the FTSE Xinhua China 25 Exchange-Traded Fund (ETF).
Notice the sharp decline over the last few months. But also notice the latest surge higher ... and how it's broken the downtrend line I've drawn.
That looks like one heck of a bottom has been made. Other technical indicators I follow are suggesting the same thing.
What about the China/Tibet situation? To be sure, it's a wild card that could do some damage to the Chinese economy. And for the record, I disapprove of the way Beijing has handled it so far, and the human rights violations.
However, I do believe the matter will be amicably resolved. Beijing is not about to have a total public relations disaster on its hands or another "Tiananmen Square" incident ... not with the Olympics looming large.
So here are some steps to consider ...
First , if you haven't already bought the iShares FTSE/Xinhua China 25 Index ETF, look at it now. The ETF invests at least 90% of its assets in the securities of the FTSE China 25 index and is a great overall play on China.
Second , I also suggest you consider purchasing select individual Chinese blue chips. Four of my favorites, all of which are flashing "buy" signals ...
#1: China Petroleum & Chemical (SNP) commonly called Sinopec , is Asia's largest refiner by capacity.
#2: CNOOC Ltd. (CEO). Another Chinese oil giant, CNOOC just announced record revenues and earnings for 2007. That's likely going to continue, because CNOOC's all-in cost of producing a barrel of oil is a low $16.37. With oil still over $100 and likely headed higher, imagine the earnings CNOOC is going to post!
#3: China Unicom (CHU). China's second-largest cell phone provider, making an aggressive bid to become #1.
#4: Huaneng Power International (HNP) . One of China's top power utilities, supplying power to 13 of China's provinces, as well as the municipalities of Shanghai and Chongqing. The stock appears to have bottomed out, and yields about 5% from dividend payouts.
Third , continue holding all recommended gold and natural resource positions. They will continue to benefit from intense demand from Asia.
Best wishes,
Larry
P.S. For more specific recommendations — and all my buy and sell signals — subscribe to Real Wealth Report for a modest $99 a year.
You'll get 12 hard-hitting monthly issues on the world of natural resources and today's fast-changing global economy. Plus all flash alerts and recommendations.
Real Wealth has already bagged almost $100,000 in gains for its subscribers in the past four years. I think it's the best $99 you'll ever spend. Join now!
This investment news is brought to you by Money and Markets . Money and Markets is a free daily investment newsletter from Martin D. Weiss and Weiss Research analysts offering the latest investing news and financial insights for the stock market, including tips and advice on investing in gold, energy and oil. Dr. Weiss is a leader in the fields of investing, interest rates, financial safety and economic forecasting. To view archives or subscribe, visit http://www.moneyandmarkets.com .
© 2005-2019 http://www.MarketOracle.co.uk - The Market Oracle is a FREE Daily Financial Markets Analysis & Forecasting online publication.
Comments
girish shah
11 Apr 08, 12:49
CHINA IN THE DUMPS


this is a complete one sided picture of china

rising inflation

collapsing dollar(which the chinese have in hoards)

pegging of the currency

collapsing usa and the world economy

possible faliure of the olympics revenues

rising food prices and shortages of the same

ALL THESE ARE MAJOR NUCLEAR BOMBS WHICH WILL DESTROY THE CHINESE ECONOMY



Mike
12 Apr 08, 13:39
China crazy


And yet I have only lost money on chinese stocks...YGE, Mpel, and a few others. Timing is everything .When these stocks crash they cragh LONG and HARD... YGE is coming back ..MPEL still WAY below the 18 I bought in at. ouch




Only logged in users are allowed to post comments.
Register/ Log in