Credit Crisis Spreads Beyond Banks Hitting Corporate Earnings
Stock-Markets
/
Credit Crisis 2008
Apr 12, 2008 - 10:44 AM GMT


Is the consumer "all done in?" - ( Bloomberg ) The Reuters/University of Michigan preliminary index of consumer sentiment decreased to 63.2 this month, the weakest level since 1982, when the jobless rate approached 11 percent, the worst since the Great Depression. In other figures released today, the Labor Department reported that the cost of imported goods climbed 14.8 percent in March from a year ago, led by oil.
``The consumer's feeling increasingly hemmed in,'' said Brian Bethune , director of financial economics at Global Insight Inc. in Lexington , Massachusetts . ``They've got higher energy bills, higher gasoline bills, higher food bills and obviously the employment markets are nowhere near as strong as they were.''
Subprime finally hits CEOs.
Until recently, the captains of industry seemed to have a teflon coating over them when it came to their pay. "A losing quarter? No problem!" The reason is that most corporate boards expect some variances in profits from one quarter to the next. However, the huge losses from the subprime mess have called for an adjustment in that thinking. American International Group has had its worst quarterly loss in 89 years, for example. AIG's CEO, Martin Sullivan had his recent bonus cut by 42%. This isn't the same magnitude as a family losing its home, but as they say, "Money talks!"
It's report card time for Corporate America .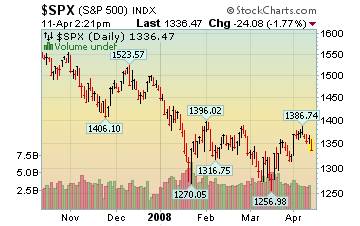 April 11 (Bloomberg) -- General Electric Co . dropped the most since the 1987 stock market crash after reporting an unexpected decline in profit just a month after Chief Executive Officer Jeffrey Immelt assured investors 2008 earnings would be met.
This occurred just days after Alcoa kick started the earnings season with very disappointing results. For the past three months analysts have been telling us that it's the banks that have all the problems. Now we are finding the problems have metastasized beyond the banks.
Anticipation of recession doesn't help Treasury Bonds this time.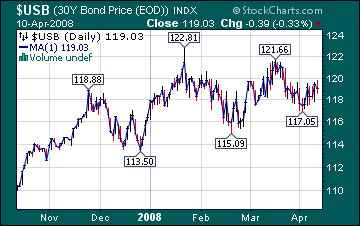 NEW YORK ( MarketWatch ) -- Treasuries rallied Friday, carrying prices higher as yields moved sharply lower, in the aftermath of downbeat earnings and a lackluster 2008 profit forecast by diversified industrial giant General Electric Co.
The unfortunate circumstance is, however, that treasuries may be about to have a trend change. This rally is quite old, by most standards. Should Treasuries drop below last week's low, those who thought they were fleeing to a safe haven may be sorely disappointed.
Cashing in on the high price of gold.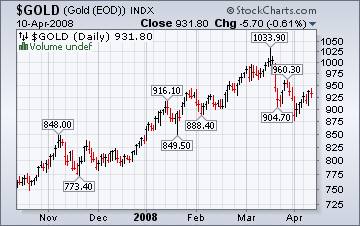 ( MarketWatch ) -- Gold futures ended lower on Friday, extending their drop from the previous session, even as the dollar traded lower against other major currencies.
Traders have been hesitant to add to their long positions for good reason. The uptrend has been broken and it is becoming more evident to the lay person that gold is having trouble attempting a recovery.
Nikkei stocks may be ready to start a new downtrend.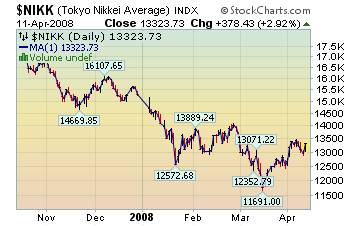 Japan's Nikkei index fell on Wednesday, but rose nearly 3 % this morning (not shown in the chart). This kind of seesaw activity is hard on traders and investors alike. In addition, this may be the last fling for the rally out of the March low. The news about GE's earnings will have some effect on the Nikkei on Monday morning.
Shanghai…picture of a stock market bubble that burst.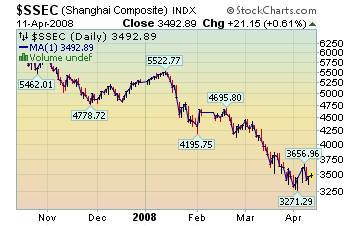 SHANGHAI, China : Chinese stocks rose Friday as expectations for strong earnings boosted financial companies and airlines. (Not shown in chart.)
The end of the week rally capped a volatile week, during which the Shanghai benchmark dropped 5.5 percent on Wednesday. But trading was thin on Friday. "The indexes have stopped falling and trade volume is low," said TX Investment analyst Wu Feng. "These are good signs investors may jump into buying mode any time now that stocks have stopped plummeting." (Editor's note: Low volume in a rally is not a good sign.)
The U.S. Dollar still getting no respect.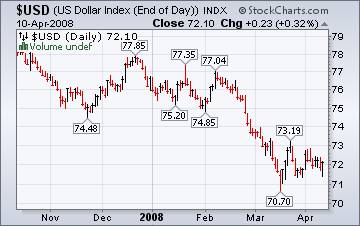 BERLIN : The euro recovered ground against the U.S. dollar Friday as high German wholesale price inflation underlined the European Central Bank's arguments for holding off on interest rate cuts.
March, increasing concern the economy is falling into a recession.
Part of the weakness of the Dollar is the Fed's proclivity to lower interest rates any time a financial crisis occurs. The European banks, however, haven't been quite as eager to trash their currency as our Federal Reserve.
The Senate passes a crappy bailout bill.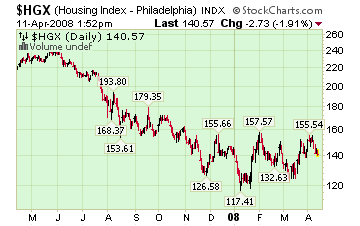 Thursday, April 10, 2008 the Senate of the United States of America passed their version of a ' Foreclosure Bill .' Read it and weep. There are so many goodies being handed out that it reeks of corporate favoritism…and the taxpayer isn't one of those being favored. Neither is the homeowner that keeps his payments current. This bill had to be written by homebuilders, banks and (believe it or not!) oil companies. Hey! How did they get into a foreclosure bill, anyway?
Where have all the drivers gone?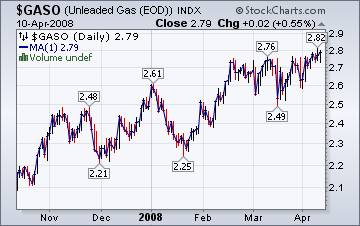 (Sung to the tune by Peter, Paul and Mary) The Energy Information Administration's This Week In Petroleum tells us that, "Does it seem like there are fewer cars on the highway this year? The recent trend in motor gasoline consumption would appear to indicate so. Gasoline consumption has been declining for at least six months. Households may be thinking twice about jumping in the family car as a slowing economy and rising prices are stressing pocketbooks from Maine to Hawaii ."
The technical indicators are telling us we are near a very abrupt reversal in the price of gasoline. Stay tuned!!!
Gas prices seesaw as spring makes its debut.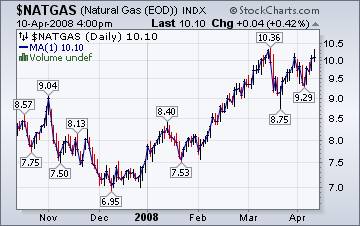 The Natural Gas Weekly Update reports, "The softness in spot prices late last week likely can be attributed to moderating temperatures and softening industrial demand for natural gas over the weekend. While temperatures were relatively mild outside the Upper Rockies , Upper Plains, and parts of the Midwest , other demand/supply factors contributed to the price rally since Monday, April 7. Key demand factors contributing to the price increases included rising crude oil prices, the resumption of industrial load, and injection demand for natural gas."
A Voice From the Past.
Mark Twain is quoted as saying, "History never repeats, it only rhymes." Here is an excerpt of an article appearing in Canadian Business magazine that reminds us of Irving Fisher, a leading economist during the 1920's who claimed that stocks had reached " a permanently high plateau" just before the crash of 1929. Do you notice any similarities between what happened then and today's events?
"Fisher posited that a sufficiently over-indebted economy acts much like a capsizing ship. Under normal conditions, a ship is designed to right itself following a disturbance. Once tipped beyond a certain point, however, it has a tendency to depart further from equilibrium. In the economy's case, capsizing stops only after nearly everyone is bankrupt. "This is the so-called 'natural' way out of a depression, via needless and cruel bankruptcy, unemployment and starvation," he wrote.
We're on the air every Friday.
Tim Wood of www.cyclesman.com , John Grant and I are back in our weekly session on the markets. This week should be fascinating. You will be able to access the interview by clicking here .
New IPTV program going strong.
I am now a regular guest on www.yorba.tv every Thursday at 4:00 pm EDT . You can find the archives of my latest programs by clicking here .
Please make an appointment to discuss our investment strategies by calling Claire or Tony at (517) 699-1554, ext 10 or 11. Or e-mail us at tpi@thepracticalinvestor.com .
Anthony M. Cherniawski,
President and CIO
http://www.thepracticalinvestor.com
As a State Registered Investment Advisor, The Practical Investor (TPI) manages private client investment portfolios using a proprietary investment strategy created by Chief Investment Officer Tony Cherniawski. Throughout 2000-01, when many investors felt the pain of double digit market losses, TPI successfully navigated the choppy investment waters, creating a profit for our private investment clients. With a focus on preserving assets and capitalizing on opportunities, TPI clients benefited greatly from the TPI strategies, allowing them to stay on track with their life goals
Disclaimer: The content in this article is written for educational and informational purposes only. There is no offer or recommendation to buy or sell any security and no information contained here should be interpreted or construed as investment advice. Do you own due diligence as the information in this article is the opinion of Anthony M. Cherniawski and subject to change without notice.
© 2005-2019 http://www.MarketOracle.co.uk - The Market Oracle is a FREE Daily Financial Markets Analysis & Forecasting online publication.

Only logged in users are allowed to post comments.
Register/ Log in