Profit from The Bitcoin Tulipmania & The Gold Cartel
Currencies
/
Bitcoin
Dec 06, 2013 - 07:04 PM GMT


"Tulipmania was the first major financial bubble. Investors began to madly purchase tulips, pushing their prices up to unprecedented highs; the average price of a single flower bulb exceeded ten times the annual income of a skilled craftsman. Tulips sold for over 4000 florins, the currency of the Netherlands at the time. As prices drastically collapsed over the course of a week, many tulip holders instantly went bankrupt." investopedia.com
It is no secret that an investment in Bitcoins – the Digital Non-National Currency – has generated Phenomenal Profits recently. Profits, that is, for those who bought early and chose to sell before the recent Chinese "Bitcoin Veto" Announcement.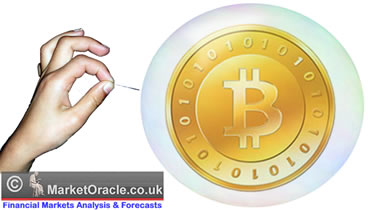 But as an unbacked Fiat Currency, (i.e., unbacked by any Tangible Asset such as Gold and thus without Intrinsic Value) Bitcoin is more than a Bit Vulnerable to Tulipmania, that is, to Speculative Booms and Crashes and Ultimate Destruction – the Fate of all such Fiat Currencies in World History. But there is a way to Profit and Protect from the ongoing Bitcoin Tulipmania, without the Great Risk of taking Speculative Long or Short position in Bitcoins themselves. Read on.
For sure, Bitcoins have many advantages. They are not subject to capital controls or price controls of Major Nations. And they facilitate Transactional Anonymity and Ease. These characteristics are likely why Bitcoins trade in Argentina for more than 30% more than elsewhere – an apparent attempt to avoid Argentinian Rampant Inflation and Capital controls. And similarly, it is why they are Popular in China. It is not a Bit surprising, therefore, they have not been depreciating, so far, but rather in an appreciating trend.
Thus it is claimed with some justification that Bitcoin is an Alternative to Fiat Currencies, but so are Gold and Silver.
But there are Serious Issues and Risks with Bitcoin.
Its rapid run-up in Price (vis à vis other Fiat Currencies) suggests Speculators are driving the Market – a Market Now characterized by Mania – consider the recent Headline "Bitcoin Boom Spreads to iPhones with Mobile Payment Apps."
This Mania indicates there is a Great Price Vulnerability because, as a Market driven by Speculators, it indicates The Bitcoin Market is a Bitcoin Version of Tulipmania.
And since there is no Tangible Asset (not even Tulips!) or Intrinsic Value backing Bitcoin, it is just as subject to Crashing. Bitcoin owners learned that the hard way this week when, after China banned Financial Institutions Bitcoin Transactions, Bitcoin fell from $1240 to $870, on MT.GOX, a Major Bitcoin Exchange. As we write, it has recovered to over $1000, but not back over $1200.
Another Issue is that no Major Nation, so far as we are yet aware, has yet imposed a Taxation Regime upon it. In the U.S., one Question would be: are Gains (Losses) in the currency subject to Treatment as Capital Gains or Ordinary Income?
Official Silence (thus far) on Taxation issues, plus the Anonymity and Ease of Transferability potentially provides an Opening for Criminals who choose to engage in Money Laundering or Tax Avoidance. Thus, there is every reason to expect that the Authorities, everywhere, will not allow this Criminal Opportunity to remain open much longer.
But perhaps the Greatest Vulnerability is the Fact that as an Alternative Currency not created by, or thus far, subject to the control of any Central Bank, Bitcoins are a de facto competition to Central Banks. Does anyone really believe Central Banks will allow such competition with their Fiat Currencies and Treasury Securities as Stores and Measures of Value to continue for long?
Consider for example, the past and ongoing Suppression of the Prices of Gold and Silver by the Mega Bank Cartel (Note 1). Clearly the Mega Bankers do not take kindly to Competition to their Fiat Currencies and Treasury Securities provided by the Precious Monetary Metals, Gold and Silver, and are willing to Act to Stop it.
So what next? Permit us to engage in a Bit of Speculation.
Assume The Private, for-profit Fed and other Central Banks have decided they do not like the Bitcoin Competition, one little Bit.
And Suppose they were/are among the Speculators now purchasing Bitcoin and thus facilitating its rise to new heights vis à vis other Fiat Currencies.
And then Suppose the Central Banks decide to Sell in concert, in Massive Quantities much like, well, much like the Mega-Banks and their Agents Sell (and have for years been selling) massively into the Gold and Silver Market to depress Prices, as has been well documented by The Gold Anti-Trust Action Committee (gata.org), Deepcaster, and many other commentators.
Given the lightning fast Transaction Speed in our Digital Age is there any reason to think that a Massive Crash would take more than a few seconds (at most) to implement…to implement a Devastating Bitcoin Tulipmania Crash, as it were, wiping out all the Speculators. It would be difficult if not impossible for Bitcoin to recover from such a Crash, since it is not backed, even by Tulip Bulbs.
In such event (likely in our opinion), who/and what would, and could, benefit?
As usual these days, China, the World's Great Creditor, and Greatest Producer and Importer of Gold, shows the way.
As noted, China very recently banned Financial Institutions from Bitcoin Transactions.
And, further consider that, since the Private, for-Profit Fed is facilitating the demise of the $US as the World's Reserve Currency with its "insane" (former OMB Director David Stockman) $US Destructive Policy, a Gold-backed Chinese Yuan is set to displace it some year, or month, soon.
So, while a Bitcoin Tulipmania Crash would marginally benefit other Fiat Currencies left standing it would massively benefit a Gold-backed Yuan, and Gold Bullion itself.
So we conclude with a Bit of Wisdom. The New Coins of the Realm which are likely to show a Great Profit after a Bitcoin Tulipmania Crash, will likely be Gold (and Silver) and a Gold-backed Yuan.
But this Hypothesis of a Central-Bank orchestrated Bitcoin Crash is all Just a Bit of … Speculation … which you likely heard here first.
Best regards,
www.deepcaster.com

DEEPCASTER FORTRESS ASSETS LETTER

DEEPCASTER HIGH POTENTIAL SPECULATOR

Wealth Preservation Wealth Enhancement
© 2013 Copyright DeepCaster LLC - All Rights Reserved

Disclaimer: The above is a matter of opinion provided for general information purposes only and is not intended as investment advice. Information and analysis above are derived from sources and utilising methods believed to be reliable, but we cannot accept responsibility for any losses you may incur as a result of this analysis. Individuals should consult with their personal financial advisors.
© 2005-2019 http://www.MarketOracle.co.uk - The Market Oracle is a FREE Daily Financial Markets Analysis & Forecasting online publication.

Only logged in users are allowed to post comments.
Register/ Log in