Kinross Gold Corporation Re-visited
Commodities
/
Gold & Silver Stocks
Apr 17, 2008 - 08:55 PM GMT


Kinross Gold Corporation, has made terrific progress a since it was established in 1993 and is now the third largest primary gold producer in North America by reserves. All its nine mines are in relatively politically stable countries such as the United States , Brazil , Chile and Russia . Canadian based Kinross employs more than 5,000 people worldwide.


Vivre la difference!
Kinross has an excellent pipeline of projects where three top class development projects will add 60% growth over the next two years against a backcloth of declining costs. This company also has a no gold-hedging policy, which we find attractive, as it is a part of our selection criteria, in order to gain the maximum amount of exposure to gold.
Their strategy has been to replace and grow reserves, which over the last five years has been nothing short of staggering as they have averaged a compound annual growth rate of 37%.
Kinross Chart as of 16 April 2008 :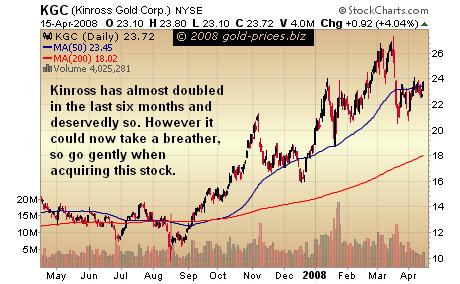 Kinross has almost doubled in the last six months and deservedly so. However it could now take a breather, so go gently when acquiring this stock and try to buy on pullbacks.
The Financial situation for Kinross is superb as we cab see from this extract of their 2007 Fourth Quarter and Full Year Highlights presents us with an impressive set of figures as follows:
Gold equivalent production was 384,598 ounces in the fourth quarter of 2007, compared with 362,028 ounces for the same period last year.
For the full year 2007, gold equivalent production was in line with previously announced guidance at 1,589,321 ounces, an increase of 8 % over full-year 2006.
Revenue was $281.4 million in the fourth quarter, a 22% increase over the same period last year, and the average realized gold price was $796 per ounce.
Full-year revenue was a record $1.1 billion, a 21% increase over the same period last year, and the average realized gold price was $697 per ounce.
Cost of sales per ounce was $419 in the fourth quarter on sales of 356,329 gold equivalent ounces, compared with $317 per ounce on sales of 375,684 gold equivalent ounces in the fourth quarter 2006. It should be noted that the three projects are near completion with the majority of capital already spent. Capital expenditures were $184.9 million in the fourth quarter and $601.1 million for the full year.
On the subject of costs the company President had this to say:
"We are now entering an exciting period of growth with our three development projects at
Paracatu, Kupol and Buckhorn scheduled to come into production in 2008. These new projects
are expected to increase our 2007 gold equivalent production by 60 per cent in 2009, while
significantly improving our cost profile and margins. By the fourth quarter of 2008, our
average cost of sales is expected to decrease to between $325 and $335 per gold
equivalent ounce ." 21st February 2008 .
Considering the rising costs of energy, labour and equipment that many other mining companies are battling with, this will be an excellent accomplishment.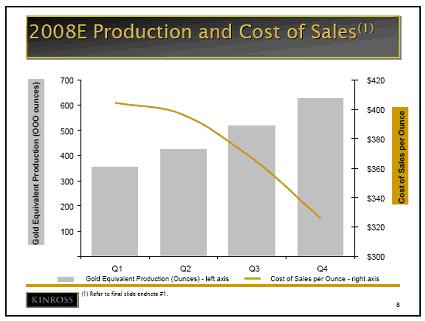 Cash balances were $551.3 million at December 31, 2007 compared to $154.1 million at December 31, 2006 . To be sitting on so much cash at a time when borrowing has become increasing more difficult is a comfortable position to hold.
Construction at the Paracatu, Kupol and Buckhorn projects continues to progress well and all three projects are expected to begin commissioning on schedule.
Proven and Probable Gold Reserves increased by 18.7 million ounces or 67%, from 27.9 million ounces on December 31, 2006 to 46.6 million ounces on December 31, 2007.
In a news release in Toronto , Ontario , on February 21, 2008 , Kinross Gold Corporation announced that the Board of Directors has declared a dividend of US$0.04 per common share, payable on March 31st, 2008 to shareholders of record at the close of business on March 24th, 2008 .
The present intention is to pay a dividend semi-annually.
Some of you may be familiar with Bill Matlock's articles entitled 'Metals & Mining Analysts Ratings & Estimates' where we can see the following estimates for Kinross Gold; EPS for 2008E is $0.80, 2009E is $1.18 and the P/E Ratio for 2008E is 28.30 and 2009E is 19.20. So the financial picture going forward is looking pretty bright.
Kinross has a market capitalisation of $14.20 billion with an average trading volume of around 6.3 million shares traded. The 52-week high was $27.40 the 52 week low was $9.87. The stock closed yesterday at $23.72.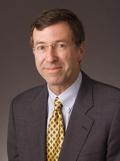 The management team is one of the best in this sector and is headed by Tye W Burt who is the President and Chief Executive Officer of Kinross. Prior to joining Kinross Tye Burt held the position of Vice Chairman and Executive Director of Corporate Development of Barrick Gold.

Kinross gold has been very kind to us thus far as you can see from a summary of our trades in Kinross Gold as reported in our portfolio:
Kinross Gold (KGC) we acquired Kinross at $10.08 and this stock now stands at $23.36, for a gain of 130%. Kinross went through a bit of a pull back so we signalled to our readers to "Add To Holdings" at those discounted levels of around $11.66. We also gave another 'Kinross Gold BUY' signal when we purchased more of this stock on the 20th August 2007 for $11.48. So this stock has roughly doubled in the six months since our last BUY signal. On 31st January 2008 we reduced our exposure to this stock and sold about 50% of our holding for an average price of $21.96 locking in a profit of about 93.60%.
Conclusion:
If you are building a core position in gold stocks then this is a stock that we think should be high on any investors acquisition list. (For disclosure purposes we do own the stock and also trade it from time to time) Of course timing your entry when making a purchase is also very important, so the team here publish every trade we make so that you can see the why, the when and the reasoning behind our trades.

Kinross trades on the Toronto stock Exchange under the symbol of 'K' and on the New York Exchange under the symbol of 'KGC'
By Bob Kirtley
For ideas on which gold stocks to invest in, subscribe to the Gold Prices newsletter at Gold-Prices.biz completely free of charge.
DISCLAIMER : Gold Prices makes no guarantee or warranty on the accuracy or completeness of the data provided on this site. Nothing contained herein is intended or shall be deemed to be investment advice, implied or otherwise. This website represents our views and nothing more than that. Always consult your registered advisor to assist you with your investments. We accept no liability for any loss arising from the use of the data contained on this website. We may or may not hold a position in these securities at any given time and reserve the right to buy and sell as we think fit.
© 2005-2019 http://www.MarketOracle.co.uk - The Market Oracle is a FREE Daily Financial Markets Analysis & Forecasting online publication.

Only logged in users are allowed to post comments.
Register/ Log in