The Single-Best Graphene Investment Play on Earth
Companies
/
Graphene
Jan 03, 2014 - 02:53 PM GMT

Michael A. Robinson writes: Imagine an "alternate reality" where it is possible to balance a Mack Bulldog tractor trailer on the sharpened tip of your No. 2 yellow pencil.
And imagine, also, that the tip of that same pencil is worth a small fortune.
This "reality" that I'm sketching out for you isn't something that I grabbed from the plot of one of those cheesy Sci-Fi Channel late-night movies.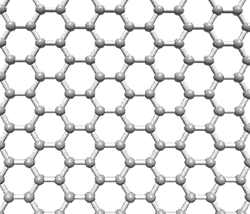 In fact, this reality actually isn't one that I'd refer to as "alternate."
It's a reality – a certainty, in fact – that I've been studying, talking and writing about for a long time.
The time has finally come for us to make some money from this opportunity – a lot of money, in fact.
And today I'm going to show you how …
It's a Miracle
In my talks with you, I've referred to them as "exotics." And I've also referred to them as "miracle materials."
Either name fits.
I'm talking about a new category of engineered substances known by industry insiders as "nanomaterials." They are exotic. And they are miraculous. These materials are destined to have a huge impact on everything from biotechnology to high-speed computing.
And there's one "exotic" in particular that shifts my pulse into hyper drive every single time I even think about it. The material is very closely related to the graphite housed in the tip of your pencil.
But this radical substance is lighter than a feather and is 200 times stronger than steel.
Indeed, it's usually referred to as the strongest manmade material on the planet.
I'm talking about "graphene."
Don't for a minute fear that I'm over-hyping graphene's potential. Others see the same bright future that I do – which is why the two scientists who discovered it won the 2010 Nobel Prize in Physics.
Graphene is classified as a "miracle material" because its potential uses are limited only by the human imagination. You can use it to make synthetic blood or kill cancer. Or to put the power of 10,000 mainframes in the palm of your hand.
In fact, scientists are looking at ways to replace the silicon in the semiconductor's "wafer" with graphene – a move that, if it can be made to work, will destroy the "Moore's Law" corollary that put limits on how fast computers could be.
And graphene is obscenely strong: If you could figure out the bracing, you really could balance a tractor trailer on the tip of a graphene-equipped pencil.
But unlike your pencil – a yellow-clad commodity – graphene is destined to create billions in profits throughout the global economy.
Investors have always felt a bit left out of the party, however – for the simple reason that there hasn't been a really good, and direct, way to invest.
Until now …
Exotic Material, Exotic Profits
The company that I'm going to tell you about today has a deep portfolio of graphene patents – in fact, no other public company has an intellectual-property portfolio as big as this one … at least not where graphene is concerned.
And those patents could be one of the catalysts that ignite returns of as much as 60%.
The company in question is the Parma, Ohio-based GrafTech International Ltd. (NYSE: GTI).
And it's the single-best way to play graphene.
On this point, I know what I'm talking about.
I first got interested in exotic materials back in the middle-1980s, when my job led me to start analyzing the "Strategic Defense Initiative," or SDI – a Reagan Administration program that you probably know better as "Star Wars."
What the public doesn't know is that advanced weapons systems such as SDI rely heavily on such exotic materials as gallium arsenide and rare-earth elements (REEs).
Since that time, the pace of materials-related innovation has intensified so much that I've referred to the last several decades as the "Golden Age of Materials Science."
And graphene, a form of "engineered carbon" that is only one atom thick, ranks as the single-biggest breakthrough in this Golden Era.
We're Golden
To give you a sense of how important graphene actually is, consider the afore-mentioned story about the Noble Prize.
It usually takes decades for physicists and other scientists to be recognized for their innovations. For instance, the two scientists who shared the Nobel last year, won it for work that they conducted back in 1964 – nearly 50 years ago.
But the two scientists who won the award for graphene did so less than seven years after their discovery – a responsiveness that underscores the recognition of the critical nature of graphene.
So you can see why we're so jazzed about this "miracle material."
Fact is, the move by GrafTech, a 125-year-old company whose work with carbon and graphite-related technologies led them right down the path to graphene.
GrafTech is the company that helped illuminate the world.
Back in the late 1800s, you see, an early permutation of the firm began supplying carbon-arc lamps to the city of Cleveland - allowing that Ohio center of industry to become the world's first city with electric street lights.
And the company continues to reach new technical milestones. In the past decade alone, it has won seven R&D 100 awards sponsored by R&D Magazine - which the publication annually bestows to honor the "100 Most Technologically Significant New Products & Processes of the Year."
The firm's products are used in metal production, electronics, chemicals, aerospace and transportation. In short, GrafTech's influence reaches far beyond its core market – working with companies that use carbon-technologies to make steel.
Because graphene is derived from graphite, GrafTech set itself up several years ago to pursue this novel new field. A review of the patents granted in this field shows that GrafTech ranks 12th in the world with 21 patents.
The 2011 study by the U.K. Intellectual Property Office – based on U.S. patents – found that GrafTech's reach was much larger than the firm's size. All the other top patent holders were either major nonprofit research institutions or mega-cap companies.
For example, the report lists the global giants Samsung Electronics Co. Ltd. (OTC: SSNLF) as No. 1 with roughly 60 patents and International Business Machines Corp. (NYSE: IBM)as No. 9 with about 20.
(Don't misunderstand: While I like both Samsung and IBM, they're both so big that we'd never get a direct benefit from their investments in graphene. We're much better off investing in a smaller venture with more-direct investments – like GrafTech.)
And other heavyweights are moving in. Last June, Apple Inc. (NasdaqGS: AAPL) filed a patent application for a graphene-based heat sink for circuit boards and lithium-ion batteries in smartphones and tablets.
What we wanted to find was a company whose graphene technologies could touch lots of clients covering several industries.
And GrafTech is doing just that …
Cashing In
Building on its strength in industrial materials, GrafTech is now targeting key growth markets. For instance, it expects the light-emitting-diode (LED) lighting sector to grow 23% over the next five years. It's also forecasting 19% growth for its electronic-thermal-management materials in smartphones over the same period.
With a market cap of $1.5 billion, GrafTech trades at about $11.50 a share.
When the company announced its third-quarter results, it reported that sales fell about 5% to $303 million on a year-over-year basis. It also said it lost $8 million – compared with a third-quarter profit of $30 million a year ago.
But there was also some very good news for investors.
First, GrafTech wrote off $18 million in "rationalization" expenses. In other words, it recognized the tough markets it's dealing with in some of its more-mature businesses, and cut costs to "rationalize" those divisions – corporate-geek speak for making sure a sluggish division isn't bigger than it needs to be. So it's reorganizing those businesses, and is taking "charges" to pay for those moves.
Without those and other related "one-timer" charges, GrafTech would have made $6 million in the period.
And second, GrafTech announced a new turnaround plan aimed at wringing out $75 million in operating costs a year, including $35 million in 2014. It also plans to streamline its inventory system to generate $100 million in new cash flow and will reduce its workforce by 20%.
For 2012, the company reported earnings per share of 84 cents. If it hits all its milestones over the next two years, GrafTech could have 2015 earnings of roughly $1.00 a share.
If the stock just trades at a Price/Earnings (P/E) ratio of 18.5 – the average valuation of the Standard & Poor's 500 Index – GrafTech shares could sell for about $18.50, about 60% higher than where they are right now.
Even Wall Street is starting to wise up – though in its typically slow and conservative manner.
Jeffries & Co. recently boosted its target price on GrafTech shares to $13 -a 13% gain from here. (It's important to remember that Wall Street "targets" are typically only 12 months out – which don't account for growth beyond that time frame.)
GrafTech is the epitome of a "special situation." It's kind of a "stealth tech" play. And it's a mid-cap firm has just launched a restructuring that we believe holds lots of near-term promise.
Longer-term, look for a big payoff from the company's investments in graphene.
It's the world's greatest "miracle material."
And you want a piece of this action.
Happy New Year to you all.
Thanks for letting me serve you in 2013 …
[Editor's Note: If you found the Strategic Tech Investor to be worth your while during 2013, Michael would really like to hear from you. We're positioning products for the New Year, and we want to keep bringing you this guide to high-tech wealth - free of charge, of course. Every comment helps.]
Source : http://strategictechinvestor.com/2014/01/the-single-best-graphene-play-on-earth/
Money Morning/The Money Map Report
©2013 Monument Street Publishing. All Rights Reserved. Protected by copyright laws of the United States and international treaties. Any reproduction, copying, or redistribution (electronic or otherwise, including on the world wide web), of content from this website, in whole or in part, is strictly prohibited without the express written permission of Monument Street Publishing. 105 West Monument Street, Baltimore MD 21201, Email: customerservice@moneymorning.com
Disclaimer: Nothing published by Money Morning should be considered personalized investment advice. Although our employees may answer your general customer service questions, they are not licensed under securities laws to address your particular investment situation. No communication by our employees to you should be deemed as personalized investent advice. We expressly forbid our writers from having a financial interest in any security recommended to our readers. All of our employees and agents must wait 24 hours after on-line publication, or after the mailing of printed-only publication prior to following an initial recommendation. Any investments recommended by Money Morning should be made only after consulting with your investment advisor and only after reviewing the prospectus or financial statements of the company.
© 2005-2019 http://www.MarketOracle.co.uk - The Market Oracle is a FREE Daily Financial Markets Analysis & Forecasting online publication.

Only logged in users are allowed to post comments.
Register/ Log in