Stocks Rally Towards Resistance as Money Fly's out of Gold
Stock-Markets
/
Financial Markets
Apr 19, 2008 - 01:59 AM GMT


Workers getting fewer hours
The gradual erosion of the paycheck has become a stealth force driving the American economic downturn. Most of the attention has focused on the loss of jobs and the risk of layoffs. But the less-noticeable shrinking of hours and pay for millions of workers around the country appears to be a bigger contributor to the decline, which has already spread from housing and finance to other important areas of the economy.
Did you feel the earthquake?
This morning I was awakened at about 5:38 Eastern, wondering who shook me. This morning I noticed that an earthquake in southern Illinois was reported to have happened at that time. A 5.2 magnitude earthquake struck Mt. Carmel , Illinois at about 4:37 Central time. This may not impress the Californians reading my newsletter, but an earthquake is a rare event in the Midwest . A little irony, here…today is the anniversary of the San Francisco earthquake in 1906.
Executives more pessimistic than a year ago
Executives from the 20 largest financial institutions met at a forum last week to discuss the outlook for their industry. They see turmoil in the housing and credit markets as the most significant threat to the economy this year. They believe that there is an 88% chance of a recession occurring later this year. They see the next two biggest threats to the economy being higher taxes and protectionism.
A rally to resistance.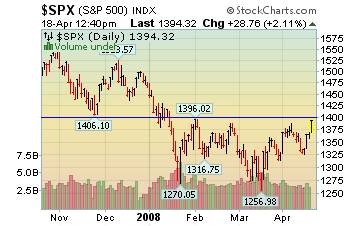 NEW YORK ( CNNMoney.com ) -- Stocks rallied Friday morning as investors welcomed upbeat earnings from Google and Caterpillar and breathed a sigh of relief that Citigroup's poor results at least included higher-than-expected revenue .
Citigroup got a pass today, despite the good news from Google and Cat. The news was atrocious, but the market chose to rally despite the huge losses, which far outweigh Google's and Caterpillar's gains. Will there be a backlash from all the bad news soon? It may happen if the market cannot go any higher.
Unreported CPI has the bond market worried.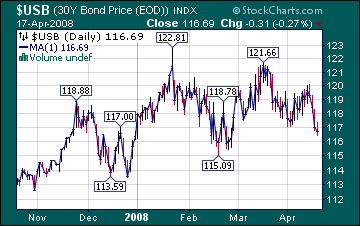 "The Consumer Price Index for Urban Wage Earners and Clerical Workers (CPI-W) increased 0.9 percent in March, prior to seasonal adjustment."
I had to put this release here, because no one else is reporting it exactly as it appears in the news release. Instead, the watered down version gets what little press there is. This has the bond market very worried, as you can see from the drop in the Treasury Bond Index. Plan on seeing lower prices and higher yields in bonds in the near future. Another indication of worry is the recent increase in the LIBOR rates.
Is money "flying" out of gold?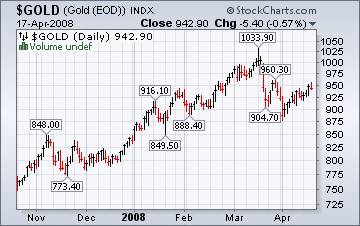 NEW YORK ( MarketWatch ) -- Gold futures fell sharply Friday, (not shown in the chart) as a rise in the U.S. dollar pressured investment "The flight-to-quality trade is flying out of gold and back to stocks," said Zachary Oxman, a senior trader at Wisdom Financial.
"We've had two days of an extremely strong stock condition and a very negative bond market," Oxman said. "Today, the money is flying out of safe-haven plays back into risk and back into the dollar."
Bank of Japan dropping interest rates again. Trouble ahead?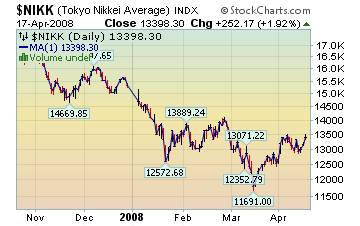 The Bank of Japan may be preparing to cut interest rates next month despite a succession crisis that has left the world's second largest economy without a Governor of the central bank for the first time.
Investors are worried again about the slowing US economy, since the Japanese economy is so dependent on exports. From a technical view, a brief probe to 14000 is all it will take to end this rally.
Hello! Is anyone paying attention to this?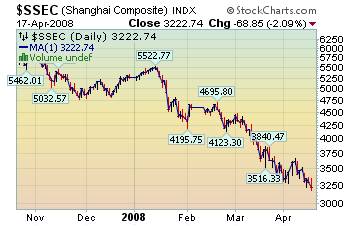 BEIJING ( XFN-ASIA ) - China A-shares closed sharply lower, with PetroChina falling well below the 16.70 yuan price at which it was offered upon listing in Shanghai late last year.
Chinese stock prices are being pressured by high inflation, rising fuel costs and poor bank performance. Does this sound familiar?
Gold's pain = Dollar's gain.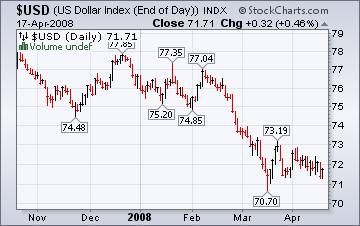 The commentators on the dollar from both sides of the pond are asking, " When will it turn ?" European exports are suffering as the Euro gains against the dollar, causing pain in the manufacturing sectors there. The dollar also reached a record low against the euro yesterday, five days after G-7 finance ministers said following a meeting in Washington that they're concerned ``sharp fluctuations'' in currency markets may hurt the global economy. Insert the word "falling dollar" for "sharp fluctuations" and the picture becomes clearer. It the Fed doesn't intervene, the European banks will.
A morality play on housing…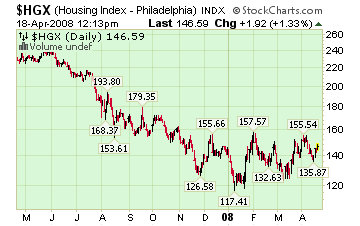 The last time we had this feeling of financial vertigo was when the Internet bubble popped seven years ago. But this is much worse: the value of our homes is collapsing. For generations, rising home prices have been central to our general sense of well-being.
Some see falling home prices as a good thing. Why? Our house isn't an investment because we live in it. It depreciates over time, so why should we think that we'll get more for it after we have used it? So should we bail out people for making unsound investments?
When everyone agrees, look the other way for a change.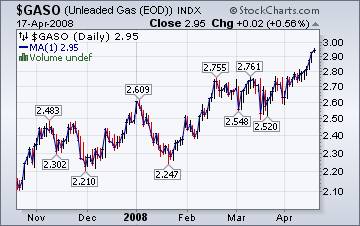 The Energy Information Administration's This Week In Petroleum tells us that, "If winter is the "Most Wonderful Time of the Year" as the popular song implies, it may not be too much of a surprise that gasoline consumers find the spring and summer anything but wonderful, when it comes to prices. This year's upcoming spring and summer are expected to see retail gasoline prices rise even further from current high levels."
Could we be at the top in Natural Gas?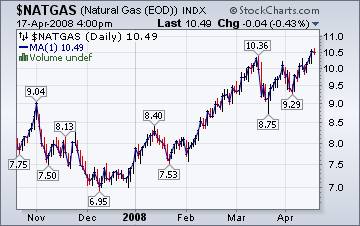 The Natural Gas Weekly Update reports, "Since Wednesday, April 9, natural gas spot prices increased at virtually all market locations in the Lower 48 States. Currently, spot prices exceed the average spot prices of the 2007-2008 heating season by about 25 percent."
Technically, we are very near a top in the price of natural gas. Certain wave relationships have reached equality, which means a reversal may be imminent. It couldn't happen soon enough.
Is the shopping center a thing of the past?
Michael Shedlock ( Mish ) is out again with some intriguing analysis on an American icon, the shopping center. The prospect of unlimited growth in the retail sector has been disproved months ago, if not longer. What do consumers want? With rising gasoline prices and higher debt payments, the answer may be, "Lower prices." Or maybe even more pointedly, "Nothing at all, thank you." Is the landscape of the retail business changing?
The consumer spending slump and tightening credit markets are unleashing a widening wave of bankruptcies in American retailing, prompting thousands of store closings that are expected to remake suburban malls and downtown shopping districts across the country."
We're on the air every Friday.
Tim Wood of www.cyclesman.com , John Grant and I are back in our weekly session on the markets. This week should be fascinating. You will be able to access the interview by clicking here .
New IPTV program going strong.
I am now a regular guest on www.yorba.tv every Thursday at 4:00 pm EDT . You can find the archives of my latest programs by clicking here .
Please make an appointment to discuss our investment strategies by calling Claire or Tony at (517) 699-1554, ext 10 or 11. Or e-mail us at tpi@thepracticalinvestor.com .
Anthony M. Cherniawski,
President and CIO
http://www.thepracticalinvestor.com
As a State Registered Investment Advisor, The Practical Investor (TPI) manages private client investment portfolios using a proprietary investment strategy created by Chief Investment Officer Tony Cherniawski. Throughout 2000-01, when many investors felt the pain of double digit market losses, TPI successfully navigated the choppy investment waters, creating a profit for our private investment clients. With a focus on preserving assets and capitalizing on opportunities, TPI clients benefited greatly from the TPI strategies, allowing them to stay on track with their life goals
Disclaimer: The content in this article is written for educational and informational purposes only. There is no offer or recommendation to buy or sell any security and no information contained here should be interpreted or construed as investment advice. Do you own due diligence as the information in this article is the opinion of Anthony M. Cherniawski and subject to change without notice.
© 2005-2019 http://www.MarketOracle.co.uk - The Market Oracle is a FREE Daily Financial Markets Analysis & Forecasting online publication.

Only logged in users are allowed to post comments.
Register/ Log in