Czar Putin's Annexation of Crimea Ukraine, Lesson for Independent Scotland?
Politics
/
UK Politics
Mar 04, 2014 - 06:39 PM GMT


The ease to which the Russian military descended upon Crimea and several eastern parts of Ukraine reeks of pre-planning of several several weeks if not months. Therefore Russia is not just reacting to events in Kiev but will likely have orchestrated the whole build up including the events that saw the Berkut special police open fire on protestors in Kiev, as all part of Putin's plan for the dismemberment of Ukraine before Ukraine forms closer ties with the European Union, ultimately joining the EU and NATO.

Russia's invasion of Crimea which given the continuing build up on east Ukraine's border that is is said to number more than 150,000 troops and equipment will likely culminate in a wholesale invasion and land grab of approx 1/3rd of Ukrainian territory.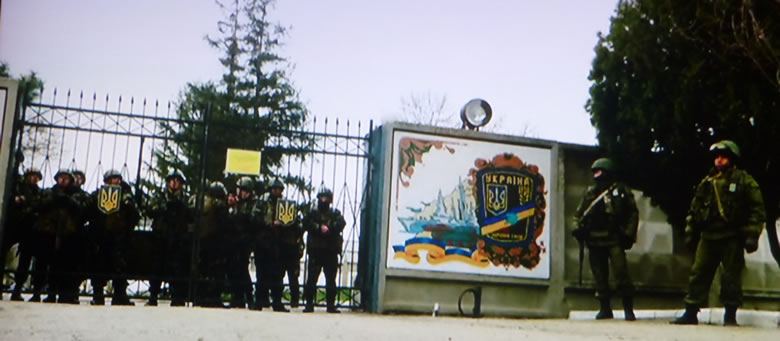 Meanwhile whilst we should always take western mainstream press reporting with a giant pinch of salt, nevertheless the degree to which RT (Russian Tyranny) News engages in newspeak is on a whole different level that wholesale swallows the vomit of lies that spew out Czar Putin's mouth in justification of the invasion of Ukraine, where NONE of Czar Putin's statements are backed by any facts on the ground.
The bottom line is that no one that appears on Russian Tyranny (RT) News has any credibility as they are effectively on the payroll of Czar Putin's propaganda ministry to pump out worthless garbage, be it the likes of Max Keiser pumping the Bitcoin crypto-scam in an attempt at under-mining the dollar or a myriad of RT News presenters justifying the invasion of Ukraine with bare faced lies.
Ukraine a Lesson for Independant Scotland
As my recent articles have illustrated that when states start to disintegrate as the UK would start to do following a vote for Scottish Independence then so would a Pandora's box be opened that would soon see the docile domesticated politicians of today's Westminster, the likes of which we have been used to since the end of WW2, replaced by those who would be solely tasked with holding a fragmenting nation together which Putin style would seek to take advantage of economic and political chaos in an Independant Scotland that would not even have a currency, prompted to act to protect the approx 50% who voted NO to independence resulting in the annexation of parts of Scotland.
Whilst this is beyond most peoples comprehension today, but it would be the natural consequence of a disintegrating state especially as all of the reasons that Putin puts forward for the annexation of Crimea such as the black sea naval base and military installations, a large percentage russian population can also be made for many parts of Scotland where approx half the population would find themselves permanently living in a foreign country. Not forgetting that the UK has already engaged in several highly dubious if not outright criminal recent wars that required far less justification (Iraq and Afghanistan) than would the annexation of several parts of Scotland, for Scotland has been part of the UK for far longer than the Crimea had been a part of Russia.
An independant Scotland would be economically, politically and socially unstable, and if it followed the example of the last UK state to gain independence, Ireland then it would soon start to split into nationalist and Unionist regions that would seek to rejoin the UK that would be met with Scottish Nationalist resistance sparking violent civil conflict.
In fact should an Independant Scotland start to descend into near civil war than the British army could even be invited into Scotland to restore order, off course once the army comes then they usually never tend to leave.
More on the dangerous consequences of Scottish Independence -
24 Feb 2014 - Scottish Independence Economic Consequences for England, UK, Ukraine 2014, Britain 2016?
UKRAINE 2014, BRITAIN 2016?
The real problem of Scottish Independence is as I have highlighted several times in recent articles is that it would open up a pandora's box that would encourage other parts of the UK to start their own separatist movements which would disrupt economic activity right across the UK, and that is the real danger of Scotland leaving the UK, and not its net economic impact on the UK.
Ukraine illustrates what tends to happen when countries start to tear themselves apart as peaceful demonstrations in Ukraine's capital city Kiev of barely a few weeks ago have fast descended into chaos towards outright civil war as several regions in the north-west such as Lviv declare independence, whilst the south-east stands behind its democratically elected President who fled the capital with loyal security forces barely 24 hours ago.
What was unimaginable a few weeks ago has now become a crisis situation of mounting deaths, where with each death Ukraine takes a further step towards leaping over the edge of and into the abyss of where the likes of Syria stands today, as the consequence of what happens when nations rip themselves apart.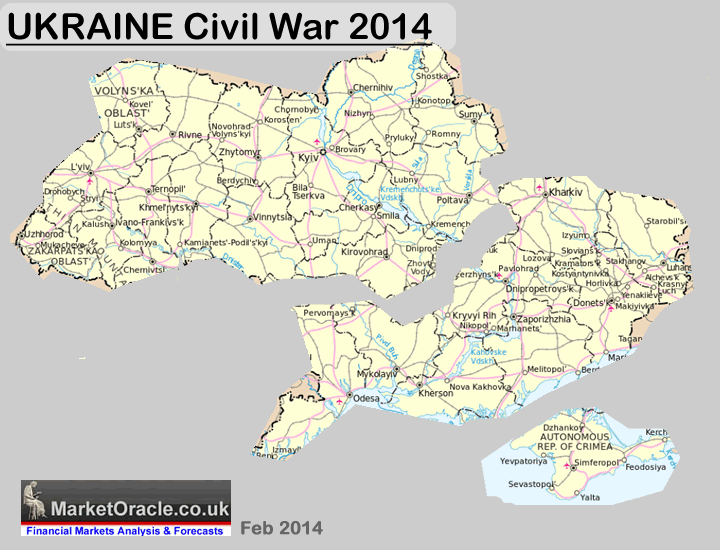 Ukraine tearing itself apart has huge implications for european stability as the conflict risks sparking unrest in bordering states most of which have their own separatist movements, especially Russia which therefore looks set to intervene militarily.
Independant Scotland Debt Flash Point
Alex Salmond's debt default threat statements are akin to someone borrowing money from the bank to build a house and then declaring that they did not owe the bank anything, by rights the bank could repossess the property, and similarly the UK could impose tariffs (just as took place following Irish Independence) or seize Scottish assets on paper to the tune of £120 billion, effectively freezing the assets and thus restricting their use and resale.
Of course such an action would be seen as outrageous by the Scottish people and flame the fires of conflict as it would sow much discontent between Scots and the 1/2 million settled English in Scotland, just as does the SNP's statements of not taking on the £120 billion of debt to people south of the border.
This is just one example of how the SNP and Independant Scotland would sow the seeds of conflict between North and South Britain.
The Balkanisation of Britain
Alex Salmond and his merry band of scottish nationalists quest for dominance over a small part of the Island of Britain have failed to calculate that they will no longer have Westminister to blame for this, that, or other latest socialist deficit spending induced crisis. Which implies that the first port of call for disintegration will likely be in Scotland itself, as a vote for Independence at best would only marginally carry more than 50% of the votes. Therefore the Scottish nationalist government would within a couple of years start to hear highly vocal demands from parts of Scotland to rejoin the United Kingdom, the refusal of which could trigger the start of civil conflict, which as we have seen in Ukraine and elsewhere that it does not take much for crisis to spiral out of control.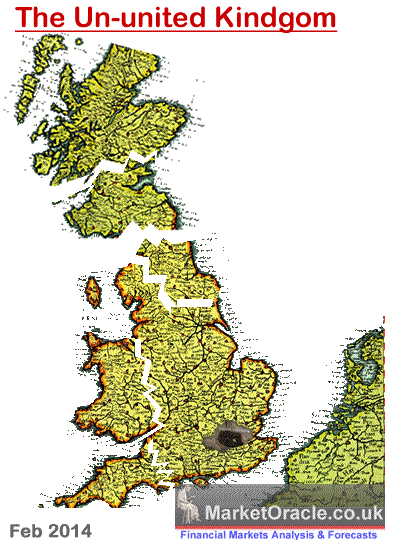 As for the rest of the UK, unfortunately Scotland attempting to tear itself away from the United Kingdom would set in motion a chain of events that would destabilise the whole Island of Britain as many separatist movements would be emboldened to exaggerate their own sense of injustice mostly based on semi-mythical histories and as remedy seek their own autonomous or even independent states, such as Wales, Cornwall, Mercia and off course heavily subsidised Northern Ireland.
Scottish independence would result in increasingly chaos across the Island, as growing civil unrest would spread as a contagion infecting many other regions of Britain.
The first consequences of the start of UK fragmentation would be in the economic arena as regions would seek to exert greater autonomy and thus increasingly implement differing rules and regulations that would disrupt economic activity that would further accelerate the breakup of the Union as regions would continuously become poorer thus blame others for their circumstances and see further separation as the solution.
The European Union fears this which is why senior EU politicians have been lining up one after another to state that contrary to SNP propaganda, an Independant Scotland would not be fast tracked into the EU, for they understand that just as a disintegrating Ukraine would destabilise the whole eastern european region so would a disintegrating UK destabilise many western EU nations such as Spain, France, Belgium and Italy all of whom have their own separatists movements.
It would be difficult, if not impossible, for Scotland to join the European Union - European commission president José Manuel Barroso
The bottom line is that Scottish Independence would open a Pandora's box that would result in a state of Britain that is far removed from the rose tinted glasses picture that the likes of the SNP are painting today, because the UK has always been MORE than the SUM of its parts. Therefore a fragmented UK will be far LESS in EVERY respects than that which the UK is today.
Gangsters and Paramilitaries
Gangsters that would eventually become paramilitaries are waiting in the wings to capitalise upon the many opportunities they will be presented by the breakup of the UK, as separation will result in a boom time for criminal enterprises such as smuggling, gambling, drugs and extortion protection rackets amongst many others at huge cost to civil society in terms of the day to day lives of ordinary citizens becoming subject to the whims of flag flying criminal gangs.
A situation that the people of the Scotland or bordering regions of England could never imagine today much as the peoples of Northern Ireland could not imagine what lay in store for them following the breakup of Ireland. Where today, even over 15 years on from the Good Friday peace agreement the people of Northern Ireland still have to contend with the consequences of more than 180 well organised armed gangs, most of whom use the cloak of republicanism and loyalism to engage in high level of criminal activities that are beyond the experience of the peoples of mainland Britain. To imagine that this would not be replicated in a disintegrating UK and that on a far greater scale is ignoring what has taken place following the breakup of virtually every nation state in history. Weakened states act as magnates for organised crime, just as today Ukrainian, Russian, Polish gangsters are busy capitalizing on the chaos that is taking place in Ukraine.
So whilst it is unimaginable today for the SNP to have a paramilitary wing, however that does not mean it will be so a decade on from Independence as a consequence of the chaos that would follow the break up of the United Kingdom as we could see Scottish Nationalist paramilitaries battling against Loyalist paramilitaries as they attempt to carve up areas between themselves to profit from criminal activities as a consequence of weakened states that apart from terrorising the general population will have a huge impact on legitimate business activities.
The bottom line is should the UK start to breakup starting with Scottish Independence then several decades from now people will look back at today's UK as being a golden era of political, social and economic stability.
In terms of investment decisions, if Scotland votes Yes, then it should be taken as a cue to start to disinvest from the UK, and to seek to formulate an escape plan from the UK before the penny drops.
Source and Comments: http://www.marketoracle.co.uk/Article44682.html
Nadeem Walayat
Copyright © 2005-2014 Marketoracle.co.uk (Market Oracle Ltd). All rights reserved.
Nadeem Walayat has over 25 years experience of trading derivatives, portfolio management and analysing the financial markets, including one of few who both anticipated and Beat the 1987 Crash. Nadeem's forward looking analysis focuses on UK inflation, economy, interest rates and housing market. He is the author of five ebook's in the The Inflation Mega-Trend and Stocks Stealth Bull Market series.that can be downloaded for Free.

Nadeem is the Editor of The Market Oracle, a FREE Daily Financial Markets Analysis & Forecasting online publication that presents in-depth analysis from over 600 experienced analysts on a range of views of the probable direction of the financial markets, thus enabling our readers to arrive at an informed opinion on future market direction. http://www.marketoracle.co.uk
Disclaimer: The above is a matter of opinion provided for general information purposes only and is not intended as investment advice. Information and analysis above are derived from sources and utilising methods believed to be reliable, but we cannot accept responsibility for any trading losses you may incur as a result of this analysis. Individuals should consult with their personal financial advisors before engaging in any trading activities.
© 2005-2022 http://www.MarketOracle.co.uk - The Market Oracle is a FREE Daily Financial Markets Analysis & Forecasting online publication.
Comments
KBrighouse
05 Mar 14, 09:20
Scottish Refferrandum


The referendum vote was always going to be problem attic is the result is almost 50/50 with one side shading it. Really a referendum should have been call when there was a significant chance of a large-ish Yes vote. We all know if the YES vote narrowly loses, they won't stop with their ambitions for independence but if the No vote narrowly loses, somehow they will be expected to drop any ambitions of the union. The referendum really needs to provide a signficant result one way or the other.



Rikky
05 Mar 14, 11:27
Scottish Nationalism


You only have to step back to see how almost "Nazi" like the SNP have been in whipping up anti-English hysteria across Scotland. Being English and having been working there for 2 years, I can confirm it's well and truly alive despite the general "line" that it doesn't exist. There is so much unfounded racism and hostility towards English, it's quite disgusting.

Scotland has benefited hugely from being part of the Union for the past 300 years. And it's rather distasteful that suddenely it doesn't suit them because there is some oil and they think they have 100% rights to it, and the rest of the UK shouldn't see a drop. Well what about the flow of prosperity that has gone the opposite way. Huge invertment has been pumped into Scottish industry by the UK government for a very long time indeed. And make no mistake, all this independence chatter is about nothing but money.

The same blood lives north and south of the border, but with a different accent.

Apart from the mentions already about the dubious claim of Scottishness to the northern islands, England can also lay claim large areas of the southern "Scottish" lands. Just take a look at some history and you'll see why. Therefore there is no justification to choose the period just prior to the union as a baseline.



R.E.B
05 Mar 14, 13:37
Selective critics


It staggers me that people so quick to point to dubious ethics of western politicians support Putin! The truth is of course he is just a KGB hood stuck in the past. Instead of concentrating on building up Russia's genuine productive capacity he just wants to reinstate the old soviet empire. He is a fool. And as you can judge people by the company they keep the media kooks who support him are fools too and dishonest ones at that. Re Scotland, bearing in mind our disastrous experience in Northern Ireland I just cannot see any government sending troops into an independent Scotland. Alex Salmond looks like he is losing his grip. He looks harassed and stressed, and I sense he knows he is losing the argument.



Andrew1957
05 Mar 14, 17:23
Putin


I have to say REB that I completely disagree regarding Putin. It seems to me that he is one of the few statesmen left in this world and is a force for peace not war.

The US and EU have spent huge amounts of money creating regime change in Ukraine - this is fact. Even the BBC reported on 7th Feb the taped conversation when Assistant Sec of State Neuland admitted $5 billion had been expected for this purpose as well as saying "f*** the EU" - which went down well. So no surprise Putin had troops on the borders as he had advance notice that the Ukrainian government could fall to US interests.

Imagine what the US would do if Russia spent $5 billion to overthrow the Canadian government and install a pro Russian one in its place.

So to me Putin has been admirably restrained so far. He was also instrumental in stopping the US getting involved with Syria. And the only other country he has invaded as far as I recall is Georgia (again to protect Russian interests) - whereas the US has been guilty of frequent illegal interventions throughout the world over the same period - Libya, Iraq (no WMD's), Syria (supporting opposition), Somalia, Haiti, Pakistan (drone strike), Afghanistan etc etc.

To me the US is a mad empire desperately trying to control the whole world, whereas Russia only looks after its own interests.



Andrew1957
05 Mar 14, 17:24
Scotland


As for Scotland I completely agree that they would be mad to vote for separation as it would be economic suicide.



R.E.B
05 Mar 14, 22:03
Putin is a loser


With respect Andrew I disagree. Putin could spend $5 trillion trying to overthrow the Canadian government and would fail because the populous is in the main contented. It is just blind conspiracy theory to think that the west could seed such discontent out of thin air to overthrow Yanukovych.Yanukovych authored his own downfall by being unbelievably corrupt and incompetent. Putin showed his ineptitude too by backing him. Just one hood backing another. Putin is stuck in a 19th century mindset in thinking that the wealth of a nation is derived from the land mass it controls. He can't see that in fact it is the productivity of a nations economy that makes a country strong, and where it really matters Russia is weak. I believe Putin to be the clown prince of Russia rather than its czar and he will leave that nation weaker not stronger as a consequence of his foolish antics.

Please do not take my post as an endorsement of U.S foolishness which is also yielding disastrous results.



Nadeem_Walayat
06 Mar 14, 18:21
Russian Empire


The ONLY reason Putin is restricted to invading bordering nations is because Russia is WEAK.

If Russia was strong it would be exporting its brand of tyranny across the world, and no matter how bad things are under the American Empire and its Poodle Britain, things would be infinitely worse under an Russian Empire as Russia seeks territory whilst the US seeks resources which means Russia ethinically cleanses and persecutes whilse the US gets the populations to fight amongst themselves.

Best

NW



Yuriy
14 Mar 14, 23:31
Russian money leaving the west


Hi Nadeem,

what is your quick take on what is the possible impact on the financial markets escalation of the Russian conflict?

Apparently, Russian companies have pulled out significant amounts of cash from Fed and US banks.

Any comments would be useful.

Thank you



Nadeem_Walayat
15 Mar 14, 17:52
Stalin


Hi

I'll write later today at greater length, but I think the big losers that no one is talking about are the Russian people as one word comes to mind - STALIN.

The russian people have been sleep walked into stalinist police state.

Best

NW




Only logged in users are allowed to post comments.
Register/ Log in