Invest in Silver or Silver Stocks?
Commodities
/
Gold & Silver
Apr 29, 2008 - 12:36 PM GMT


In May 2006 silver spiked at fifteen dollars and the HUI Index also spiked at 400, today we have silver trading at seventeen dollars, having been as high as twenty dollars, and the HUI Index stands at 406!
This raises the question of whether it is better to invest in the metal itself or to invest in silver stocks?
To answer this question we need to determine why we are no longer seeing any leverage in the stocks to the metal. One of the reasons for taking the risk of investing in a mining exploration and producing enterprise is because we hope to realise a better return then the underlying metal can provide. Ratios of 3:1 or even 4:1 are usually expected to prevail. In an attempt to encapsulate what is happening we will use a few snap shots of silver versus the HUI Index. The HUI Index consists of gold and silver mines, not just silver mines, however, we will use it for this exercise.
If we take a look at this chart covering the last seven years we can see that the mining stocks as represented by the HUI Index of basically un-hedged mining companies outperformed silver by a considerable margin. So over that time period the place to be was in the stocks and not so much the metal.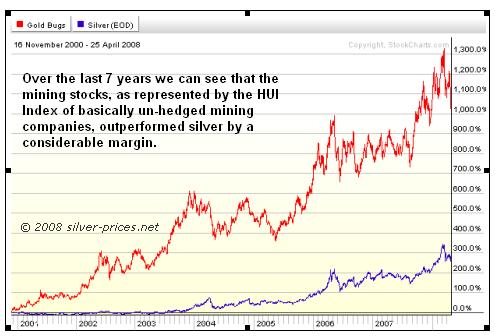 However, if we now consider this chart of the last 3 years then we can see that silver has outperformed the silver stocks so the place to be invested was silver and not so much the stocks.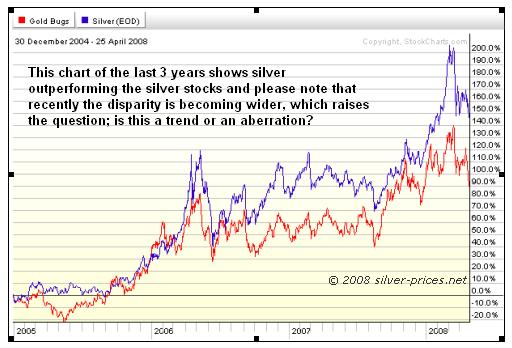 Now if we take a look at this year only we can see that the stocks have struggled to keep up with the silver prices. True it is only a snap shot of a four-month period but the leverage that we would like to see has completely dissipated recently and that the disparity is becoming wider.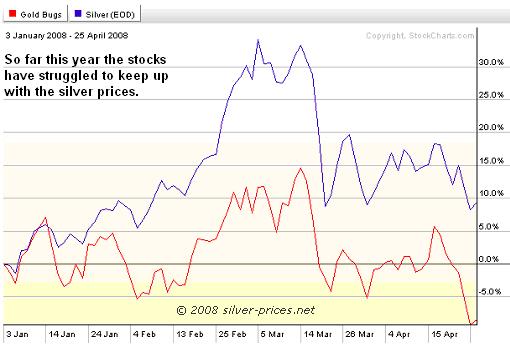 We could write this off as a short-term aberration and wait for the stocks to play catch up or conclude that this is a new trend forming and therefore re-position ourselves in this market accordingly.
To what can we attribute this disparity and is it here to stay or will it too pass on by with a little more time. The first thing that springs to mind is the creation of the silver Exchange Traded Funds (ETF) a relatively new investment vehicle offering exposure to silver via a fund. Knowing just how much silver these funds possess gives us a clue to just how money has been invested in them and therefore is not available for investment into silver producers. For this answer we turn to silveraxis who carry the following data:
Ounces Held by Silver ETF SLV 185m, ETF ZKB – SWISS 15m, ETF PHAG – LSE 11m, COMEX Warehouses 135m, Central Fund of Canada 41m, Millenneum Bullion Fund 3m. We could debate the data but that would detract from the point of this discussion.
This is roughly a total of 400 million ounces at say $17/oz, which equates to $6,800 million tied up in this form of investment, or in round numbers $7 billion. This amount of cash would buy hundreds of silver exploration companies or four or five of the bigger producers on a market capitalisation basis. So we can see that the capital flow to these funds is huge and is most certainly a drain on the investment capital available for investment in silver stocks.
For investors this form of investment offers excellent liquidity enabling even the biggest players to enter and exit the silver market at the push of a button. So if this trend continues then it could be some time before we see a return to what was conventional wisdom in terms of stock leverage to silver prices.
We are not advocating the purchase of EFTs just recognising that we now have silver the metal, silver stocks and a paper representation of the metal to choose from.
If you have an opinion on this subject then please feel free to add your comments whether you agree with us or not as they will add some balance to the debate.
If you would like to follow our adventures in the silver sector and receive our frequently published and soon to be legendary
free newsletter then please click this link
By Bob Kirtley
For ideas on which gold stocks to invest in, subscribe to the Gold Prices newsletter at Gold-Prices.biz completely free of charge.
DISCLAIMER : Gold Prices makes no guarantee or warranty on the accuracy or completeness of the data provided on this site. Nothing contained herein is intended or shall be deemed to be investment advice, implied or otherwise. This website represents our views and nothing more than that. Always consult your registered advisor to assist you with your investments. We accept no liability for any loss arising from the use of the data contained on this website. We may or may not hold a position in these securities at any given time and reserve the right to buy and sell as we think fit.
© 2005-2019 http://www.MarketOracle.co.uk - The Market Oracle is a FREE Daily Financial Markets Analysis & Forecasting online publication.

Only logged in users are allowed to post comments.
Register/ Log in