European Stock Markets Cliff Ahead?
Stock-Markets
/
European Stock Markets
Apr 30, 2014 - 07:15 PM GMT

By Dirk Steinhoff
(This article originally appeared in World Money Analyst)
When Kevin Brekke, managing editor [of World Money Analyst], contacted me last week, I knew it was time again to survey the investment landscape. This month, I will focus on Europe and its decoupled financial and real-economy markets.
Globally, the last two years were marked by booming stock exchanges of developed markets, disappointing bond markets, and devastation across the precious metals markets.
Since June 2012, the EURO STOXX 50 Index, Europe's leading blue-chip index for the Eurozone, has advanced by approximately 50% and outperformed even the S&P 500 and the MSCI World indices.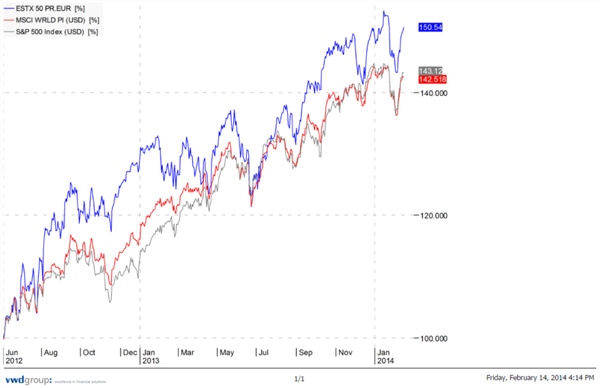 Over the last six months, European stock exchanges have seen a surprising change of leadership: The major stock market indices of the "weaker" countries, like Portugal, Spain, and Italy, have outperformed those considered stronger, like Germany. One of the top performers was a country that was and still remains in "bankruptcy" mode: Greece.
The question at this point is: Can these outstanding European stock market performances continue?
In our search for an answer, let's start with a closer look at the economic conditions within the European Union (EU), where approximately 2/3 of total "exports" (internal and external) of the EU-28 are traded. And then let's have a look at the economic setting of some major trading partners, such as the US and BRIC countries, which account for roughly 17% and 21%, respectively, of the external exports of the EU-28.
Although the EURO STOXX 50 Index has soared since June 2012, certain key measures of the underlying real economies paint a different picture.
To start, the GDP of the EU-28 is not really growing. In 2012, it contracted by 0.4% and grew by the smallest fraction of 0.1% in 2013. The GDP growth numbers for the countries in the euro area are even worse: -0.7% in 2012 and -0.4% in 2013. Whereas Germany's GDP was up in 2013 by 0.5%, economic growth was down in Spain, Italy, and Greece by -1.2%, -1.8%, and -3.6%, respectively.
Real GDP Growth Rates 2002-2012

2002

2003

2004

2005

2006

2007

2008

2009

2010

2011

2012

EU

1.3

1.5

2.6

2.2

3.4

3.2

0.4

-4.5

2.0

1.6

-0.4

Germany

0.0

-0.4

1.2

0.7

3.7

3.3

1.1

-5.1

4.0

3.3

0.7

Spain

2.7

3.1

3.3

3.6

4.1

3.5

0.9

-3.8

-0.2

0.1

-1.6

France

0.9

0.9

2.5

1.8

2.5

2.3

-0.1

-3.1

1.7

2.0

0.0

Italy

0.5

0.0

1.7

0.9

2.2

1.7

-1.2

-5.5

1.7

0.5

-2.5

Portugal

0.8

-0.9

1.6

0.8

1.4

2.4

0.0

-2.9

1.9

-1.3

-3.2
The EU unemployment rate stood at 10.2% at the beginning of 2012 and stands at 12.1% today. That the European Union is anything but a homogenous body that moves in unison can be seen in the following chart: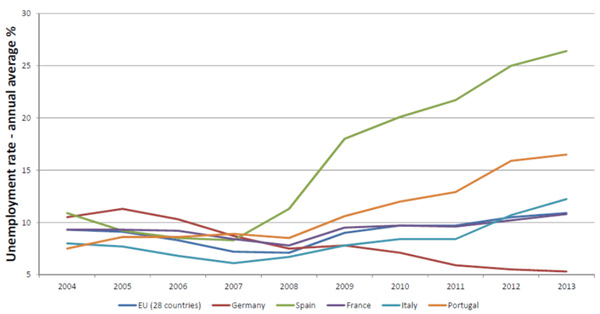 Where Germany has a current unemployment rate of 5.2% and a youth (under 25) unemployment rate of 7.5%, the numbers for other countries are worrisome: Current unemployment in Spain is 26.7%, and 12.7% in Italy, with youth unemployment in Spain at an incredible 57.7%, and 41.6% in Italy. And don't forget Greece, which is mired in a historically unparalleled economic depression where unemployment is 28% and youth unemployment is a shocking 61.4%. Keep in mind that all of these numbers are those officially released by bureaucratic agencies. The real numbers, as we know, would likely be even worse.
Recent EU industrial production numbers have shown some slight improvement. Nevertheless, industrial production has only managed to recover to its 2004 level, and remains way below its 2007 heights (see next graph).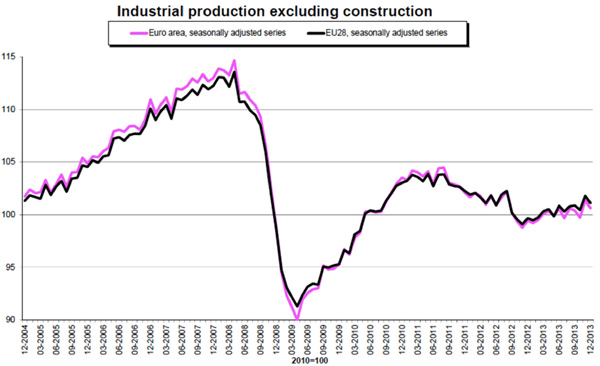 Source: Eurostat
So let's see: a shrinking GDP, high and rising unemployment, and stagnant production significantly below 2007 levels. Those are not the rosy ingredients of a booming economy (as indicated by the stock exchanges) but of one that is struggling.
Europe is not in growth mode.
This verdict is further supported by the export numbers for trade between EU countries, known as internal trade. In 2001, internal trade accounted for 67.9% of EU exports. Today, this share is down to 62.7%. In an attempt to compensate for sluggish European growth, EU companies had to develop other export markets, such as the US or the emerging markets.
Will these markets help rescue European companies?
Time to Taper Expectations
With regards to the US, two important developments are worth mentioning. The first key development, which will have severe consequences for the global economy, was brought to my attention by my friend Felix Zulauf, an internationally well-known investor and regular member of the Barron's Roundtable for more than 20 years. Running ever-increasing deficits in its trade and current accounts for almost 30 years, the US thus provided an enormous amount of stimulus for foreign exporters. Since 2006, however, the US trade deficit has shrunk, with deteriorating trade data for many nations as a consequence.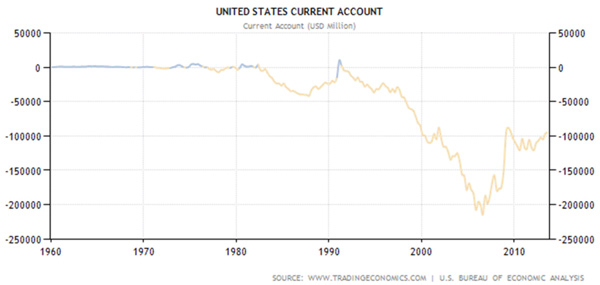 The second key development is that the newly appointed head of the US Federal Reserve system, Janet Yellen, seems determined to continue the taper of its bond buying program. This fundamental shift in monetary policy could be questioned if the economic numbers for the US begin to show significant weakness. But in the meantime, the reduction of economic stimulus in the US should lead to a reduced appetite for European export goods.
The emerging markets had been seen, not too long ago, as the investment opportunity and alternative to the fiscal and debt crisis-stricken countries of the developed world. Today, on a nearly daily basis, you hear bad news about the situation and developments in the emerging countries: swaying stock markets, plunging currencies, company bankruptcies, corruption scandals, and even riots.
The emerging markets are dealing with the unintended consequences of the Quantitative Easing (including liquidity easing and credit easing) programs in the West. The increased liquidity spilled over into the emerging markets in the hunt for yield. This flow of capital into the emerging markets lowered capital costs, inflated asset prices like stocks and real estate, and boosted commodity prices. All that, and more, sparked the emerging markets boom.
Now, this process has reversed. The natural conclusion to exaggerated credit-driven growth, the tapering of QE programs, the shrinking US trade deficit, and lower commodity prices has been an outflow of capital from emerging markets, triggering lower asset prices and exchange rates. The attempt of some countries to defend their currencies by raising interest rates will only exert further pressure on their economies.
With weaker emerging market economies and currencies, there will be no big added demand for European exports. Revenues and profits for EU companies (measured in euros) will fall.
When Trends Collide
So, over the last two years we had opposing trends—booming European stock markets and weak underlying real economies. This conflicting mix was mainly fostered by easy money that drove down interest rates to historic low levels. Plowing money into stocks, despite the poor fundamentals, was the only solution for most investors.
At their current elevated levels European stock markets appear vulnerable, and it seems reasonable to doubt that we will see a continuation of booming stock markets. Of course, such a decoupling can continue for some time, but the longer it continues, the closer we will get to a correction of this anomaly. Either the real economy catches up to meet runaway stock prices, or stock prices come down to meet the poor economic reality. Or some combination of the two.
Because of the economic facts that I discussed above, in my view, we may be seeing just the beginning of a stronger correction in stock prices.
Dirk Steinhoff is chief investment officer of portfolio management (international clients) at the BFI Capital Group. Prior to joining BFI in 2007, Mr Steinhoff acted as an independent asset manager for over 15 years. He successfully founded and built two companies in the realm of infrastructure and real estate management. Mr Steinhoff holds a bachelor's and master's degree in civil engineering and business administration, magna ***** laude, from the University of Technology in Berlin, Germany. Contact: advisors@bfiwealth.com.
---
Want to read more World Money Analyst articles like this? Subscribe to World Money Analyst today and learn how to look abroad for truly diverse opportunities that insulate you from domestic risk.
© 2005-2019 http://www.MarketOracle.co.uk - The Market Oracle is a FREE Daily Financial Markets Analysis & Forecasting online publication.

Only logged in users are allowed to post comments.
Register/ Log in