Can Tesla Motors Strengthen Its Brand by Giving Away Its Patents?
Companies
/
US Auto's
Jun 24, 2014 - 02:45 PM GMT


"Tesla will not initiate patent lawsuits against anyone who, in good faith, wants to use our technology."

That's according to Elon Musk, CEO of electric automaker Tesla Motors Inc., which we own in our All American Equity (GBTFX) and Holmes Macros Trends (MEGAX) Funds.


Innovators and entrepreneurs aren't normally in the business of sharing their intellectual property. But in
his blog published June 12,
Musk defends his shocking decision by asserting that "applying the open source philosophy to our patents will strengthen rather than diminish Tesla's position" in technology leadership and the auto industry overall.
The patents Musk refers to include the lithium-ion technology used to power his company's Roadster and Model S.
Nissan and BMW, two of Tesla's rivals in the electric vehicle (EV) market, have expressed interest in collaborating with the company on improving their own line of low-emission cars.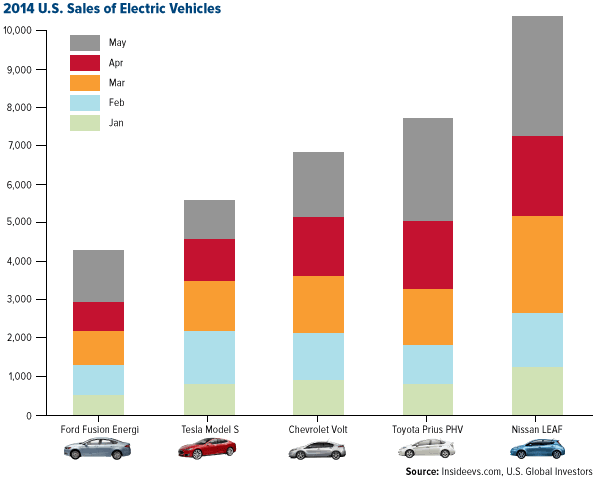 Investors might crinkle their noses at Musk's decision, arguing that giving away trade secrets for free will only hurt shareholders of an already somewhat speculative company. The market didn't agree, however, as shares rose more than 13 percent to $231.67 within five days of the announcement.

Although competitors will likely take advantage of and benefit financially from Tesla's hard work, Musk has dramatically grown the size of the pie to be shared by all and positioned Tesla to be the thought leader in sustainable transport technology.

Besides, as he points out, Tesla's "true competition is not the small trickle of non-Tesla electric cars being produced, but rather the enormous flood of gasoline cars pouring out of the world's factories every day."

Running on all cylinders—if it had any.

Tesla, founded in 2003, is showing no signs of slowing down. The Model S has received numerous awards such as Automobile Magazine's 2013 Car of the Year, Motor Trend's 2013 Car of the Year, Consumer Reports' Best Overall Car and an unprecedented 5.4 Vehicle Safety Score from the National Highway Traffic Safety Administration (NHTSA). Sales have been brisk. California drivers in particular are enamored, and in September of last year, the Model S was the top selling new car in Norway, the first time an EV outsold conventional vehicles in any country.

This year Tesla introduced its brand to China, the world's largest auto market, and already the car was spotted cruising the streets of Shanghai by a friend of Xian Liang, co-portfolio manager of our China Region Fund (USCOX).

For those who blanch at the Model S's nearly $60,000 baseline asking price might soon see some relief. Musk has announced the construction of a "gigafactory," which will turn out approximately half a million lithium-ion batteries every year. Mass-producing the batteries, the car's costliest component, will help lower the price of both Tesla and rival manufacturers' EVs.

A real-life Tony Stark.

With Elon Musk at the helm, Tesla Motors is primed to become one of America's greatest success stories. A serial entrepreneur, Musk made his billions investing and taking leadership roles in such tech endeavors as PayPal and SpaceX. Besides combatting carbon emissions with his line of EVs, his other ambitious goals include the construction of the so-called Hyperloop—a rapid transit system that, if realized, will zip commuters between Los Angeles and San Francisco in about 30 minutes—as well as a permanent human colony on Mars.

However these other pursuits unfold, it's nearly guaranteed that history will rank Musk in the same category of top American automobile innovators as Henry Ford, Ransom Olds, Walter Chrysler, the Dodge brothers and Lee Iacocca.
Want to receive more commentaries like this one? Sign up to receive email updates from Frank Holmes and the rest of the U.S. Global Investors team, follow us on Twitter or like us on Facebook.
By Frank Holmes


CEO and Chief Investment Officer

U.S. Global Investors
U.S. Global Investors, Inc. is an investment management firm specializing in gold, natural resources, emerging markets and global infrastructure opportunities around the world. The company, headquartered in San Antonio, Texas, manages 13 no-load mutual funds in the U.S. Global Investors fund family, as well as funds for international clients.
All opinions expressed and data provided are subject to change without notice. Some of these opinions may not be appropriate to every investor.Standard deviation is a measure of the dispersion of a set of data from its mean. The more spread apart the data, the higher the deviation. Standard deviation is also known as historical volatility. All opinions expressed and data provided are subject to change without notice. Some of these opinions may not be appropriate to every investor. The S&P 500 Stock Index is a widely recognized capitalization-weighted index of 500 common stock prices in U.S. companies. The NYSE Arca Gold BUGS (Basket of Unhedged Gold Stocks) Index (HUI) is a modified equal dollar weighted index of companies involved in gold mining. The HUI Index was designed to provide significant exposure to near term movements in gold prices by including companies that do not hedge their gold production beyond 1.5 years. The MSCI Emerging Markets Index is a free float-adjusted market capitalization index that is designed to measure equity market performance in the global emerging markets. The U.S. Trade Weighted Dollar Index provides a general indication of the international value of the U.S. dollar.
© 2005-2019 http://www.MarketOracle.co.uk - The Market Oracle is a FREE Daily Financial Markets Analysis & Forecasting online publication.

Only logged in users are allowed to post comments.
Register/ Log in