Hitting The ISIS Panic Button In The Middle East
Politics
/
ISIS Islamic State
Aug 22, 2014 - 05:08 PM GMT


Obama's Transcript
The US Federal News Service, August 20, released president Obama's remarks on the decapitation of journalist Jim Foley, in which Obama said that people across the Middle East have to make a common effort "to extract this cancer so that it does not spread". Speaking at a joint press conference, August 21, with the Chairman of the Joint Chiefs of Staff General Martin Dempsey, US Secretary of Defense Chuck Hagel went much further. Saying that ISIS, ISIL or IS "poses a threat greater than 9 / 11", he added "This is beyond anything we've seen. We must prepare for everything."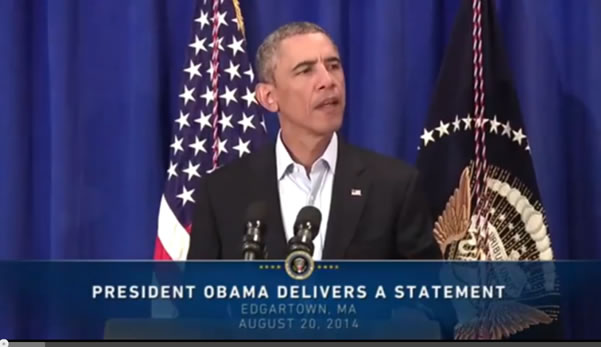 For Hagel, the "evidence is pretty clear", that what ISIS did to James Foley is what "they threaten to do to all Americans and Europeans".
In his remarks on this latest example of ISIS barbarity, Obama also said "There has to be a clear rejection of (these) kind of nihilistic ideologies. One thing we can all agree on is that a group like ISIL has no place in the 21st century".
Unfortunately Not So
Obama can soon be accused of hypocrisy, or plain confusion. Nihilistic ideology – which is not an ideology but a philosophy rejecting all kinds and types of ideology – is now the cornerstone of the foreign policy operated by the US and its European allies and partners. What I call the "Black Box Economy" is economic nihilism or the rejection of "old stuff" like taking any notice of debt and unemployment numbers – for example. For nihilists, there is no such thing as ethics and social philosophy. Unsurprisingly, nihilist philosophy was the "thought cage" in which Adolf Hitler and Josef Stalin lashed out at shadows until millions were dead.
We can easily go further. Obama's America, like its European and Japanese partners in the global economy, operates an economic philosophy – in fact a bunch of nihilist slogans – which demean and denigrate the existence of society. Personal greed and a bit of luck will possibly see you through, but society is a thing we don't need. You may get lucky on the spinning roulette wheels and pinball machines of "the markets' but then again you may lose everything. It is strictly pot luck for anybody except the Supreme Beings who rig the markets on a 24/24 basis.
The ISIS vermin totally reject society, also. They use dumbed down versions of the already dumb and extreme-anthropomorphist slogans produced by so-called Great Thinkers of Islam such as Ibn Hanbal or Abdul Wahab. Their trick was to fight agnosticism by an ultimate and extreme doctrine saying that every single word in the Coran was written by a Supreme God, whose clones on Earth just happened to be them! Step aside or lose you head to our Sword.
Saudi Arabia is the world's one-only Wahabite Kingdom, and that is already one too many. Unlike his earlier forebears Ibn Hanbal and Ibn Taymiyyah, Wahab was a straight racist preaching Arab rebellion and uprising against the Turkish Ottomans long before T. E. Lawrence "of Arabia". Islam was merely a handy bag of slogans, for this quest.
Nihilism and the Empire Quest
Islam was opposed to what its earliest doctrinal developers called the "pagan influence" of Socrates, Plato and Aristotle. They permitted doubt, and that was not OK. Called "neo-platonism" the centuries-long doctrinal struggles between Shia and Sunni Muslims repeatedly used the theme of "neo-platonism" as a handy excuse for show trials and public executions of Defective Thinkers.
One sure way to tame these intellectual conflicts was to find The Common Enemy – the same way the US and its European parners just rediscovered Russia as their Ideal Enemy. Islam was born into a land and communities without states or an empire. Arabs did not have a state or kingdom at the beginning of Islam. Power in the city states like Mecca, Medina, Damascus was divided between tribes and clans. When Mohammed's followers besieged Mecca in 630 AD, the Kureish clan was forced to acknowledge the authority of Islam. So Mohammed, respected as a prophet, also became a political ruler from then on. The only comparable examples in western history are the Crusaders in the Near East and the Spanish/Portugese Conquistadores in central and South America.
Finding common enemies was a band-aid for the hard-wired internal philosophical divisions of society, in all these cases. As long as the Empire grew, things were fine.
The Islamic empire or "Grand Caliphate" that ISIS gurgles about was geographically huge at its maximum extent stretching from the west of today's India to the Mediterranean. However the dynasties supposedly controlling this sprawling empire had no real control. Local Sultans or Kings effectively ruled alone, for example in the Amawid State of Andalusia in today's Spain which lasted for nearly 800 years without ever recognizing the Khalifs in Baghdad or Cairo.
The empire was stretched, like its so-called unifying ideology which in fact was a sprawling set of conflicting internal doctrines. Nihilism was the answer.
It is no accident at all that the two German philosphers Friedrich Nietzsche and Martin Heidegger are always associated with Nazism, and both are often called Nihilist. They argued for the Super Khalif or Supreme Leader who replaces God and lives among mankind, here and now. In the case of Nietzsche, who we can call the world's first Punk Philosopher, he said this is because Man has assassinated God. Now Man will have to accept his responsibilities and act like God.
The Dumbed Down Empire of ISIS
Just for once Obama has said something true! ISIS is Nihilism. We shouldn't in any way be surprised that Nietzsche is the Gothic New Age celebrity thinker of today, because it is so fabulously easy to dumb down anything Nietzsche actually said. Like Heidegger (and others like French philosopher Jean-Paul Sartre) he forecast that first there will have to be Mob Rule, to awaken the people to their need to act like God. Of course during the mob rule interval there will be mass killings, atrocities, famine and war. That goes without saying but the Quest is Heroic.How could it be otherwise?
As I have already written several times there is no conceivable way that a ragtag bunch of psychopaths – ISIS – could ever run an empire. Their project is Gothic New Age, and as stupid as imagining the Black Box Economy will deliver prosperity for all. Nihilism however comes to the rescue. It says that any "previous thought" you might have had is "conventional thinking". It is not heroic and to be heroic you firstly need to be stupid, and secondly you need enemies.
ISIS is making itself enemies at a record pace! Even faster than the USA of Obama! To what extent the crowd around Obama think they have "an empire project" is shrouded in mystery – perhaps Hillary Clinton has the answer? She displayed excellent New Age Gothic morality by saying that "her" NATO war against Gaddafi of Libya was a case of "We came. We saw. He died!" He wasn't decapitated or crucified, but placed on display with a slain son and a hole in his head. Great stuff!
The real Nihilists can however do better – the near-daily ritual of executions during the Crusades, from 1095 to 1299, included the collection and sale of grisly keepsakes such as phials of blood and preserved body parts, called "votaries" and passed off as "saintly relics". Pretty soon therefore, ISIS should be selling grisly keepsakes, if it not yet doing so.
Obama and his European friends offer us Smart Missile Clips, instead. Just watch those buildings explode – with people inside them – isn't it fun? Collateral damage doesn't matter because that was only stupid civilians who got unlucky and got in the way. Our western morality is as clean as a whistle. Hearing lectures on Nihilism from the animals who offer us this psychopathic nonsense is not impressive to me, even if Obama was right to call ISIS Nihilists.
By Andrew McKillop
Contact: xtran9@gmail.com
Former chief policy analyst, Division A Policy, DG XVII Energy, European Commission. Andrew McKillop Biographic Highlights
Co-author 'The Doomsday Machine', Palgrave Macmillan USA, 2012
Andrew McKillop has more than 30 years experience in the energy, economic and finance domains. Trained at London UK's University College, he has had specially long experience of energy policy, project administration and the development and financing of alternate energy. This included his role of in-house Expert on Policy and Programming at the DG XVII-Energy of the European Commission, Director of Information of the OAPEC technology transfer subsidiary, AREC and researcher for UN agencies including the ILO.
© 2014 Copyright Andrew McKillop - All Rights Reserved Disclaimer: The above is a matter of opinion provided for general information purposes only and is not intended as investment advice. Information and analysis above are derived from sources and utilising methods believed to be reliable, but we cannot accept responsibility for any losses you may incur as a result of this analysis. Individuals should consult with their personal financial advisor.
© 2005-2019 http://www.MarketOracle.co.uk - The Market Oracle is a FREE Daily Financial Markets Analysis & Forecasting online publication.

Only logged in users are allowed to post comments.
Register/ Log in