Why Turkey Must Tread Carefully Against Islamic State
Politics
/
Turkey
Sep 25, 2014 - 12:01 PM GMT


As the United States begins its full assault against the Islamic State in Syria, backed by Arab allies, the absence of NATO ally Turkey is drawing attention and comment. Just days before the Sept. 22 beginning of U.S. airstrikes, Turkey managed to broker a deal with the Islamic State to return 49 diplomats held in Iraq for 101 days. Contrary to diplomatic and media speculation, however, Turkey is not supporting the transnational, Syria- and Iraq-based jihadist movement known as the Islamic State.
While the details of just how Ankara retrieved its diplomats are sketchy, Ankara likely negotiated their release through its contacts among the Iraqi Sunni community and its ally, Qatar. This influence, especially among Sunni locals in not just Iraq but also Syria, will be critical if Turkey is going to be able to manage the jihadist threat long after the United States declares mission accomplished and moves on.
Analysis
Rumors have long circulated that Turkey has been aiding Islamic State fighters. A New York Times article suggesting Turkey was tolerating an Islamic State recruiting center went viral, as did the subsequent war of words between the government and New York Times management. Another argument heard is that Ankara sees the Syrian Kurds gaining their own autonomous enclave in northeastern Syria as an intolerable security threat for the Turks — making the Islamic State the lesser evil. More recently, Turkey's unwillingness to join the U.S.-led international effort against the Islamic State was also seen as being driven by Turkey's dealings with the jihadist group.
Such perceptions have been reinforced now that the ruling Justice and Development Party (AKP) government has secured the release of 49 diplomats abducted by the group from the Turkish consulate in the northern Iraqi town of Mosul after the militants seized control of the city. Turkey's dealings with the Islamic State are much more nuanced than has generally been understood. Last year in July, Stratfor shed light on this dynamic, analyzing how the Turks were caught between two very threatening realities — both demanding simultaneous management — on their southern flank: jihadists of various stripes and Syrian Kurdish separatists.
Managing the very difficult geopolitical battle space that is Syria required Ankara to develop relations within both the jihadist and Kurdish landscapes south of their border. Turkey also understands that it cannot allow itself to be a launchpad for an international effort against the Islamic State, the outcome of which is extremely uncertain. Turkey is all too aware of how Pakistan even today, nearly two generations after it agreed to serve as the staging ground for the U.S.-led effort to counter Soviet military intervention in Afghanistan, continues to deal with the fallout of that war, which has not yet ended.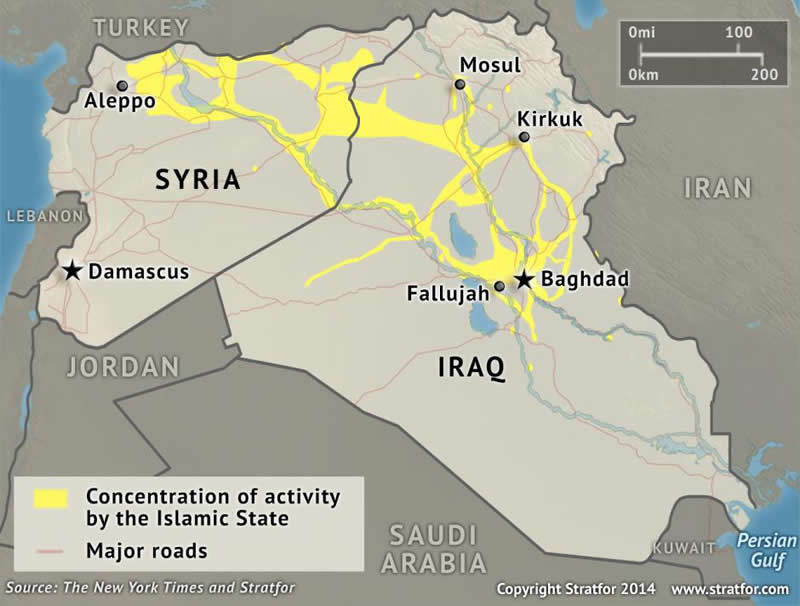 From the Turks' viewpoint, the Americans and their Western and regional allies (with the exception of Jordan) all have the option of walking away from the conflict in Syria. Not only does Turkey feel that it will have to deal with the mess in Syria long after other stakeholders have moved on, it also knows that the United States expects Turkey to manage the Syrians as well as other regional matters. Turkey has not forgotten how, during the days of President Turgut Ozal, Ankara cut Iraq's export pipeline in 1990 at the behest of the United States in the run-up to the 1991 Gulf War but was later left with the aftermath as promises of aid disappeared with the subsequent change of U.S. administrations. This bitter experience informed Turkey's 2003 decision to refuse Washington access to Turkish territory for a northern invasion of Iraq. At the same time Turkey is deeply worried about being caught between Saudi Arabia and Iran, who are engaged in a vicious proxy sectarian war.
It is against this geopolitical backdrop that the Turkish move to negotiate the release of its diplomats must be considered. In an ideal world, one in which the Islamic State does not exist, Turkey would be the lead player with influence among the Sunnis in both Syria and Iraq and in much better shape to dominate Syria and give considerable competition to Iran in Iraq. But in the real world, not only does the Islamic State exist, it is actually in competition with Turkey for influence among the Sunni Arabs to the south of the Turkish Republic.
While the Sunni majority in Syria is much more fragmented than its sectarian kinsmen in Iraq, the neighboring Sunni minority has sought to empower itself by leveraging the Islamic State. This means that the Turks will have to delicately handle weeding out the Islamic State from within the Iraqi Sunni community. But that is a long-term work in progress, while the immediate task has been to secure the release of their diplomats.
The Turks knew that the way in which they dealt with this hostage crisis would greatly determine their ability to shape the behavior of Iraqi Sunnis. Building upon their existing links with Sunni tribes, former Baathists and other political players, they likely negotiated with the Islamic State. It should be noted that Turkey has had close ties with former Iraqi Vice President Tariq al-Hashimi, who was sentenced to death by Nouri al-Maliki's administration in 2012 for alleged links to terrorism. Al-Hashimi, who has been spending a great deal of time in Turkey, openly supported the Sunni insurrection that began in June.
Al-Hashimi is also very close to Turkey's main Arab partner, Qatar. Al-Hashimi periodically frequents Doha, which has significant influence among a range of jihadist groups and very likely played a key role in the release of the diplomats, which happened just days after Turkish President Recep Tayyip Erdogan visited Qatar. While there is no evidence of a ransom payment, and Turkish officials deny such, it cannot be ruled out that money changed hands. Meanwhile, reports are surfacing that there may have been a prisoner swap in which Ankara secured the release of some Islamic State members. Hurriyet Daily News reported Sept. 23 that the Turkish government was able to convince Syrian rebel group Liwa Al Tawhid to release 50 Islamic State prisoners being held by the Salafist-jihadist organization, which is a joint Turkish-Qatari proxy. And Erdogan obliquely hinted on Sept. 21 at the possibility of a prisoner exchange when he remarked, in response to a journalist's question, "Whether there was or wasn't a swap — [the consulate] personnel were returned to Turkey."
Clearly Erdogan is not worried about any fallout from a prisoner exchange, especially since the United States recently released five high-profile Afghan Taliban detainees from the detention facility at Guantanamo Bay in exchange for an American soldier, a deal also mediated by Qatar. This experience allows the Turkish spy service to enhance its influence among the Sunnis and develop intelligence on the Islamic State. Between this release of the diplomats from Iraq and the buffer zone that the Turkish military is working to create on the border with Syria, the Turks are looking beyond the U.S.-led airstrikes against the Islamic State and the arming of Syrian rebels on the ground.
"Turkey Must Tread Carefully Against Islamic State is republished with permission of Stratfor."
This analysis was just a fraction of what our Members enjoy, Click Here to start your Free Membership Trial Today! "This report is republished with permission of STRATFOR"
© Copyright 2014 Stratfor. All rights reserved
Disclaimer: The above is a matter of opinion provided for general information purposes only. Information and analysis above are derived from sources and utilising methods believed to be reliable, but we cannot accept responsibility for any losses you may incur as a result of this analysis.
© 2005-2019 http://www.MarketOracle.co.uk - The Market Oracle is a FREE Daily Financial Markets Analysis & Forecasting online publication.

Only logged in users are allowed to post comments.
Register/ Log in