Sheffield Roma Crisis School Place Application's Fraud Perfect Storm
Local
/
Sheffield
Oct 17, 2014 - 06:24 PM GMT


Sheffield's growing crisis in areas of the city such as Page Hall / Firth Park where literally an influx of several thousand mostly Roma migrants has proceeded to tear at the social fabric of the community that has started to spill over into Sheffield's schools that had already been facing a crisis in school places as a consequence of year on year real terms budget cuts at a time of a rising birth rate that is now resulting in a perfect storm that will likely manifest itself in a record number of fraudulent school place applications over the coming weeks for academic year starting September 2015.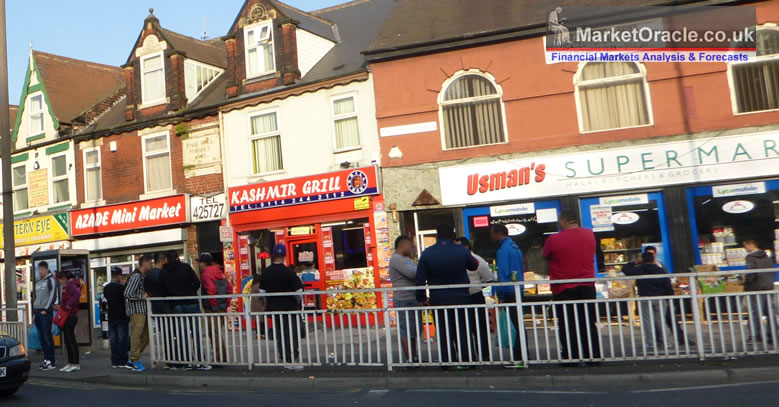 Even the usually timid and politically correct BBC has been busy all this week with its Look North news programme broadcasting the negative consequences of Sheffield's Roma migration on Sheffield's schools by focusing on the epicentre at Hinde House secondary school as the local catchment area school for Page Hall / Firth Park, with reports of violence in the school with reports of Roma gangs attacking other children and disrupting the day to day functioning of the school to such an extent that a number of parents have withdrawn their children form Hinde House school and are demanding that their children be placed far elsewhere in the city with similar building pressures at junior and infant schools. Furthermore near 2,000 have signed an online petition demanding that something be done about the crisis at Hinde House School.
BBC Look North News reporting on the crisis
A parent who has taken her children out of the school stated:
"I don't think hinde house school is safe no more for my children."
There's a lot of gangs, a lot of beating people up and its just not safe"
"Its the slovakian Roma's what are sticking in the same gangs all of the time, people have tried to involved them what they are doing but they just do not want to join in, in anything just stick in their gangs , intimidating our kids and scaring our kids".
An online petition has now been signed by more 1800 parents demanding action is taken.
This Petition is to tell the Head of Hinde House School Mr French that he can no longer ignore the intimidation, violence and gang like culture that is rife in his School.
We are fed up of our Children being victims of \\\\\\\'Isolated Incidents\\\\\\\' at the hands of his Slovakian/Roma pupils and it has to stop.
As head he has to grasp the nettle and not be afraid of dealing with anyone from this community and treat every incident with equal measure as he would Pupils from other backgrounds and not be seen to show more tolerance of bad behaviour from one group over any other.
It is not good enough to pretend that the School is running smoothly when our Children are coming home in fear having being intimidated by gangs or indeed having been assaulted.
Children have been stabbed, mugged and nearly kicked to death in His School in which he claims everything is ok and we have had enough......
The Roma crisis just represents the icing on the cake for a crisis in Sheffield schools that has been brewing for several years .
09 Jun 2013 - Sheffield School Admissions Appeals Help - What You Should Do
Sheffield School Places Chaos
The reason so many children fail to get a place at for instance a catchment area school, is as a consequence of the Labour run Sheffield City Council continuing the Liberal Democrats programme for spending deep cuts in Sheffield's education budget as the below graph illustrates that in nominal terms has seen the education budget already cut by 11% since 2010 and 17% in real terms for the year 2012-13 and with the budget for 2013-14 announced continuing the the deep cuts to 14% and 24%, (after inflation of 3% per annum).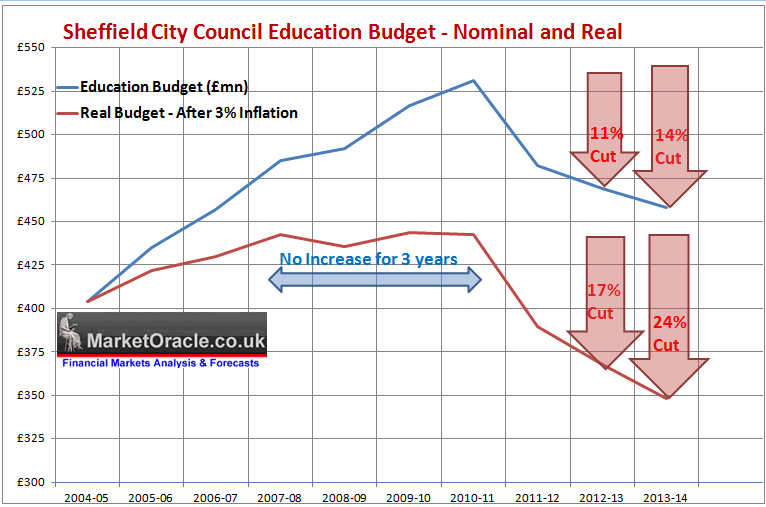 The impact of these cuts on child places in effect reverses the picture of more than a decade earlier, when Sheffield's children could more or less have expected to receive a place at a catchment area school of their choice at the application stage, with the remaining accepted on appeal, this was as the below graph illustrates by virtue of the fact that for many years Sheffield had a surplus of 5,000 school places (about 5%). However over the past 2 years deep cuts in the budget in real terms has reversed the situation from a an estimated 5,000 surplus places to a deficit of 5,000 places as of 2012-13, i.e. a cut of 10,000 school places through school closures and reductions in the number of classes running at exiting schools, against that which were available during 2010-11, the consequences of which is that schools are being effectively stuffed full to the rafters with the number of children per class now far exceeding the recommended guidelines for maximum class sizes which is resulting in the lack of school places at catchment area schools.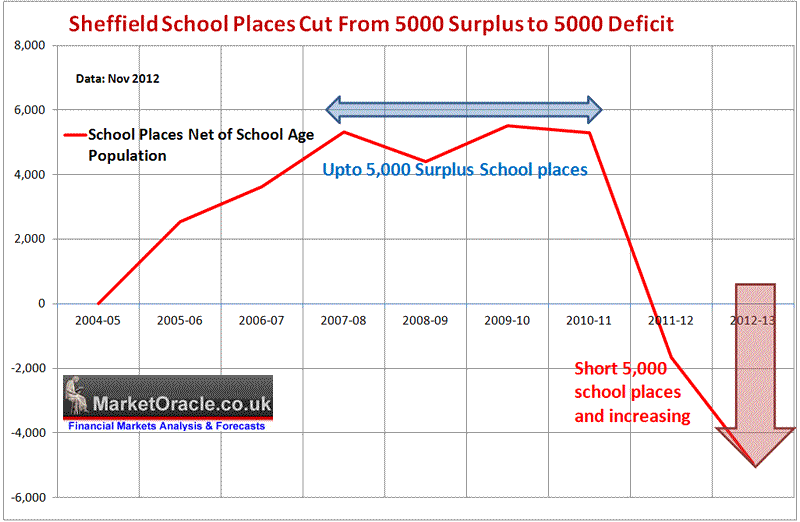 The consequences for 2013 school places has been that many families face a crisis of failure to attain a place in catchment area schools even if siblings attend the school due to an estimated deficit of 8,000 school places for 2013-13 which is resulting in children being placed at schools right across the city thus making it impossible for children with siblings to be in receipt of an effective education service that parents are still forced to pay for through high council and payroll taxes.
The consequences of this is not just lack of school places at schools of choice but that ALL existing schools will be stuffed full to rafters with children they have no room for with severe consequences in terms of the quality of teaching and social consequences in terms of breakdown in school systems including the the behaviour of students, and ultimately in the performance of schools as all schools are likely to see a worsening in the attainment levels of their students.
Sheffield School Place Application's Fraud Perfect Storm
Parents desperate to avoid crisis at their catchment schools will just intensify the epidemic of fraudulent school place applications as many parents are more than willing to have their children avoid going to the local catchment area school. Especially as this fraud has NO consequences in law and is seen by the perpetuators as a victimless crime, where as the inept system currently stands that even if the fraud is subsequently discovered once the child starts school, then the child would still be allowed to continue at that school which effectively amounts to fraud being rewarded rather than punished, that's what tends to happen in socialist utopia's.
Therefore many parents will be pressurising family members, friends, acquaintances or even using addresses without householders knowledge, all in pursuit of a place at one of Sheffield's best ranked state secondary, juniors and infants schools as illustrated by the following graph that represents Sheffield's Top 14 Secondary schools out of a total of 26 rated in terms of consistency in attaining high rankings in the school league tables from 2001 to 2014.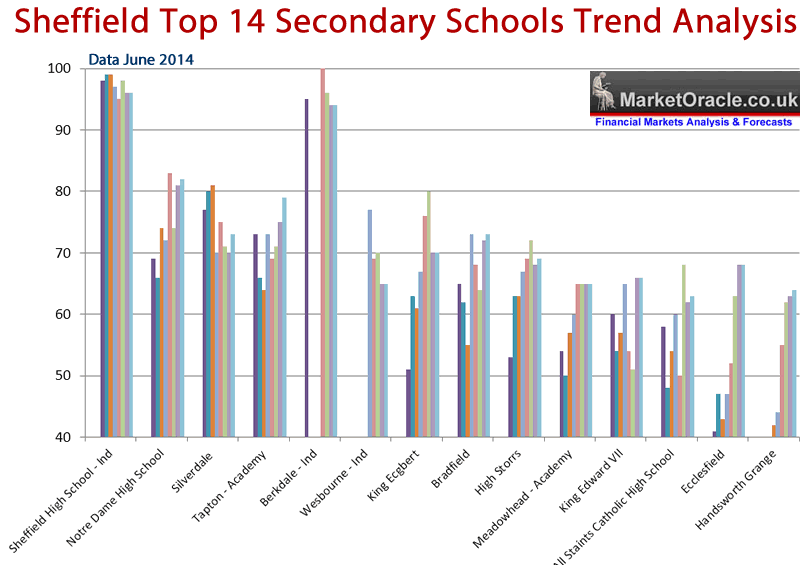 School Place Applications Fraud - A Victimless Crime?
Serious flaws in the management of the school admissions process means that an increasing number of fraudulent applications succeed each year as representing a failure of the schools admissions team to do their job in firstly identifying fraudsters and then in taking action to ensure that fraud does not pay, as currently there is NO consequences for having committed school places fraud as if the fraud is not identified before the start of the academic year then the parent / student has effectively succeeded in stealing a school place from those who are actually entitled to a place at schools such as Silverdale where the situation is even worse for primary schools with far fewer places coupled with high demand such as for Dobcroft Infants / Junior School which results in much disruption for Sheffield's honest hard working families as siblings FAIL to get places at their local catchment schools.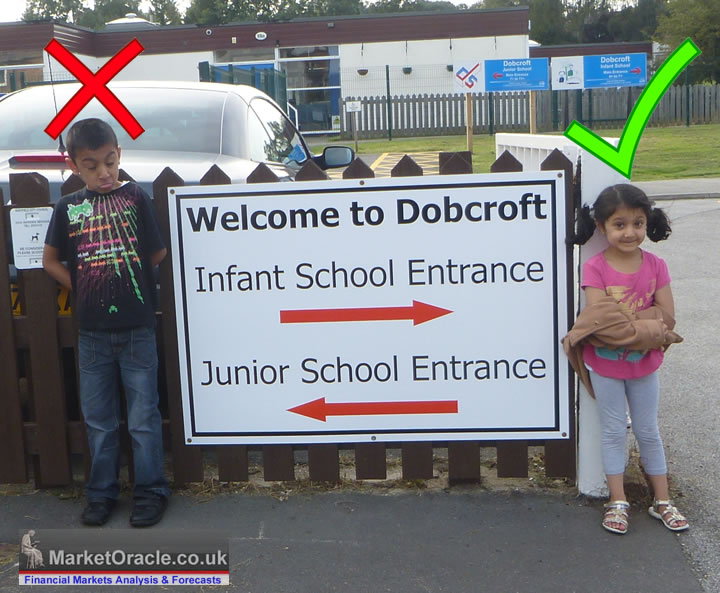 Parents that reside in Sheffield's less affluent areas that target Sheffield's best schools (outside their catchment areas) are under the misguided assumption that just by sending their child to a good school will be enough to instantly turn their child into a little einstein, which fails to grasp the fundamental factor that it is NOT teachers that determine whether a school is good or bad but rather it is the PARENTS! As the teachers are of virtually the same caliber across all schools, for most teachers go through the same system of coming out of University with a mediocre degree, followed by post graduate certification allowing them to start work as a teacher, all without any real world experience to differentiate them from one another and therefore all Schools tend to be staffed by teachers of the same system programmed theory based capabilities. After all teachers can only teach what they have been taught by other teachers! A perpetual cycle of putting theory of what 'should' work over what real world experience states actually does work.
In reality ordinary schools can only become good schools because the PARENTS of children go out of their way to educate their children far beyond the capability of what the school teaches, who be virtue of the fact are only capable of securing a job as a teacher generally earning £20k to £30k per year, otherwise they would not be teaching but be in a higher commanding profession or running their own business. Eventually some teachers after a decade or so of teaching will engage brain cells and realise that they can earn a lot more for instance by starting their own nursery or similar educational service that better utilises on their experience and yields many times a teachers salary for similar effort.
Therefore it is the middle class 'pushy' parents through extracurricular activities and actively pushing the school to outperform through a myriad of suggested activities that turns an ordinary state school into a good state school. And conversely populating a good state school with children of parents who in large number may have parked their lard asses on benefits for most of their adult lives whilst only paying lip service to their child's educational needs other than in making a fraudulent school place application is just going to eventually result in that good school becoming just another bottom ranking state school.
This has happened several times before in Sheffield, for instance the Socialist Labour City council had a Baldrick-esk cunning plan to open up one of Sheffield's best Schools at the time (early 1990's), Abbeydale Grange to anyone in the city, that given its high league table standings was soon swamped by the benefits and low paid classes of the city, that subsequently resulted in the School going from being one of the best ranked schools in the city to literally the worst all within a few years, where it got to the point that NO parent wanted to send their child to Abbeydale Grange which ultimately resulted in the school being closed down some 3 years ago. That's what happens to Good Schools when you open them up to outside catchment or allow out of control fraud and as Schools such as Hinde House appear to be going the same way as Abbeydale Grange than that is what is increasingly going to happen to some of Sheffield's best schools.
At the end of the day Sheffield can choose to turn ALL of its schools into poor schools by turning a blind eye to school places fraud as the middle class can always elect to either opt out of state education altogether or move out of the city at huge determent to the cities economy for then who will be left to pay for the services and taxes to finance Sheffield's Socialist Utopian hell-hole?
So rather than school place application's fraud being a victimless crime, in reality it will succeed in turning virtually every area of Sheffield into a Page Hall and every school into a Hinde House! Therefore the fraud should be recognised for what it is, a crime, and prosecuted accordingly with stiff fines and even suspended sentences.
By Nadeem Walayat
Copyright © 2005-2014 Marketoracle.co.uk (Market Oracle Ltd). All rights reserved.
Nadeem Walayat has over 25 years experience of trading derivatives, portfolio management and analysing the financial markets, including one of few who both anticipated and Beat the 1987 Crash. Nadeem's forward looking analysis focuses on UK inflation, economy, interest rates and housing market. He is the author of five ebook's in the The Inflation Mega-Trend and Stocks Stealth Bull Market series that can be downloaded for Free.

Nadeem is the Editor of The Market Oracle, a FREE Daily Financial Markets Analysis & Forecasting online publication that presents in-depth analysis from over 1000 experienced analysts on a range of views of the probable direction of the financial markets, thus enabling our readers to arrive at an informed opinion on future market direction. http://www.marketoracle.co.uk
Disclaimer: The above is a matter of opinion provided for general information purposes only and is not intended as investment advice. Information and analysis above are derived from sources and utilising methods believed to be reliable, but we cannot accept responsibility for any trading losses you may incur as a result of this analysis. Individuals should consult with their personal financial advisors before engaging in any trading activities.
© 2005-2019 http://www.MarketOracle.co.uk - The Market Oracle is a FREE Daily Financial Markets Analysis & Forecasting online publication.

Only logged in users are allowed to post comments.
Register/ Log in