Mining CEO Calls on Fellow Miners to Halt Physical Silver Sales to End the Paper Manipulation
Commodities
/
Gold and Silver Stocks 2014
Oct 26, 2014 - 12:20 PM GMT


I have always been in favor of mining companies holding back the sale of a portion of their metals when prices dip. Furthermore, they should hold reserves beyond the amount needed to run daily operations in gold and silver, not fiat cash. It can always be converted if and when necessary. Lastly, offer an option to pay dividends in physical metal, cutting out the middlemen.
Keith Neumeyer of First Majestic Silver was one of the first mining CEOs to do this and I applaud his actions. In the latest quarter, First Majestic held back 35% of their production, rather than selling it at deeply discounted paper prices.
Now, Mr. Neumeyer has taken things a step further by suggesting that silver miners should form a semi-cartel and hold back sales of their production in order to break the backs of the paper manipulators. He encourages all miners to hold back silver, pick a month, get together and hold back silver for 30 days, putting out a news release collectively. The goal is to call the bluff of the paper markets, which trade over the entire year of global production in a day. First Majestic itself is a small fish, but imagine the impact if a few of the top producers joined in the effort and physical supplies tightened.
I question whether the banks and their government cronies would allow it. But I like the basic premise and it is about time that the mining world starts fighting back against the paper manipulators that use leverage to push the price below the cost of production. Their livelihood is at stake after all. I wish Keith all of the luck and hope his peers at other gold and silver mining companies join him in this endeavor.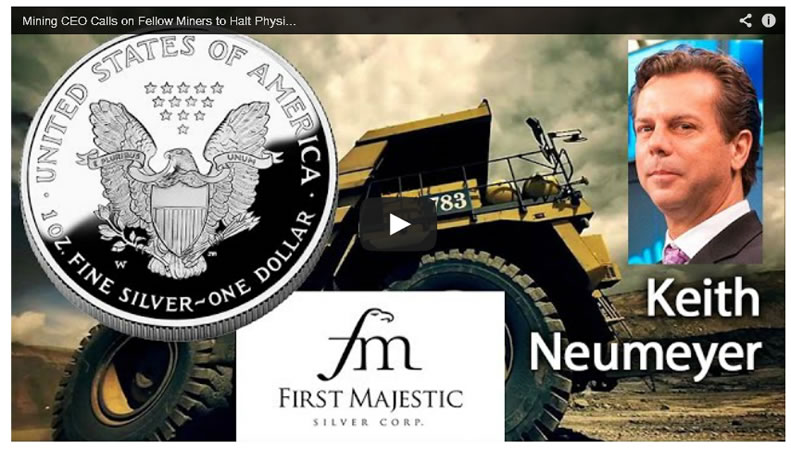 I am looking at you Octavio Alvidréz (Fresnillo), Charles Jeannes (Goldcorp), Geoffrey Burns (Pan American Silver), Mitchell Krebs (Coeur Mining), Randy Smallwood (Silver Wheaton), Brad Cooke (Endeavour Silver). This is an excellent opportunity for competitors to get together and fight back for mutual benefit.
I suppose China and Russia are already doing their part by purchasing most or all of their domestic production before it enters the rigged Western markets. Individual investors have also been contributing, as sales of Silver Eagles and Silver Maple Leafs have been spiking lately. Keep stacking and stay away from the paper promises and fraudulent exchanges!
http://www.firstmajestic.com/s/Home.asp
Follow our views on the gold market and track which stocks we hold in our portfolio by becoming a premium member.
By Jason Hamlin
Jason Hamlin is the founder of Gold Stock Bull and publishes a monthly contrarian newsletter that contains in-depth research into the markets with a focus on finding undervalued gold and silver mining companies. The Premium Membership includes the newsletter, real-time access to the model portfolio and email trade alerts whenever Jason is buying or selling. You can try it for just $35/month by clicking here.
Copyright © 2014 Gold Stock Bull - All Rights Reserved
All ideas, opinions, and/or forecasts, expressed or implied herein, are for informational purposes only and should not be construed as a recommendation to invest, trade, and/or speculate in the markets. Any investments, trades, and/or speculations made in light of the ideas, opinions, and/or forecasts, expressed or implied herein, are committed at your own risk, financial or otherwise. The information on this site has been prepared without regard to any particular investor's investment objectives, financial situation, and needs. Accordingly, investors should not act on any information on this site without obtaining specific advice from their financial advisor. Past performance is no guarantee of future results.
© 2005-2022 http://www.MarketOracle.co.uk - The Market Oracle is a FREE Daily Financial Markets Analysis & Forecasting online publication.

Only logged in users are allowed to post comments.
Register/ Log in