Globalism Free Trade Immigration Connection
Politics
/
Immigration
Nov 18, 2014 - 04:15 PM GMT


How is your life going under the Global Empire? If you answer honestly, for non billionaires, the response must reflect disappointment if not immense distress. Middle America stands on the precipice of oblivion. While the recent past decades have shown steep declines in financial security and net wealth, the future looks much more ominous. The link between the shift to an internationalist de-industrialization economy and open border immigration has hit the United States hard. This harsh reality is routinely denied in the financial press, but the social chaos that engulfs society is largely caused by this betrayal mindset. Corporatists are waging war against the American public.
Summing up the battle lines is the quintessential voice of an America First philosophy. Pat Buchanan on Free Trade is a collection of quotations and references that should be a must read for every displaced citizen. And that group includes virtually everyone.
"Good for global business" isn't necessarily good for US
"Global capitalists have become acolytes of global governance. They wish to see national sovereignty diminished and sanctions abolished. Where yesterday American businesses suffered damage to their good name for selling scrap iron to Japan before Pearl Harbor, today [war materiel is routinely exported] to potentially hostile nations. Once it was true that what was good the Fortune 500 was good for America. That is no longer true, and what is good for America must take precedence."
Source: "A Republic, Not an Empire," p.349 , Oct 9, 1999
The most puzzling malady that penetrates the "PC" culture is a fear of confronting the direct consequences of encouraging an invasion of illegal's into the country. The disconnect that sweeps across national borders is not isolated just to the United States. Western Europe is not only in decay but is on the verge of social and economic collapse.
Demetrios Papademetriou, PhD, Director of the Migration Policy Institute, wrote in his Sep. 2005 Migration Policy Institute essay "The Global Struggle with Illegal Migration: No End in Sight": How Are Illegal Immigration and Globalization Related?
"For nearly two decades now, capital and the market for goods, services, and workers of many types have weaved an ever more intricate web of global economic and social interdependence... No aspect of this interdependence seems to be more visible to the public of advanced industrial societies than the movement of people. And no part of that movement is proving pricklier to manage effectively, or more difficult for publics to come to terms with, than irregular (also known as unauthorized, undocumented, or illegal) migration..."
Dr. Papademetriou's assumption that interdependency is the new normal may be supported with the procession of the Trilateral Commission's "New International Economic Order". Nonetheless, the destruction of national sovereignty is a price that no country can afford to adopt, much less pay and remain a nation. Interdependency is the death knell of traditional values, autonomous commerce and individual civil liberties. With the ringing of the bell at the NY Stock exchange, the sound of prosperity goes deaf for the populist, while globalist elites extract the last pound of flesh from an intentionally designed consolidation of a Corporatocracy economy.
The fate of the world is at stake if the forces of globalization are left to complete their total domination of monetary and financial control. It is just as important to prevent the next bipartisan arrangement to grant effective amnesty to millions of illegal foreigners, who have shown little interest to assimilate or adopt the heritage and values of our founding principles.
Warren Mass wrote over a year ago in Permanent Amnesty, Temporary Border.
"An important part of regulating legal immigration, in addition to evaluating each prospective immigrant's ability to become a productive, law-abiding citizen, is to determine how many immigrants the United States is capable of absorbing each year, taking into consideration the impact on our nation's economy and culture."
If this standard needs to apply to those who apply for citizenship, by what absurd twist of logic or sanity pertains to President Obama's intentions of issuing executive orders that are clearly unconstitutional? How insulting it is to hard press citizens, relegated to enduring impoverishment from off shoring livable wage jobs, while awarding effective amnesty to illegals.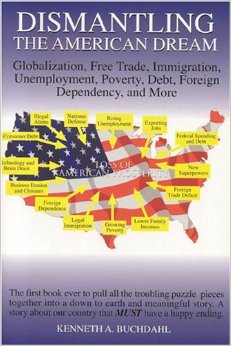 Columnist Glenn R. Jackson review of author Kenneth Buchdahl's book, Dismantling The American Dream: Globalization, Free Trade, immigration, Unemployment, Poverty, Debt, Foreign Dependency hits the mark.
"First and foremost it is good to see the recognition by Buchdahl of American culture as critical to the building of the American Dream. As Buchdahl writes the development of a culture is grounded in a unique American personality and intricate system of values and beliefs that is responsible for America's enviable situation. And it is that enviable situation that has contributed to creating the forces that are working rapidly, knowingly or not, to dismantle the American Dream.
Dismantling the American Dream chronicles the unintended impact of America's pop culture belief in globalization as a force for good in our economy and the failure of leadership to recognize that belief gone awry. America's political leaders continued belief in free trade and give-away trade deals, in the face of the near deathblow of NAFTA to American manufacturing is but one of the delusions of globalization that Buchdahl lays bare."
The interjection of cultural aspects may well be the missing link that escapes most chronicles on current events. Documenting the actual results from Free Trade Treaties, should in and of itself win the intellectual argument that economic destruction of Middle America has already happened. Add in the deliberate call for mass migration and social incentives to cross the border has created the latest flood in undocumented aliens.
When Democracy Now asks, Obama & McConnell Pledge Cooperation; Will Fast-Tracking Secretive TPP Trade Deal Top Their Agenda?, and presents Ralph Nader on TPP and the "Unstoppable" Left-Right Anti-Corporate Movement, one has hope that the Buchanan Brigades message is being heard.
With the celebrity coronation that the Democrats are showering on their new favorite daughter, the "Pocahontas Princess", Elizabeth Warren's Crusade Against Disastrous "Free Trade" Agreements, is welcomed.
An inquiry was made to NY Senator Charles E. Schumer on the TPA, Trade Priorities Act of 2014 (S.1900). His reply can be read on this link.
An alliance among anti-free trade factions from all ideological camps is necessary to stop the globalist juggernaut. Even if such a coalition could be grown, the likelihood that linkage to the need to stop illegal immigration and opposition to amnesty, would be frosty.
This brings up the opportunity to interject the appeal, WE MUST NOT SURRENDER TO IMMIGRATION AMNESTY, by Frosty Wooldridge. ""Why would any member of Congress who opposes executive amnesty provide President Obama the funds to carry it out? A Republican majority must force congressional Democrats to answer this question through their votes".
Likewise, why would as covered in the New American essay, Republicans to Obama: We Will Give You Trade Promotion Authority, patriots want to grant "fast track" authority to a President, who is defiant to congressional constitutional separation of powers?
"Fast track authority eventually expired on April 16, 1994, and was not reauthorized by Congress until the passage of the Bipartisan Trade Promotion Authority Act (BPTAA) of 2002. BPTAA reinstated fast track authority renamed as "trade promotion authority" (TPA), which expired in 2007. In 2012, President Obama requested renewal of TPA/fast track authority to complete negotiations for the TPP and TTIP."
The answer should be apparent that any support of "fast track" or for TPP is a vote bought with globalist control. If it is so obvious that such influence is at play in trade deals, why are so many confused activists not able to see through the "Open Border" fraud and act upon the best interests for American workers and families?
That taboo culture factor, covered in the Buchdahl book explains the blind spot from the Loony Left. A review of a pro immigration site, Open Borders will demonstrate a systemic disconnect from reality. Often Libertarian purists, also fall under the spell of a transcendental fantasy. To their credit, Open Borders presents the concept of CITIZENISM and provides the following its key features.
Citizenism places substantially greater weight on the rights and interests of citizens than non-citizens, though it operates within moral side-constraints.
Citizenism is about current citizens, not about the people who may become citizens as a result of immigration or deportation policy.
Citizenism, as conceived by its original proponent Sailer, is both about the individual ethics of voters and about the responsibilities of elected representatives.
Citizenism is about loyalty, not admiration, toward one's fellow citizens.
If you understand the destructive nature of corporatist trade agreements that only benefit transnational conglomerates, while poisoning economic commerce for Middle Americans, why would you not oppose the lunacy of unrestrictive mass migration? The imperative moral directive is to protect and defend your own nation, its traditional culture and responsible citizens.
Saving the world is a concept that resides in the sick minds of the Save the Planet Kill Yourself mindset. If they are so devoted to a globalist utopia, the influx of trespassers must be leaving their own homeland in better shape. Just how well is life south of the border doing?
SARTRE – November 18, 2014
Source: http://www.batr.org/terror/111814.html
Discuss or comment about this essay on the BATR Forum
"Many seek to become a Syndicated Columnist, while the few strive to be a Vindicated Publisher"

© 2014 Copyright BATR - All Rights Reserved

Disclaimer: The above is a matter of opinion provided for general information purposes only and is not intended as investment advice. Information and analysis above are derived from sources and utilising methods believed to be reliable, but we cannot accept responsibility for any losses you may incur as a result of this analysis. Individuals should consult with their personal financial advisors
© 2005-2019 http://www.MarketOracle.co.uk - The Market Oracle is a FREE Daily Financial Markets Analysis & Forecasting online publication.

Only logged in users are allowed to post comments.
Register/ Log in