Winter Storms Snow and Wind Tree Damage Dangers, DIY Pruning
Housing-Market
/
Home Maintenance
Jan 15, 2015 - 06:59 AM GMT

Barely a fortnight after the last snows melted, the weather forecasts are again for both more snow and strong winds ahead that despite deciduous trees having shed their leaves several months ago nevertheless they are still are in danger of broken branches or even toppling over just as Evergreen trees are as Britain's trees are about under go structural shocks following a couple of years of growth with no significant snowfall.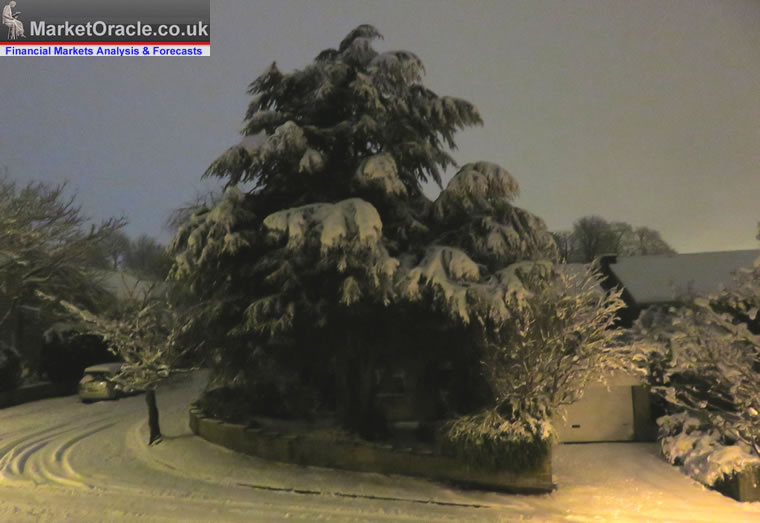 Given that winter is usually a great time to prune your trees anyway as they will be dormant, so your trees are ready for good preventative maintenance and shaping care by removing dead and diseased branches. Therefore inspect all of the trees on your property both before and after snowfall for any potential dangers and deal with these swiftly yourself to limit the potential damage. Else in an emergency you may find yourself having to call out an expensive tree surgeon who will be much in demand or worse falling victim to cowboy rogue traders charging extortionate rates for usually bad jobs as well as putting themselves in danger due to bad practice with chain saws.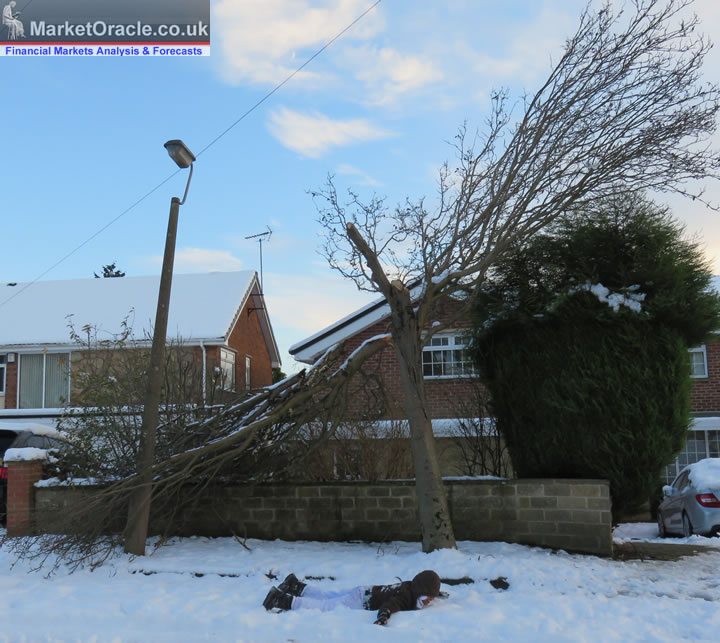 The following extensive guide deals with many aspects of tree care as excerpted form the UK Housing Market Forecast Ebook (FREE DOWNLOAD). Though if you are contemplating dealing with any broken branches above ground head height i.e. requiring a ladder then if in any doubt do call out a professional.
How Trees Increase or Reduce Home Values - Dangers, Inspection, Neighbours, Pruning and Removal
It is the responsibility of every home owner to ensure that there trees are in keeping with the size of their garden and neighbouring properties. Not only do very tall unpruned trees result in a lot of maintenance issues such as from falling leaves branches and spreading roots damaging neighbouring foundations, as well as the legal responsibility of the tree owner should during a storm topple a tree over and damage property or even cause injury.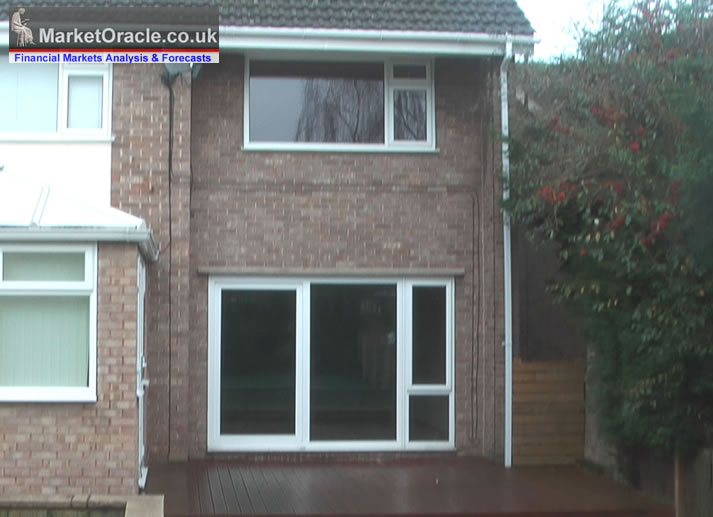 Unmaintained trees can also seriously reduce the value of your home due to a number of factors that will impact on the decision making process of potential home buyers. For instance large trees will block sun light into South facing gardens as during the summer months they can effectively act as a 100 foot high, 20 foot wide brick wall, so potential home buyers will factor in the cost of having the tree removed, whilst many more prospective home buyers will instantly reject such properties due to the potential for liability. Another important deciding factor is the impact on home insurance costs as many insurers terms stipulate that trees at a minimum should be located at least 5 metres away from properties.
Therefore all home owners should prune their trees every winter when the trees are dormant to ensure that the trees are not allowed to grow out of control.
This is an excerpt from the UK Housing Market Ebook - FREE DOWNLOAD (Only requirement is a valid email address).
Are Your Trees Too Close to Property?
As a rough guide all trees should be at least 5 metres distance from any property and then add 1 metre for every 1 metre in height above 5 metres i.e. a 10 metre high tree should be about 10 metres distance from any property, 20 metres high, 20 metres distance etc, this is to ensure that should they fall then they will not damage any property.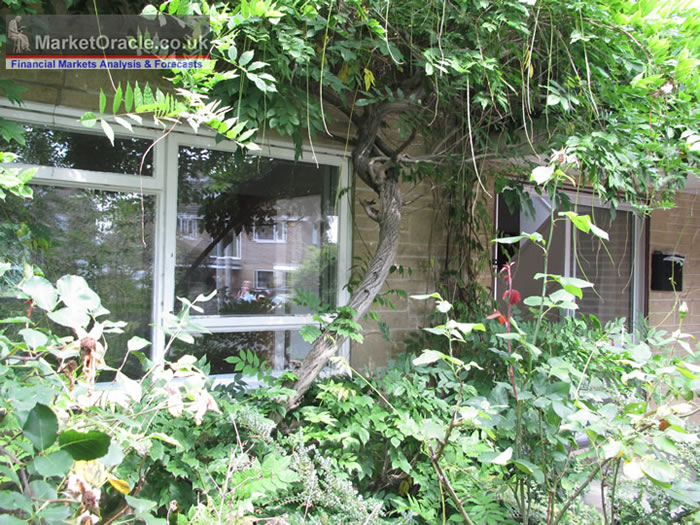 Solar Panels
Another reason not to plant trees too close to your property is that at the time of installing solar panels your tree may have been several metres shorter, however it won't take many seasons for your tree to start blocking much of the suns energy from reaching the solar panels which will especially be a problem when the tree is in full leaf during the energy generating important summer months.

So if you have solar panels, regularly check whether or not any trees are blocking sunlight from reaching them and then take appropriate action.
Tree Dangers
Badly planted trees will eventually grow to a dangerous situation that is prime for a catastrophic event as it is not only bad weather that can result in the tree reaching a dangerous state for instance any branches over hanging a road could be hit by tall vehicles causing costly damage or worse personal injury.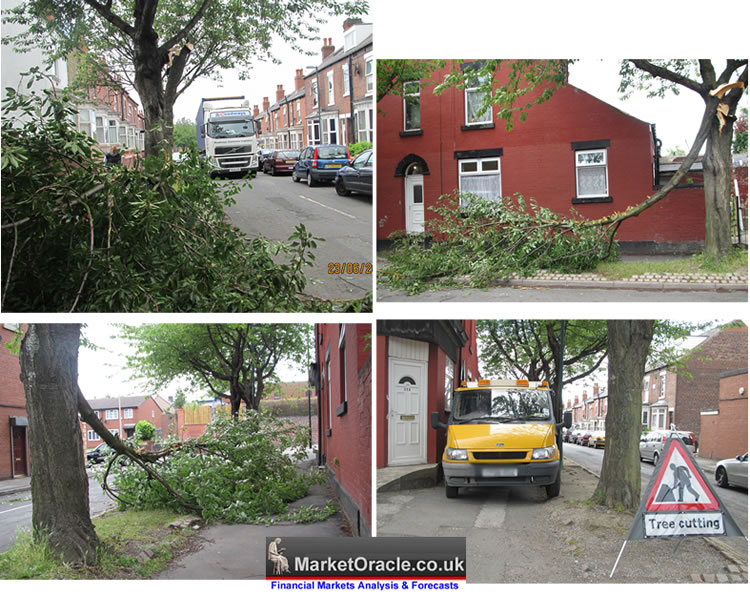 Tree Preservation Orders
Before you decide to take an axe to your tree, do check with your local council register to make sure it does not have a tree preservation order (TPO), in which case you will need to gain permission from the council, which is best done by obtaining a professional arborist's report warning of any potential danger that the tree poses.
Tree Inspection
All tree owners should inspect their trees at least twice per year, once when the tree has shed all of its leaves by winter (deciduous) and then again during summer when the canopy is full for any warnings signs of potential danger or disease.
A brief list of what to look for:
1. Is the tree leaning - If you have a tree that is leaning to one side then then keep a close eye on it by checking for any movement i.e. has it always leaned or is the angle of lean gradually increasing which can be a sign that it may be getting ready to topple over during a strong gust of wind. And most importantly in which direction is the tree leaning i.e. what is it likely to hit if it topples over.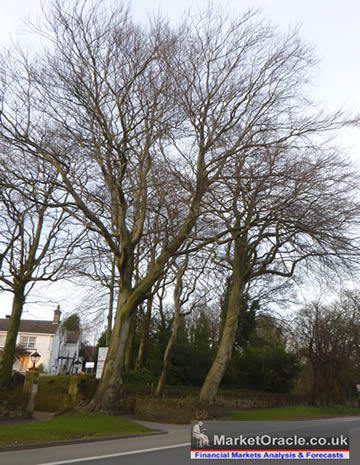 2. Look for dead branches - Identify areas of the tree canopy that tend to lack leaf coverage, as dead or dying branches are primed to breakaway on strong gusts of wind or during heavy snowfall. Again look at where the dead branches are likely to fall as a guide to the degree of urgency.
4. Inspect the Tree Trunk to see if it is has cracks or missing bark which are signs of decay, what to do next will depend on the degree of cracking and how much of the bark is missing. Also look for any other anomalies for instance you may find that 'someone' who apparently has taken a dislike to your tree has hammered several nails into the trunk in an attempt to kill it off.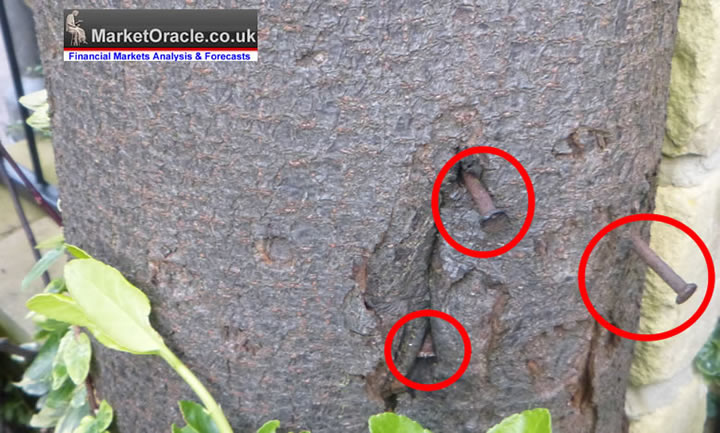 Over time as the tree grows new bark will slowly absorbs nails into the trunk so that not all of the nails will be visible, if any, which means that apart from continuing to damage the tree, there is also the danger that invisible 6 inch nails could seriously hurt someone tasked with removing the tree at a later date.
3. Check for root decay by seeing if the there has been any movement in the ground around the base of the tree i.e. raised or broken soil or mushroom / fungus growth are warning signs for rotting roots.
5. Multi-stemmed trunks - Weakened V shaped tree trunks are at the risk of splitting down the middle during strong winds, therefore it would be wise to limit the growth of the trunk that has the greatest lean via a programme of heavy annual pruning over a number of years, and / or to use a a cable around both of the trunks (higher up the tree) so that the tree can better cope with high winds. Probably the best long-term solution would be to prune away the trunk that leans the most with the aim for the remaining trunk to survive.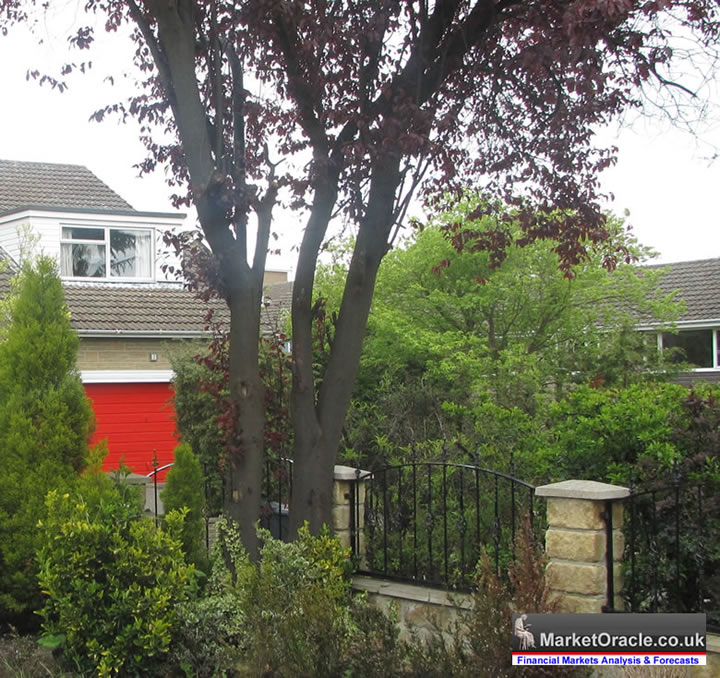 (Copper Beech)
Hedges, Trees and Neighbours
After parking and noise, hedges and trees tend to be the next greatest cause of disputes between neighbours. Where hedges are concerned the general rule is that hedges that block light (southerly) should be limited to 2 metres in height which in the final instance is backed up by legislation. Elsewhere there is no limit to hedge height but should nevertheless be pruned annually at an appropriate height for their location and impact on neighbouring properties.
Trees originally planted many years ago near the boundary between properties can stealthily grow to overhang neighbouring properties by several metres. So whilst the owner of the tree may be completely oblivious to the impact of the overhanging branches across a neighbouring property such as blocking light and leaf fall, which is especially so if they bought the property long after the tree was planted. However 9 out of 10 times people do not like a neighbours tree branches over hanging their property which could result in a festering issue for many years that the owner of the tree may be totally oblivious to until things come to a head.
Therefore all trees near boundaries should be inspected annually for overhanging branches even if to date no issue has been raised by a neighbour, both for preventative action and good neighbourly relations.
Take the time to formulate a plan to cut the overhanging branches to as close as possible to the boundary line, which may mean that the tree will have to be greatly reduced in size over a number of seasons or removed in totality, though most trees are able to recover from even the most severe of pruning's.

The bottom line is that it is the responsibility of the owner of the tree to ensure that their trees do not negatively impact on neighbouring properties. The obvious long-term solution is not to plant trees on or near boundaries or to allow out of control growth of trees to reach such heights that they significantly block sun light into neighbouring gardens.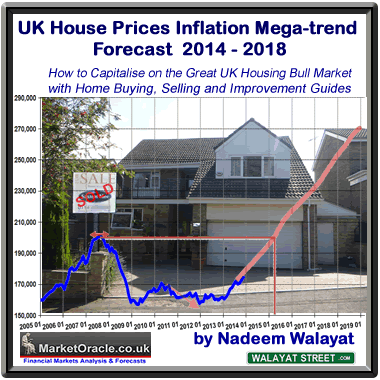 Cutting Your Neighbours Overhanging Branches
If your neighbour has neglected pruning branches overhanging your property then all homeowners have the right to cut overhanging branches to the boundary line as long as this does not permanently damage the tree i.e. the branches should be cut when the tree is dormant (usually in winter). All cut branches remain the property of the tree owner so should be offered to the tree owner before disposal, though do not just cut and dump the branches over the fence!
However, rather than just going ahead and cutting tree branches without any warning, it would be in the best interests of good neighbourly relations to inform your neighbour well in advance of your intentions to cut over hanging branches so as to also allow sufficient time (several weeks) for your neighbour to have the option to take action themselves before hand.
Trees to Avoid Planting
Some trees are worse than others, usually because they grow too fast, have a short life span and the wide spread of their aggressive roots system and potential damage which that can cause to drains etc.
Weeping Willow - Fast growing, wood that is prone to cracking and breaking during storms can reach a height of upto 100 feet and live for upto 40 years. Aggressive roots that invade drainage and sewage pipes,
Silver Maple - Fast growing, wood prone to breaking in storms, can grow upto 100 feet in height with 2/3rd the spread of the height so take up a lot of space and live for well over 100 years. Aggressive shallow roots that break up pathways and invade drainage and sewage pipes
Leylandi - Very fast growing can reach 70 feet in height, shallow roots, when tall prone to falling over in storms, have a life of approx 25 years.
Bradford Pear - Very fast growing with weak branch structure that is prone to breaking and very short life span of just 15 years.
Dealing with Medium Height Trees (Under 10 metres)
For trees under 10 metres (33 feet) height you don't have to hire the costly services of a tree surgeon / arborist to cut out of reach branches, as relativity cheap tools such as rope saw kits can be bought for under £20 that will enable you to cut even the highest of branches without the dangers associated with using a ladder to climb the tree.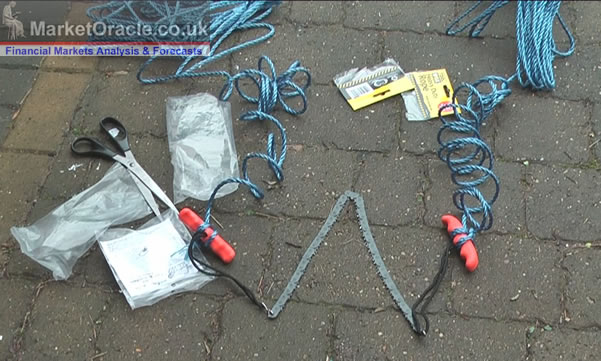 Though note attempting to cut branches at an angle (as illustrated above) rather than from directly underneath the branch will be considerably more difficult as the rope saw will tend to become stuck, in which respect the best method would be to cut the branch by climbing a ladder with the rope saw or other cutting tools.
The rope saw is also a better tool than hand saws for cutting up branches on the ground .

Another tip is to hook a rope around the overhanging branch to be cut and keep it taught so as to prevent the branch from tumbling outside of the target drop zone.
The easiest way to dispose of a lot of cut wood is by burning it, though check the weather for wind direction and ensure neighbours do not have any washing out by burning the wood in the evening.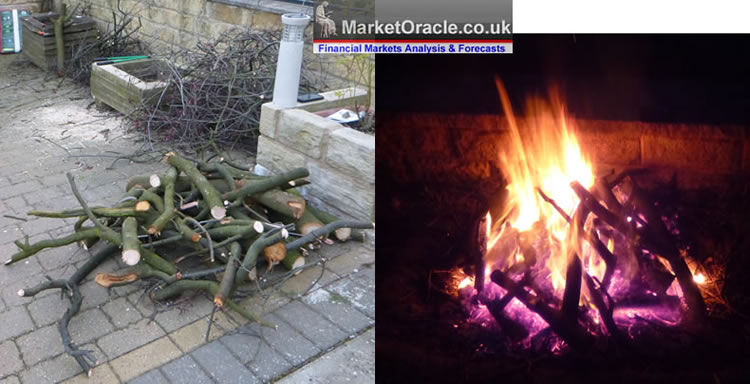 Dealing with Tall Trees (Over 10 Metres)
All trees over 10 metres height should be inspected and pruned by professionals at least once every 2 years who will be able to spot any issues such as disease and dangerous branches that need to be cut.
The professionals will also confirm if any tall trees on your land that are situated near yours or neighbouring properties which could cause damage and should be dealt with sooner rather than later and especially if the tree is already leaning to one side.
(Weeping Willow - Leaning to one side)
Unfortunately you will have to hire an arborist to completely remove the tree given its size as it will have grown far beyond the prune back stage. An arborist will typically charge between £200 to £500 to remove a 20-30 metre tree.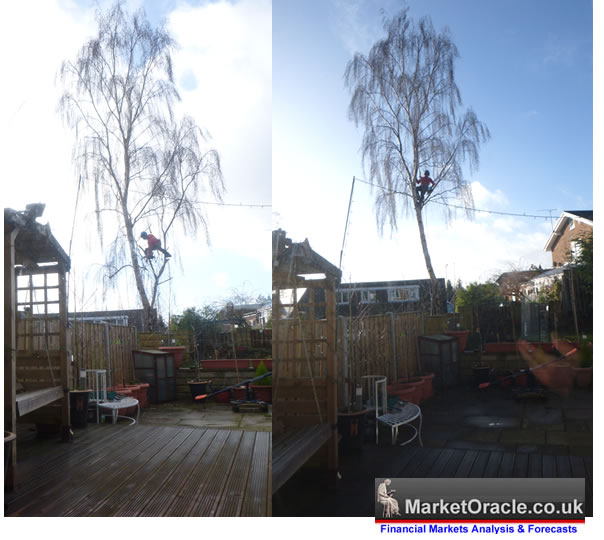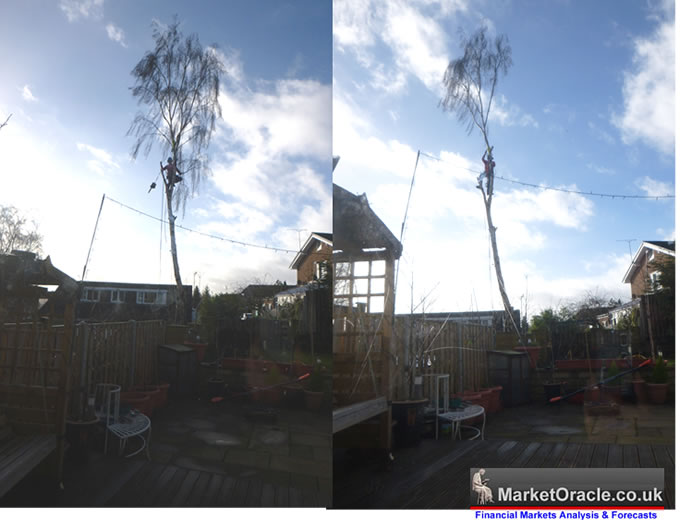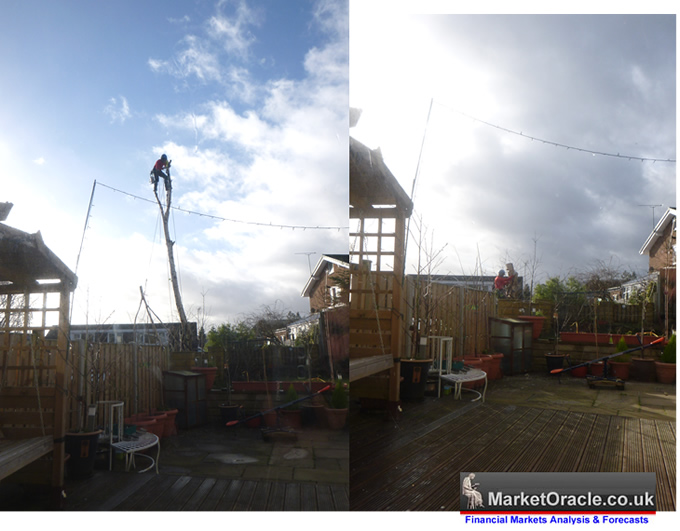 The key point where trees are concerned is regular inspection and preventative actions as an unchecked tree can stealthily grow to a dangerous state unbeknown to the tree owner that can become he cause of many arguments between neighbours.
Container Trees
One solution to avoiding planting trees in the wrong place is to plant them in big container pots as this both limits tree size and adds flexibility in their location. It also allows you to plant a greater variety of trees for instance tropical trees that can be stored in a shed, green house or garage over winter.
Though you may need to plant exposed container's a foot or so deep in the soil to prevent the containers from toppling over during strong winds, especially for tall tree's when with a full / heavy leaves canopy.

The bottom line is to prune trees annually to prevent them from become a problem.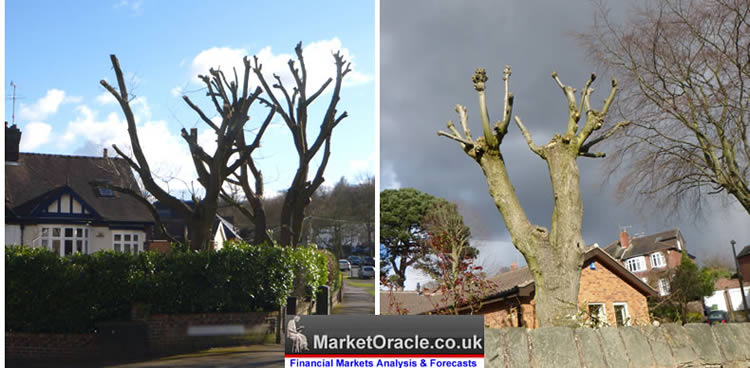 For 15 home improvements that will add value to your home and 5 to avoid that won't see the UK Housing Market Ebook available for FREE DOWNLOAD (Only requirement is a valid email address).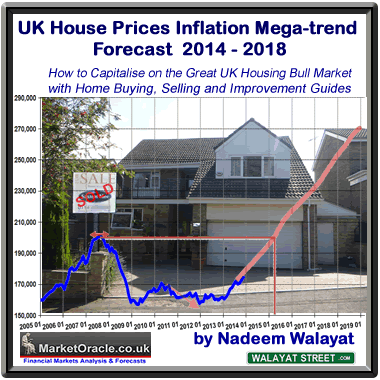 UK Housing Market Ebook - FREE DOWNLOAD
The housing market ebook of over 300 pages comprises four main parts :
1. U.S. Housing Market Analysis and Trend Forecast 2013-2016 - 27 pages
The US housing market analysis and concluding trend forecast at the start of 2013 acted as a good lead exercise for the subsequent more in-depth analysis of the UK housing market.
2. U.K. Housing Market Analysis and House Prices Forecast 2014-2018 - 107 pages
The second part comprises the bulk of analysis that concludes in several detailed trend forecasts including that for UK house prices from 2014 to 2018 and their implications for the outcome of the next General Election (May 2015) as well as the Scottish Referendum.
3. Housing Market Guides - 138 Pages
Over 1/3rd of the ebook comprises of extensive guides that cover virtually every aspect of the process of buying, selling and owning properties, including many value increasing home improvements continuing on in how to save on running and repair costs with timely maintenance tasks and even guides on which value losing home improvements should be avoided.
What Can You Afford to Buy?
Home Buyers Guide
Home Sellers Guide
Top 15 Value Increasing Home Improvements
Home Improvements to Avoid
Home Winter Weather Proofing 22 Point Survey
These guides will further be supplemented from Mid 2014 onwards by a series of online videos and regularly updated calculators such as the Home Buying Profit and Loss Calculator, which will seek to give calculations on whether to buy or rent based on personal individual circumstances, that will be updated to include the latest expected trend trajectories for future house price inflation i.e. you will have your own personal house price forecast.
4. Historic Analysis 2007 to 2012 - 40 pages
A selection of 10 historic articles of analysis to illustrate the process of analysis during key stages of the housing markets trend from the euphoric bubble high, to a state of denial as house prices entered a literal free fall, to the depths of depression and then emergence of the embryonic bull market during 2012 that gave birth to the bull market proper of 2013.
FREE DOWNLOAD (Only requirement is a valid email address). Also includes subscribtion to my FREE newsletter for in-depth analysis and detailed trend forecasts during 2015 -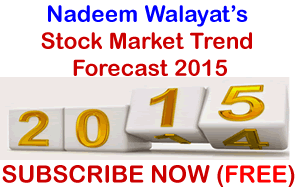 By Nadeem Walayat
Copyright © 2005-2015 Marketoracle.co.uk (Market Oracle Ltd). All rights reserved.
Nadeem Walayat has over 25 years experience of trading derivatives, portfolio management and analysing the financial markets, including one of few who both anticipated and Beat the 1987 Crash. Nadeem's forward looking analysis focuses on UK inflation, economy, interest rates and housing market. He is the author of five ebook's in the The Inflation Mega-Trend and Stocks Stealth Bull Market series that can be downloaded for Free.

Nadeem is the Editor of The Market Oracle, a FREE Daily Financial Markets Analysis & Forecasting online publication that presents in-depth analysis from over 1000 experienced analysts on a range of views of the probable direction of the financial markets, thus enabling our readers to arrive at an informed opinion on future market direction. http://www.marketoracle.co.uk
Disclaimer: The above is a matter of opinion provided for general information purposes only and is not intended as investment advice. Information and analysis above are derived from sources and utilising methods believed to be reliable, but we cannot accept responsibility for any trading losses you may incur as a result of this analysis. Individuals should consult with their personal financial advisors before engaging in any trading activities.
© 2005-2022 http://www.MarketOracle.co.uk - The Market Oracle is a FREE Daily Financial Markets Analysis & Forecasting online publication.

Only logged in users are allowed to post comments.
Register/ Log in