Silver and Other Precious Metals To Manipulate
Commodities
/
Commodities Trading
Jan 30, 2015 - 10:28 AM GMT


Here is a quick update for the silver surfers out there.
I mentioned today that the Australian Dollar was taken out to the woodshed and given a sound thrashing. Silver must have been dragged out there as well because it was beaten with the proverbial ugly stick.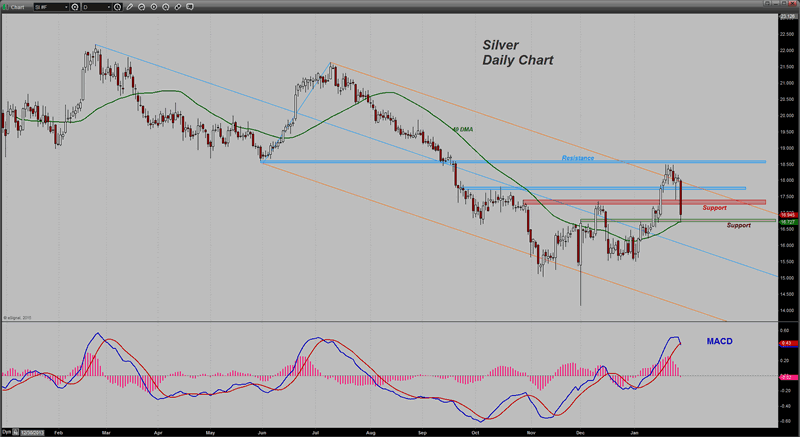 It fell through two layers of chart support before finally bouncing off the third one. That horizontal support zone also coincides with the 40 day moving average which has been rising since very early this year.
Further upside progress will meet selling at the aforementioned support zones which will now serve as overhead resistance to the metal.
If the current low of today – near 16.75 – gives way, we should see the metal retrace towards the median line of the pitchfork which puts it between $16.25 – $16.00 even.
When it comes to this zany metal, one never knows what they are going to get from it because of the simple reason that silver does not know what it wants to be on any given day. Some days it is a precious metal – other days it is an industrial metal. Some days it might as well be a turnip for all I know.
Today it was following gold lower but it was also being negatively influenced by sagging copper prices, along with falling platinum and palladium. If there was a metal on this planet that moved higher in price today, I am not aware of it.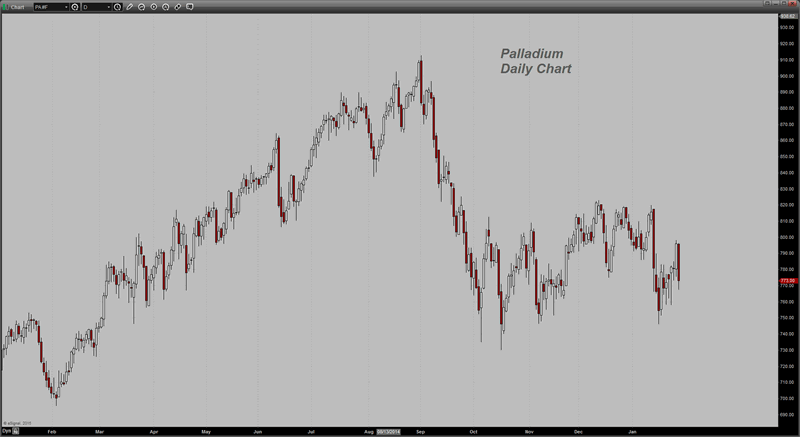 Here is the Palladium chart.
This one is Platinum.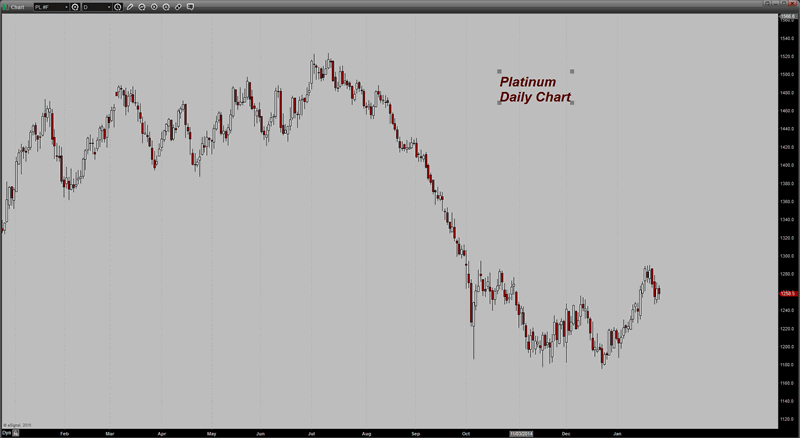 Incidentally, I thought it might be a helpful exercise to chart three metals together on the same intermediate term chart to illustrate the general symmetry we see in these metals and their price patterns.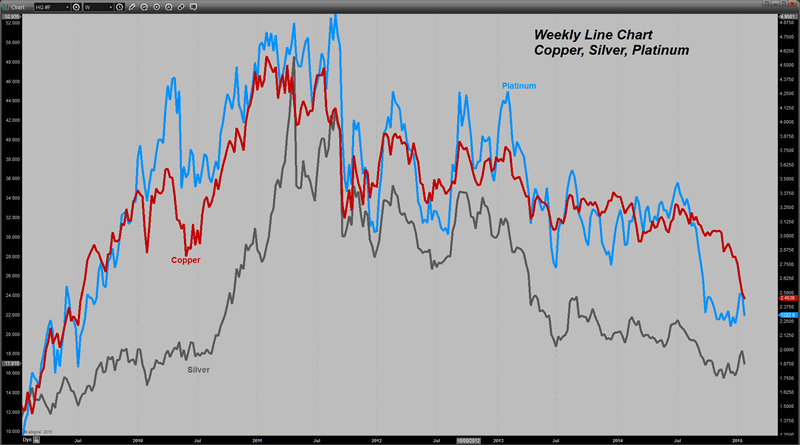 While they do not obviously move in perfect sync, there is no doubt a general relationship between them all as can be clearly seen by their rising together and falling together.
This is also a very good reason why those who keep crying up the Silver manipulation theory are full of hot air. Just today the chatter from that crowd was that the reason there was a reduction in the holdings of SLV was because one of the nasty bullion banks was using that freshly redeemed metal to knock poor ol' silver lower. Shame, shame…
I wonder if someone had to go get copper from somewhere and platinum from somewhere as well to knock those two metals lower.
I guess that crowd will never stop with their wild and worn out theories but it is very tragic that they cannot stand back far enough away from the markets to see that no metal trades in isolation from the rest of the macro picture.
The intermediate term chart very clearly spells out what moves silver and it does so without having to stoop to " I lost money in silver because of the evil manipulation" foolishness. No, you lost money in the metal because you do not understand the bigger macro picture and what influences sentiment and thus money flows.
Silver, like any other market on the planet, will move higher when enough people want to buy it because they have come around to believing that the environment in which to own it is conducive to further price appreciation. When that happens, demand will outstrip the available supply at lower price levels and it will rise. Not a bit sooner and not a bit later.
Dan Norcini
Dan Norcini is a professional off-the-floor commodities trader bringing more than 25 years experience in the markets to provide a trader's insight and commentary on the day's price action. His editorial contributions and supporting technical analysis charts cover a broad range of tradable entities including the precious metals and foreign exchange markets as well as the broader commodity world including the grain and livestock markets. He is a frequent contributor to both Reuters and Dow Jones as a market analyst for the livestock sector and can be on occasion be found as a source in the Wall Street Journal's commodities section. Trader Dan has also been a regular contributor in the past at Jim Sinclair's JS Mineset and King News World as well as may other Precious Metals oriented websites.
Copyright © 2015 Dan Norcini - All Rights Reserved
All ideas, opinions, and/or forecasts, expressed or implied herein, are for informational purposes only and should not be construed as a recommendation to invest, trade, and/or speculate in the markets. Any investments, trades, and/or speculations made in light of the ideas, opinions, and/or forecasts, expressed or implied herein, are committed at your own risk, financial or otherwise. The information on this site has been prepared without regard to any particular investor's investment objectives, financial situation, and needs. Accordingly, investors should not act on any information on this site without obtaining specific advice from their financial advisor. Past performance is no guarantee of future results.
© 2005-2019 http://www.MarketOracle.co.uk - The Market Oracle is a FREE Daily Financial Markets Analysis & Forecasting online publication.

Only logged in users are allowed to post comments.
Register/ Log in