Signs of Stock Market Insanity
Stock-Markets
/
Stock Markets 2015
Feb 03, 2015 - 04:55 PM GMT


As most people with a functioning brain cell already know, stock indices have become more manipulated than a marionette at a children's show. Yes, stocks are now even more manipulated than even gold! Of course, we all know that the Federal Reserve Bank is the chief puppeteer. But as we close out January of 2015, I would even say that stock indices have gone a step further. They are now driven by insanity. Why do I say such? Read on for signs of insanity that should give us all pause.
Apple. Yes Apple reached an all-time high as the company reported great earnings. Two-thirds of their sales now come from their iPhone product. Apple is now a phone device company. The stock price reached an all-time high. It's a phone device. Get in line. Everybody has to have the newest phone. Why. Users can make a phone call. How is that different from the old phone? It's a phone call. Oh, and the next 'big thing' coming from Apple in April is a watch. It will have a big hand and a little hand. It will give the wearer the time of day. I don't really know if it will have hands. Maybe it will only be digital. But it will tell time! Get in line now to be the first to buy this new earth-shaking product! It will sell for about $350 bucks. Oh, the watch will also give wearers their pulse rate. It will cost $350 bucks! My Timex does the same thing and it cost about $10 bucks - maybe $20. As for the pulse rate, I can still apply my fore-finger to my wrist and count 'one-Mississippi, two-Mississippi' and get that for free! But get in line now. These watches will sell fast. Yeah, an all-time high stock price is really justified for a phone maker about to introduce a watch. Insanity anyone?
The US Commerce Department (or DOPE - Department Of Pathological Embellishment) just reported that fourth quarter US GDP was only 2.6%. This was under expectations so the White House announced that by their measure, GDP grew at 4.9%. How did they get that number? They took out segments of the survey that declined in sales. Insanity anyone?
Greece. The people of Greece voted in, as the babbling idiots of bubble-vision described it, a 'radical left-wing' candidate as their Prime Minister. What makes him 'radical' and 'left-wing'? The gentleman rose to power with the pledge to make the banksters pay for their crimes. The same banksters have imposed severe 'austerity' on the nation meaning minimum wages have been cut and GDP has been shrunk by some 25%. Unemployment is higher than collective IQ of the US Congress and Greece owes some $300 billion to the banksters. The country will run out of money by the summer and there is no way to repay these loans. Greece will have to either again surrender, choose to default, or possibly exit the EU. As such, Greek banks are witness to a run on deposits. National Bank of Greece just saw its stock price rise by 12% yesterday. Insanity anyone?
The Federal Reserve Bank. They met on Wednesday and Fed Chief Yellen said the US economy looked strong. That's what former Fed Chief Bernanke said in 2006. She also said that the Fed would be patient with interest rate increases in the future. Stocks tanked on Wednesday afternoon. But then on Thursday morning, a rally began at 11am that pushed the Dow Jones Industrials up some 200 points. The next day, the Dow lost all of that gain in the last two hours of trading. No one trusts insanity.
On Thursday, McDonald's fired their CEO. The stock rallied 5%. The company has already said that the coming year looks very challenged. They already make a lousy hamburger. They hired and English bloke (just like Burger King did a few years ago) to be the new CEO. Sales have been on the decline for years. And the stock price rallied? Why? Insanity anyone?
On Wednesday, reports surfaced that IBM would layoff a large portion of their workforce. On Thursday, the company vehemently denied such rumors. On Friday, employees began getting pink slips.
Fourth quarter US GDP came in at 2.6. Given that consumer spending is supposedly two-thirds of GDP, and given that Christmas spending makes up a large portion of retailers' sales for the year, and given that even the US 'economic recovery' propagandists admit that December retail sales actually declined, that GDP number seems a bit questionable.
Spain says they are out of recession and their economy is growing. Unemployment is still close to 24%. Like the US, the government can put any figure they want on GDP growth. That doesn't make it true. Meanwhile, a few hundred-thousand Spanish citizens turned out in Madrid to demonstrate against EU imposed austerity.
Stocks rallied in early February due to rising oil prices and falling industrial production. How will rising oil prices help industrial production?
Finally, a chart. West Texas crude is in black and the Dow is in blue. The chart is a 15-year weekly chart showing that oil prices and Dow prices generally stay in tandem. Not lately, though. One of these lines is lying. Either the Dow needs to drop several thousand points or oil needs to rally back to above $100 per barrel.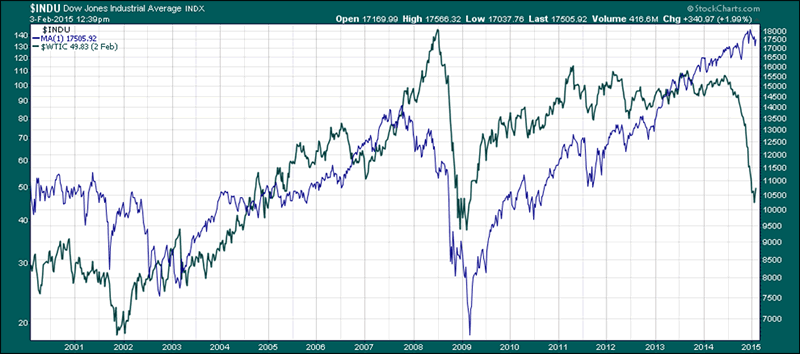 The only question is which seems more likely?

DJIA blue line, WTIC black line - 15-yr. weekly
Chart courtesy StockCharts.com
Barry M. Ferguson, RFC
President, BMF Investments, Inc.
Primary Tel: 704.563.2960
Other Tel: 866.264.4980
Industry: Investment Advisory
barry@bmfinvest.com
www.bmfinvest.com
www.bmfinvest.blogspot.com
Barry M. Ferguson, RFC is President and founder of BMF Investments, Inc. - a fee-based Investment Advisor in Charlotte, NC. He manages several different portfolios that are designed to be market driven and actively managed. Barry shares his unique perspective through his irreverent and very popular newsletter, Barry's Bulls, authored the book, Navigating the Mind Fields of Investing Money, lectures on investing, and contributes investment articles to various professional publications. He is a member of the International Association of Registered Financial Consultants, the International Speakers Network, and was presented with the prestigious Cato Award for Distinguished Journalism in the Field of Financial Services in 2009.
© 2015 Copyright BMF Investments, Inc. - All Rights Reserved
Disclaimer: The views discussed in this article are solely the opinion of the writer and have been presented for educational purposes. They are not meant to serve as individual investment advice and should not be taken as such. This is not a solicitation to buy or sell anything. Readers should consult their registered financial representative to determine the suitability of any investment strategies undertaken or implemented.
© 2005-2019 http://www.MarketOracle.co.uk - The Market Oracle is a FREE Daily Financial Markets Analysis & Forecasting online publication.

Only logged in users are allowed to post comments.
Register/ Log in