Good News From Egypt - Dinosaurs Are Finished
Politics
/
Egypt
Feb 09, 2015 - 02:49 PM GMT


Bad News for al-Sisi
At the state-owned Airforce Stadium in Cairo about 200 young male supporters of the Zamalek team were injured by riot police beatings, water cannon, birdshot and live bullets, and about 35 to 45 were shot dead, Sunday 8 Feb. Mainly targeted by the police, the White Knight vanguards of the Ultras movement of Egyptian football fans. The previous police atrocity against Ultras, at Port Said stadium near Cairo left about 74 dead and 500 injured, and helped spark the downfall of "lifetime president" and former airforce general Hosni Mubarak. Muslim Brotherhood recuperation and re-use of the Ultras as political chaff troops and cannon fodder stopped dead when the Muhamad Morsi government maintained and extended the 2-year ban on all football matches in Egypt, contrary to promises given by the Morsi government to the Ultras. The state had lied to them.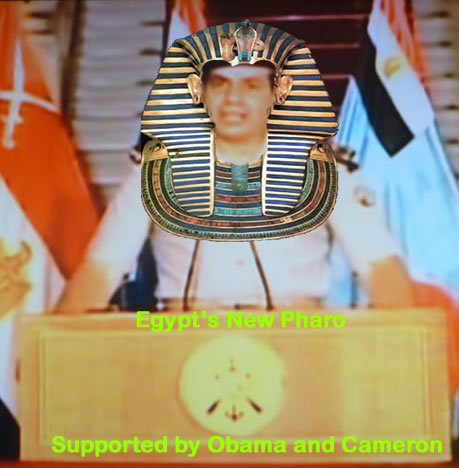 The Muslim Brotherhood was added to the list of enemies of the Ultras. They fight the State, the police, and any organization that tries to stop them going to football matches. Their interest in politics is as low as their interest in religion, but the Egyptian state perceives and treats them as an enemy force within. Which they are.
Every major city, every weekend in Egypt has at least 5 000 young Ultras marching in public places in support of their local football team. They do not tolerate police interference. Their parents often say they are from another world but their parents add that the state, the police and lying politicians will have big problems coming to them from the Ultras, very soon.
The Innocent Beast
When I was a child, which was long ago, I could privately think about dinosaurs all on my own. Later on, for complex reasons which however include simple greed for money and money-grubbing by Steven Spielberg, dinosaurs went viral. Still today although its declining, you can see rows of them on sale in supermarkets. Kids in the car park wear inflatable dinosaur bodywear and have miniature plastic dinosaurs in their pockets. What used to be called "the scientific community", or scientists, or "learned persons", also went lobo on dinosaurs.
Now they can do it with football! Football politics and coups d'etat you maybe hadn't heard of yet, but they are alive and kicking in Egypt. Islamic State may exist for some "disaffected youth", turning psychopath, but football exists for a large swath of young male youth, and increasingly young female youth, worldwide.
The Cairo riot police, on the instructions of who usually instructs them used delirious and deliberate deadly force against the Ultras and especially the White Knights, Sunday 8 Feb.
So-called advanced nations like EU28 countries can't play innocent about what is usually called "football hooliganism". During the UK's long Thatcher era of No Hope for young people (they could stay unemployed!) a major football stadium atrocity claimed 94 lives. Football in Europe, in any case, is politcising if slower than in Egypt.
Like global warming, almost anything can be explained by dinosaurs but not yet by football riots! Welcome to the future.
In fact dinosaurs were the forerunners of birds and.they were the forerunners of mammals - including Joe Consumer Citizen in the Wal-Mart car park with a dinosaur pennant on his car aerial. For the kids. Dinosaurs only disappeared because of climate change, and the political climate in a lot of countries has radically changed since about 2011. Americans of course are still steeped and imbibed with 2001 and the bin Laden show.
What football team did Osama playfor ? Was he in the Afghan national squad quite a long way back in time
Political Dinosaurs Fool Nobody
Almost any EU28, North American, African, or even Asian and some Arab political leaders will pretend, these days, that they love football. It makes money and keeps the peepul stupid! This contempt fools about zero percent of young fans, anywhere. Most of them live on odd jobs at minimum wage or are unemployed. Why should they believe lies coming down from on high?
In Egypt, the Ultras say that some of their members tried the "bourgeois meritocratic' greasy pole of borrowing money for tuition fees and working your way up with college degrees and professional training. But they got nothing. They were told they had No Future - like their brethren in so-called advanced countries who are ground into the dirt by politicians and the Twittering middle classes.
In Egypt the Ultras overthrew Mubarak and then overthrew Morsi. They will do the same to al-Sisi whose economic action like that of his predecessors is zero. Countries with 50% jobless rates for young people - which is all the rage in Europe's "austerity minded" governing clques - should logically expect the same challenge from their own cheated and abandoned youth.
Ultras in Egypt do not decry the nation or the idea of the Egyptian nation. Their local and district leaderships, called Solidarity Leaders in Arabic, say the Ultras cannot deal with a tate and government system that is so unrelated to their lives and their parents' lives. Many parents of Ultras say they understand the fight of the Ultras but they do not understand their methods. However they say they easily understand the feelings of rage and treachery they got from the Muslim Brotherhood when the Ultras helped Morsi to power. The Ultras say that Muslim Brotherhood cadres in the Morsi state system, the moment they put on a police uniform, were repressive agents of the State. The Ultras have declared war on the state.
Whether or not the Saudi royal clique supports al-Sisi is of no interest to the Ultras.
It doesn't matter that dinosaurs did not "disappear overnight"/ Some paleologists and animal physiologists and paleobotanists and paleo-other things can argue that Earth-change events which made the dinosaur "disappear" also caused climate change. In Egypt the political climate, this weeken, went into accelerated warming.
Why Pick on Dinosaurs?
Dinosaurs disappeared in the Jurassic-Triassic mass die-off, but long before that extinction they had been mutating pretty frenetically. We can see this today in dinosaur-run countries like France where its PM Manuel Valls actually says out loud that sentencing French youth to mass unemployment and lifetime odd jobs "could or might" be an explanation of street rage by youth, To be sure, the beardy boys of so-called "radical Islam" can pick up on that – but in Egypt they have already been dumped by the Ultras.
The Ultras said no to being cannon fodder for anything but their own cause. They like football and say that football is their Homeland. They dress how they like and they fight the state, the police and the corrupt and degenerate political elite.
Pure-juice Darwinists will tell you their science fairy story about dinosaurs at the touch of the Talk button. After the dinosaurs, they claim, there was a long period of evolutionary anarchy, but it also enabled "pre-mammalian type" living things to emerge. After the street rage riot of cheated Youth, we can look forward to major politicak evolution in Egypt – and other countries where youth is a dirty word and means unemployment and-or odd jobs for the rest of your life.
By Andrew McKillop
Contact: xtran9@gmail.com
Former chief policy analyst, Division A Policy, DG XVII Energy, European Commission. Andrew McKillop Biographic Highlights
Co-author 'The Doomsday Machine', Palgrave Macmillan USA, 2012
Andrew McKillop has more than 30 years experience in the energy, economic and finance domains. Trained at London UK's University College, he has had specially long experience of energy policy, project administration and the development and financing of alternate energy. This included his role of in-house Expert on Policy and Programming at the DG XVII-Energy of the European Commission, Director of Information of the OAPEC technology transfer subsidiary, AREC and researcher for UN agencies including the ILO.
© 2015 Copyright Andrew McKillop - All Rights Reserved Disclaimer: The above is a matter of opinion provided for general information purposes only and is not intended as investment advice. Information and analysis above are derived from sources and utilising methods believed to be reliable, but we cannot accept responsibility for any losses you may incur as a result of this analysis. Individuals should consult with their personal financial advisor.
© 2005-2019 http://www.MarketOracle.co.uk - The Market Oracle is a FREE Daily Financial Markets Analysis & Forecasting online publication.

Only logged in users are allowed to post comments.
Register/ Log in