Gold Price YAWN!
Commodities
/
Gold and Silver 2015
Jun 01, 2015 - 06:11 AM GMT


Another week passes and once again, the word best used to describe the price action in gold is, "YAWN". As in boring; as in repetitive, as in comatose, as in going nowhere.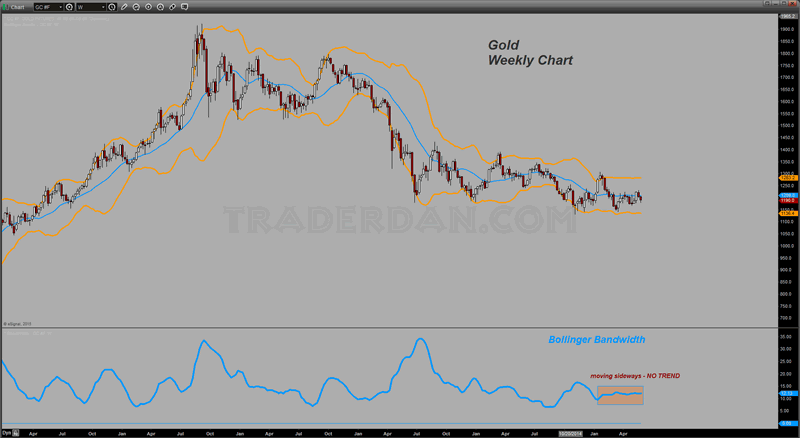 As you can see on the intermediate term chart [ Weekly], the Bollinger Bands are going nowhere and the Bandwidth indicator remains perfectly flat, indicative of a market heading nowhere fast.
Price remains below the median line of the Bollinger Bands, which it has done every week since early February with the brief exception of a single week early this month [May].
This comes in spite of the wild claims out of the gold cult that once again – as usual, as can be expected, as is boringly repetitive and predictable – surfaced when gold did manage to put in that strong week earlier this month.
"Gold is off to $2000″, we were confidently told. Yep – same claim as always ever single time gold has a big move higher with the same result.. NADA… ZERO… ZILCH…
What a great racket – get people to pay you for making wild, outlandish, incorrect and thoroughly useless predictions and then blame it all on "price suppression by the feds" when the prediction falls flat on its face.
Those doing this never have to acknowledge how bumbling and inept that they are around the markets while they sucker in another round of victims from which they can milk more money out of.
Here is the reason why gold is going nowhere, wild claims of the gold cult hucksters notwithstanding.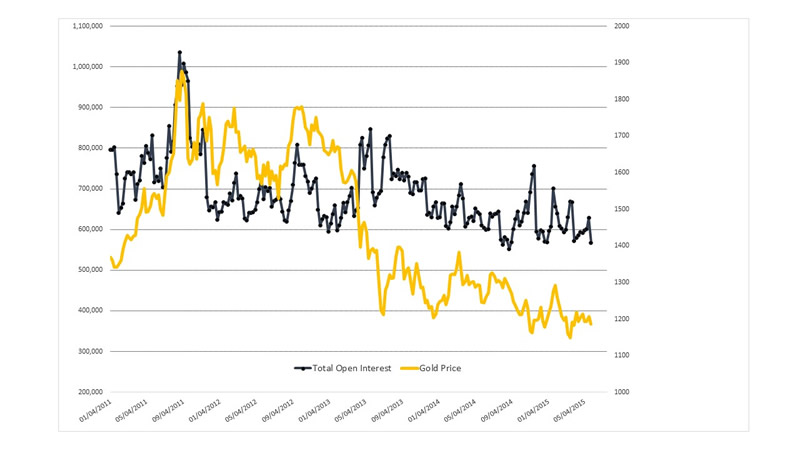 Look at the total open interest in the gold futures contract at the Comex [ futures and options combined]. Which way is that dark line heading? Answer – DOWN. As a matter of fact, this past week's reading is the lowest since August 2014, which by the way happened to be the lowest level of recorded open interest in the previous 3+ years shown on this particular chart.
What this tells us is very simple – "INTEREST" in gold (that is why the number of contracts is referred to as OPEN 'INTEREST') is drying up.
That is also the reason why the large gold ETF, GLD, continues to report a steady decline in its gold holdings.
Just this past week, one gold ETF, simply shut its doors for lack of interest.
I have said it before and will say so again – until the momentum based crowd gets interested in gold, it is going nowhere. Value based buyers may be providing a floor of support near $1180 for now, but that crowd in and of itself cannot drive gold sharply higher.
As long as the threat of a Fed interest rate hike hangs over the market, large speculators will be more interested in selling rallies in the gold market. While the current rash of weak economic data has bought gold some time, in that it does not have to compete with interest paying Treasuries as long as interest rates remain in the gutter, the market is expecting the Fed to move on the interest rate front sometime this year. That means gold's days are numbered unless for some reason we see inflation pressures come out of nowhere and suddenly surge higher.
Lastly, here is an updated chart of the gold price compared to the Ten Year Treasury futures contract. The relationship between the two continues to be very tight.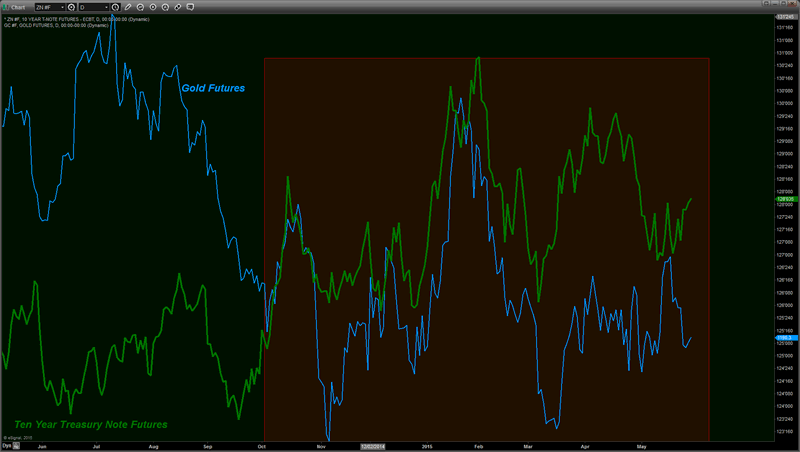 Good trading to you all!
Dan Norcini
Dan Norcini is a professional off-the-floor commodities trader bringing more than 25 years experience in the markets to provide a trader's insight and commentary on the day's price action. His editorial contributions and supporting technical analysis charts cover a broad range of tradable entities including the precious metals and foreign exchange markets as well as the broader commodity world including the grain and livestock markets. He is a frequent contributor to both Reuters and Dow Jones as a market analyst for the livestock sector and can be on occasion be found as a source in the Wall Street Journal's commodities section. Trader Dan has also been a regular contributor in the past at Jim Sinclair's JS Mineset and King News World as well as may other Precious Metals oriented websites.
Copyright © 2015 Dan Norcini - All Rights Reserved
All ideas, opinions, and/or forecasts, expressed or implied herein, are for informational purposes only and should not be construed as a recommendation to invest, trade, and/or speculate in the markets. Any investments, trades, and/or speculations made in light of the ideas, opinions, and/or forecasts, expressed or implied herein, are committed at your own risk, financial or otherwise. The information on this site has been prepared without regard to any particular investor's investment objectives, financial situation, and needs. Accordingly, investors should not act on any information on this site without obtaining specific advice from their financial advisor. Past performance is no guarantee of future results.
© 2005-2019 http://www.MarketOracle.co.uk - The Market Oracle is a FREE Daily Financial Markets Analysis & Forecasting online publication.

Only logged in users are allowed to post comments.
Register/ Log in