Greece - Shoot the Dog and Sell the Farm
Stock-Markets
/
Eurozone Debt Crisis
Jun 29, 2015 - 06:37 PM GMT


"If this were a marriage, the lawyers would be circling." - The Economist, My Big Fat Greek Divorce, 6/20/2015
Greece is again all the buzz in the media and on the commentary circuit. If you're like me, you are suffering terminal Greece fatigue. You just want Greece and its creditors to "do something already" rather than continually coming to the end of every week with no resolution, amid finger-pointing and dire warnings from all sides about the End of All Things Europe – maybe even the world.
That frustration is a common human emotion. Perhaps the best and funniest illustration (trust me, it is worth a few minutes' digression) is the story about one of my first investment mentors, Gary North, who was working in his early days for Howard Ruff in Howard's phone call center before Gary began writing his newsletters and books. (Yes, I know I am dating myself, as this was the late '70s and early '80s, just as I was getting introduced to the investment publishing business. And for the record, I knew almost everyone in the publishing business in the '80s. It was a very small group, and we got together regularly.)
Howard set up a phone bank where his subscribers could call in and ask questions about their investments and personal lives. One little lady had the misfortune to get Dr. Gary North on the line. (Gary was the economist for Congressman Ron Paul and went on to write it some 61-odd books, 13,000 articles, and more – all typed with one finger. He is a human word-processing machine.)
This sweet lady lived way out in the country and was getting older. She asked Gary if he thought it would be a wise idea for her to move into the city (I believe it was San Francisco) to live with her daughter. Not knowing the answer, Gary helped her work out the pros and cons over the phone, and she decided to move. A few days later she called back and said that she couldn't bring her dog with her because of the rules at her daughter's apartment. It turns out she couldn't live without her dog, so Gary helped her come to the conclusion that she could stay in the country.
A few days later she called him back asking whether she should change her mind, and Gary once again help her to come to a conclusion. This went on for several weeks, back and forth, move or not move, dog or no dog. Finally she called one last time. Gary, in utter exasperation and not being infinitely tolerant of indecisive people, said, "Look lady, just shoot the dog and sell the farm." (For the record, I hope she didn't really shoot the dog. I like dogs.)
That is where most of us are with the Europeans and Greeks. I have devoted a great deal of space in this letter to Greece over the past five years and have visited the country and corresponded with many analysts and citizens about the situation. And while I want to briefly outline the Greek situation again today, as there are some subtle nuances to consider, I think this juncture is a teaching moment about the larger picture in Europe. In fact, watching this process, I have come to change my mind about the timing of what I see is the endgame for Europe and European sovereign debt. I think exploring that issue will make for an interesting letter.
Economic crises go through cycles. Here's a chart from the clever folks at Valuewalk.com (via my friend Jonathan Tepper on Twitter).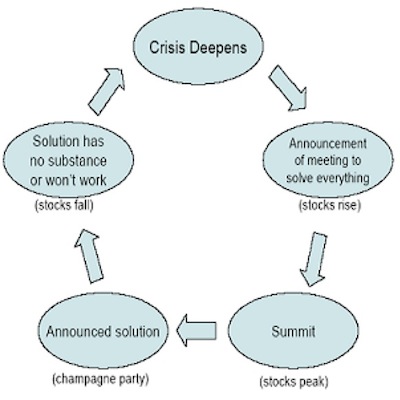 https://twitter.com/valuewalk/status/612948290267688960
The Greek situation is presently caught in those two bubbles on the bottom. European leaders held summit meetings this week to consider new breakthrough concessions offered by Greek Prime Minister Alexis Tsipras. Let the champagne flow. Except those concessions were rejected, and the Greeks rejected the counteroffer as of this afternoon. But it's not quite midnight yet.
Unfortunately, the wheel of debt never stops turning. If this solution is like countless others floated in the last five years, we will soon learn that it has no substance or simply won't work. We will then reenter the crisis phase.
Every cycle breaks eventually. If you forget everything that's happened to this point and re-imagine the crisis as an economic standoff between Greece and Germany, you have to say Germany will win. It outweighs tiny Greece in every possible category. The real question is why Germany let the fight go on this long. We will deal with that in a minute.
Note that this observation isn't about which country should win; it is about who will win. Greece has some legitimate grievances. Unfortunately, these grievances aren't going to matter in the end.
Poster Children for European Profligacy
My friend David Zervos of Jefferies & Co. has no doubt who will win. He sent me this note on June 17.
The bell is tolling for Alexis [Tsipras]. European leaders from all sides have abandoned him as he burns through every last bridge that was once in place. His only meeting of importance during this crucial week of negotiation is with Putin – which clearly does not inspire any confidence for a near-term resolution.
It is actually amazing that we have not seen any of the left-leaning party leaders from the rest of Europe running to Tsipras' side as he truculently engages his paymasters. Where are all these European anti-austarians? Of course they are hiding from the Germans, hoping not to receive the same fate as Alexis. So there he sits, alone and under his last Soviet-held bridge, just like Hemingway's Robert Jordan. He is waiting to cause just a little more damage before his time is up.
In the end, there is no question that the Germans have executed a near flawless plan to humiliate and vilify Greece. The Greeks now stand as poster children for European profligacy. And they are being paraded through every town square in the EU, in shackles, as the bell tolls near the gallows for their leader. And to be sure, making an example of Greece is a probably the greatest achievement for the fiscal disciplinarians of Europe. Maastricht never had any teeth. But this exercise is impressive. It shows that fiscal excess will be squashed in Europe. The Portuguese, Spanish, and Italians are surely taking notice. And in the days that lead up to a Greek default on 30 June, and then more importantly on 20 July, these disciplinarians will surely display their power for all to see.
Oddly enough, I actually think this has been the German plan all along. With no real way to ensure fiscal discipline through the treaty, they resorted to killing one of their own in order to keep the masses in line. It explains why Merkel took out Samaras when she knew a more hostile government would surely emerge in Greece. This was masterful political manipulation.
The 1992 Maastrict Treaty created the European Union and led a few years later to the euro currency. Which I said at the time would be a disaster. And it has been. Leaders have been wrestling with its fundamental flaw almost from the beginning. The EU has no way to enforce fiscal standards on its member nations. The member nations likewise have no way to devalue the currency in their own favor. This can't go on forever – and it won't.
Germany, by virtue of its sheer size and its favored position in the bureaucratic scheme of things, grew wealthy partly by exporting to the European periphery: Greece, Italy, Spain, Portugal, and Ireland. (The rest of their 40–50% of exports of GDP come from exporting to the rest of Europe and the world. They have benefited massively from a currency that has been and continues to be weaker than it would be if it were just a German currency.)
The peripheral countries essentially exported all their cash to Germany (and to some extent northern Europe) in exchange for German goods. When they ran out of cash, not just because of their purchase of export goods but because of the uncompetitive nature of their bureaucratic and labor systems and the rather large unfunded government expenditures, they wanted yet more cash to continue to spend on government services. Germany and the rest of Europe offered vendor financing. German and the rest of European banks loaned money to Greeks so the Greeks could buy German goods and perpetuate their government spending habits. In the early part of the last decade, tt was a deal that was seemingly made in heaven as Greece got to borrow money at German rates and Germany got to sell products in a currency driven by the valuation of the peripheral countries.
This arrangement left Greece and the other PIIGS deep in debt. Much like the American homeowners who lived beyond their means, Greece found itself overleveraged and undercapitalized. And here we are.
To continue reading this article from Thoughts from the Frontline – a free weekly publication by John Mauldin, renowned financial expert, best-selling author, and Chairman of Mauldin Economics – please click here.
© 2005-2019 http://www.MarketOracle.co.uk - The Market Oracle is a FREE Daily Financial Markets Analysis & Forecasting online publication.

Only logged in users are allowed to post comments.
Register/ Log in