Syriza Convinces Greece to Commit Suicide, GrExit Beckons, Market Reaction
Stock-Markets
/
Eurozone Debt Crisis
Jul 06, 2015 - 02:33 AM GMT


Syriza has successfully managed to convince the mass of the people of Greece of their victim hood at the hands of the evil Troika and thus to vote NO in a referendum engineered for such an outcome as phrased by a question which basically boiled down to "Do you want Austerity", "YES or NO", to which obviously on face value 90% would be inclined to vote NO. However, it had been hoped that most Greeks would be able to see through Syriza's thick propaganda smoke screen that in recent days had been ramping up the message of a virtual paradise to follow a NO vote.
Typically Tsipras and Varoufakis brushed aside the stream of warnings of the dangerous path that Syriza had put Greece on towards an ultimate GrExit from the Euro-zone. Syriza statements such as that there was a secret deal that will be agreed to on Monday, or that the banks will open as normal by Tuesday at the latest, neither of which have any basis in reality which are amongst a whole stream of similar propaganda succeeded in convincing the Greek people to commit economic suicide.
Key questions answered:
Impact on Financial Markets
Significant market reaction will be seen in the forex and bond markets as the Euro is already on the slide and on Monday's open I expect PIIGS bonds to be marked lower as the bond markets start to price in the risk of contagion. Whilst the stocks markets will clearly open lower Monday by 1-2% on the shock news and perhaps remain volatile for a couple of days or so. However, I don't expect any significant impact on trend for the global stock markets including of most euro-zone members and therefore my long standing expectations remain for a strong bull rally to new all time highs during the second half of 2015 as illustrated below:
03 Feb 2015 - Dow Stock Market Trend Forecast 2015 by Nadeem Walayat
The Dow resolves to a bullish Elliott Wave pattern i.e. implies that the Dow should now embark on a trend to a new all time high, probably before the end of March! So contrary to much of the building picture so far. Thereafter suggests a summer ABC correction back down to around 17,500 to coincide with "Sell in May and Go Away".
Dow Stock Market Forecast 2015 Conclusion
My final conclusion is for the Dow to spend the first half of 2015 in a wide volatile trading range as it continues to unwind the 2014 bull run and sets the scene for the next series of bull runs to new all time highs. I expect the Dow to have started its bull run by early August off of an summer low and then continue into the end of the year, punctuated by an October correction low. I further expect the Dow to be trading well above 19,000 during December 2015 and probably above 19,500, before closing at around Dow 19,150 for a 7.5% gain for the year as illustrated by the following trend forecast graph for 2015.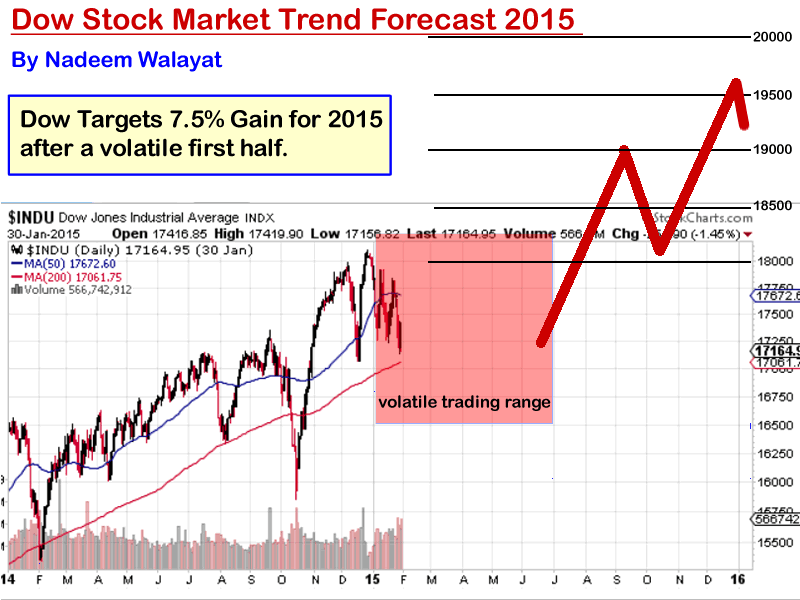 Will Greek Banks Open Tuesday?
05 Jul 2015 - Forget 'Haircut', Instead Syriza Plans Beheading of Greek Bank Depositors, Theft of Deposits
Greeks voting YES or NO won't make any difference to what I see as a near certainty of the Greek banks NOT reopening Tuesday, and it is not just because the banks won't have the euro bank notes in their vaults, it's because they are ALL insolvent and have been so for the past 5 years where the only thing that had prevented a collapse of the Greek banking system was generous and I mean GENEROUS support from the Euro-zone's ECB central bank that has literally financed every withdrawal from the Greek banks for the past 5 years, right up until Syriza announced its baldrick-esk cunning plan for a Referendum. That's over Euro 120 billion Euro-zone tax payers funds paid into the Greek banks to finance ALL withdrawals that amounts to 50% of the original total Greek bank deposits.
Therefore the only thing that the Greek central bank can do come Tuesday is to extend the bank holiday indefinitely as it works out how much of the Greek bank deposits it needs to steal in a 'bail in' or a 'haircut' as the bankster's prefer to call what actually amounts to a beheading, outright theft which is perfectly in line with the marxist ideology of Syriza.
What Will Happen to Greek Bank Deposits?
05 Jul 2015 - Forget 'Haircut', Instead Syriza Plans Beheading of Greek Bank Depositors, Theft of Deposits
As a MINIMUM one can expect a similar theft of 50% of bank deposits over Euro 100,000. However, I think that the theft of Greek bank deposits will be a lot worse for ordinary Greeks, given the Greek economies economic collapse and unless the ECB opens the flood gates and starts pouring billions of euros per day into Greek banking system, then Greek banks could steal 50% of virtually all deposits starting from as little a balances of over Euro 5,000! Especially as Greece can only afford to refund Euro 3 billion of an estimated E120 billion of deposits. This highlights another point that Bank Deposit Guarantees tend to be worthless propaganda, for when banking systems collapse then the bank guarantees TEND NOT BE FULLFILLED!
The bottom line is that the Greek bank depositors only have themselves to blame for they have had ample warnings to get their funds out of Greek banks, especially in the light of what happened in Cyprus of over 2 years ago!
Where Does the European Union Stand?
EU President Juncker had already warned a week ago that Syriza was lying to its people on the truth of Greece's proposed bailout conditions and that he has no trust left in Tsipras. Juncker in blunt language made it clear that a NO vote on the 5th July referendum would mean that Greece will be kicked out of the euro-zone.
"'No' would mean, regardless of the final question, that Greece is saying no to Europe,"
German politicians views have similarly been trending towards a GrExit as being a possible solution. i.e.
"orderly" exit of Greece from the euro zone, saying it was the best option for all concerned." Said Markus Soeder, regional finance minister of the Bavarian CSU,
Whilst the German Finance Minister Wolfgang Schaeuble stated that "Athens might consider leaving the currency area temporarily."
What Impact on the Greek Economy?
05 Jul 2015 - Forget 'Haircut', Instead Syriza Plans Beheading of Greek Bank Depositors, Theft of Deposits
If the Greek population suffering from mass delusion, convinced by Syriza propaganda that they are the victims of the evil Troika by effectively voting to commit suicide (NO) then the starting point for leaving the euro-zone will be hyperinflation because Greece will immediately start to print its own currency be it counterfeit Euro notes or some other form of IOU's.
Therefore Greece's Great Depression that has seen the economy shrink by 25% could continue shrinking by another 25% over the next few years.
Will Greece Print Its Own Currency?
02 Jul 2015 - Forget Drachmas Greece Syriza Government Could Instruct Central Bank to Print Euros!
In the face of this crisis, Greece does have the nuclear option, one that could threaten to blow the whole euro-zone apart as what apparently no one is reporting on is the fact that Euro's in Greece are printed by the Greek central bank. Therefore Syriza faced with empty bank vaults could just command the Greek Central Bank to start printing Euros without ECB authorisation, which would instantly result in a devaluation of Greek Euros that would be marked down in value against other nation Euros.
Greece printing euros would instantly wipe out the value of the debt denominated in euros as well as wipe out most of the value of savings and purchasing power of earnings i .e. Greece would effectively be printing money to inflate its way out of the crisis and thus the Greek inflation rate would soar.
Will There Be Contagion?
02 Jul 2015 - Forget Drachmas Greece Syriza Government Could Instruct Central Bank to Print Euros!
The reason why this is so dangerous is because contagion would be immediate in that German Euro notes would be deemed as being the most valuable and those of the PIIGS nations being marked down in value as each Euro note serial number is marked with the country of origin prefix as the following Italian euro note illustrates that is identified by S -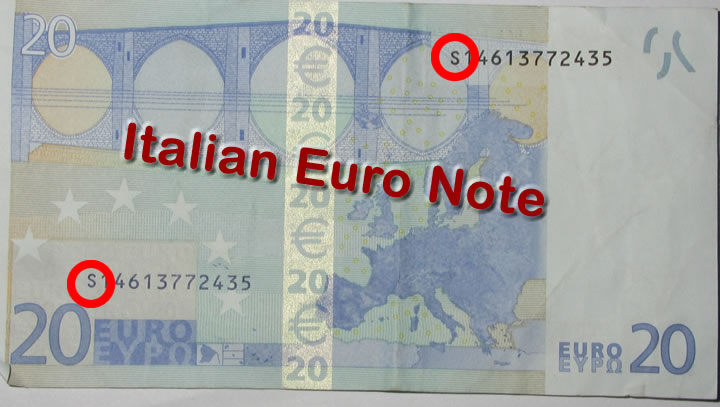 List of Euro country of origin prefix:
Belgium Z
Germany X
Estonia D
Ireland T
Greece Y
Spain V
France U
Italy S
Cyprus G
Luxembourg 1
Malta F
Netherlands P
Austria N
Portugal M
Slovenia H
Slovakia E
Finland L
So, for example someone shopping in a store in Greece and eventually the other PIIGS would be able to buy MORE with the same denomination German Euro note marked with an X then the notes of other euro-zone nations and especially that of Greek Euro bank notes marked with an Y.
Whilst today the suggestion that Greece could start printing euros without permission may seem impossible, however so did Greece defaulting on the IMF loan and a collapse of its banking system just a week ago!
So all this talk in the media of it being impossible for Greece to launch and print its own currency for many months if not years is WRONG, for Greece already has printing presses ready that can immediately print Euros without limit.
In fact Greece may have been stealthily stock piling currency paper and ink in readiness of detonating its nuclear option. In fact Greece may already be printing billions of euros in secret that will only start to become apparent when Greece as if by magic is able to start to relax its capital controls such as limits on withdrawals. In fact the euro notes would be just the tip of the money printing ice-berg for the Greek central bank only needs to press a few buttons to electronically print tens of billion of euros and then eventually in the hundreds of billions as Greece goes through its own hyperinflation event and we will probably see inflation take off in all other euro-zone nations except Germany.
Think it can't happen ? Well Greece lied about its debt for a decade! So lying about printing euros without permission would be in character of successive Greek governments.
GrExit - Will Greece Leave the Eurozone?
28 Jun 2015 - Greece Banking System Collapse Monday as ECB Pulls the Plug, Capital Controls Ahead of GrExit
GrExit Beckons
The mainstream press has once more been caught off guard as regurgitated euro-zone propaganda had resulted in the consensus view that a last minute deal would be done that would prevent Greece from leaving the euro-zone, which was the primary strategy of the Syriza government to black mail the euro-zone with the threat of a GrExit in exchange for a permanent subsidy from Euro-zone tax payers coupled with 50% debt write offs every few years.
However, it is finally starting to dawn on the 'herd journalists' that a GrExit in the wake of the ECB announcement is actually the most probable outcome and so have finally begun writing streams and streams of mostly nonsense on the ramifications of a GrExit.
My consistent view for sometime has been that a GrExit was a near certainty (see excerpts below) for the fundamental fact that Greece within the Euro-zone CANNOT PRINT MONEY AND DEBT AND INFLATE TO PAY FOR its bloated public sector and voter bribes. Greece for the duration of the 'crisis' has had NO CHOICE but to leave the Euro-zone and all that the ECB, and the IMF have done is to throw good money after bad that totals some Euro 320 billion of Euro-zone tax payers money flushed down the Greek toilet. It should be noted that this follows a decade long spending binge on the back of GERMAN LOW INTEREST RATES, when the Greek government wracked up debts that it HID from the markets, which it could do because the debts were denominated in EUROS. The lied, they stole and then they wanted a perpetual euro-zone subsidy just like Scotland enjoys in the UK.
GrExit Contagion?
18 Jun 2015 - GREXIT - Greece Wants to Become Scotland, Seeks Permanent Subsidy from Euro Tax Payers
The Big Problem is PorExit, SpaExit and ItaExit.
Greece in economic terms is a flea on the back of the Euro-zone elephant that could easily survive a GREXIT. But the real problem is who would be next, for soon the pressure would mount on the other PIIGS, with Portugal, Spain and Italy vying for who would be next to EXIT the euro-zone, something which the Euro-zone would not survive. Therefore that remains Greece's 'Ace in the hole', which is why they are still in the eurozone, so probably suggests that some sort of fudge will be arrived at that would only DELAY GREXIT for the fundamental reason Greece is BANKRUPT!
A GrExit would also make a BrExit more probable, whilst Putin would be dancing in the Kremlin.
Ensure you are subscribed to my always free newsletter for ongoing in-depth analysis and detailed trend forecasts that include the following planned newsletters -
Why Thousands of Muslims Are Going to Live, Fight and Die in Syria / Iraq
US Dollar Trend Forecast Update 2015
Gold Price Forecast Second Half 2015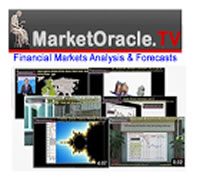 Also subscribe to our Youtube channel for notification of special video projects such as -
The Illusion of Democracy and Freedom
Did God Create the Universe?
By Nadeem Walayat
Copyright © 2005-2015 Marketoracle.co.uk (Market Oracle Ltd). All rights reserved.
Nadeem Walayat has over 25 years experience of trading derivatives, portfolio management and analysing the financial markets, including one of few who both anticipated and Beat the 1987 Crash. Nadeem's forward looking analysis focuses on UK inflation, economy, interest rates and housing market. He is the author of five ebook's in the The Inflation Mega-Trend and Stocks Stealth Bull Market series that can be downloaded for Free.

Nadeem is the Editor of The Market Oracle, a FREE Daily Financial Markets Analysis & Forecasting online publication that presents in-depth analysis from over 1000 experienced analysts on a range of views of the probable direction of the financial markets, thus enabling our readers to arrive at an informed opinion on future market direction. http://www.marketoracle.co.uk
Disclaimer: The above is a matter of opinion provided for general information purposes only and is not intended as investment advice. Information and analysis above are derived from sources and utilising methods believed to be reliable, but we cannot accept responsibility for any trading losses you may incur as a result of this analysis. Individuals should consult with their personal financial advisors before engaging in any trading activities.
© 2005-2022 http://www.MarketOracle.co.uk - The Market Oracle is a FREE Daily Financial Markets Analysis & Forecasting online publication.
Comments
R.E.B
06 Jul 15, 12:32
Is Greece just the first Domino?


Clearly the only way forward for Greece now is to default, go back to the Drachma and get to work building a self sufficient economy that can survive without German handouts. Very much easier said than done though! It may prove to be the case that Greece is important insofar as it signifies the start of what may prove to be a series of sovereign debt crisis that will roll out over the next few years. Perhaps in ten years time we will look back and just see Greece as the first of the dominoes.




Only logged in users are allowed to post comments.
Register/ Log in