Economic and Geopolitical Dangers for 2008 and 2009
Stock-Markets
/
Financial Markets
Jun 19, 2008 - 12:40 PM GMT


Over the years, I have used gold market behavior to track economic and political trends. The overall effect was a good take on gold markets and on currencies, which was the intent from the beginning.
We have some rather ominous conclusions about the Summer and Fall of 2008. They are economic as well as geopolitical. The actual gold focus becomes more of a point of reference, as it reacts to events that seem to be readying to occur. In addition, we foresee some rather scary trends for the entire world, going into 09. We are not going to cover all of this in this article, but to give a basic overview.
First of all, let's list some of these dangers and danger periods that we foresee coming.
• The US and Israel are getting ready to do something about the newly militant Iran. The nuclear debate is only one dimension of that issue. Another is the threat that Iran is becoming too big a bully to the other more moderate Mid East nations, and not just Israel.
• There is a very large unease again building in the world financial markets. Not only is the credit crisis not really improving (new estimates out now that financial institutions are looking at $1.3 trillion of losses) but world financial markets are actually way down over the last year. Many Asian markets and also many US stocks are down 30% and more. A building unease is accumulating that can only lead to another real big world financial sell off, lasting probably up to a month, before any settling comes in after a month long bout of central bank firefighting efforts.
• Rising inflation is unsettling financial markets, as it is unsettling the US and EU central banks. A serious friction has developed that the ECB is not coordinating efforts with the US Fed, as the ECB fights inflation, and the Fed focuses on preventing a total world financial meltdown. So far, these efforts are rather contrary to each other. The dissention is unsettling financial markets.
• Intolerably high energy and food prices. Disastrous floods in the US Mid West grain belts are going to lead to a world food crisis in 09. We have only seen hints of this in 08. World inflation will be seriously increased in the entire world as a result. The Chinese are particularly vulnerable to this issue.
There are more dimensions to this but well stop there.
Outcomes
The results of these economic and political pressures are likely to be: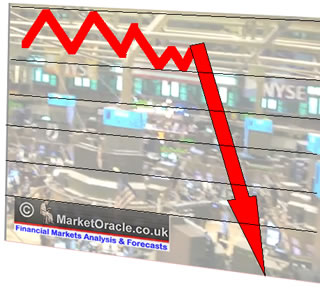 • A significant risk (well over 50%, meaning more likely than not) of serious world stock and financial problems over the Summer. This makes a much higher risk of a real world financial and stock meltdown exceeding a 20% drop going into the Fall.
• We have an expectation that Israel is going to act as soon as this Summer, but by Jan 09 roughly, to do something significant to stem the Iranian nuclear problem. Israel has repeatedly stated publicly in the past that they will never tolerate a radical Islamic nation to achieve the nuclear bomb. We believe them.
• Friction between the US Fed and the ECB over inflation policy destabilizes the markets and make a real financial panic much more likely. It is not clear the central banks will be able to pull off another 'Bear Stearns' type emergency bailout fast enough if there is a new huge financial meltdown emerging. So far, those efforts have succeeded in part, but all this means is one that more bullet has been dodged. How many times can they do that?
• A likelihood of political turmoil in many nations over the food situation. For example, Argentina is in the middle of an incredible battle between farmers and the government's policies to tax/tariff agricultural exports. The months long battle between farmers and truckers who are paralyzing their economy and a totally unrelenting government may lead to a revolution there. Other nations such as Egypt, China, and India tried to reduce budget busting food and energy subsidies but had to pull back on subsidy reductions due to widespread riots.
• China is exhibit number one in vulnerability to a food and energy shortage. There is one thing above all that China fears, that is a big viral insurrection involving the 800 million disenfranchised rural peasants. The rising food and energy prices worldwide are hammering the world's poorest, who already spend over 50% of their $2 a day income on food. The rising food and energy prices are causing worldwide riots as of now, in many disparate places, from the richer EU region, to poor Asia, to India, to South America. 09 does not look good in this respect.
• The prospects of the world having a record grain harvest in 2008 are rapidly diminishing. Although it's stated that China may have record harvests this year, the US, the world's biggest grain exporter, is seeing widespread damage to its grain crops. Without the US ability to continue huge grain exports into 09, the world will face new grain export restrictions by many other grain exporters. This will lead to a real world food crisis into 09. There is no bigger factor that will lead to world destabilization than food shortages.
• The commodity markets will continue to drive prices up, and big investment funds will continue to pump billions into these markets, making prices shoot higher. There will be a big controversy over financial gains in energy and food commodities into 09.
• A new US president will likely be tested by some military related threat. That is a typical cycle, and it's coming in 09 as well.
Some serious doubts about the EU and the Euro
The list of dangers goes on, but we also see some risk that the Euro will lose credibility if there is continued strife over EU political organization. In addition, the weaker South EU nations are in a big controversy with the stronger North (Germany) over the direction of inflation fighting. The weaker EU economies cannot tolerate a strong Euro, while Germany staunchly resists inflationary policies. We foresee some kind of break between the two factions going into 09.
A very curious story came out this week about Germans shunning non German EU Euro notes, trading out the ones from the weaker southern nation EU mints, based on the two letter mint codes on the note serial numbers. That can lead to retaliation by the other country's people, and is a very viral thing that could spread rapidly and severely harm the credibility of the Euro.
Crash risk in Summer/Fall 08
Overall, we believe that this Summer will lead to moderate market turmoil, followed by severe market turmoil in the Fall and Winter 08 as market sentiments deteriorate. It does not help that the Royal Bank of Scotland just issued a world market crash alert this week. Nor does it help that Morgan just put out a report that there is a big risk of a financial 'catastrophic event' due to the ECB fighting the Fed regarding interest rates and monetary policy…
"We see striking similarities between the transatlantic tensions that built up in the early 1990s and those that are accumulating again today. The outcome of the 1992 deadlock was a major currency crisis and a recession in Europe," said a report by Morgan Stanley's European experts…" –Morgan
By Christopher Laird
PrudentSquirrel.com
Copyright © 2008 Christopher Laird
Chris Laird has been an Oracle systems engineer, database administrator, and math teacher. He has a BS in mathematics from UCLA and is a certified Oracle database administrator. He has been an avid follower of financial news since childhood. His father is Jere Laird, former business editor of KNX news AM 1070, Los Angeles (ret). He has grown up immersed in financial news. His Grandmother was Alice Widener, publisher of USA magazine in the 60's to 80's, a newsletter that covered many of the topics you find today at the preeminent gold sites. Chris is the publisher of the Prudent Squirrel newsletter, an economic and gold commentary.
© 2005-2019 http://www.MarketOracle.co.uk - The Market Oracle is a FREE Daily Financial Markets Analysis & Forecasting online publication.
Comments
Deacon Elurby
20 Jul 08, 17:00
Nobody Looks at ROOT CAUSES of Decline


=======

You'll learn the ROOT CAUSE of this BY-DESIGN dismantlement of the U.S., as explained by Lt. Col. Archibald Roberts in his 1968 booklet: "Anatomy of a Revolution," which booklet I parse in my below-liked essay, "Planned Destruction of America":

#######

You'll not get any closer tothe truth about what's afoot with Bush's GLOBALIZATION and

this LOOMING FOOD CRISIS than my below thoughts and links ((copy and send to friends and colleagues; and note that I REPEAT MY PREMISE OVER AND OVER AGAIN, TO DRIVE HOME THE POINT)):

The Third-Way push of socialism/capitalism to equalize the world's economies has aused

this looming food crisis, NOT CAPITALISM.

Socialist/communist leftists have captured capitalism and enslaved it to EQUAL/ "FAIR" outcomes.

Of course, you'll have to think more deeply to find the truth.

Read and learn the truth:

What we are facing in 2008 is a Third-Way (socialist-communist/capitalist) conspiracy to equalize the world's economies, as preface to installing one-world government; a plan hatched during the 1940s GATT formulations, which were socialist/communist, in effect.

Keep in mind that there is no PEAK OIL crisis, only adecades-long, purposeful cap on searching and drilling and refining for oil, in order to put the world in crisis-mode.

Using food to produce fuel is part of the conspiracy togenerate food riots, in order

to destabilize governments;and this so-called "war on terror" is also part of the secret plan, although its primary beneficiary is Israelin the exchange of blood and treasury for oil--as payoff for protecting Israel from an ever-threatening,encircling Islamic Arabism.

The secret plan?: to create one-world government under GLOBAL ECONOMIC SOCIALISM.

This is a conspiracy-driven dismantlement of the West's financial underpinnings,

for a certain purpose: TO EQUALIZE GLOBAL ECONOMIES, for future installation of

one-world government.

I've provided all the details in my essay, "Planned Destruction of America" (linked below), which is my report on Lt. Col. Archibald Roberts' 1968 booklet: "The Anatomy of a Revolution".

Planned Destruction of America http://planneddestructionofamerica.blogspot.com/

Corporate America: What Went Wrong?

http://corporateamericawhatwentwrong.blogspot.com/

This one helps to confirm efforts to PURPOSELY trash America's financial underpinnings:

http://www.321gold.com/editorials/engdahl/engdahl031808.html

The Disease Caused by Oil, by Bob Chapman http://www.theinternationalforecaster.com/International_Forecaster_Weekly/The_Disease_Caused_By_Oil

Study my essay, then write as if we're all being led down a path to hell on Earth by

secretive, elite movers and shakers on the Left and Right (path to hell aka "Third-Way

Global Economic Socialism"). Read and learn and teach:

The EU and the coming North America Union are products of the 1940s GATT formulations, and very few analysts are aware of it ((GATT, NAFTA, and CAFTA are socialistic attempts at equalizing global economies, in order to in-stall one-world government under THIRD-WAY Global Economic Socialism)).

-Deacon

P.S.

Read my missive to Ron Paul's staff, regarding my view that this financial crisis is not by happenstance nor mismanagement, but BY DESIGN!:

The Honorable Ron Paul is ignorant of an ongoing conspiracy to topple, financially, the West,in order to equalize the world's economies; for building one-world government under GLOBAL ECONOMIC SOCIALISM. // The conspiracy began in the 1940s with the GATT

formulations. // Ask why Greenspan had violated his chairmanship duties by advising prospective home buyers to take out an ARM. // Ask why Greenspan had sent out

fed regulators to warn banks that they'd be charged with RACISM if they didn't loosen homeloans for minority, HIGH RISK home buyers. // Ask why Greenspan recently, TRAITOROUSLY, had advised OPEC oil producers to de-link from the U.S. dollar. //

Greenspan - the FEDERAL RESERVE - has embarked on a purposeful set of monetary policies designed to destroy the West's financialunderpinnings.

Why hasn't there been a class-action lawsuit against the Federal Reserve and Greenspan by ARM holders?

"Seen in the best possible light, the housing bubble that began inflating in the mid-1990s was 'a great national experiment,' as one prominent economist put it--a way to harness the inventiveness of the capitalist system to give low-income families, minorities and immigrants a chance to own their homes."http://www.washingtonpost.com/wp-dyn/content/article/2008/06/14/AR2008061401479.html

P.P.S.

Zionist Jews' machinations ought to be obvious to you, such as using the U.S. as a PROXY COMBATANT for defending Israel:

===

Oil is payoff for the West's efforts at providing PROXY COMBATANTS for Israel --for protecting Israel from expanding, encircling Islamic Arabism; a Jewish nation-state having sup-porters throughout the West willing to destroy the entirety of Western civili-zation for Israel's sake.

That's the gut-wrenching truth of why Western demo-cracies are sacrificing blood and treasure in the Middle East; especially the U.S., which has enough off-shore and on-land oil reserves to last 300 years at her present rate of consumption, and which reserves were PURPOSELY capped and/or not drilled because Israel's supporters have poured millions of dollars into ENVIRONMENTAL MOVEMENT groups' coffers, to work at keeping America from oil/energy indepen-dence and tied to Israel's interests in the Middle East.

That's the truth you'll NEVER see nor hear reported in Western mainstream news media, because Israel's supporters control what's fit to be said or printed about why the West wars with Islamic Arabism.

http://video.google.com/videoplay?docid=3340274697167011147&hl=en

http://planneddestructionofamerica.blogspot.com/

http://www.rense.com/general67/PRICE.HTM

#######



Debaser
02 Oct 08, 18:44
reply


We'll if they're socialist/capitalist then that's all right, we're in good hands.

Are you suggesting that what we need is a right wing government ready to take on this menace?

I believe that's been tried before with poor results.




Only logged in users are allowed to post comments.
Register/ Log in