US Economy to be Hit by Many Credit Crisis Hurricanes with Many Eyes
Economics
/
Credit Crisis 2008
Jun 23, 2008 - 01:21 AM GMT


Often times it is not the leading front of the hurricane that does the most damage, it is the backside. Here is the three stage pattern of hurricane damage.
Winds from the front side weaken but do not destroy structures
The eye of the hurricane brings a foreboding sense of unnatural calm
Wind comes slamming from the opposite direction as the eye passes over, shearing structures from the opposite direction
The "calm" Bernanke thinks we are in, is nothing more than the prelude to the back side of a hurricane. My post, Things That Have Not Yet Happened , is essentially about the backside of the hurricane.

New Crisis Threatens Healthy Banks

The mainstream press is catching on. The Washington Post article " New Crisis Threatens Banks " is not really knew. It's really about the backside of a hurricane. Let's take a look.
Late payments on home-equity loans are at a record high, according to fresh data from the Federal Deposit Insurance Corp. The delinquency rates on loans for cars, small businesses and construction are spiking to levels not seen in a decade or more.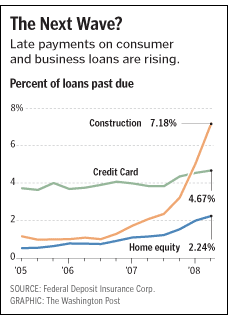 Unlike last year, when soaring mortgage defaults sparked a crisis of confidence in the financial system, the root of these problems is the downturn in the broader economy. Simply put, consumers and businesses are strapped for cash with job losses growing and retail sales falling, economists said.

"We are not finished with the mortgage problem, but you are starting to see increased delinquencies in other forms of consumer debt," said Paul Kasriel, an economist at Northern Trust Securities. "We are in the eye of the hurricane. We had the first wave of the credit crisis, and it was quite damaging. But there's another wave coming, and it's likely to be as destructive."

The institutions most at risk in this new phase of the credit crisis are regional and local banks, many of which stayed away from subprime mortgages. These firms are key drivers of economic activity in communities across the country. Without them, consumers would lose a source of personal loans. Small businesses would struggle to stay afloat. Construction companies often can't finance local projects without these banks.

From October to March, $6.7 billion in home-equity loans became delinquent, increasing the total by 45 percent, according to SNL Financial. The delinquency rate is now 2.24 percent, according to the FDIC, which began tracking the data in 1991.

Losses at banks are going up as a result. J.P. Morgan Chase absorbed $450 million of home-equity-loan losses in the first quarter, up from $248 million in the previous quarter. It said its total home-equity losses could double by the end of the year.

Smaller banks have even more exposure to such loans. Overwhelmingly, the institutions that hold the most home-equity loans are regional banks, such as SunTrust Banks and National City, according to Fitch Ratings.

Late payments and defaults in every other major category of consumer debt also rose in the first quarter, the American Bankers Association reported. Auto loans issued through car dealers have a delinquency rate of 3.13 percent, the highest since at least 1990, according the ABA.

"The rise in consumer credit delinquencies is consistent with a rapidly slowing economy," said James Chessen, the ABA's chief economist. "Stress in the housing market still dominates the story, but it's a broader tale of an overall weak economy." Many Hurricanes Many Eyes

I spoke about credit card delinquencies yesterday in $2 Trillion Reduction In Credit Card Lines Coming Up . But credit cards and home equity loans (HELOCs) are just two of the impending problems.

Commercial Real Estate is yet another backside of the hurricane. More realistically, it is yet another hurricane that is just hitting shore, and it too will have an eye, followed by a false "all clear", followed by another devastating backblow.

I have talked about this many times, including Shopping Center Economic Model Is History and Vacancies Soar In Commercial Real Estate Bust .

Calculated Risk has also talked about the commercial real estate bust many times, most recently in CRE Slump is Here and previously in Non-Residential Investment Overview .

This is not a simple storm. This is a complex series of storms. The only storm that has landed full force is subprime. The Pay Options ARMs hurricane is about to hit, or is just hitting now. See Wachovia Still Does Not Understand Pay Option ARM Risk for more details. The eye of the commercial real estate storm is still miles out at sea.

Rising Unemployment Will Compound Every Problem

Unemployment is a lagging indicator. That fact has been used to suggest the worst is behind. The idea the worst is over is nonsense. The worst cannot be behind until after the hurricanes have landed.

Batten down the hatches, the worst is yet to come. Subprime is among the smallest of the storms that will hit. Even still, subprime has dramatically weakened the infrastructure. The economic knockout blow will come from the backside of one of the impending storms.
By Mike "Mish" Shedlock
http://globaleconomicanalysis.blogspot.com
Click Here To Scroll Thru My Recent Post List
Mike Shedlock / Mish is a registered investment advisor representative for SitkaPacific Capital Management . Sitka Pacific is an asset management firm whose goal is strong performance and low volatility, regardless of market direction.

Visit Sitka Pacific's Account Management Page to learn more about wealth management and capital preservation strategies of Sitka Pacific.
I do weekly podcasts every Thursday on HoweStreet and a brief 7 minute segment on Saturday on CKNW AM 980 in Vancouver.

When not writing about stocks or the economy I spends a great deal of time on photography and in the garden. I have over 80 magazine and book cover credits. Some of my Wisconsin and gardening images can be seen at MichaelShedlock.com .
© 2008 Mike Shedlock, All Rights Reserved
© 2005-2019 http://www.MarketOracle.co.uk - The Market Oracle is a FREE Daily Financial Markets Analysis & Forecasting online publication.

Only logged in users are allowed to post comments.
Register/ Log in