Economic Consequences of the Syrian Refugee Invasion
Politics
/
Immigration
Sep 16, 2015 - 02:00 PM GMT


The dual peril of unfettered migration into Europe and the United States has a different complexion of invaders, but both suffer an appalling economic aftermath. However, the flood gates from the Middle East and Africa "so called" refugees are destined to overcome and hasten the breakup of the European Union. Just note the impact from not defending the borders of Europe, both placing terminal pressure on the economies and finances of EU countries, but also from the social dissolution of Western societies.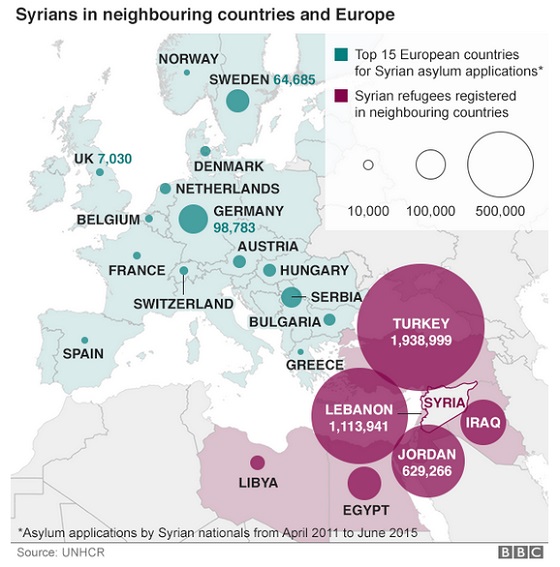 Announcement that the EU to assess economic impact of migrant crisis, reveals the hidden agenda behind allowing the invasion from the hordes.
"Luxembourg Finance Minister Pierre Gramegna said Friday the EU's executive Commission will "analyze whether the refugee crisis can be considered an extraordinary circumstance" under rules the bloc has to ensure sound public finances.
Gramegna also said the European Investment Bank also stands ready to quickly help countries, regions and cities that need financial help to deal with the arrival of migrants."
Sure there will be funds made available to spread out the burdensome costs from this influx of cultural aliens, but what is the ultimate goal?
The corporatists of the international finance banksters are hell bent on burying the remains of European civilization. The blueprint underpinning the fall of the West is alluded to in a Guardian article, This refugee crisis is too big for Europe to handle - its institutions are broken.
"The EU's leaders can muddle along with broken institutions, flouted laws, flailing border police. Or they can think it through. The OECD's central projection is that, to stand a chance of avoiding stagnation, the EU's workforce will have to add 50 million more people through migration by 2060 (a similar number is needed in the US). The Paris-based think tank says if that doesn't happen, it is a "significant downside risk" to growth. What this means should be spelled out, because no politician has bothered to do so: to avoid economic stagnation in the long term, Europe needs migrants.
Consent for inward economic migration is fragile and falling – as evidenced by the sudden rush by politicians and tabloids to reclassify the Syrian exodus as a special case. Even if populist resistance to migration stops short of fascism, and even if anti-migration parties are disempowered by the electoral system, their existence highlights a failing consensus. And that is, in turn, founded on economic failure. The Eurozone has produced an arc of stagnation and discontent along its southern border. There is mass unemployment in the very countries that have become the first port of call for migrants and refugees."
The ridiculous supposition that an influx of migrates is needed to resolve the unemployment problem, testifies to the upside down thinking that the global elites are selling to a gullible public.
This arrogant and absurd argument is refined by the chief criminal organization, Goldman Explains Why Europe's Refugee Crisis Is Actually A Blessing.
"The rising concerns on ageing have unsurprisingly been accompanied by more accommodative policies on immigration; the number of countries with stated plans to grow their populations via immigration has gone up to 22 as of 2013, from 10 in 2010 (note that immigrants also tend to have higher fertility rates).
But for many countries, people inflows are only part of the solution. In order to maintain current levels of retirees/working age population ratios in 2025, immigration rates in Western Europe need to be 7x-8x higher than current run rate (based on UN estimates), while in Japan and Korea, the requirement goes up to a highly improbable 26x and 58x current levels."
If the socialism nirvana is short on procreation, maybe the answer is for a 21th century version of Lebensborn "Spring of Life" variation. "Lebensborn was designed to halt the high rate of abortions in Germany which rose as high as 800,000 a year in the inter-war years because of a chronic shortage of men to marry after World War I."
Analyze the effects of overrunning millions of foreigners residing in European countries competing for work or tapping into a social welfare system. The economic price from driving down wages only benefits the globalists. When the globe is on the verge of a worldwide depression, does anyone with a sane mind really believe that adding huge numbers of unskilled workers to struggling economies will achieve prosperity?
America has suffered for decades from the illegal aliens that trespass into out country. Just examine the damage to our demographics from the anchor baby malady.
Europe is even less equipped to accommodate the physical warehousing of unwanted intruders. If the world was so consumed by humanitarian altruism, why not set up a one way eastern direction silk road and send all these refugees to China to help occupy all those housing units in Chinese ghost cities?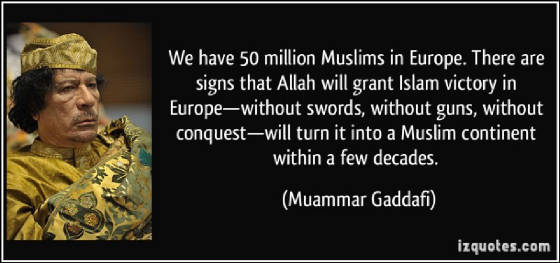 Since Saudi Arabia has 100,000 Air Conditioned Tents That Can House 3 Million People Sitting Empty Yet Has Taken Zero Refugees, why is Europe the target of this third world exodus?
The Saudi's and Chinese have no interest in imploding their own cultures with the inundating of outsiders. Yet the corporatists who run the means of production are committed to the de-industrialization of Western economies.
Europe is being systematically disassembled and shares the same fate as a destroyed America. Democratic socialism created the EU as a fascist tyrant over sovereign national countries. The financial elites operate their economic empires under the protection of "Free Trade" monopolies.
The economic cost from this latest refugee invasion hastens the demise of competing business endeavors. So when the European Investment Bank is ready to loan money to pay for the arrival of migrants, you know the banksters are behind the manufactured crisis.
James Hall – September 16, 2015
Source: http://www.batr.org/corporatocracy/091615.html
Discuss or comment about this essay on the BATR Forum
"Many seek to become a Syndicated Columnist, while the few strive to be a Vindicated Publisher"

© 2015 Copyright BATR - All Rights Reserved

Disclaimer: The above is a matter of opinion provided for general information purposes only and is not intended as investment advice. Information and analysis above are derived from sources and utilising methods believed to be reliable, but we cannot accept responsibility for any losses you may incur as a result of this analysis. Individuals should consult with their personal financial advisors
© 2005-2019 http://www.MarketOracle.co.uk - The Market Oracle is a FREE Daily Financial Markets Analysis & Forecasting online publication.

Only logged in users are allowed to post comments.
Register/ Log in