Stock Market Expanding Bubbles
Stock-Markets
/
Stock Markets 2015
Dec 16, 2015 - 12:10 PM GMT

Thursday, 12/10/15, stock indices rose because (so all the pundits reckon) Fed Chair Yellen made a speech reinforcing her determination to begin raising interest rates on December 16. Friday, 12/11/15, the next day, stock indices plummeted because, well, for the same reason. In bubbles, indices can rise or fall for exactly the same reason.
Monday, 12/14/15, stock indices see-sawed back and forth between positive and negative like a ping-pong ball in a lottery machine. Up a hundred. Down a hundred. Up a hundred. Back to zero. Then, in the last 45 minutes, the Dow burst higher some 130 points because, well, the PPT wanted the index higher. What brings me to this conclusion? On a day which the Dow rose some 130 points, declining stocks led gaining stocks by a ratio of 4 to 1 on the NYSE. Yet, the reverse was true of the Dow. Gainers led decliners 23 to 7. The Fed has obviously become better at 'precision' buying geared toward manipulating our psychology. Bubbles are driven by insanity.
Tuesday, 12/15/15, stock indices immediately burst higher with the Dow up some 200-plus points late in the day. Why? Because higher rates are surely on the way! Ain't it great! Bubbles ignore reality.
Only in a bubble does this happen. Stocks continue to rise. Okay. That's fine. However, median PE ratios are now higher than they were in either 2000 or 2007. Stock indices are driven by companies that sport PE ratios that now require exponents. AMZN now has a PE of some 10 cubed. Netflix has a PE of 10 squared. Consumer spending is supposedly up in November and yet retailers reported 'Black Friday' sales as being down some 10% from last year. Consumer confidence supposedly rose last month yet the Fed said americans lost some $1.2 trillion dollars in net worth in the third quarter. Bubbles embrace the lie.
Food for thought. Ford's sales are up and McDonald's sales are not. For the year, Ford is down and McDonalds is up. Why? McDonalds is a member of the Dow and Ford is not. Stock prices are for our manipulation. They have nothing to do with financial fundamentals. Bubbles are artificial.
So what should we expect when the Fed raises interest rates on 12/16/15 for the first time in 8 years? Really? Doesn't everyone know that the Fed stands ready with trillions of dollars to manipulate the Dow higher for our prolonged hypnosis?
The chart below shows us a good example of resistance turning into support. Dow 17200 (the blue line) looks to be the Fed's 'line in the sand'. Use this line as the new bottom courtesy the Federal Reserve. Enjoy the bubble!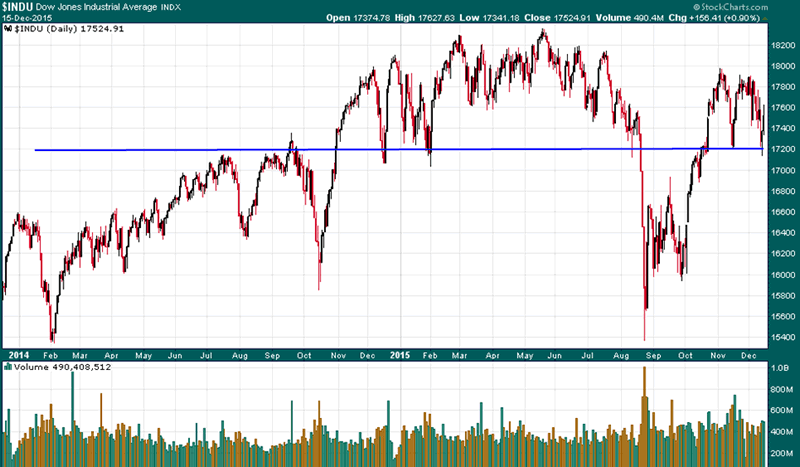 DJIA - 2 year, December 15, 2015
Chart courtesy StockCharts.com
Barry M. Ferguson, RFC
President, BMF Investments, Inc.
Primary Tel: 704.563.2960
Other Tel: 866.264.4980
Industry: Investment Advisory
barry@bmfinvest.com
www.bmfinvest.com
www.bmfinvest.blogspot.com
Barry M. Ferguson, RFC is President and founder of BMF Investments, Inc. - a fee-based Investment Advisor in Charlotte, NC. He manages several different portfolios that are designed to be market driven and actively managed. Barry shares his unique perspective through his irreverent and very popular newsletter, Barry's Bulls, authored the book, Navigating the Mind Fields of Investing Money, lectures on investing, and contributes investment articles to various professional publications. He is a member of the International Association of Registered Financial Consultants, the International Speakers Network, and was presented with the prestigious Cato Award for Distinguished Journalism in the Field of Financial Services in 2009.
© 2015 Copyright BMF Investments, Inc. - All Rights Reserved
Disclaimer: The views discussed in this article are solely the opinion of the writer and have been presented for educational purposes. They are not meant to serve as individual investment advice and should not be taken as such. This is not a solicitation to buy or sell anything. Readers should consult their registered financial representative to determine the suitability of any investment strategies undertaken or implemented.
© 2005-2019 http://www.MarketOracle.co.uk - The Market Oracle is a FREE Daily Financial Markets Analysis & Forecasting online publication.

Only logged in users are allowed to post comments.
Register/ Log in