Most Popular Financial Markets Analysis of 2015 - Stock Bull Market Splutters into 2016
Stock-Markets
/
Financial Markets 2015
Dec 31, 2015 - 09:45 PM GMT

The stocks bull market entered it's 7th calendar year at 17,823 and ended the year at 17,425, down 398 points -2.2%, primarily as a result of the Dow having entered into a trading range for the last 2 months of the year, a time when stocks are usually expected to perform well during a santa rally. However this years end of year weakness can be put down primarily to the Mid December Fed decision to start to raise U.S. interest rates, a decision that the Fed had been flagging the prospects of for some time.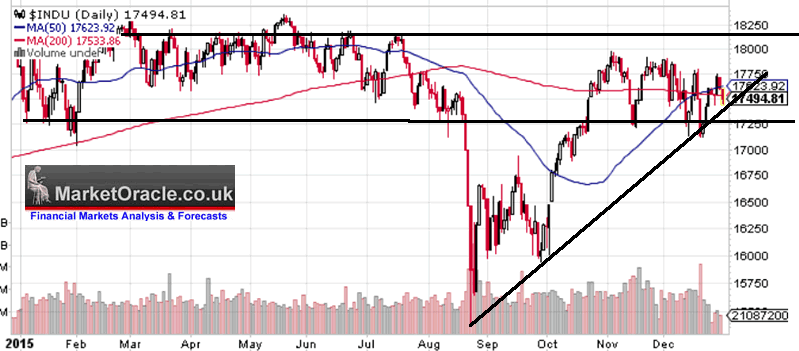 The stock market spent the first half of 2015 within a tight trading range before taking a 14% tumble to 15,370 during August which prompted the doom merchants to crawl out of the woodwork to once more proclaim that the bull market was over and many even warning that a crash was imminent, reaching their most vocal virtually on the day the Dow bottomed at 15,370 which marked the start of a rally that continued into early November that set the scene for an year end rally towards a target range of 18,000 to 18,100 as per my last in-depth analysis of Mid Sept 2015 that banked on a Santa rally to push the Dow above 18,000 before the end of December that failed materialise.
Stock Market 2016
My long standing view has been expectations for a bullish 2016. Whether this still remains probable following a weak December resulting in the Dow's -2.2% for 2015 is pending in-depth analysis in the following likely sequence so as to arrive at a probable trend forecast for stocks for 2016.
Interest Rates 2016
US Dollar Trend Forecast 2016
US House Prices Forecast 2016 and Beyond
Stock Market Trend Forecast 2016
Gold and Silver Price Forecast 2016
However, as things stand going into these linked pieces of analysis my bullish expectations remain for 2016 i.e. for a close above Dow 17,425, and to stick my neck out further I'd be eyeing something between 7% and 10% for 2016. So unless something turns out strongly to the contrary in this process, then I currently see this exercise as a process for determining trend trajectory and what level of strength to expect going into the end of 2016 in an attempt to gauge by what approx percentage the Dow will end 2016 higher than today.
To get this analysis in your email in box, If you are not already subscribed to my FREE NEWSLETTER, then click here to do so, all you need is a valid email address, nothing more.
The two most popular Market Oracle video's of 2015:
Top 10 Most Popular Articles of 2015
Jun 05, 2015 - By: Nadeem_Walayat
The most recent release for US House prices data for March 2015 (Case Shiller 10 City Composite) which despite rising by 0.8% on the month nevertheless continues to maintain a trend for the erosion of annual pace for house price inflation that remains below 5%, far lower than that of a year ago when US house prices were galloping ahead at near 14% per annum as illustrated by the momentum graph.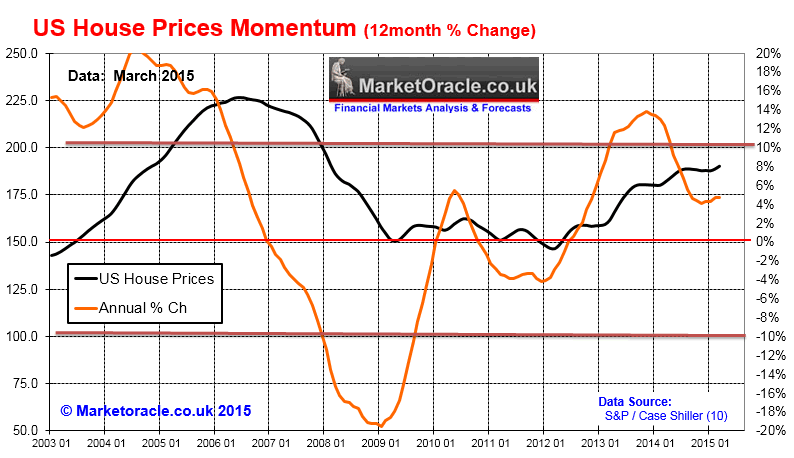 US Interest Rates Panic
The pundits in the mainstream press have taken the slowdown as further sign for the imminent demise of the US housing bull market by latching onto the likes of Saudi Arabia's war on the US shale oil industry resulting in an economic slowdown or that the Fed surely must soon start to raise interest rates which is ignorant of the reality that central bankers will only raise interest rates when they are forced to do so by the markets, namely to prevent a wage price spiral, support a plunging currency and to halt a bond market panic, all of which are crisis events rather than one of central bankers signaling orderly intentions, as it should not be forgotten that zero interest rates are a PANIC measure. Therefore contrary to the Fed's pronouncements, Fed policy remains in PANIC MODE, which means it will only be a greater panic that prompts actions to raise interest rates.......
Feb 03, 2015 - By: Nadeem_Walayat
The stock market has had wild roller coaster ride during January in the wake of the euro-zone crisis where one of the best days of the year (+275) is immediately followed by the worst day of the year (-335) the effect of which is to literally grind the strength out of the stocks bull market rally of 2014 with stomach churning moves that have been encouraging the perma-bears to literally scream at the top of their lungs that this time, THIS TIME the bull market really is over! Which has been regurgitated at length by the mainstream media and BlogosFear backed by supporting reasons coalescing around euro-zone collapse, end of Fed QE, and possible interest rate hikes being just around the corner, all of this despite the FACT that stocks actually do quite nicely during the early years of RATE hiking cycles! In fact its rate CUTS that stocks bulls need to worry about for they signal WEAKNESS ahead. Then there's China weakness, Europe recession, ISIS and not forgetting EBOLA! So plenty of doom for the bears to play pick and mix with for reasons why Bull Market End Time is here!
Why Invest in Stocks?
Yes the stocks markets are manipulated where the manipulation reveals itself in the price charts. However, how do you think the rich continue to get richer every year whilst the rest (workers) have seen their earnings stagnate or FALL for a decade!
The rich get rich by leveraging themselves to the exponential inflation mega-trend by owning income generating capital assets that 99% of workers (wage slaves) service and will never be able to obtain as a consequence of debt and inflation as they find that the purchasing power of their earnings is constantly being eroded by real inflation that never tends to match the governments inflation indices and by virtue of real inflation most people in a society become vested interests towards political party bribes whom they are expected to vote zombie style at each election to continue to be in receipt of hand outs (printed money) to fill the gap between earnings and inflation, a gap in economic productivity that is continuously being siphoned off by the elite as a consequence of the elite holding most of the income generating assets in society. Thus Inflation + Capital results in an spiral towards which the wage slaves own less and less capital whilst the elite continue to concentrate wealth in their hands. .........
Sep 13, 2015 - By: Nadeem_Walayat
The 15% drop in average stock prices during the past month has galvanised a growing number of bears to once more dig out ancient text book reasons for why this is the time for the stocks bear market to finally begin, and not only that but keep making definitive statements for the expectations for market crash's that always fail to materialise for the obvious reason that a crash is a panic event that can only at best be discerned no earlier than during the preceding day. Even then the probability would favour the market ending higher on the so called crash day because market crashes are NOT common events.
Nevertheless, the hefty stock market decline is providing ample ammunition for the bears to successfully convince an increasing number of retail spectators through a myriad of reasons such as falling corporate profits, shrinking balance sheets, rising debt mountains, deflation, the Fed ending QE, and of course the prospects for an imminent rise in US interest rates, and even Europe's refugee crisis is apparently an harbinger for the long awaited for mother of all stocks bear markets to begin, this despite having missed the bull run of the past 6 YEARS! .........
Jul 22, 2015 By: Nadeem_Walayat
The gold price bear market has continued in 2015 since its mid January 2015 peak of $1307 that had fooled many gold bugs into assuming that the preceding multi-year bear market was finally over and that 2015 would see a strong price rally to possibly even new all time highs! However, so far 2015 has seen a series of failed rally's rolling over into downtrends to new lows, punctuated by flash crash days such as that which took place on the 19th of July that saw a series of flash crashes that lasted no more than a couple of seconds that took the gold price to well under $1,100, to a new five year low of $1080 before recovering to currently stand just over $1,100.
The latest slump in the gold price continues to show how detached the gold bugs are been from reality for the whole of this year every dip in price has been accompanied by highly vocal calls for an imminent bottom and new highs. For instance when I last wrote about Gold in March warning not to get suckered into widespread Gold bugs wishful thinking, which at the time was obsessed with statements that Apple was about to buy as much a 1/3rd of the global gold supply for its new i-watch that would soon push the Gold price to new all time highs, which since the Gold price soon resumed its bear market trending now a new low of $1080 (Gold Price Bull Market 2015 Annihilated by Strong U.S. Dollar).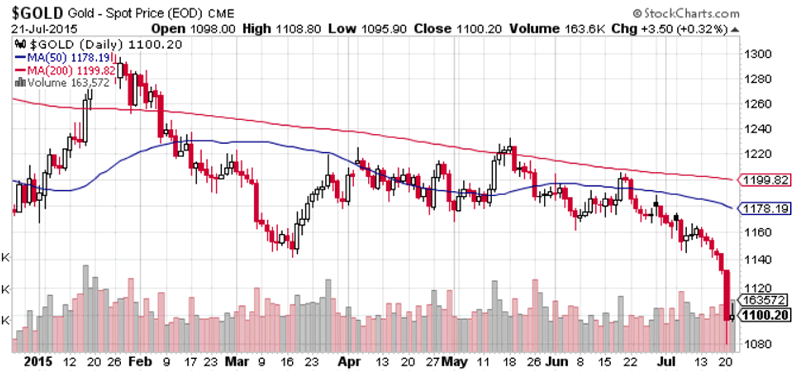 .........
Mar 10, 2015 - By: Greg_Hunter
Renowned precious metals analyst David Morgan is out with a new book called "The Silver Manifesto." In a chapter called "The Debt Bomb," Morgan lays out the biggest problem and the biggest reason to own precious metals. Morgan contends, "Basically, the United States have exported our inflation to every other country. So, for them to stay competitive, they are required to weaken their own currencies for what is called competitive advantage. It simply means if they don't print . . . their currencies would become too strong, and they would not be able to export. In order to keep trade flowing, these other countries are basically required to do what the U.S. government does, and that is export a great quantity of un-backed paper promises that are impossible to pay back. .........
May 07, 2015 - By: Nadeem_Walayat
Over 50,000 polling stations are open today across the UK to cope with the expected demand from an estimated 32 million voters out of a total of approx 47 million eligible to vote. With all eyes turned to the next big event of the election, the EXIT POLL to follow within minutes of the polls closing at 10pm. Which unlike the multitudes of daily opinion polls that have hardly budged for the past 2 months, the exit poll should provide an accurate gauge of what is the probable outcome of the general election some 10 hours before enough seats have been counted to make the actual result clear.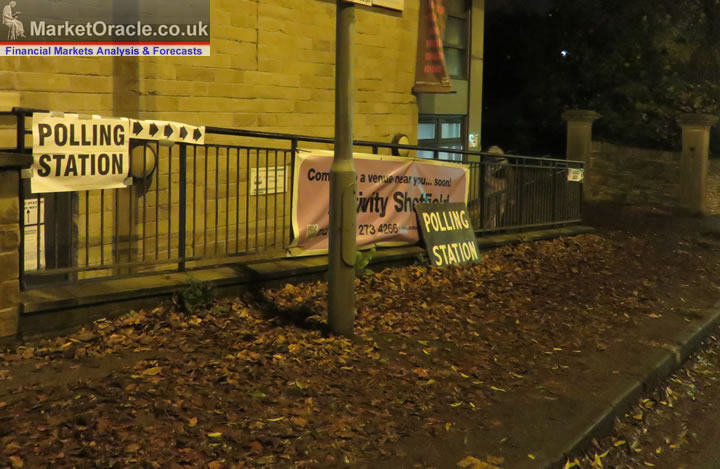 Exit Polls Accuracy:
2010 General Election exit poll vs actual outcome:
Conservative 307 / 307 (0)
Labour 255 / 258 (-3)
Lib Dems 59 / 57 (-2)
Others 29 / 28 (+1) .........
Jan 09, 2015 - By: Dr_Ron_Paul
If Americans were honest with themselves they would acknowledge that the Republic is no more. We now live in a police state. If we do not recognize and resist this development, freedom and prosperity for all Americans will continue to deteriorate. All liberties in America today are under siege.
It didn't happen overnight. It took many years of neglect for our liberties to be given away so casually for a promise of security from the politicians. The tragic part is that the more security was promised -- physical and economic -- the less liberty was protected.
With cradle-to-grave welfare protecting all citizens from any mistakes and a perpetual global war on terrorism, which a majority of Americans were convinced was absolutely necessary for our survival, our security and prosperity has been sacrificed.
It was all based on lies and ignorance. Many came to believe that their best interests were served by giving up a little freedom now and then to gain a better life..........
Aug 20, 2015 - By: Nadeem_Walayat
UK interest rates have flat lined at 0.5% for 78 straight months, that now post the general election has market attention turning towards the prospects for the first of a series of interest rates hikes as signaled by the Bank of England. Firstly, understand this fundamental fact that interest rates at 0.5% has been a PANIC measure. The Bank of England has been in a state of perpetual PANIC for over the past 6 years of which 0.5% interest rates was just the first step towards propping up Britain's bankrupt banking system, the second step was the £500 billion or so of Quantitative Easing or money printing that has been stuffed into every orifice of the bankrupt banks, and the list goes on with capital injections and the Funding for Lending Scheme which has succeeded in eroding the purchasing power of savings (stealth theft) since it was first implemented since Mid 2012, ALL to prop up the Bank of England's banking sector brethren.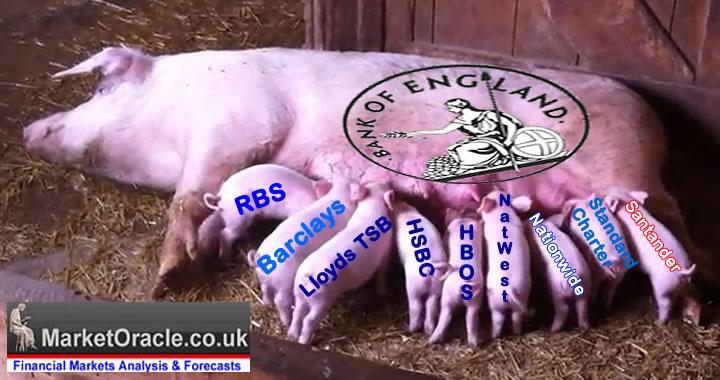 However, recently the Bank of England has tentatively began to signal in its "forward guidance" that the markets should prepare for the first of a series of Interest rates rises. .........
Aug 14, 2015 - By: Peter_Degraaf
Everything in life moves in cycles. Seconds, minutes, hours, days, all add up to become part of a cycle. Some cycles, such as the beating of the heart move fast, while a millennium moves very slow. This article will draw your attention to a very important 7 year cycle. (Charts courtesy Stockcharts.com unless indicated).

The number 7 is much more prevalent in nature than most of us realize: There are 7 oceans, 7 continents, 7 vertebrae in the neck,
7 layers of skin (2 outer and 5 inner), ocean waves roll in sevens, the rainbow has 7 colors, sound has 7 notes, there are 7 directions, The Jewish Menorah has 7 candles, there are 7 holes in your head (go ahead and count them), the earth was created in 7 days (including a day of rest), a cube has 7 dimensions (including the inside), the male body has 7 parts, the number 7 is used 735 times in the Bible.

Seven is the number of completeness and perfection (both physical and spiritual). It derives much of its meaning from being tied directly to God's creation of all things. According to Jewish tradition, the creation of Adam occurred on October 7th, 3761 B.C. (or the first day of Tishri, which is the seventh month on the Hebrew calendar). The word 'created' is used 7 times describing God's creative work (Genesis 1:1, 21, 27 three times; 2:3; 2:4). There are 7 days in a week and the Sabbath is on the 7th day. There are 7 deadly sins, 7 virtues, 7 gifts of the Holy Spirit, 7 classical planets, 7 numbers in a N/A phone number (after the area code), 7 hills in Istanbul, Rome and Jerusalem, 7 liberal arts, 7 wonders of the ancient world, 7 is the number of games in the playoffs for NHL, MLB and NBA. The number 7 is also important in Hinduism, Islam and Judaism.

There is an obvious 7 year cycle in economics:

Reaching back to forty nine years ago (7 x 7), in 1966 the USA experienced a 'credit crunch'. In August of that year the US bond market suffered a serious 'liquidity crisis'.........
Sep 01, 2015 - By: Nadeem_Walayat
The crude oil price has relentlessly trended lower all year to an unimaginably low price low of $37 of just a few days ago, falling from $100 a year ago. The severe bear market has not only caught many market commentators off guard but has had a devastating impact on several major economies that are heavily reliant on high oil prices such as Russia, the gulf states, and other emerging markets reliant on their energy sector tax revenues to finance state spending and of course Britain's very own Scotland that a year ago was toying with idea of committing social and economic suicide (independence referendum).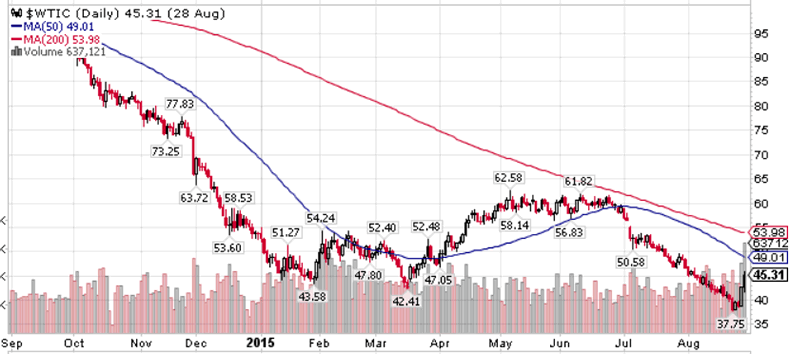 The following video aptly illustrates what would have happened not only in Scotland but in the whole of the UK during the past 12 months if the SNP separatist fanatics had succeeded in convincing the Scottish electorate into voting for Scottish independence that would have unleashed forces that literally would have torn the UK apart, something that the SNP fanatics continue to remain ignorant to today, this despite the fact that the oil price collapse of 2015 alone would have collapsed the Scottish economy fuelling the process for the disintegration of first Scotland and then the rest of the UK.........
My forthcoming analysis for 2016 and beyond will be in the following likely sequence - So ensure if not already subscribed to my FREE NEWSLETTER, then click to do so, it's easy, all you need is a valid email address, nothing more.
Interest Rates 2016
US Dollar Trend Forecast 2016
US House Prices Forecast 2016 and Beyond
Stock Market Trend Forecast 2016
Gold and Silver Price Forecast 2016
Also subscribe to our Youtube channel for notification of video releases and for our new series on the 'The Illusion of Democracy and Freedom', that seeks to answer questions such as 'Did God Create the Universe?' and how to 'Attain Freedom' as well as a stream of mega long term 'Future Trend Forecasts'.
A Happy and Propsperous New Year to All!
By Nadeem Walayat
Copyright © 2005-2015 Marketoracle.co.uk (Market Oracle Ltd). All rights reserved.
Nadeem Walayat has over 25 years experience of trading derivatives, portfolio management and analysing the financial markets, including one of few who both anticipated and Beat the 1987 Crash. Nadeem's forward looking analysis focuses on UK inflation, economy, interest rates and housing market. He is the author of five ebook's in the The Inflation Mega-Trend and Stocks Stealth Bull Market series that can be downloaded for Free.

Nadeem is the Editor of The Market Oracle, a FREE Daily Financial Markets Analysis & Forecasting online publication that presents in-depth analysis from over 1000 experienced analysts on a range of views of the probable direction of the financial markets, thus enabling our readers to arrive at an informed opinion on future market direction. http://www.marketoracle.co.uk
Disclaimer: The above is a matter of opinion provided for general information purposes only and is not intended as investment advice. Information and analysis above are derived from sources and utilising methods believed to be reliable, but we cannot accept responsibility for any trading losses you may incur as a result of this analysis. Individuals should consult with their personal financial advisors before engaging in any trading activities.
© 2005-2022 http://www.MarketOracle.co.uk - The Market Oracle is a FREE Daily Financial Markets Analysis & Forecasting online publication.

Only logged in users are allowed to post comments.
Register/ Log in