Budget 2016: Borrowing, Lifetime ISA, House Prices, Economy, Syria, Brexit and Stocks
Politics
/
UK Tax & Budget
Mar 21, 2016 - 04:07 AM GMT

Budget 2016 and its aftermath has given a window into the politics of the Conservative Party as Britain counts down to the EU Referendum (June 23rd). The plan was supposed to be for George Osborne to play ultra safe in the run up to the vote, but he appears to have been well and truly duped by Ian Duncan Smith (IDS), Britain's welfare minister who apparently whilst in agreement with the proposed benefits cuts before the budget speech that includes £1billion of cuts for the disabled. Instead now, suddenly after 6 years in the job of delivering benefits cuts he apparently has developed a conscious and decided to resign as he cannot go along with the latest series of cuts.
The actual probable reasons behind the IDS resignation are -
1. BrExit - Whilst 50% of the Tory party wants to pull out of Europe, the other ruling 50% wants to stay in, and IDS was one of the few BrExiters in government who could do damage to the governments cause and so now he has, whilst at the same time also doing huge damage to George Osborne's chances of taking over from David Cameron as he reiterates Osborne's failures across the broadcast media.
2. Universal Credit - IDS's flagship mega benefits change which despite all of the cost of 6 years of work in trying to implement has turned out to be a total disaster. So it looks like IDS after 6 years of failure just gave up and chose to resign before being reshuffled out of the cabinet.
And these are the probable reason for IDS's resignation, facing a Universal Credit disaster coupled with wanting to damage the government in the run up to the BrExit vote which I will come back to towards the end of this article.
The primary focus of this article are 3 significant announcements in the budget of UK borrowing, Lifetime ISA and the weakening UK economy in a series of 3 videos, before I look at Syria & BrExit and finally the stock market.
UK Government Debt and Borrowing Propaganda Continues
George Osborne's Budget 2016 speech once more had the OBR dutifully pump out economic propaganda for the UK government, where the most notable revision was to increase the amount the government will borrow over its term in office from the original £115 billion (May 2015) to now £178bn, a 54% increase on the amount they said the government would borrow at the outset, and which is set against their November 2015 revision higher to £143bn.
However my original analysis forecast of May 2015 warned to expect far, far higher borrowings than anything that the economic propaganda mouthpiece of the government (OBR) was pumping out at the time or today, find out in this video analysis.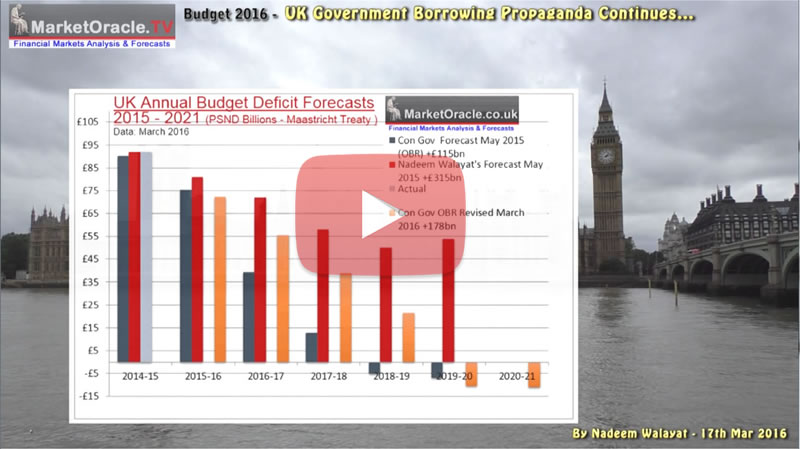 Lifetime ISA Boost for UK House Prices
George Osborne's flag ship personal savings account change of Budget 2016 is the announcement of the Lifetime ISA. Which is the latest of a myriad of policies aimed squarely at stoking UK housing market demand, effectively QE for first time buyers as the government seeks to hand out £1,000 for every £4,000 saved as long the monies are used to either buy ones first home or to fund retirement. details in this video analysis.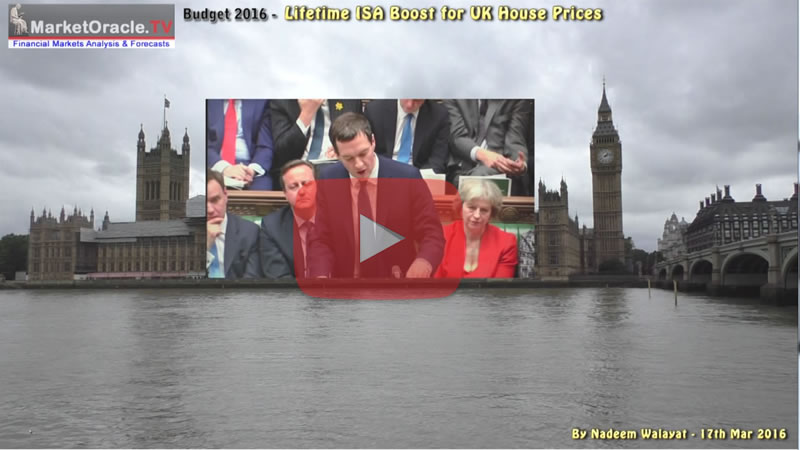 UK Economic Growth Evaporating
George Osborne's Budget 2016 statement revised lower the governments fantasy projections on the economy by their Office for Economic Propaganda (OBR), that nudged expected growth lower for 2016 and 2017, however, which significantly still over estimates that which is most probable as explained in this video analysis.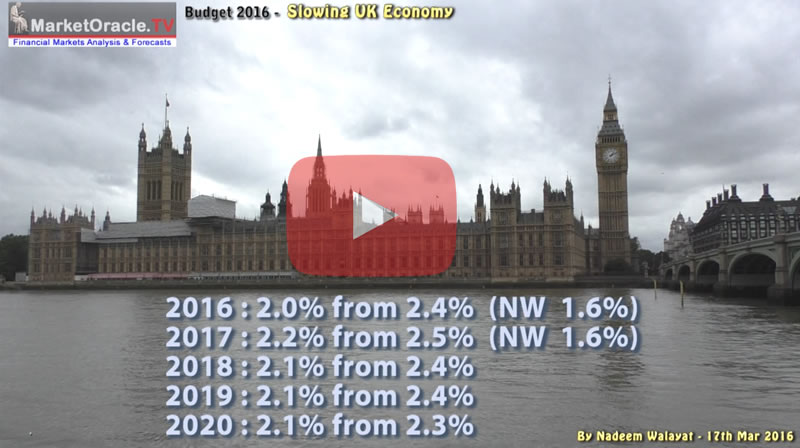 Syria's Civil War 5 Years On Explained - 450k DEAD! EU Failure Prompting UK BrExit
This week marks the fifth anniversary of Syria's civil war, that started with Arab spring inspired protests in the city of Derra, that within months engulfed the whole nations and which to date has seen over 450k people killed and 4 million externally displaced as pawns in the games of dictators such as Assad, Putin and Erdoğan of Turkey who today succeeded in black mailing europe into giving access to 80 million Turks for Syrian refugees, and then there is the shame of the whole of eastern europe who having flooded the west with 15 million economic migrants in return closed their borders to refuge seeking syrian refugees.
See how Syria's civil war began and raged for 5 years, the hypocrisy of eastern europe and why Britain urgently needs to exit the european union before it disintegrates.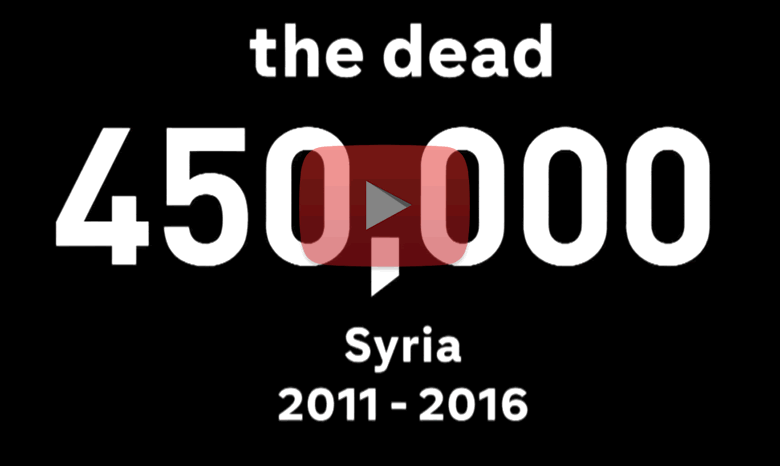 The bottom line is that the so called deal with Turkey is the final straw that broke the camels back and come June 23rd the people of Britain will say enough is enough and vote to LEAVE the European Union. So forget all of the worthless opinion polls that still put the REMAIN camp about 10 points in the lead, the mainstream press pundits and vested interests and understand this that Britain WILL vote to LEAVE the EU!
Stocks Bear Market Gravitating Towards New All Time Highs
And lastly a look at the stock market. The supposed great bear market of 2016 keeps on trending in the WRONG direction as the bears latest hopes for an imminent bear market apocalypse, the March Fed meeting on which they hoped to be raptured into perma-bear heaven following a second rate hike in this series, instead resolved in the exact opposite outcome, with not only the Fed keeping interest rates on hold but issuing a dovish statement on the future prospects for US interest rates which apparently caught many by surprise. What's the surprise? When over a month ago we saw BoJ panic!, and only a week ago we saw the ECB panic of negative interest rates! I could go on at length with why the Fed, BoJ, ECB and BoE are clueless and what they actually should be forced to do for it will take force because they only tend to print trillions to save and support their bankster brethren and of course inflating asset prices at the expense of the purchasing power of earnings of the wage slaves, but I will save this for another article.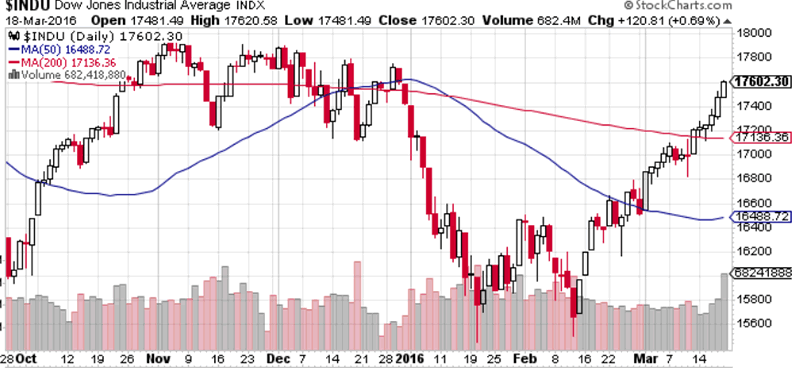 Nevertheless the stock market dutifully climbed higher on the Fed decision and closing on Friday at Dow 17,602, positive for the year and within 4% of its all time high of 18,351. So the bears are blaming the Fed for the failure for stocks to fall, and if its not the Fed then its the corporate's for buying back their own stock, or that the markets are manipulated! All without understanding the fundamental fact that the MARKET is the sum of ALL of these actions and the only place that this can be seen to become manifest is in the PRICE, just as I stated in March 2009 right at the beginning of this stocks bull market!
15 Mar 2009 - Stealth Bull Market Follows Stocks Bear Market Bottom at Dow 6,470
The markets ARE manipulated, once you as a small investor come to agree with this statement then you can take the necessary steps to prevent yourself from being wiped out by ALWAYS keeping this in mind that Manipulated markets WANT you to act in a certain manner at certain times, they want you to buy into the latter stages of a bubble as the manipulators distribute, and the market manipulators want you to SELL into Market Bottoms and early bull rallies when the manipulators are accumulating.
Who are the market manipulators ? Today it is the Investment banks, investment funds, CEO's (stock options) and last but not least HEDGE FUNDS that created the stocks bubble through leverage of X20 or more that subsequently bankrupted the banks that were driven insane by short-term greed with trillions of dollars of liabilities which have NOW been fraudulently dumped onto the tax payers. I have not heard a single story of a hedge fund manager losing money, not one! They have BANKED their profits ! The losers are their investors who held on and the banks who leveraged them up to the tune of tens of trillions, and in the final instance the Tax payers who are being FORCED to bail out the bankrupt banks to the tunes of tens of trillions!
The only thing that actually matters is the PRICE ! NOTHING ELSE! and I mean NOTHING ! Not earnings, Not fundamentals. Listen to the PRICE or you WILL miss the Stealth Bull Market!
And remember this is what I have been stating for the SEVEN YEAR DURATION of this stocks bull market, so it is not something obvious with the benefit of hindsight as several recently are stating, all after the fact, after stocks have been rising for many years, that it was all due to Fed market manipulation but then add must imminently end! Doh! The Fed and the rest have been manipulating stock markets since at least October 1987! The day after the crash when the Dow BOUNCED! (See how I beat the 1987 CRASH).
And a reminder that my consistent view for the duration of this year, even in the depths of Januarys severe correction was that the stock market would resolve with a trend towards NEW ALL TIME HIGHS THIS YEAR. My most recent take was based on my in-depth crude oil price analysis of Mid Jan which concluded in the following two points :
02 Mar 2016 - Stock Markets Dow, FTSE Tracking Crude Oil Rally Towards New All Time Highs 2016!
Nevertheless my series of interim stock market posts and videos have been unequivocally consistent in the following two points :
1. That the stock market was under going a severe correction that would resolve in a resumption of the stocks bull market.
2. That the stock market was expected to track the crude oil price trend forecast which called for an early Feb low at approx $25.
25 Jan 2016 - Stock Market Bottoming Out or the Last Bull Standing?
Stock Market Quick Technical Take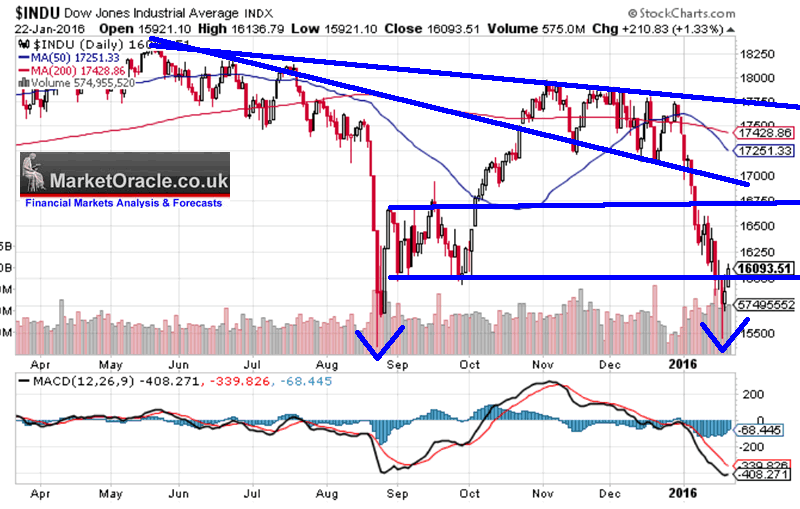 What jumps out form the stock chart is that the recent bounce was off the August low, can it hold ? We'll the decline into the low was pretty severe which technically means it's unlikely to hold which means that the stock market is in a larger corrective pattern that began of the May 2015 high, which is a pretty lengthy corrective pattern in terms of time i.e. from May to probably February, which has acted to unwind much bullish sentiment to the point where even many of the former bulls are now fully fledged bears, probably reaching their most vocal just as the stock market puts in its bottom.
MACD - Additionally the MACD is in the process of bottoming out from an extreme low which also confirms that further downside is very limited.
The bottom line is that the oil price trend and the stock markets oversold state are converging towards a stock market bottom that should carve out a final bottom for 2016 in a time window that probably runs for another 2-3 weeks. So whilst it is probably not going look pretty i.e. the last low of 15,500 looks likely to break, however given the oil price trend forecast then it should form the end of this stock market correction and herald the resumption of the stocks bull market.
With my earlier stock market expectations based on my crude oil price analysis of Mid Jan 2016: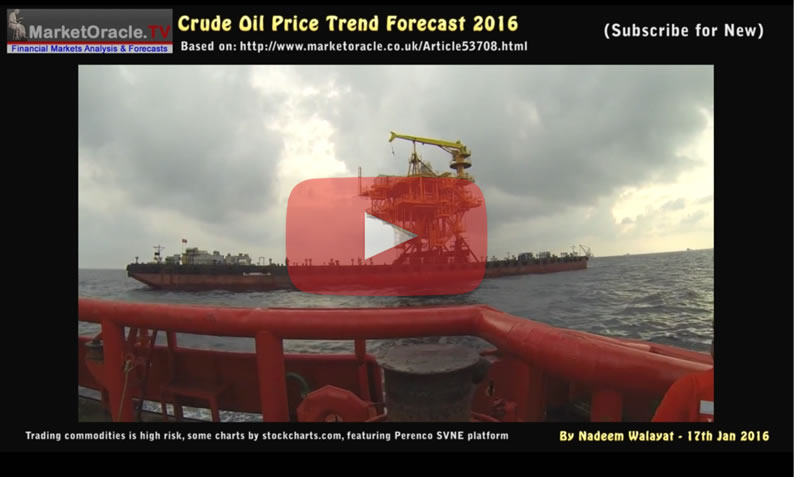 17 Jan 2016 - Crude Oil Price Crash Triggering Global Instability, Trend Forecast 2016
Crude Oil Price 2016 Forecast Conclusion
My forecast conclusion is for the crude oil price to trade within three distinct trading ranges for 2016 of $20 to $40, $35 to $50 and $62 to $40. Furthermore the trend pattern imposed onto the trading ranges implies that a bottom is likely by early February 2016 at around $25, followed by a trend higher into Mid year towards $50, a correction into September, followed by a trend towards $62 before succumbing to a correction during December to target an end year price of approx $48 as illustrated by the following forecast graph.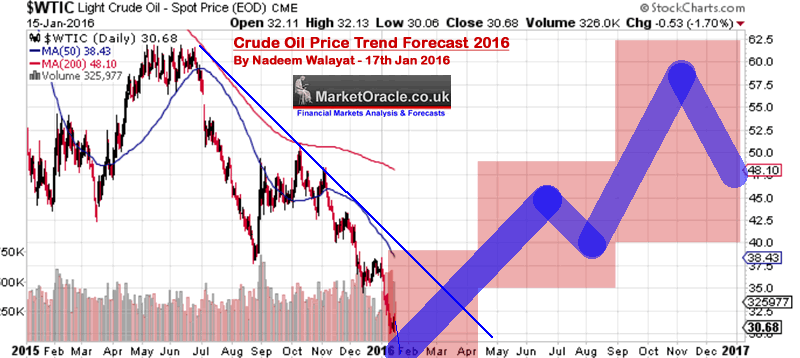 The bottom line is that the current the oil price collapse is a wake up call to all major oil producers that crude oil as an energy source is running out of time. So whilst there may be future oil price spikes, however the long-term trend, given the likes of climate change is for the oil age to go the way of previous ages such as the Stone Age and Bronze age and so it will be for the oil age. Which means nations such as Saudi Arabia, regardless of price understand they need to get as much of their oil out of the ground as possible and sold off before they run out of customers!
The bottom line is that at least 90% of market commentary is written by either journalists or the financial sales industry trying to sell you a product or service, and this rally is doing a good job of exposing those who are consistently wrong because they clearly DON'T TRADE OR even INVEST for if they did then they would have already BANKRUPTED themselves several times over by now!
I will take an in-depth look at stocks in forthcoming analysis so ensure you are subscribed to my always free newsletter (only requirement is an email address) to get his in your in-box as well as the following :
US Interest Rates and Economy
US Dollar Trend Forecast
UK Housing Market Trend Forecast
Stock Market Trend Forecast
US House Prices Detailed Trend Forecast
Gold and Silver Price Forecast
By Nadeem Walayat
Copyright © 2005-2016 Marketoracle.co.uk (Market Oracle Ltd). All rights reserved.
Nadeem Walayat has over 25 years experience of trading derivatives, portfolio management and analysing the financial markets, including one of few who both anticipated and Beat the 1987 Crash. Nadeem's forward looking analysis focuses on UK inflation, economy, interest rates and housing market. He is the author of five ebook's in the The Inflation Mega-Trend and Stocks Stealth Bull Market series that can be downloaded for Free.

Nadeem is the Editor of The Market Oracle, a FREE Daily Financial Markets Analysis & Forecasting online publication that presents in-depth analysis from over 1000 experienced analysts on a range of views of the probable direction of the financial markets, thus enabling our readers to arrive at an informed opinion on future market direction. http://www.marketoracle.co.uk
Disclaimer: The above is a matter of opinion provided for general information purposes only and is not intended as investment advice. Information and analysis above are derived from sources and utilising methods believed to be reliable, but we cannot accept responsibility for any trading losses you may incur as a result of this analysis. Individuals should consult with their personal financial advisors before engaging in any trading activities.
© 2005-2022 http://www.MarketOracle.co.uk - The Market Oracle is a FREE Daily Financial Markets Analysis & Forecasting online publication.

Only logged in users are allowed to post comments.
Register/ Log in