Gold Stock Picks Up Over 400%, What's Next ?
Commodities
/
Gold and Silver Stocks 2016
May 04, 2016 - 11:45 AM GMT


A battle royale is brewing between gold bulls and commercial traders who are short gold, says Brien Lundin, publisher of Gold Newsletter. That tug of war, which should play out in the coming weeks, could result in either a severe correction or a spectacular rise in the price of gold and silver. No matter which way it goes, in this interview with The Gold Report, Lundin recommends that investors continue to look at companies with world-class resources that are still being priced at a fraction of what their values should be. Lundin should know; some of his recommendations are up more than 400% from December and January.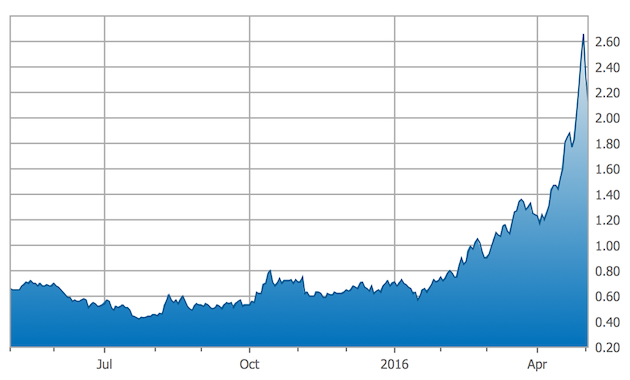 The Gold Report: Gold and silver prices have risen fairly dramatically since the first of the year. What's your outlook for the metals?
Brien Lundin: We are on a razor's edge right now. The new gold rally has been somewhat confirmed by silver also beginning its own rally and by the mining stocks leading the charge ahead. On the other side, however, we have a massive, historically large net short position that's been built up by the large commercial traders. Typically, when the large commercials have built up such large net short positions, it is followed closely by a severe correction in gold. Right now, we have a battle royale between the bulls in gold and the large commercials that are short the market. There is a chance that the bulls could continue to buy and force the large commercials to begin covering their shorts. This hasn't happened often during this long turnaround in gold since the turn of the century, but it has happened on occasion. When it does, we see spectacular rises in the price of gold and silver and in the values of mining stocks.
"Energy Fuels Inc. has a number of projects it can bring on-line fairly quickly to give it upside leverage."

The next few weeks will tell the tale because the commercials will either be forced to capitulate or they will force their whims upon the market, and we'll have a fairly severe correction. Even so, that correction would represent a buying opportunity over the longer term because the commercials will reload at the bottom of the market, will cover their shorts and then the cycle will begin anew.
TGR: How would you recommend that investors position themselves in this environment?

BL: They should continue buying companies that have large, world-class resources that are still being priced at a fraction of what their values should be in a buoyant metals market. We've seen a number of these companies advance very strongly in gold and silver over the last couple of months, but there are opportunities in other metals, as well as in some gold and silver companies that are a bit farther down the food chain and more toward the exploration end.
I've liked gold and silver for a while. At the end of the year, I recommended that readers of Gold Newsletter buy companies that had large gold and silver resources to prepare for the big move that I saw coming. That actually happened, and we've had these tremendous rallies in gold, silver and the related mining stocks.
There are some companies in other commodities that are similarly positioned. One of the commodities that I really like is uranium. The fundamentals for the uranium market virtually guarantee a significant price rise over the next year or two. The utilities have been relying on contracted supplies of uranium for the past few years, and these contracts are now expiring. So over the next year or so, the utilities are going to be forced to come back into the market and start buying uranium to lock in future supplies. This will require a significant rise in the price of uranium. There are a few companies that are very well positioned for this.
TGR: Would you tell us about a few of those companies?
BL: One of the ones I've recommended for a while is Energy Fuels Inc. (EFR:TSX; UUUU:NYSE.MKT; EFRFF:OTCQX). The company is a fairly diversified producer and is the second largest producer in North America. It's one of the survivors from the uranium mania that we had about 10 years ago. Energy Fuels acquired other junior companies over the years and has built up a remarkable portfolio of producing and near-production assets. Because it's in production right now, it can benefit immediately from rising uranium prices. It also has a number of projects that it can bring on-line fairly quickly to also give it upside leverage. So I really like Energy Fuels.
Another interesting company that I recently recommended is CanAlaska Uranium Ltd. (CVV:TSX.V; CVVUF:OTCBB; DH7:FSE). It has an extensive land position in the Athabasca Basin, which is ground zero for uranium exploration and development. CanAlaska has a couple of projects that are being drilled right now that are in joint ventures with major companies. Its West McArthur project is adjacent to the world's richest uranium mine, the McArthur River mine of Cameco Corp. (CCO:TSX; CCJ:NYSE). It has a number of targets trending toward the McArthur River mine that are in line to be drilled under a joint venture with Cameco.
Interestingly, CanAlaska also acquired some kimberlite targets in a recent ground staking, so there's a bit of blue sky upside that you wouldn't find in a typical uranium company. It's starting to explore those kimberlite targets and determine if they have the potential to be diamondiferous. CanAlaska has a lot going on, and I think it's still fairly undervalued, although it has had a big run recently.
TGR: We noticed that the Gold Newsletter portfolio has performed very nicely. Could you expand on some of the highlights?

BL: In December we discussed in our newsletter the potential for negative interest rates in the U.S., long before anyone else was really bringing that up. We saw a potentially dramatic rise in gold and silver early in the year, and we strongly recommended a number of companies that were either in production or had identified resources. They performed extremely well. For example, we recommended Eurasian Minerals Inc. (EMX:TSX.V; EMXX:NYSE); that's up 189% since then. We were big backers of Newmarket Gold Inc. (NMI:TSX; NMKTF:OTCQX), which is up 146% since January. We recommended Silvercorp Metals Inc. (SVM:TSX; SVM:NYSE), which is up 324%. Almaden Minerals Ltd. (AMM:TSX; AAU:NYSE) is up 158%. Excellon Resources Inc. (EXN:TSX; EXLLF:OTCPK) has been really a star performer. It's up 463% since our December recommendation. Great Panther Silver Ltd. (GPR:TSX; GPL:NYSE.MKT) is up 505% since we recommended it in January. So it's been a wonderful three months, but we still feel that there are still some outstanding opportunities out there.
"Newmarket Gold Inc.'s production profile and resource base are likely to grow significantly over the medium term."

TGR: Could you talk a little bit more about some of those companies?

BL: Newmarket has a few Australian producing mines that it acquired with Crocodile Gold Corp. last year. It has turned around those mines and developed some interesting exploration targets adjacent to them. Newmarket has increased production and dropped costs, and recently gained an important new investor in Eric Sprott. The key with Newmarket is the backers behind it are some of the stellar names in mining globally. I think that investors sometimes look at Newmarket's Australian projects and like what they see, but believe that's all there is to the company. However, the plans of management and its backers are much larger. They're on the hunt for other projects to bring in, consolidate and improve. So I like Newmarket a lot because its production profile and resource base are likely to grow significantly over the medium term.
TGR: What is behind Great Panther's 505% rise?

BL: Great Panther grew its production by about 30% last year. This is a year where it is consolidating that production, but that additional production is also going to significantly leverage the company as metals prices rise. So I really like Great Panther. President and CEO Bob Archer has done a wonderful job of growing that company over the past 10 or so years. It's in the absolute sweet spot for rising metals prices right now, and it's always on the lookout for new projects and new mines to acquire. I don't think it's going to be limited to silver going forward; its recent production actually had a growing gold component to it. So it benefitted initially from the rise in gold, and it will also benefit from the rise in silver prices.
TGR: Do you believe it still has good upside potential?

BL: Absolutely. That's the key. The companies I am talking about are producers, so increases in gold and silver have a dramatic and immediate effect on their values, going straight to the bottom line. So they are and will continue to be levers on rising metals prices.
TGR: What other sectors are you looking at?

BL: I think there are some opportunities in copper plays right now. Copper is another commodity that hasn't had quite the run of the precious metals, but it's due for a significant rebound. We have four new recommendations in the May issue of Gold Newsletter, two in copper and two in gold.
TGR: The Metals Investor Forum in Vancouver on May 14–15, at which you're one of the presenters, is an opportunity for experts and investors to share investing ideas. Can you tell us about the conference?
BL: Any serious investor in the sector needs to focus on education to try and pinpoint what the next big winners will be. There are a number of opportunities to do that. There are free events like the Metals Investor Forum, which should be attended by anyone who really wants to get ahead of the market and find the best plays, especially in a bull market environment like this. I also produce the New Orleans Investment Conference, which is a paid event in the fall. It's another example of the type of investor education that provides a huge return on investment over the longer term and is the most rewarding investment that you can make in a bull market in precious metals.
TGR: Any parting thoughts for our readers?

BL: Investors need to focus on educating themselves both through attending events and subscribing to the better newsletters out there. The Gold Newsletter has proven over 45 years that it can't be beat in terms of performance during a bull market environment. I'd be pleased to offer The Gold Report readers a limited, half-price opportunity to subscribe to Gold Newsletter.
TGR: Thank you, Brien.
With a career spanning four decades in the investment markets, Brien Lundin serves as president and CEO of Jefferson Financial, a highly regarded publisher of market analyses and producer of investment-oriented events. Under the Jefferson Financial umbrella, Lundin publishes and edits Gold Newsletter, a cornerstone of precious metals advisories since 1971. He also hosts the New Orleans Investment Conference.
Want to read more Gold Report interviews like this? Sign up for our free e-newsletter, and you'll learn when new articles have been published. To see recent interviews with industry analysts and commentators, visit our Streetwise Interviews page.
Disclosure:
1) Patrice Fusillo conducted this interview for Streetwise Reports LLC, publisher of The Gold Report, The Energy Report and The Life Sciences Report and is an employee of Streetwise Reports. She owns, or her family owns, shares of the following companies mentioned in this interview: None.
2) The following companies mentioned in the interview are sponsors of Streetwise Reports: Energy Fuels Inc., Newmarket Gold Inc. and Great Panther Silver Ltd. The companies mentioned in this interview were not involved in any aspect of the interview preparation or post-interview editing so the expert could speak independently about the sector. Streetwise Reports does not accept stock in exchange for its services. The information provided above is for informational purposes only and is not a recommendation to buy or sell any security.
3) Brien Lundin: I own, or my family owns, shares of the following companies mentioned in this interview: Energy Fuels Inc. I personally am, or my family is, paid by the following companies mentioned in this interview: None. My company has a financial relationship with the following companies mentioned in this interview: None. I was not paid by Streetwise Reports for participating in this interview. Comments and opinions expressed are my own comments and opinions. I determined and had final say over which companies would be included in the interview based on my research, understanding of the sector and interview theme. I had the opportunity to review the interview for accuracy as of the date of the interview and am responsible for the content of the interview.
4) Interviews are edited for clarity. Streetwise Reports does not make editorial comments or change experts' statements without their consent.
5) The interview does not constitute investment advice. Each reader is encouraged to consult with his or her individual financial professional and any action a reader takes as a result of information presented here is his or her own responsibility. By opening this page, each reader accepts and agrees to Streetwise Reports' terms of use and full legal disclaimer.
6) From time to time, Streetwise Reports LLC and its directors, officers, employees or members of their families, as well as persons interviewed for articles and interviews on the site, may have a long or short position in securities mentioned. Directors, officers, employees or members of their families are prohibited from making purchases and/or sales of those securities in the open market or otherwise during the up-to-four-week interval from the time of the interview until after it publishes.
© 2005-2019 http://www.MarketOracle.co.uk - The Market Oracle is a FREE Daily Financial Markets Analysis & Forecasting online publication.

Only logged in users are allowed to post comments.
Register/ Log in