Stock Market Bounce Follow Through
Stock-Markets
/
US Stock Markets
Jul 19, 2008 - 03:44 PM GMT

I took the opportunity last week to offer a big picture review since it was clear we were at an important area in the major stock indices and, even though it avoided the specificity available to paying members, hopefully it kept readers from seeing a trap door early this week and shorting a bottom. This one is offerred as a follow-up on last week's call for a bottom in banks, a top in oil with a rally in stocks. And, of course, the question everyone wants answered now is whether there will be follow-through to this newfound upleg or did Friday's close end a bounce that will begin a march to new lows starting Monday.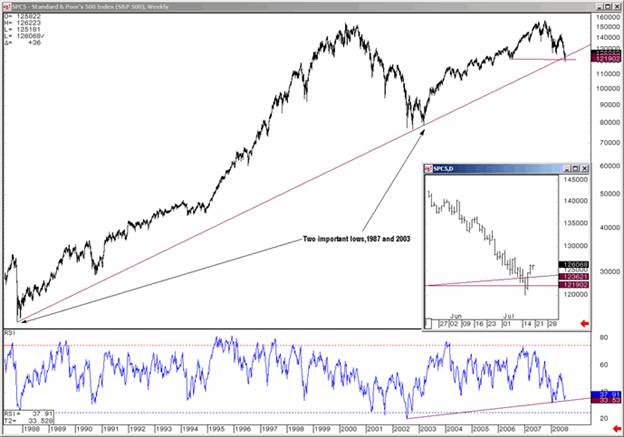 Sentiment was indeed ripe Tuesday morning as the market opened with a gap down that had many seeing no end to the steady drip lower. Though we had broken below the support line on the chart, few points should be permitted on a trendline going back so far. Besides, the type of opening we got Tuesday is the sort of exhaustion you see at bottoms. We also had the Dow chart below from one of our veteran chartists giving us some confidence in stepping up to buy those lows.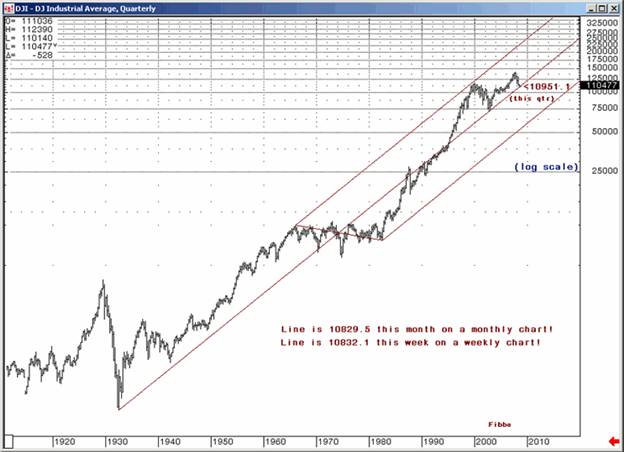 Of course a major factor in this week's rally was the move up in banks. We'd long anticipated that a bottom in banks would put some real firepower behind stocks, and last week said:
" Our plan all along to see the S&P hold up as the banking index completed five waves down with new lows. A bottom in the banks will translate into a powerful rally. And, as I've said, there's still a chance that our dip below 1256 is still a minor poke if we get a recovery soon next week. You know now the market and areas we will be watching for confirmation of this idea. If not, then look out below because there's no more room for the bulls to extend lower for another week like we've been seeing. The biased bears have finally gotten a chance to short blindly and be right, but this is rare and doesn't last forever. The unbiased traders have made money on the downside and have no illusions going into next week."
Not only did we get a decent bounce in the financials, the banking index put in the single largest daily percent gain in history. As for the broader market, our real time chat room discussed buying that 1250 strike S&P call options at $2 as lows were hitting. Our target for a momentum thrust was 1263.75 were those same calls were worth $15 – 750% in a few days!
We also said last week:
" Another major factor that could be contributing to a tradable rally in the very near term is oil. Of course, oil has been watched by everyone and has been one of the major headwinds in this market. Having clearly gone parabolic some time ago, the move in oil now looks overdone and when it breaks, it can break hard and fast. Like a bottom in the banks, a top in oil could have profoundly bullish implications for the broader market. My chart and targets have to be reserved for members, but believe you me there is a trade here that can make your entire year, and fast. At TTC we've traded both sides of this market from $123, but are now looking for short entries. If what we're watching is correct, the TV is going to soon shift its focus from $150 oil to $100."
As you no doubt know by now, oil dropped almost $20 from its high to get under $130 for the first time in weeks. The operative chart is still reserved for members only, but it's important to note that the decline in oil, combined with the rally in banks, provided the catalyst for buying stocks. Oil closed out the week near its lows, keeping stocks near their highs.
As expected, Friday was a largely sideways day as traders digested the big moves this week, moves that TTC was all over and even readers of this update, too. But members were advised to take profits in oil or trail stops hard as oil may be capable of soon producing a sharp snapback rally. Members are also aware of a number below that will invalidate a significant rally and indicate a deeper selloff than most are now anticipating. Either way, members will have a live indicator at TTC to confirm the direction of the next move. It's likely this week's correlations between oil and stocks will continue at least in the short term, so we'll continue to monitor developments in the crucial markets, including financials, euro and gold to provide our forum members and real time chatroom participants the best real time analysis on the web.
Institutional traders , if you're ready to get on the team that makes money no matter what the market environment, then maybe it's time you joined TTC.
Long time readers will remember that after two years of growing our membership through consistently accurate and tradable market analysis, we closed our doors recently to focus on our existing membership, largely institutional traders, and give them a chance integrate our approach into their trading. Old habits don't change overnight, and it usually takes weeks if not months for new members to start making consistent gains with the resources offered at TTC. We are a serious group of dedicated traders with only one mission: to trade profitably. Those that take the time to learn our methods are very happy they did.
Retail traders , if you missed the chance to join earlier this year, do not hesitate to click here and register for the waiting list with no obligation at all. In the very near future we will be providing the first opportunity for membership from that list.
In the meantime, be careful out there. Be aware of what the charts are saying in multiple markets and tune out the TV. Don't be afraid to take high risk/reward trades, but be ready to cut your losses quickly if it's wrong. But most of all, be unbiased.
By Dominick , a.k.a. Spwaver
www.tradingthecharts.com
This update is provided as general information and is not an investment recommendation. TTC accepts no liability whatsoever for any losses resulting from action taken based on the contents of its charts, commentaries, or price data. Securities and commodities markets involve inherent risk and not all positions are suitable for each individual. Check with your licensed financial advisor or broker prior to taking any action.
© 2005-2019 http://www.MarketOracle.co.uk - The Market Oracle is a FREE Daily Financial Markets Analysis & Forecasting online publication.

Only logged in users are allowed to post comments.
Register/ Log in