US Banking Crisis Warning: Uninsured Depositors At WaMu Are Asking For Trouble!
Companies
/
Credit Crisis 2008
Jul 25, 2008 - 11:52 AM GMT


Anyone with uninsured deposits (those exceeding FDIC limits) at Washington Mutual are begging for trouble.

If you work for a corporation that has its payroll or large corporate account (above the FDIC limit) at WaMu and you want to get paid, you better get this message to corporate headquarters right away: WaMu Slumps as Gimme Credit Cites Liquidity Concern .


Washington Mutual Inc. tumbled for a second day in New York trading after Gimme Credit LLC said unsecured creditors were "pulling funds'' from the biggest U.S. savings and loan. Washington Mutual disputed the report.

Gimme Credit analyst Kathleen Shanley cited a decline in federal funds purchased and commercial paper to $75 million from $2 billion at year-end, which Washington Mutual reported this week in its second-quarter results. Securities sold under agreements to repurchase dropped to $214 million from $4.1 billion at the end of 2007, she wrote.

Washington Mutual, known as WaMu, reported a $3.3 billion second-quarter loss on July 23. Rising delinquencies forced the Seattle-based company to boost provisions for bad loans. While WaMu said it has enough capital after raising more than $7 billion earlier this year, Shanley said liquidity remains a concern.

"We won't use the phrase 'run on the bank,' but we would be remiss if we did not observe that many creditors have quietly been pulling funds," wrote Shanley, based in Chicago. Their actions are "presenting an increasing funding challenge," she wrote. Gimme Credit is an independent research firm serving corporate bond investors.
Run On The Bank?

I do not know if there is a run on WaWu or not. What I do know is that if you are reading this and are above the FDIC limit, and you don't immediately do something about it, then you you have no right to complain if WaMu goes under and you lose every penny above the FDIC limit.

Sheila Bair seems proud of saying only 13% of trouble banks fail. However, even if one accepts that number, it makes no economic sense to take risks when there is nothing to gain and everything to lose when one is over the FDIC limit.

For more on the moral Hazards of FDIC insurance and Sheila Bair, please see FDIC Chairman Sheila Bair Is Out Of Control .

Unusual PUT Activity

My friend AJ alerted me of unusual PUT activity on Washington Mutual on Thursday.

AJ Writes: "Someone thinks WM is going under. 35,000 Aug. put contracts traded at the 3 strike today, and 12,000 Sept. PUT contracts at the same strike. Both dwarfed open interest, so they're mostly new positions. This reminds me of activity in Bear Stearns in March."

Here is a dynamic table of options on WaMu .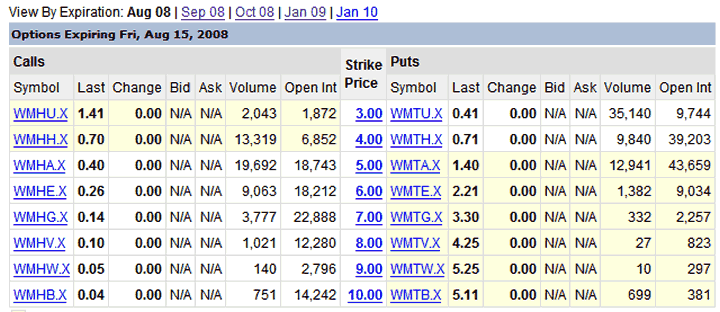 In case you are not familiar with the term, PUT buyers are betting on or protecting against share price declines. This is heavy activity at the strike discussed. The above table is from Thursday.

Washington Mutual debt protection costs jump

Action in Credit Default Swaps (CDS) show a large as well as increasing chance of bankruptcy at WaMu. Reuters is reporting Washington Mutual debt protection costs jump .
Credit protection costs on Washington Mutual rose sharply on Friday, a day after an analyst said some creditors reduced their exposure to the largest U.S. savings and loan.

The cost of protecting [$10 million of] Washington Mutual's debt for five years rose to $1.85 million on an upfront basis, plus $500,000 in annual premiums, up from about $1.35 million plus $500,000 annually on Thursday, according to a trader. Not Just WaMu

By the way, I am not just talking about WaMu here. Any bank whose share price is in the single digits is at extreme risk. Any bank whose share price is under $5 is at risk of imploding overnight.
Here is a partial list:

Washington Mutual (WM)
Corus Bank (CORS)
Bank United (BKUNA).
National City Corporation (NCC).

If you have money above the FDIC limit at any of those banks, you better do something about it immediately.

There is roughly $6.84 Trillion in total bank deposits. $2.60 Trillion of that total is uninsured as noted in You Know The Banking System Is Unsound When....

Just make sure none of that uninsured money is yours.
By Mike "Mish" Shedlock
http://globaleconomicanalysis.blogspot.com
Click Here To Scroll Thru My Recent Post List
Mike Shedlock / Mish is a registered investment advisor representative for SitkaPacific Capital Management . Sitka Pacific is an asset management firm whose goal is strong performance and low volatility, regardless of market direction.

Visit Sitka Pacific's Account Management Page to learn more about wealth management and capital preservation strategies of Sitka Pacific.
I do weekly podcasts every Thursday on HoweStreet and a brief 7 minute segment on Saturday on CKNW AM 980 in Vancouver.

When not writing about stocks or the economy I spends a great deal of time on photography and in the garden. I have over 80 magazine and book cover credits. Some of my Wisconsin and gardening images can be seen at MichaelShedlock.com .
© 2008 Mike Shedlock, All Rights Reserved
© 2005-2019 http://www.MarketOracle.co.uk - The Market Oracle is a FREE Daily Financial Markets Analysis & Forecasting online publication.
Comments
Sal Tracey
22 Aug 08, 13:36
Stop saying stuff like this, it causes runs on the bank!


Are single handledly trying to make a run on the bank, thats how it starts with people like you! People with that much money in the bank, 100,000.00 dollars are far more paying attention to the markets than you! When you panic a sheep you panic the whole flock, you and your idiot cohorts have to stop!!!



Nadeem_Walayat
22 Aug 08, 21:05
Run on the banks


No Sal,

It starts when the public finds out that the bank's been hiding the fact from their customers that they are insolvent through negligent management gambling with the banks assets on derivatives.



Eugene
15 Mar 09, 11:26
Corus Bank


But insured over 100,000 on the CD in Corus Bank can get in trouble?




Only logged in users are allowed to post comments.
Register/ Log in