August Record Global Temperatures, Brexit and the Climate Change Catastrophe
Politics
/
Climate Change
Sep 13, 2016 - 08:44 AM GMT


Another month goes by with another sign that where climate change control measures are concerned it is already too LATE to avert the climate change catastrophe that awaits humanity THIS century. According to NASA August 2016 was the hottest August month on record beating the last record by 0.16c (2014), which puts reality far beyond anything the climate change models of barely a decade ago were forecasting would happen, as we are now experiencing temperatures that weren't meant to materialise for several more decades and not 2016 which is indicative of a run away green house effect in progress.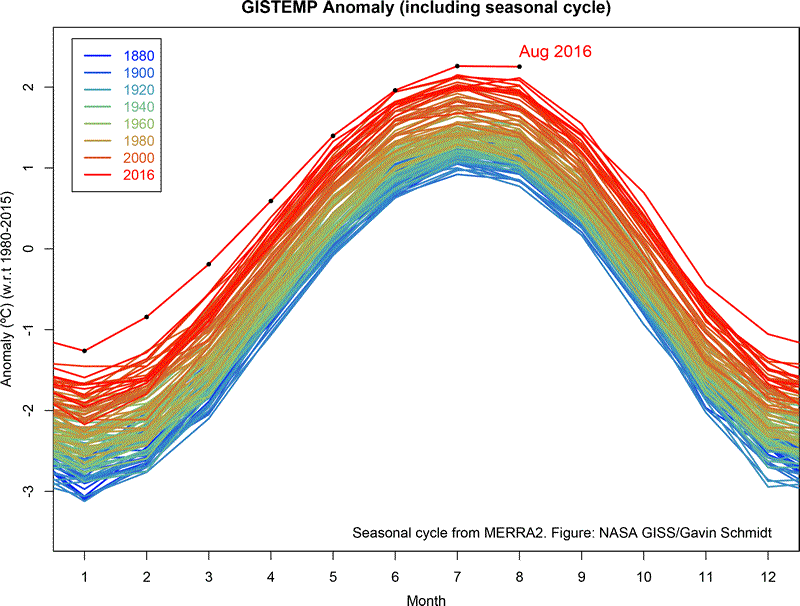 In fact EVERY month of the past 11 months in a row has been a recording breaking temperature month with an accelerating trend!
However, the global temperature figures only paint half of the picture for they don't tell the story of why global temperatures are set to keep accelerating, and the reason for that is primarily the fact that Africa is undergoing a population explosion, rising from about 1 billion in the year 2000 to 4 billion by 2100 that ensures that the worlds population by the end of this century will be well above 10 billion, which will be one of the primary drivers for a continually accelerating trend in in global temperatures over the coming years, not just of record year after record year but record month after record month and that is before even considering the fact that emerging economies such as India and China each year ramp up green house gas emissions as they attempt to reach the west's standard of living.
The climate change and africa's population explosion were one of the primary reasons for why Britain was right to vote to LEAVE the European Union as I warned in a comprehensive in-depth analysis in the run up to the vote why Brexit presented Britain with it's very last to chance to reclaim sovereignty so as to better cope with what is to come as excerpted below:
22 Jun 2016 - BrExit to Save Europe from Climate Change Refugee Migration Apocalypse
Today Africa's population has soared to near 1.2 billion against Europe that is peaking at 740 million or now 160% of Europe's population against just 41% in 1950.

However, the United Nations population division forecasts a further near quadrupling in Africa's population to 4.2 billion by the end of this century which means that Europe could in a worse case scenario be on the receiving end of as many as 500 million migrants over the next 85 years from Africa alone at the rate of 5.8 mill average per year.
Therefore today's migration crisis is just the mere tip of the Africa population explosion ice-berg that will make itself increasingly felt with each passing year, pushing Europe slowly in the direction of Britain's stance should Britain choose to LEAVE the European Union, as EU member states have over the past 6 months already been putting up new border fences and frontier controls, that herald the first tentative steps towards addressing the migrant crisis that faces Europe. Unfortunately the European Union of 28 member states is an unwieldy beast which as crisis after crisis demonstrates tends to act too little too late and is thus destined always be playing catch up in facing what amounts to an epic migrant crisis out of Africa alone.
CLIMATE CHANGE
There is a consequence of the human population explosion, of going from 1 billion to 7.2 billion today and next upwards to at least 10 billion by the end of this century and that is the increasing impact of human activity on all areas of the planet, the foremost of which is climate change as a consequence of burning fossil fuels and deforestation.
So what are the facts of climate change?
Rising Temperatures
Atmospheric Green house gasses of which Co2 tops the list, has as a consequence of human activity broken out of its 400,000 year range and entered an exponentially rising curve.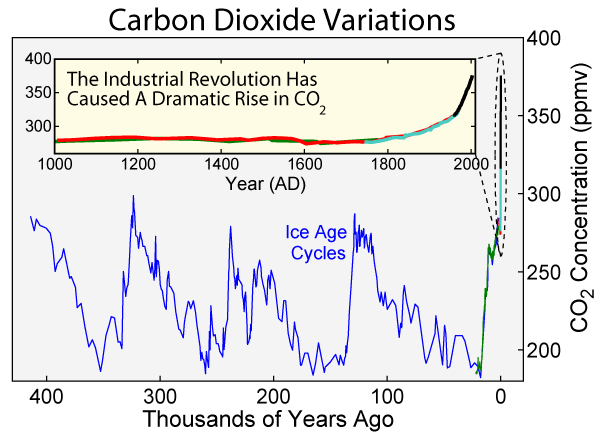 The ten hottest years of the past 130 years have occurred in the last 12 years. Each of the past 12 months have been the hottest months on record, that's 12 record setting months in a row! Typically adding 0.9c to 1.3c to global average temperatures which is set against the 2c target for the whole of this century!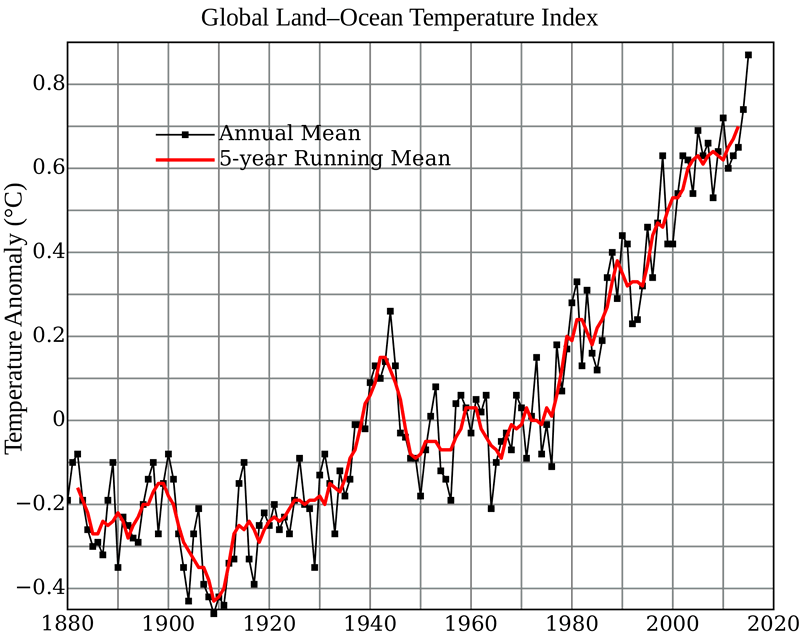 Sea Level Rise - Global sea levels rose 16cm last century as a consequence of melting ice sheets of Antarctica and Greenland and Glaciers elsewhere. However, the last decade alone has seen sea levels rise by about 20cm, which is set against governmental expectations for no more than a 1 metre rise for the whole of this century that could turn out to be anywhere from 5 to 10 ten times that level. Which would be catastrophic for many regions as nations such as China, India and Bangladesh are at the top of the list for being impacted by sea level rise, who alone could see over 350 million people turned into climate change refugees.
For instance a melt of Greenlands ice alone would add about 7 metres to global sea levels, and if Antarctic's ice sheets totally melted then that would see as much as a 70 metre increase in sea levels. Therefore governmental expectations for just 1 metre rise grossly under-estimate what's likely to happen. Especially when one considers that warming oceans and seas will result in reduction of density and thus expanding volume, that alone could account for the governmental 1 metre target.
Ocean Acidification - Acidity of the surface ocean waters has now increased by over 30% since the industrial revolution as a consequence of oceans absorbing some of the co2 released through human activity. Apart form the impact on marine life, the other consequences of this are impacting ocean currents such as the gulf stream resulting in more extreme weather events right across the globe.
Desertification - Rising temperatures coupled with human action's such as deforestation is resulting in the loss of an estimated 30 billion tons of fertile soil per year, equivalent to the area of all of the farmland of the United States.
Climate Change Consequences
The world is undergoing its sixth mass extinction event, the last being that of the dinosaurs some 65 million years ago. This time the culprit is the human species, where to date humans have done little to bring the trend of mass extinction to a halt which illustrates that perhaps there is nothing humans can do about it but just continue blindingly along a trend that turns much of the planet into an inhospitable barren landscape that is unable to support most of existing life let alone human life.
So whilst we focus on the human consequences of climate change i.e. climate change refugees, however parallel to this is a mass extinction going on of life on earth, a massive reduction in bio diversity that the planet relies on to adapt to environmental changes which ultimately risks our OWN extinction, or at the the very least an end of our modern civilisation, putting the human trend into reverse gear on a far more hostile planet that is unable to support 7.2 billion hungry humans let alone over 10 billion, which implies climate change consequences ensure that the human population will probably never make it to 10 billion as the next 20 years will dramatically demonstrate, in fact this century may end with the human world population lower than where it began and not for any good reasons, for vast swathes of productive farm land will have become arid over the next 84 years.
In terms of the impact on most in the west well that will be to see a continuing trend for costly storms and flooding, that will tend to become worse each passing year as once in century events become once in decades events such as the flooding that hit London and much of the South of England in 2014 and again the North of England just 6 months ago.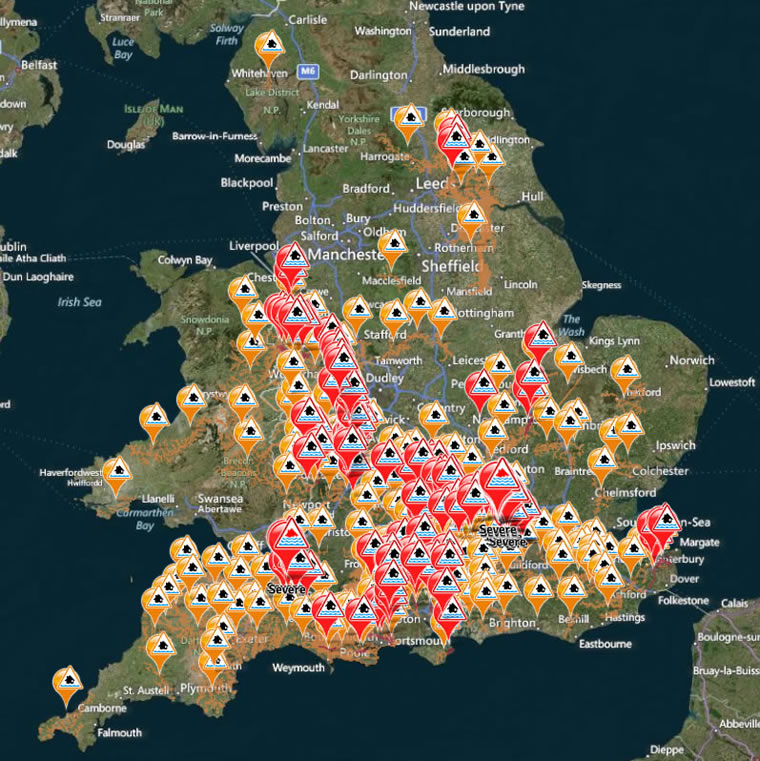 So the effects of climate change are being felt right NOW, and look set to worsen with the passage of time, the consequences of which will be financial and economic. And this is before the consequences of 10 metres or so of sea level rise has even been considered. In terms of consequences for ordinary people then this will clearly hit low lying property markets at less than 15 metres above sea level and river basins hard.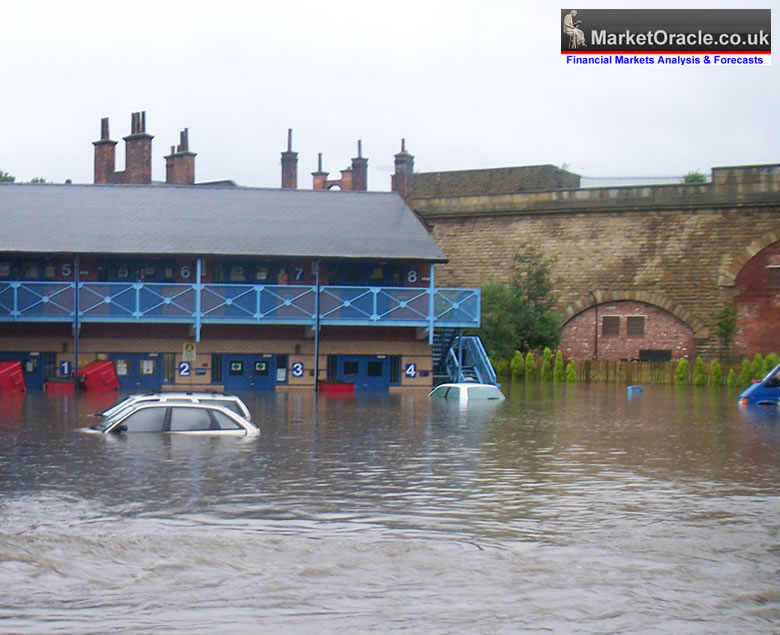 So in my opinion, home buyers should as a minimum not buy properties of less than 30 metres above sea level AND 10 metres in elevation from the valley floor / height of the normal river, even though this would remove many properties out of potential target locations and will extend to far beyond the environment agency's own current flood maps that tend to only cover 2 to 4 metres above the normal height of nearby rivers as recognised flood plains.
What are the Worlds Governments Doing about Climate Change ?
The worlds governments in Paris agreed to limit average global temperature increase to a maximum of 2 degrees this century by adopting measures to limit the release of green house gasses such as carbon dioxide from burning of fossil fuels.
The only problem with this is average temperatures have already increased by at least 0.9c ! So at this rate average global temperatures are heading towards a catastrophic +5.5c increase by the end of this century, and the trend is accelerating i.e. 2016 is on track to be +1.3c above the long-term average, which means the world could hit its target for the century as early as 2020!
The Methane Factor
If things weren't bad enough there are the other consequences of global warming temperatures and melting arctic ice and perma-frost in addition to rising sea levels which is the release of huge amounts of frozen methane, a gas that is 25 times more potent a green house gas than carbon dioxide that risks triggering a run way greenhouse effect as the warmer the arctic becomes the more methane is released, a runaway trend that could literally run for centuries!
Which means whilst this century could turn out to be catastrophic as the worlds governments try to cap Co2 emissions. However, all their efforts look set to be blown away as a consequence of release of frozen methane that by end of this century could outstrip Co2 in terms as the primary driver for climate change. Worse still the NEXT century could be truly apocalyptic! Which I am sure will appeal to the world's religious death cults who will soon start penciling in new dates for End Times Armageddon when their respective messiahs will return to rapture them straight to heaven!
Climate Change Refugees
So pardon my language when I say that we are FUCKED! There is NOTHING that can now be done to avert the consequences of climate change which will make its effects and dire consequences increasingly felt with each passing year.
To illustrate the point of what to expect then what do you think is going to happen when whole nations such as Bangladesh virtually cease to exist, i.e. become near totally submerged. Where will those 200 million or so climate change refugees want to go to? And we don't have to wait for 50 years or so because already climate change is creating 200,000 Bangladeshi climate refugees per year and increasing.
The UN estimates there will be 200 million climate change refugees by 2050, or 5 times the current number. So what does that imply for a Europe that cannot cope with today's refugee crisis of 1 million per year, what is it going to be like when the crisis reaches 10 million per year and probably a lot more? And that is based on conservative climate change consequences of 2c by the end of 2100. If 5c+ happens as seems very likely then one can quadruple the number of climate change refugees! Most of whom will be wanting to migrate to 'rich' Europe.
So again pardon my language but we really ARE FUCKED! The world we live in today is already rapidly accelerating towards the world we will be living in 20 years from now which will be unrecognisable of which just one consequence will be mass migration. Other's include the emergence of totalitarian states in response to economic, social and environmental crisis which is where perhaps an already undemocratic European Union is on the fast track towards arriving, using it's EU army to try and keep law and order in chaos.
Therefore in my honest opinion the only thing that Britain can do is to ACT FIRST by LEAVING the European Union which will enable Britain to start to implement measures that will allow Britain to best cope with the population explosion climate change migration crisis storm that is heading our way and that which will worsen with each passing year, as europeans will increasingly attempt to escape a continent that will literally be drowning to life boat Britain!
The bottom line is that climate change is HERE, NOW, not some distant future and unfortunately it is already too late! So it's a case of battening down the hatches for the climate change storm that is heading our way.
For more on BrExit see -
For more on the prospects for post Brexit britain see my following two in depth pieces of analysis that are likely to increasingly become manifest.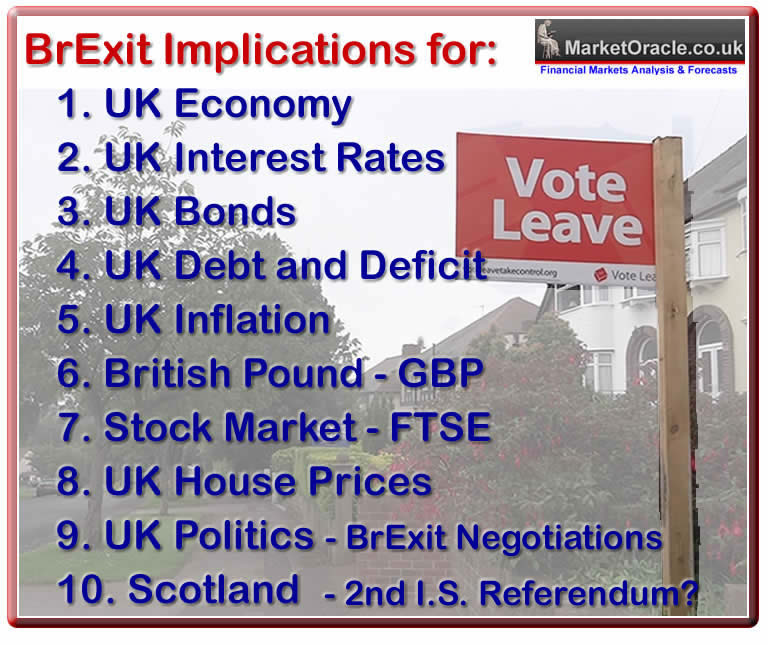 And watch the following video of what actually happened on BrExit night that caught virtually ALL by surprise as illustrated by my selection of the highlights from 8 hours of BBC coverage of the EU Referendum result.

And ensure you are subscribed to my always free newsletter for more in-depth analysis that attempts to map out what is likely to happen next to Britain and Europe.
By Nadeem Walayat
Copyright © 2005-2016 Marketoracle.co.uk (Market Oracle Ltd). All rights reserved.
Nadeem Walayat has over 25 years experience of trading derivatives, portfolio management and analysing the financial markets, including one of few who both anticipated and Beat the 1987 Crash. Nadeem's forward looking analysis focuses on UK inflation, economy, interest rates and housing market. He is the author of five ebook's in the The Inflation Mega-Trend and Stocks Stealth Bull Market series that can be downloaded for Free.

Nadeem is the Editor of The Market Oracle, a FREE Daily Financial Markets Analysis & Forecasting online publication that presents in-depth analysis from over 1000 experienced analysts on a range of views of the probable direction of the financial markets, thus enabling our readers to arrive at an informed opinion on future market direction. http://www.marketoracle.co.uk
Disclaimer: The above is a matter of opinion provided for general information purposes only and is not intended as investment advice. Information and analysis above are derived from sources and utilising methods believed to be reliable, but we cannot accept responsibility for any trading losses you may incur as a result of this analysis. Individuals should consult with their personal financial advisors before engaging in any trading activities.
© 2005-2022 http://www.MarketOracle.co.uk - The Market Oracle is a FREE Daily Financial Markets Analysis & Forecasting online publication.

Only logged in users are allowed to post comments.
Register/ Log in