Deutsche Bank - Signs of Stock Market Panic!
Stock-Markets
/
Financial Crisis 2016
Oct 02, 2016 - 05:58 PM GMT


John Rubino and Gordon T Long discuss the unfolding mayhem in the European banking sector and specifically what is behind the panic selling in Deutsche Bank stock.
Deutsche Bank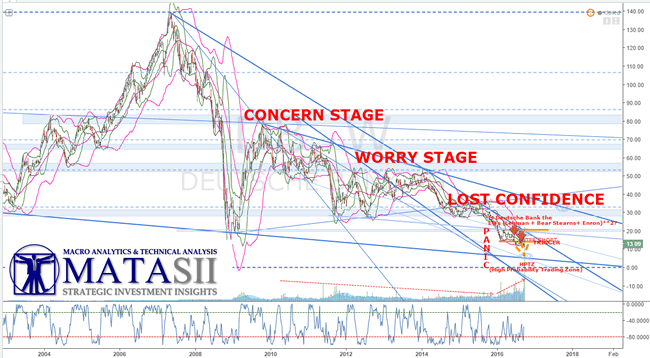 Published 10-01-16
25 Minute Video
Deutsche Bank - .... then all of a sudden!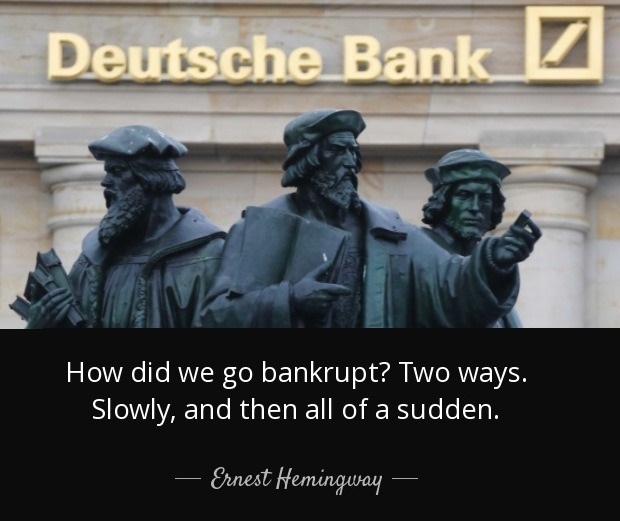 Gordon T Long outlines:
"We have seen this coming for some time and is why in the spring we issued a feature report entitled "Is Deutsche Bank EU's (Lehman + Bear Stearns + Enron)**2? " We were pointing out that the Leverage at Lehman Bros, the Bond Portfolio's at Bear Stearns and the Derivatives at Enron which brought these corporations down, pales in comparison to Deutsche bank which sits on all three of these potential Tipping Points which can cause lost investor confidence and a bank run.
John Rubino says:
"We can stop watching the Italian Banks and start watching the German Banks. Counter-Intuitively the most rock solid banks, in the most rock solid country in Europe have become the biggest systemic risk in the global economy! Part of the reason is the German Banks have been doing in effect something called "Vendor Financing"!
"GERMANY IS ON THE HOOK FOR ITALY, SPAIN / PORTUGAL AND GREECE. WHICH MEANS THE PERIPHERAL COUNTRIES IN THE EUROZONE WHICH CAN'T FUNCTION AS CURRENTLY CONFIGURED ARE A MAJOR RISK FOR DEUTSCHE BANK".... It is becoming increasingly evident the peripherals can't pay back their debts!
People are beginning to understand that the pillars of all this debt may soon blow up!
What is looking like another European banking crisis could quickly become a currency crisis as it is likely to impair the Euro. This is even a bigger global issue as it would likely spill over into the bond market.

IMF Warning: "Central Banks Losing the Deflation Fight"
Since the derivatives book of Deutsche Bank is bigger than the entire Eurozone economy it additionally means that deflationary pressures are going to cause major disruptions at some point when the underlying loans begin to default and debt rollover gets harder to secure.

IMF warns central banks could lose deflation fight
"It is clear what they do next, proposals are now coming out of the woodwork from the easy money, Keynesian side of the spectrum which involves massive increases in money creation and government fiscal spending."
Why are Food Prices Suddenly Falling?
Grocery prices have fallen for nine straight months and might possibly be a canary in the coal mine.
"Ultra easy money and ultra aggressive fiscal policy hasn't worked and given us a 'rip roaring" inflationary boom that Keynesian economists say you should get from negative interest rates and trillion dollar per year government deficits. So if it hasn't worked yet and were already seeing growing pockets rollover into deflation than threat is catastrophic for an over leveraged society!"
When you owe huge amounts of money you want your currency to go down in value so you can pay off your debts in a less valuable currency. That is what the world's policy makers want.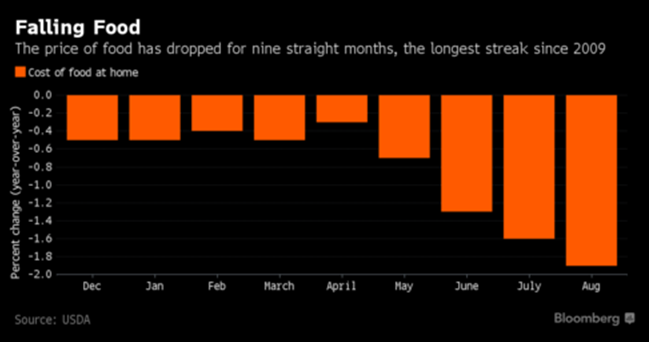 Prices Are Plunging - Bloomberg
What is Happening is We are Creating Conditions Whereby We are in a Trap We Can Never Get Out if Inflation Fails to Materialize. Debt Will Become too Large and Expensive to Roll Over if We Fall into a Deflationary Environment"
... there is much, much more in this 25 minute video discussion.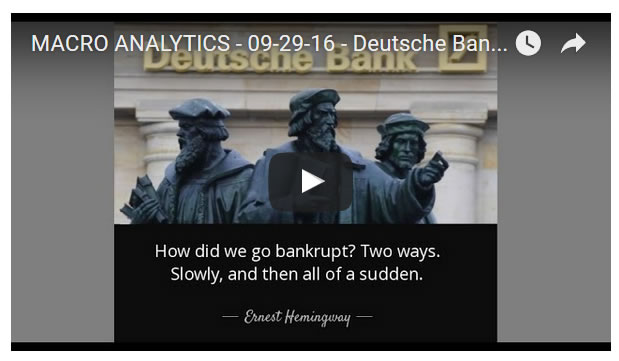 For more articles
signup
for GordonTLong.com releases of MATASII Research
Gordon T. Long
Publisher - LONGWave
Signup for notification of the next MACRO INSIGHTS
Request your FREE TWO MONTH TRIAL subscription of the Market Analytics and Technical Analysis (MATA) Report. No Obligations. No Credit Card.
Gordon T Long is not a registered advisor and does not give investment advice. His comments are an expression of opinion only and should not be construed in any manner whatsoever as recommendations to buy or sell a stock, option, future, bond, commodity or any other financial instrument at any time. While he believes his statements to be true, they always depend on the reliability of his own credible sources. Of course, he recommends that you consult with a qualified investment advisor, one licensed by appropriate regulatory agencies in your legal jurisdiction, before making any investment decisions, and barring that you are encouraged to confirm the facts on your own before making important investment commitments. © Copyright 2013 Gordon T Long. The information herein was obtained from sources which Mr. Long believes reliable, but he does not guarantee its accuracy. None of the information, advertisements, website links, or any opinions expressed constitutes a solicitation of the purchase or sale of any securities or commodities. Please note that Mr. Long may already have invested or may from time to time invest in securities that are recommended or otherwise covered on this website. Mr. Long does not intend to disclose the extent of any current holdings or future transactions with respect to any particular security. You should consider this possibility before investing in any security based upon statements and information contained in any report, post, comment or suggestions you receive from him.
Copyright © 2010-2016 Gordon T. Long
© 2005-2019 http://www.MarketOracle.co.uk - The Market Oracle is a FREE Daily Financial Markets Analysis & Forecasting online publication.

Only logged in users are allowed to post comments.
Register/ Log in