Trump Election Victory is in Your Power
ElectionOracle
/
US Presidential Election 2016
Oct 18, 2016 - 12:19 PM GMT


The world has been fed a false narrative as the average brain washed victim of mass distortion is led to the slaughter house. The looking glass of cultural perversion has never been more prominently on display then during this presidential election mind melt. If there was even a question about the gullibility of the electorate, just examine the sentiments of political party stalwarts that rush to influence the voting choices of their neighbors and communities. Listening to these factions of the failed established order is like believing that accepting a poor future is actually better for you.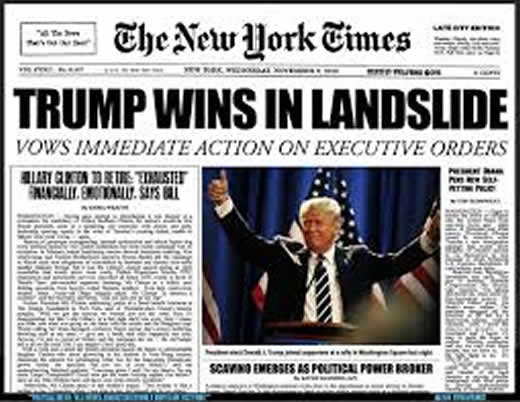 What next? Trust them that forgoing the blindfold because they are environmentally harmful, when you are put against the wall for a firing squad. If all the criticism of Donald Trump for his "so called" scorched earth rhetoric was really empty talk, timid political observers have not made much effort to read the policy position papers or listen to his fundamental American based objective for restoring the country to a recovered nation for all citizens.
The talking head pundits and discredited phony journalists, who spin and perpetuate a fairy tale of disinformation to avoid any serious discussion about essential issues and national survival risks, is the entire strategy behind the lap dogs that sniff the entrails of their corporatist masters.
Killary Clinton is a malefic sorcerer, who worships satanic power and has total disdain for "Little People". What more needs to be said? Case closed and the jury can only reject her globalist New World Order nightmare. Voting for Clinton is like choosing Barabbas.
Get real folks. Mike Adams lays out the facts in VOTERS WARNED: You've already lost America... this election is about taking it back in the last non-violent way possible: At the voting booth. Any knowledgeable witness to the systematic destruction of America understands that the grains of sand are running out to put a stop to the treason that has sold out the American public.
Not all will want to believe Adam's prognostications or want to accept that it all comes down to a definitive rebellion.
"I truly believe that if Hillary Clinton wins this election, things will inevitably unravel to the point of open armed revolt where tens of thousands of armed Americans march on Washington to occupy the government buildings and arrest the corrupt, treasonous bureaucrats running the corrupt government. In fact, I believe many elements of the military would join in such an effort, making it a combined citizen-military coup against corruption in Washington."
Yet for those indoctrinated in government schools, you may have missed these words of wisdom from Thomas Jefferson: "The tree of liberty must be refreshed from time to time with the blood of patriots and tyrants." In a Shillary administration, old Tom would be sent to Guantanamo for a re-education session to rewrite his Declaration of Independence.
So you say you won't vote for Trump because he can be crude? The mass media never lets up telling you that women will never support Trump because he disrespects their gender. However, you seldom get a straight answer why they see no problem when the Hildebreast follows her estranged hubby into the pedophile culture of the Jeffrey Epstein's "Lolita Express". Maybe her lesbian tendencies can be tamed if she returns to her bisexual familiarities, just ask Webster Hubbell. How come the press never inquired into a DNA test of Chelsea Clinton? An elementary answer, Sherlock; indicates that the "Fourth Estate" is actually a fifth column.
Why do women buy into this silliness for protecting their queen of mean? A Study: Women Prefer Their Smartphone To Their Partner documents that "A fifth of those surveyed said it would be harder to be without a phone for a week than their partner." On first thought, what does this have to do with the presidential election?
Just consider, couples (once men and women) are now partners, but for a significant number of females, their gossip and trivia found on the censored and filtered mobile apps of their iPhone are more important than having serious political discourse. Sexual intercourse takes a back seat to the fellatio available from the mass media culture. The inducement for applications to validate the popular collectivist culture is so seductive that female voters are blind to the crimes of Hillary Clinton.
When the overwhelming megaphone of mentally disruptive psyops is applied to the 24/7 electronic perception matrix, the end result is the herding of conditioned canines into pens of Manchurian Candidate supporters.
Before you despair, there is a solid route for Trump to win this election.
Gun Ownership Statistics & Demographics indicate that 76,000,000 or 31% of the population are gun owners. Pew Research Center reported in 2014 that 38% of men and 31% of women out of a total 34% of Americans owned guns. Gun owners need to cast their ballot as a single issue voter. Only Trump will protect the 2nd Amendment.
Catholics and Christians of all denominations needs to go to the polls and vote AGAINST a Marxist/Fascist demon and preach the gospel of traditional Americanism. Trump is a sinner like all of us, but Clinton is a devil.The only chance for constitutional originalists to be placed on the Supreme Court is with a Trump election.
Those concerned about illegal immigration will find the only champion in Trump to secure the open borders that has allowed a dangerous invasion.
If you work for a living and earn a paycheck, do you really think a Clinton establishment presidency will raise your standard of living or enhance the future for your offspring or grandchildren? You need to turn out as a unified America First movement and vote out the globalist gang that has taken control of our government and society decades ago.
Rank and file union members need to vote the interest of your family and ignore berates of crooked union bosses, who wants the rigged economy to keep labor on an endless treadmill.
Small business proprietors lead your work force in supporting Trump's economic plan to revitalize our economy and establish fair trade in an international system of commerce. The current global deals have destroyed our indigenous manufacturing industries.
For Obamacare broke and beleaguered insured policy owners, only Trump offers relief from the utter collapse of the national health system. Clinton will only force a single payer substitute, which will compel incurable administration and terminable care.
All deplorables and especially those who are on the path to become irredeemable have only one chance to avoid the re-education coming out of a Clinton cult in their Jonestown temple of government worship. If you fail to rally to the sound of the guns, you will become the target of their bullets.
All anti-war advocates must vote against Hillary, who lusts to become commander of the evil Galactic Empire death star. She is the one who actually wants to go to war against Russia, which will inevitably end in the annihilation of our country and much of the world.
Green Party supporters heed Jill Stein when the Green Party Nominee Claims Hillary Clinton Is 'Scarier' Than Donald Trump, Citing Potential Nuclear War With Russia.
"But on the issue of war and nuclear weapons, and the potential for nuclear war, it's actually Hillary's policies which are much scarier than Donald Trump, who does not want to go to war with Russia. He wants to seek modes of working together, which is the route that we need to follow."
Wear you red shirt or sweater and engage with people BEFORE and on November 8th.
Turn out as poll watchers and document any instance or pattern of election fraud. The professional and careerist political cartel is designed to steal elections. Your alternative is to register a landslide vote that would defy all factious and dead people ballots.
Men, grab your significant other and treat her to a dose of Trump gentleness respect that includes a crash course why Hillary Clinton is a wicked witch and a vote for her, will ignite a bonfire of the vanities for the vampires that owe their allegiance to a corrupt globalist government.
This is no ordinary election between two establishment clones out of the same fake two party contests. The establishment cabal has been waging a civil war against citizens and the general public for decades. Now this conflict is exposed. The basic nature of the open warfare that wants to eradicate any meaningful vestige of a populist voice for the ordinary taxpayer and silent majority is unwrapped for all to see.
A TRUMP triumph is a victory for America. This is the last chance to overthrow the established order of globalist oppression in a non violent action by a popular movement of honest and oppressed nationalists.
The time to unite is upon us. Put aside any and all difference and focus on the only issue that matters this November. The survival of America as an independent country ruled by "We the People" requires the election of Donald Trump. The elites all oppose HIM and YOU. Make history and prove that a nation of good people can overturn a corrupt hierarchy of monopolists, plutocrats and international finance. Ignore all party labels and cast your vote for liberation from the criminal syndicate of coercive despotism. It is now or never.
SARTRE
Source: http://batr.org/reactionary/101816.html
Discuss or comment about this essay on the BATR Forum
"Many seek to become a Syndicated Columnist, while the few strive to be a Vindicated Publisher"

© 2016 Copyright BATR - All Rights Reserved

Disclaimer: The above is a matter of opinion provided for general information purposes only and is not intended as investment advice. Information and analysis above are derived from sources and utilising methods believed to be reliable, but we cannot accept responsibility for any losses you may incur as a result of this analysis. Individuals should consult with their personal financial advisors
© 2005-2019 http://www.MarketOracle.co.uk - The Market Oracle is a FREE Daily Financial Markets Analysis & Forecasting online publication.

Only logged in users are allowed to post comments.
Register/ Log in