America's Financial Collapse- It's the Economy Stupid!
Economics
/
US Economy
Jul 31, 2008 - 08:11 AM GMT


It's shocking to see so many who remain in denial about the economy, specifically the pundits. Until they see two consecutive quarters of negative GDP growth (a ridiculously misleading metric – see my previous article "How Washington is Fooling You With GDP Data") they refuse to admit we are in a recession. And the media acts as puppets, repeating these same lines without scrutinizing the data. Who do these people think they're kidding? If you're running a show designed to help investors, shouldn't you be ahead of the curve instead of behind it? Serving as broadcasters for inaccurate data that's been manipulated to fool the public does nothing to aid an audience looking for real investment guidance.


Apparently, even Washington realizes GDP data is highly inaccurate and makes revisions for up to five years. As of 2004, such revisions have already introduced question as to whether there was a recession in 2001. By 2012, we might see data that indicated we were in a recession in 2008. But that certainly won't help anyone except historians who document the Bush era, in what will be remembered as the worst recovery attempt in U.S. history.
By now, even the most financially unintelligent consumers realize we're in a recession. They feel it every time they fill up their gas tank and buy food. They've been patiently waiting for real pay increases. Instead, all they've gotten are a couple of rebate checks from Washington . What kind of charade is this? Giving consumers money you have to borrow from China , hoping they will spend it on goods (most likely from China ) so you can inflate GDP data? You have to be kidding me. I would expect such an approach to fly in some third world country, but not the United States . When Washington sends you rebate checks and tells you to go out and spend it rather than pay off your credit cards, you need to interpret that as an admission that we are in a deep recession.
Even for those lucky enough to have received the standard 2% or 3% raise, they're still making much less than a few years ago due to the inflation data that continues to be fudged. As the data shows, there have been no real median wage increases for eight years. Only now does Bernanke admit inflation is a problem and states there are "significant challenges" to the economy. But still he is understating what to me has been obvious for over two years.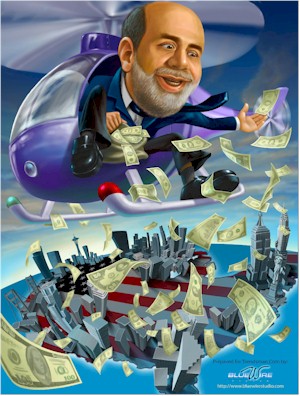 Why didn't Bernanke warn people ahead of time. Why did he wait for all of the blood to spill before confessing the obvious? If Bernanke wishes to play the role of broadcaster he needs to apply for a position on one of the television networks. The problem is that consumers have been fooled into thinking the Fed provides accurate guidance on the economy. Their track record speaks for itself. At best, the Fed is a broadcaster and at worst a cheerleader, much like those seen on TV. And if Bernanke wants to play the role of bailout chief he needs admit that America no longer has a real free market economy. In real free market economies, the risk of failure is present; no exceptions. If companies get in trouble they need to allow the free markets to determine their fate, not taxpayers. Otherwise, all you really have is socialism for corporations.
Always remember, you cannot have a truly strong economy when the dollar is weak. The same holds true (although to a lesser extent) for high commodity prices and inflation. And when you're in a war, things don't get any better, except for the GDP component due to military spending in Iraq – more debt used to boost GDP numbers. Not only has the dollar been weak for several years now, but we've also had high oil and commodity prices ever since the U.S. occupation of Iraq .
Perhaps you recall as I do the excuses made for the dotcom meltdown a few years back. As their only way to escape admission of guilt in creating what was at that time the biggest asset bubble in history, analysts and economists finally started to proclaim "It's the economy stupid." And yes, in fact it was the economy. It was the inherent weakness in America 's consumption-based economy that expanded the Internet bubble. But it was Wall Street and the media who created the grand illusion that really pumped it up. The economy only revealed its true nature once stripped of these illusions. But soon after, Greenspan re-inked the presses and started the charade again.
Today we see much of the same. America is dealing with the aftermaths of a huge credit bubble. Similar to the Internet bubble, we've witnessed the creation of a real estate-driven credit bubble by the Fed and Wall Street, while encouraged by Washington and the media. And now reality is setting in as we continue to see the true nature of America 's real economy without the grand illusions created by overconsumption. Soon, the economy will become even weaker than after the dotcom meltdown.
Since Bush took office, America has lost millions of jobs, and investors have lost trillions of dollars as a result of the implosion of the two largest asset bubbles in history. Bush's list of records is too long to list. Foreign nations have bought trillions of dollars of critical assets at fire sale prices - from the Chrysler building, to every single bit of America 's once highly acclaimed underwater fiber optic network. Meanwhile, U.S. banks have begged Asia and the Middle East for billions. Where did they get this money? From huge trade surpluses created via spending habits of U.S. consumers. If you think this has been bad, brace yourself for much more, because this is only the beginning.
So the next time one of the "experts" make claims of a strong economy, take a look at the dollar and take a look at commodity prices. Take a look at the global wealth transfer. Take a look at your own lifestyle and see if you can manage without using your credit cards. If the dollar is low you can be assured the economy is not strong. And if commodity prices are also high, you better believe the economy is in bad shape, that is unless you're China .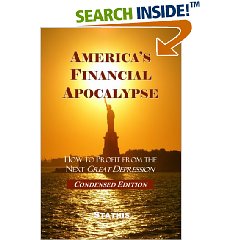 If you want to read how I predicted all that we see today, what the future holds, and how to profit from this mess – all in unprecedented detail – get your hands on the best and most insightful book written on the coming depression - America's Financial Apocalypse ASAP.
Condensed edition: http://www.amazon.com/Americas-Financial-Apocalypse-Depression-Condensed
Original extended edition: http://www.amazon.com/Americas-Financial-Apocalypse-Profit-Depression
By Mike Stathis
http://www.apexvc.com
Copyright © 2008. All Rights Reserved. Mike Stathis.
Mike Stathis is the Managing Principal of Apex Venture Advisors , a business and investment intelligence firm serving the needs of venture firms, corporations and hedge funds on a variety of projects. Mike's work in the private markets includes valuation analysis, deal structuring, and business strategy. In the public markets he has assisted hedge funds with investment strategy, valuation analysis, market forecasting, risk management, and distressed securities analysis. Prior to Apex Advisors, Mike worked at UBS and Bear Stearns, focusing on asset management and merchant banking.
The accuracy of his predictions and insights detailed in the 2006 release of America's Financial Apocalypse and Cashing in on the Real Estate Bubble have positioned him as one of America's most insightful and creative financial minds. These books serve as proof that he remains well ahead of the curve, as he continues to position his clients with a unique competitive advantage. His first book, The Startup Company Bible for Entrepreneurs has become required reading for high-tech entrepreneurs, and is used in several business schools as a required text for completion of the MBA program.
Restrictions Against Reproduction: No part of this publication may be reproduced, stored in a retrieval system, or transmitted in any form or by any means, electronic, mechanical, photocopying, recording, scanning, or otherwise, except as permitted under Section 107 or 108 of the 1976 United States Copyright Act, without the prior written permission of the copyright owner and the Publisher. These articles and commentaries cannot be reposted or used in any publications for which there is any revenue generated directly or indirectly. These articles cannot be used to enhance the viewer appeal of any website, including any ad revenue on the website, other than those sites for which specific written permission has been granted. Any such violations are unlawful and violators will be prosecuted in accordance with these laws.
Requests to the Publisher for permission or further information should be sent to info@apexva.com
Books Published
America's Financial Apocalypse: How to Profit from the Next Great Depression . Condensed Ed. Copyright © 2007.
Cashing in on the Real Estate Bubble . Copyright © 2006.
America's Financial Apocalypse: How to Profit from the Next Great Depression . Copyright © 2006.
The Startup Company Bible for Entrepreneurs: The Complete Guide to Building Successful Companies and Raising Venture Capital . Copyright © 2004 and 2005.
Disclaimer: The above is a matter of opinion provided for general information purposes only and is not intended as investment advice. Information and analysis above are derived from sources and utilising methods believed to be reliable, but we cannot accept responsibility for any trading losses you may incur as a result of this analysis. Individuals should consult with their personal financial advisors before engaging in any trading activities.
© 2005-2019 http://www.MarketOracle.co.uk - The Market Oracle is a FREE Daily Financial Markets Analysis & Forecasting online publication.

Only logged in users are allowed to post comments.
Register/ Log in