Trump Delirium Triggers Stock Market Brexit Upwards Crash Towards Dow 20,000!
Stock-Markets
/
Stock Markets 2016
Nov 19, 2016 - 06:33 PM GMT

There were two consensus views heading into the US Presidential Election count night. Firstly that Hillary Clinton would win the election, after all Nate Silver had her penned at a 71% probability whilst the New York Times was touting 85% and so were the betting markets discounting a Hillary win with Trump trading on Betfair at 6.6 whilst Hillary stood at just 1.17 an hour before the polls closed. Then there were Hillary's wall street backers who had all but discounted their candidate winning.
Secondly, IF the highly improbable doomsday scenario happened and Trump won, then the prevailing view was that it would result in a market panic, the mother of all stock crashes, a catastrophe, a stock market armageddon blood bad. That and the gold price would soar as the US Dollar along with stocks nose dived. This was the Trump win market script consensus view right across the financial media and beyond, and one does not need to look far for this prevalent doom view from the FT and New York Times downwards as the following google search of 7th November 2016 illustrates of what the market commentariat expected to happen if the unthinkable Trump win materialised.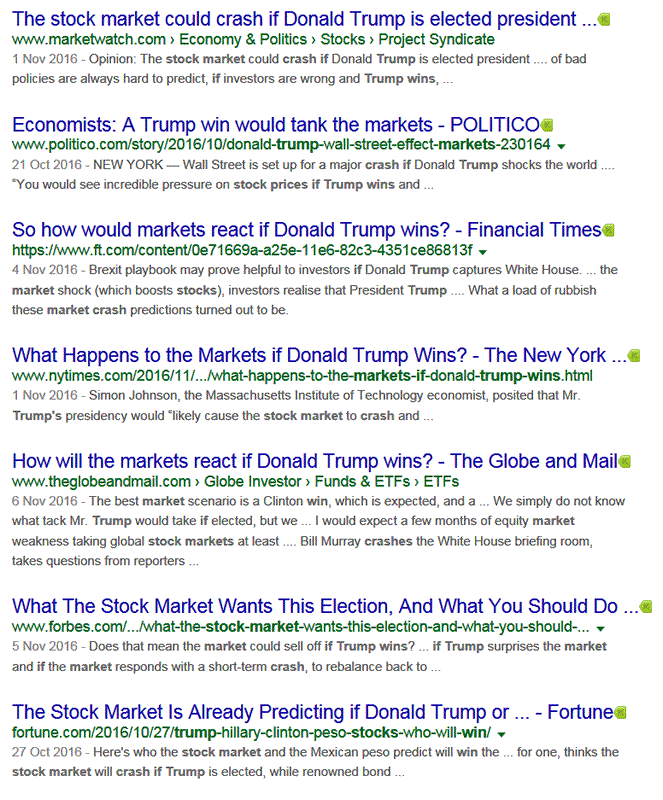 The stock market had been marking time for much of October but as election day drew nearer, the polls and odds still all suggested Hillary would definitely win which resulted in a 2 day rally of over 400 points into the close of trading on the 8th of November 2016.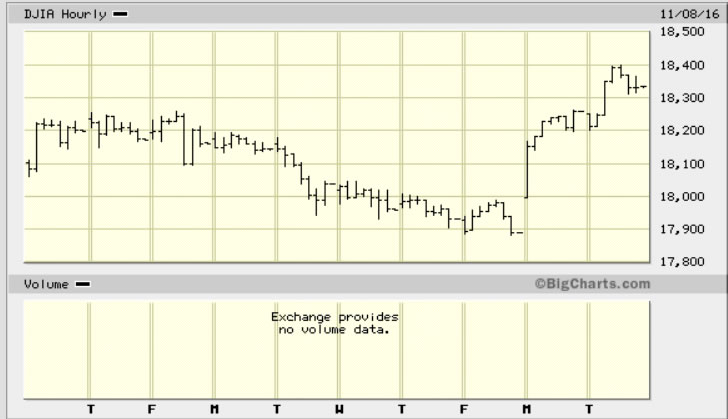 Whilst my consistent view all year had been that the 8 year long stocks bull market would continue INTO 2017, as illustrated from the depths of January's deep correction that the stocks bull market would resume and target a series of new all time highs during the second half of 2016, targeting a trend to first Dow 19k and ultimately the milestone of 20k sometime during early 2017.
25 Jan 2016 - Stock Market Bottoming Out or the Last Bull Standing?
The bottom line is that the oil price trend and the stock markets oversold state are converging towards a stock market bottom that should carve out a final bottom for 2016 in a time window that probably runs for another 2-3 weeks. So whilst it is probably not going look pretty i.e. the last low of 15,500 looks likely to break, however given the oil price trend forecast then it should form the end of this stock market correction and herald the resumption of the stocks bull market.
And my more recent August video of where this stocks bull market was heading.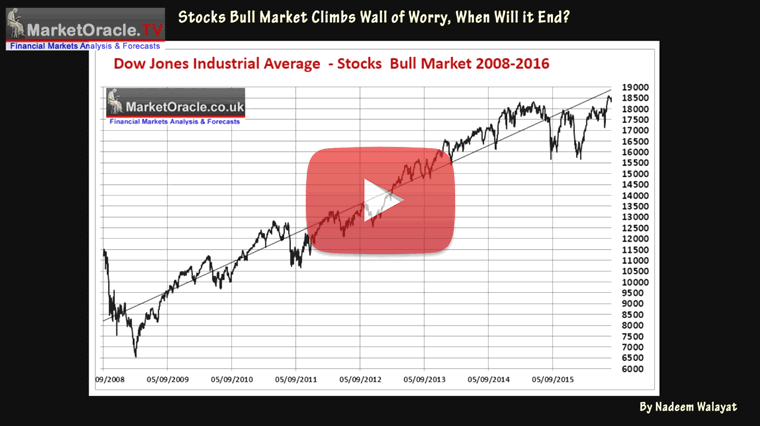 However, as you probably know that following my analysis of September 25th I also consistently forecast in a series of videos and articles that Donald Trump would win, with my focus firmly on the election and Trumps long betting odds, as I had set about accumulating a sizeable Trump position right up until an hour and half before the polls closed on November 8th as my most recent video illustrates.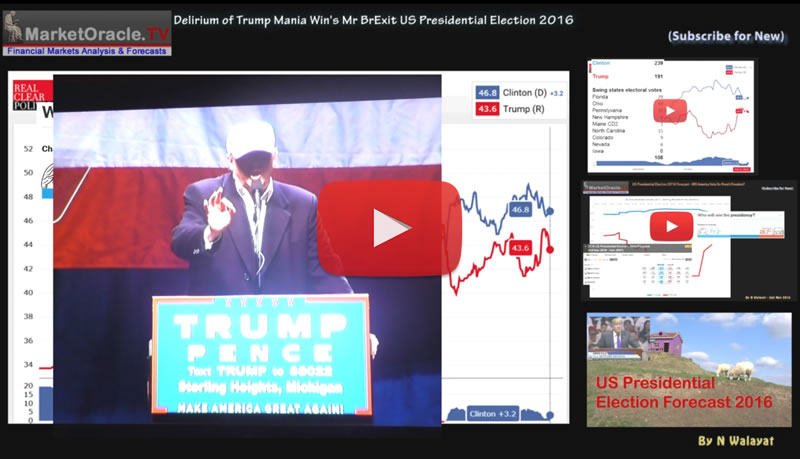 So given the near unanimous expectations that a Trump win would HIT the markets hard, act as a shock to the system that few thought possible, I was often asked how could I reconcile my forecast for a Trump win against my stocks bull market expectations.
My response was that a Trump win stock market plunge would prove temporary just as the FTSE's plunge had been following the shock of the BrExit outcome as illustrated by the following video analysis of what happened post BrExit as stocks experienced a 2 day plunge that took a further week or so to recover from: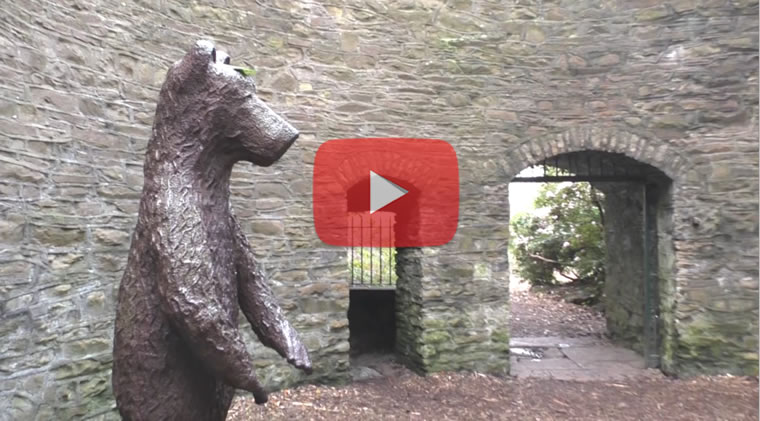 And so the same appeared to be likely going into election night for as soon as it began to dawn on the markets that Trump could actually win as illustrated by the betting markets chart that shows that by 2.5 hours after the polls had closed Trump had taken the lead in the betting markets which at the same time sent the Dow Futures sharply lower by 800 points about 3.5 hours after the polls closed.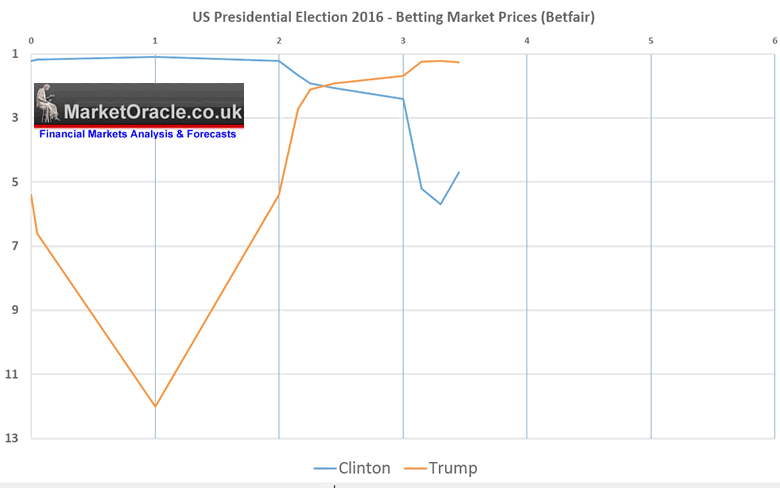 Now whilst I had been fully engrossed in America's election frenzy, nevertheless I had managed to get one of my videos out early October in my new machine intelligence mega-trend investing series that forecast expectations for a 20 year bull run! Thus, I saw the Trump sell off as a great opportunity to accumulate more long-term stock positions in this mega-trend -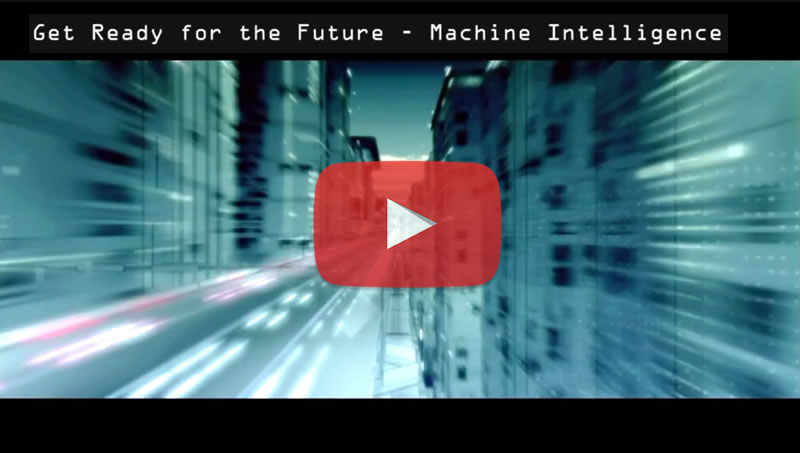 However, then TRUMP DELIRIUM HIT THE MARKETS! Yes that's right DELIRIUM! Not a market mania because manias tend to occur towards the end of euphoric bubbles. Instead what we witnessed was that the same delirium that has inflicted a large section of the US electorate also spilling over into the financial markets as my most recent video attempted to explain :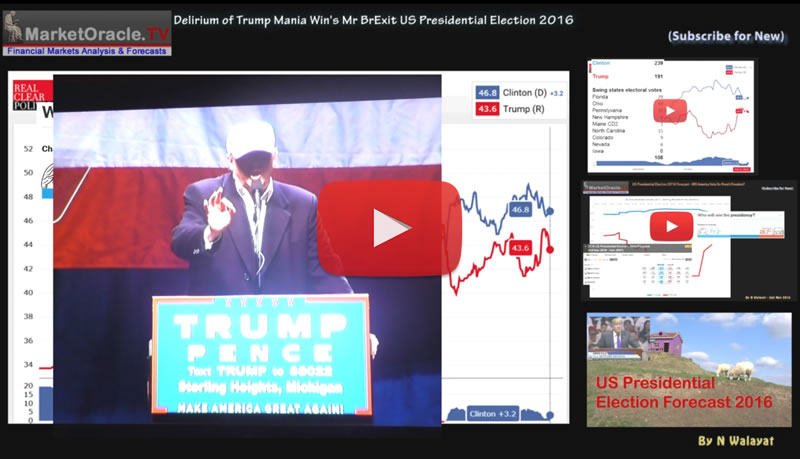 So delirium is the best explanation for what happened to the US stock market following the Trump win, of why this stock chart happened, the market did NOT open lower but instead entered into a delirium state and marched 400 points higher and again repeated similar surges higher for several more days. Remember behind the complex trading systems lie human beings. The stock market rally NO ONE EXPECTED! Not me, not you, NOT ANYONE! So much for the Trump plunge buying opportunity!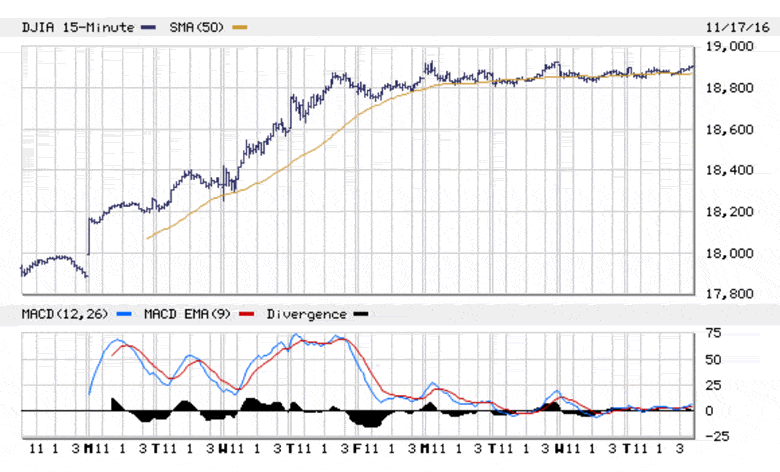 The bottom line is that everyone needs to get used to the fact that Trump delirium has infected the United States which means to expect such completely unfathomably market movements that defy reason, as was the case for the US election result. Remember were breaking out of a 40+ year political system for doing things, one where politicians pandered to the elites and took the voters for granted.
So the only way to gain insight into such market movements is to having oneself exposed to the Trump delirium inducing world view that allows for the recognition that Trump would win, all without succumbing to the Trump alternative reality and then not being shocked when Trump starts to actually build his wall, starts to befriend Putin in wars on Europe and elsewhere, starts to make lists of muslims and soon many other anti-Trump peoples, cracks down on freedom of the press that Trump hates as the US morphs into a police state with perhaps even internment camps. It's all going to happen!
Dow Santa Rally
As for where the stock market is heading, well it seems to have gotten over its initial wave of Trump delirium, and is currently holding steady as the market waits and watches as Trump forms his cabinet which could trigger several more waves of Trump delirium, though the President elect version of Trump appears to be a calmed down version of candidate Trump and so far has restrained his mouth from running away with itself, which I don't expect to last!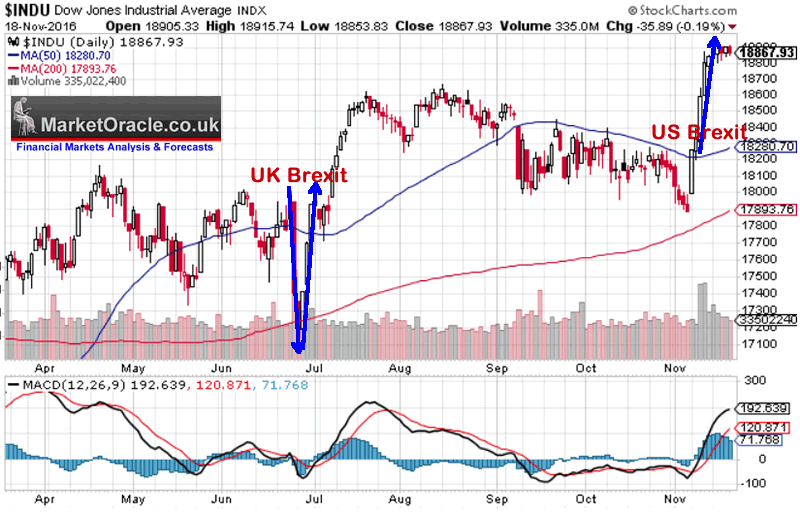 So here we stand in mid November with the Dow near 19k, what happens after November? We'll usually for December's we can look forward to the stocks bull markets Santa rally! So whilst the stock market has more or less hit my target expectations for 2016 of a trend towards to a series all time highs targeting Dow 19k. Now Trump dressed as Santa could well deliver another 5% or so to hit my long standing target of Dow 20k that dates back to my stocks stealth bull market ebook of February 2013 that you can download for free. Which concluded that the Dow could hit 20k during the first half of 2017! Remember that was near 4 years ago !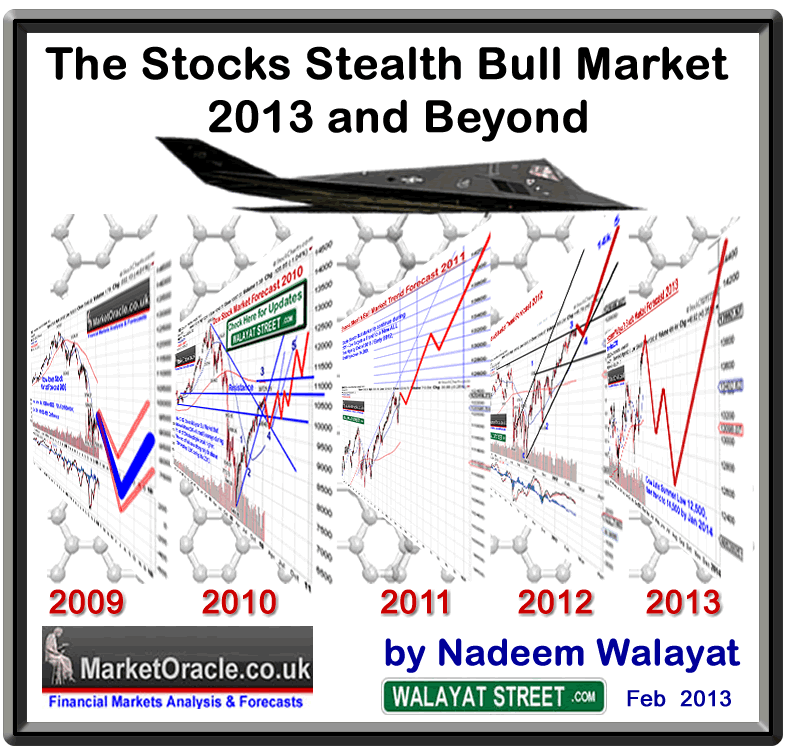 Excerpts from my Feb 2013 stocks stealth bull market ebook that are STILL VALID TODAY! :
Fundamental Inflationary Background
The fundamental background remains of ever expanding waves of highly inflationary central bank money printing liquidity that washes over all markets. Deflationists such as Krugman and his disciples bang on and on about deflation, about destruction of demand that will result in deflation, about debt deleveraging that will result in deflation. What the deflationists remain blind to is the fact that the central banks such as the Fed, and the Bank of England have been stuffing every orifice of the deleveraging banks with free money, the US alone has stuffed its banks with over $2 trillion of support which results in artificial profits as the banks risks / debts have been systematically transferred to the central banks balance sheets. Which is WHY FALLING DEMAND and FALLING WAGES are NOT resulting in Deflation! because in totality there HAS BEEN NO DEBT DELEVERAGING, TOTAL DEBT IN FACT CONTINUES TO EXPAND as central banks MONETIZE GOVERNMENT DEBT and in some cases EXPOENENTIALLY. And not only that but money printing AKA QE is far worse for an economy than Debt money (bank created credit) because it REALLY has just been conjured out of thin air with no economic activity to justify its creation.
This is why prices WILL rise, ALL prices including asset prices because of central bank QE which should not just be seen as free money for the banks but direct deliberate debasement of the currency. Unlike bank credit It WILL NEVER be destroyed instead feeds the Inflation Mega-trend which I termed in March 2009 as QE really being Quantitative Inflation. I know this may be getting rather complicated, so if you want to understand only one thing, know this that money printing by central banks is highly inflationary, highly corrosive to the purchasing power of a currency, which is why despite all of the academic reasons why we 'should' have deflation in reality we have INFLATION.
The Exponential Inflation Mega-trend
The US and every other nation is emerged in what is an exponential inflation mega-trend which the below graph clearly illustrates that even on the official CPI inflation measure (which tends to under report real inflation), that the US is no different to any other country which contrary to the delusional deflation propaganda is instead immersed in what has always been an exponential inflation mega-trend where vested interests have instead been blindly regurgitating the threats of deflation ever since the Great Recession of the 2008-2009, which the graph clearly illustrates amounted to nothing more than a mere blip or as I warned of at the time as being a mere deflationary ripple on the surface of an ocean of Inflation.
On the basis of the probable simple pattern being for a 5th of a 5th, then this analysis further concludes that the termination point for the 5th of a 5th is a Larger Wave 1 and therefore implies a further 2 Larger Impulse waves 3 and 5 as the following graph illustrates -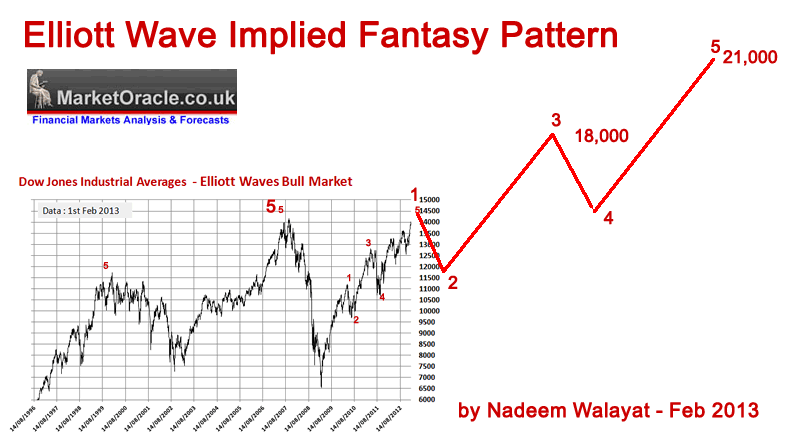 Peering into the Mists of Time
If you have actually read the whole of this analysis (rather than just skipping to the conclusion) then the message you will get is one of an ongoing stocks bull market that like a coiled spring is prepping itself to propel the stock market to levels that cannot be imagined today I.e. my Elliott Wave and broadening top analysis gives strong indications for longer-term expectations. For instance, I can easily see the Dow trade at 20,000 during 2017, so expect plenty more Stocks Stealth Bull Market ebook's to follow.
And here's what has subsequently transpired as we stand at virtually Dow 19k, with my long standing target of Dow 20k now even possible before the end of this year! A good few months ahead of schedule!
However, rather than wasting time on what's likely over the next few weeks, my focus is shifting towards an in-depth analysis and concluding detailed trend forecast that will look far beyond 2016 and well into 2017. That and several more videos in my machine intelligence mega-trend investing series are my focus post the Trump delirium election of 2016. So ensure you are subscribed to my always free newsletter for that.
Though the next 4 years are definitely going to prove very interesting! And it is going to take a lot more outside of the box thinking then anything Obama's steady as she goes stocks bull market has delivered for the past 8 years. The RESET button has been pressed which means everything has to be revisited, stocks, bonds, housing, gold & silver, dollar and all that which lies beyond the markets. The only constant now is the BrExit Tsunami that continues to sweep its way across the western world. Europe looks set to take another battering from the BrExit wave during 2017, many EU states are going to come under severe pressure from Austria to Italy to the Netherthlands, France and finally Germany! This is what happens when politicians sell out their electorate to the elites! The people become susceptible to delirium! Hallucinations of how things actually are and could be, an alternative reality universe where for instance Trump can become President of the United States. I don't know what would shock the Walking Dead star Rick Grimes more after waking up from his coma, the unfolding Zombie apocalypse or Trump being President!
Where the financial markets are concerned the operating thetan for the Trump Presidency is DEBT! TRUMP is the KING of DEBT! And what's worse he can now FORCE the Fed to PRINT like its never printed debt and money before! If americans think they are ignored slaves today then they are not going to like where they are going end up after a 4 year Trump rampage! For Trump is going to ratchet up debt slavery and inflation several notches higher, then what will happen? Of course I could turn out to be wrong, ....but I doubt it.
Just like the phoenix, America looks set to burn brightly under a President Trump, but it won't last! Especially considering that Trump considers Climate Change to be a hoax, literally set to turn up the temperature not just for America but the whole world!
One final comment, 71 year olds don't tend to CHANGE, the Trump you saw during the campaign is the Trump your going to get as President. Mr "I just grab them by the *****" President.
The bottom line is that the stocks bull market will cut through Trump delirium like a knife through butter, the bull market WILL continue into 2017 and BEYOND! Because the thing about delirium is that it should prove to be an even easier time for sane investors to make money off of the crazy antics of a Trump Presidency! And just as has been the case for the past near 8 years, EVERY pull back will be a buying opportunity where the greater deviation from the stock market high then the greater the buying opportunity being presented.
Your analyst preparing strategies for incorporating Trump's debt fuelled money printing delirium waves into his market investing and forecasting models as the President elects family plant themselves firmly onto the Washington gravy train, sons Uday and Qusay, and not forgetting son in law Kamel married to the daughter Trump apparently wants to bang!
Ensure you are subscribed to my always free newsletter for in-depth analysis and detailed trend forecasts as we escape the Trump delirium vortex for a few weeks at least.
By Nadeem Walayat
Copyright © 2005-2016 Marketoracle.co.uk (Market Oracle Ltd). All rights reserved.
Nadeem Walayat has over 25 years experience of trading derivatives, portfolio management and analysing the financial markets, including one of few who both anticipated and Beat the 1987 Crash. Nadeem's forward looking analysis focuses on UK inflation, economy, interest rates and housing market. He is the author of five ebook's in the The Inflation Mega-Trend and Stocks Stealth Bull Market series that can be downloaded for Free.

Nadeem is the Editor of The Market Oracle, a FREE Daily Financial Markets Analysis & Forecasting online publication that presents in-depth analysis from over 1000 experienced analysts on a range of views of the probable direction of the financial markets, thus enabling our readers to arrive at an informed opinion on future market direction. http://www.marketoracle.co.uk
Disclaimer: The above is a matter of opinion provided for general information purposes only and is not intended as investment advice. Information and analysis above are derived from sources and utilising methods believed to be reliable, but we cannot accept responsibility for any trading losses you may incur as a result of this analysis. Individuals should consult with their personal financial advisors before engaging in any trading activities.
© 2005-2022 http://www.MarketOracle.co.uk - The Market Oracle is a FREE Daily Financial Markets Analysis & Forecasting online publication.
Comments
R.E.B
20 Nov 16, 16:29
Bright side!


Ah well, it could be worse, at least we haven't got to endure the dreadful "we came we saw he died" Hillary. There is always a bright side.



Nadeem_Walayat
20 Nov 16, 19:16
Pres Hillary


Yeh, a Hillary presidency would have been so dull and predictable, and likely result in an even worse alternative reality candidate in 2020!

Obama should have been the change candiate but he changed F-all! Hence Trump.




Only logged in users are allowed to post comments.
Register/ Log in