Gold And Silver – Do Not Expect Much Difference With Trump Compared To Obama
Commodities
/
Gold and Silver 2016
Dec 03, 2016 - 12:45 PM GMT

Obama was the "Yes, we can!" hope and change candidate that become the deep state elite's presidential lackey. It was Obama's choice to sell his political and personal soul in serving the globalists.
History has been somewhat hidden from the public but still in the open for those who take the time to look. The US went bankrupt in 1933 when Roosevelt declared the Bank Holiday. Its purpose was to eliminate any and all banking independence and give all control over to the Federal Reserve cartel. Every bankrupt entity has a bankruptcy judge to oversee the bankruptcy. That job went to the Secretary of the Treasury as agent for the globalists that took control over the United States.
Does anyone ever wonder why the Secretary of Treasury is always chosen from Goldman
Sachs? It is the banking arm for the globalists. As a bankrupt entity, the corporate United States has no choice and must bow to the dictates of the Treasury Secretary. Trump has no choice. This is one of the reasons why this country has constantly been under the War Powers Act since the 1930s. Under the War Powers Act, the Constitution is suspended, and the president "runs the country" by Executive Order.
Despite Trump stating that Clinton was a puppet of the Wall Street banks, much like Obama said Wall Street would be held accountable once he was elected, he proceeded to place chosen Wall Street elite bankers into high Cabinet posts. Trump, now as president- elect, is following in Obama's footsteps. He has no choice if he [Trump] wants to stay in office, or even stay alive. Many of Trump's selections have Rothschild ties.
Steve Mnuchin, Trumps' choice for Treasury is a Goldman Sachs Alumni. Wilber Ross for Commerce Secretary ran Rothschild's NY investment office for around 18 years and helped bail out Trump when Trump almost went bankrupt with his casinos. Trump owes Ross, big time. Time for payback, bigger time.
There may be a change in presidential style, but there will be no change in substance as the deep state retains a stranglehold on the "leadership" of this country. The office of president, Congress, and the Senate are nothing but Bread and Circuses for public consumption.
Where in the Constitution does it allow the government to spy indiscriminately on the American people? [Hint: Nowhere!]. Under Trump, that will not change, and in fact, it will get worse. Look up Rule 41, just passed, that allows even more powers for spying, at will, on your e-mails, phone calls, computers, etc, etc, etc. There is no more privacy for anyone.
Germany's BND, that nation's federal intelligence service and, embarrassingly for Germany, is a de facto arm of the CIA. It has been spying throughout Europe and sending the information back to the CIA. Just like Rule 41 was passed, the BND was also granted even more spying powers. Elsewhere, the UK has unabashedly removed any and all obstacles for spying on British citizens. These are unified and controlled events by the globalists as they continue to tighten their noose on a hapless public.
The trap has been developing and is all set for the final steps to place the world under the umbrella of the New World Order. One of the final phases is to destroy all fiat paper, [Problem], and throw the world into financial chaos [Reaction – Anyone aware of India's sudden elimination of 1,000 and 500 Rupee notes knows what to expect]. Those unaware will likely remain unaware, playing into the hands of the globalists.
The globalist's Solution will be the introduction of the Special Drawing Rights [SDR] to replace the world financial system. The SDR will usher in the One World Currency. Local currencies will still exist, to a limited degree, as the inexorable march to a cashless society will make everyone dance to the globalist banker's digital world. Then, every financial transaction you, or anyone, makes will be under total scrutiny of the New World Order government.
Gold and silver remain as the only true money recognized all over the world. Those who have it can function and survive outside of the digital system, but just as cash vanishes and is no longer allowed in financial transactions, it is a matter of time before the bankers also outlaw the use of gold and silver in any transactions. It is hard to imagine any other way.
This may take at least a few years, maybe more, to be implemented. All countries are on board, including China, including Russia. No country can survive the power of the globalists without incurring financial suicide in a currency war conducted by the central bankers, much as the US has been doing for decades around the world.
The charts show low prices for gold and silver and no signs of a turnaround, yet. These low prices defy logic, defy supply and demand, but they fully reflect the financial power of the globalists to act at will and with no opposing forces. China's, Russia's, and even India's amassing of physical gold is not to topple the Western elites and Western central bankers, at all. These countries are accumulating gold, not to back any currency, but to be in a position of power to participate in the New World Order's one global currency.
The SDR is a given, if anyone reads the position of the International Monetary Fund [IMF], and its boss, the Bank of International Settlements [BIS], the handwriting is on the proverbial wall. All paper fiat currencies will become subservient to the elite's ultimate SDR, another paper currency that will be created perhaps initially on the partial strength of a country's gold holdings, but like Federal Reserve Notes were initially backed by gold and silver from 1913 to 1933, the SDR gold backing will eventually disappear, and the globalists will be in total control of the world, creating "money" out of thin air, just like the Fed has been doing.
In the interim, those who have gold and silver will fare best while they can until the transition is completed, again, years away. Those concerned about the current price of gold and silver, instead of doing everything possible to have and accumulate physical possession of them, are playing a fool's game. China, Russia, India, even central bankers are all amassing as much physical gold and silver as is possible. Take a page from those who rule and do the same. Accumulate whatever you can, while you still can.
As an aside, and seemingly unrelated, mainstream news media continues to blame Russia for interfering in American politics without an iota of evidence. The Bread and Circuses Congress just passed "H.R. 6393: Intelligence Authorization Act for Fiscal Year 2017″ at the following location" which also endeavors to blame Russia [and deflect any responsibility for the US' shortcomings], can also be part of a Trojan Horse to gain more and more control over the internet, to the detriment of everyday users. The globalists are everywhere, doing everything possible to rid people of all freedoms. Count on it.
[We recently posted two articles on how the federal government deceitfully functions that offer yet more tangental information that supports the premise of this commentary.] Elite-Controlled Federal Government Does Not Represent You, and Federal Government False Flag Actors, for general reading.
It is a guess on our part that the high volume in November is an attempt to run as many longs out of the paper market as possible while smart money is covering what they can in eliminating competition. We could be wrong on that, which is okay because we are not advocating positions in the paper market from the long side.
Exactly what is going on is not clear, except for the potential for lower prices. It is why it becomes essential to monitor the character of how the market responds to current negative conditions. For sure, the market is not indicating strong reasons to be long the heavily manipulated paper futures market.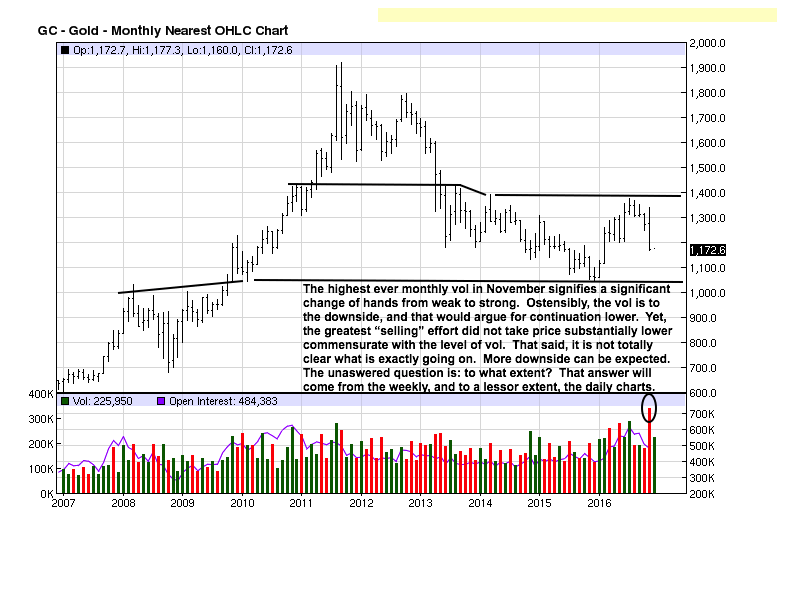 The weekly chart confirms the weakness seen in the monthly. Last week there was an easing of the downward momentum as price closed only slightly lower from the prior week. It does not negate the fact that last week was a lower high, lower low, and lower close. We are just taking note that it will take more effort for sellers to press the market lower, or buyers will try to take advantage and mount a rally. There is no assurance that will happen which is why we take a cautious approach to wait and see how the market develops, week by week.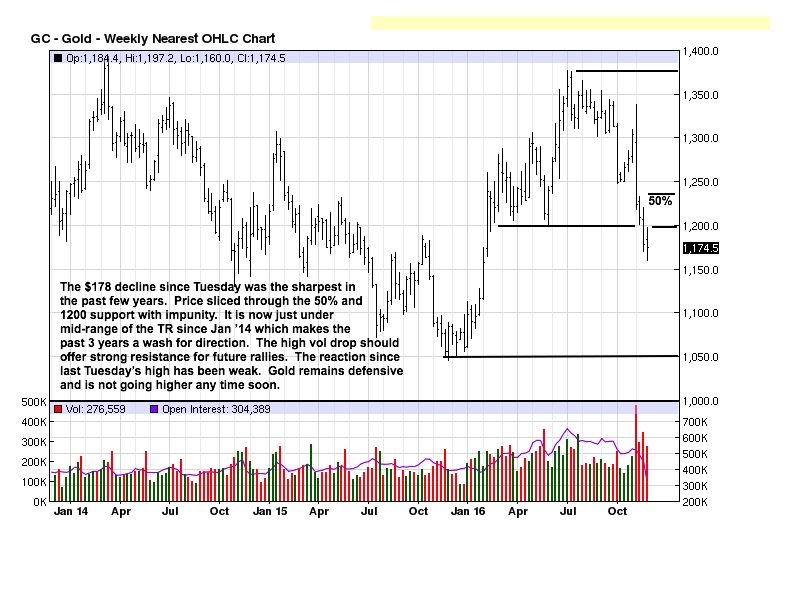 Daily gold is and looks weak with no evidence that buyers could make even a feeble rally effort since price cascaded lower a few weeks ago. There is no apparent strong base from past market activity to act as a basis for support and prompt a turnaround. Absent that,
the long side of the paper market has little to offer in potential reward amidst conditions where longs have been punished harshly. Stay away.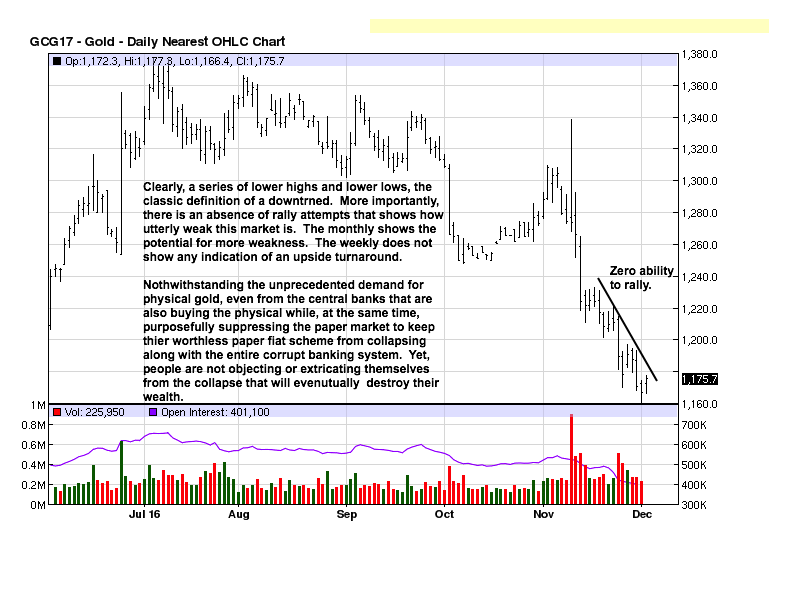 The chart comments cover what needs to be addressed. The sideways activity does not indicate any change in either direction. The lower range around 13.50 could be retested without worsening the chart structure. The damage would be more psychological for those long, including the physical metal, which the globalists would welcome in this efforts to make life miserable for those choosing precious metals instead of their worthless fiat.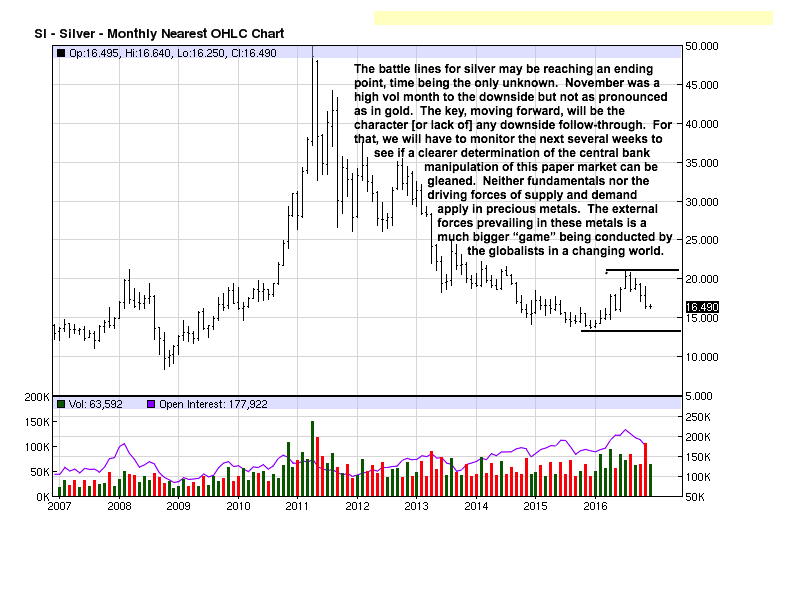 Of all the charts, weekly silver offers the slimmest glimmer of hope for a rally. Price is in an oversold condition [always remembering oversold can become more oversold], while at the same time the downside momentum came to a halt by virtue of 2 weeks moving sideways and not sharply lower. This is no reason for being long futures, rather, it is an observation to monitor the character of how the market continues to develop.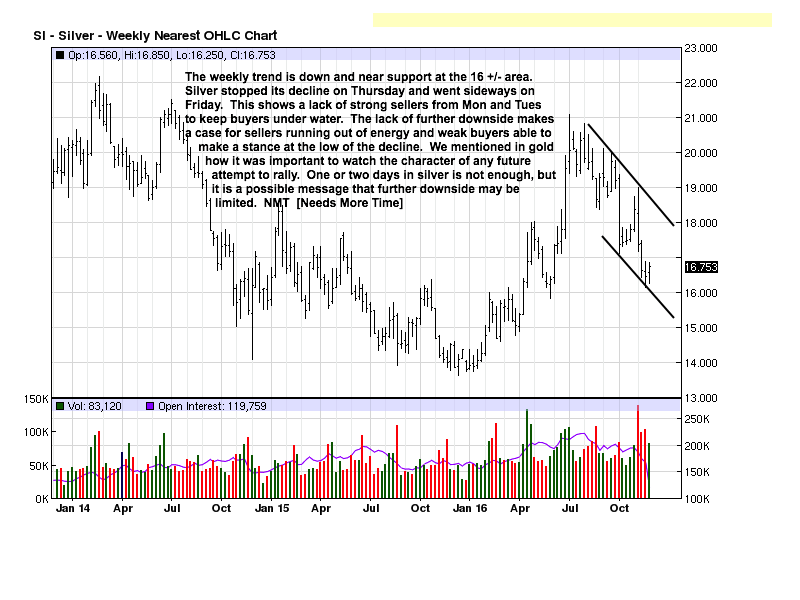 Price has been moving sideways since mid-November, much like it did throughout October, but the rally that ensued in November was short-lived. This demonstrates why trying to trade from the long side has been the wrong way to trade.
Buy the physical; avoid paper. In fact, avoid any investment that is recognized only by holding a piece of paper as proof of owning something. Physical gold and silver is the only asset that has no third-party counter-risk.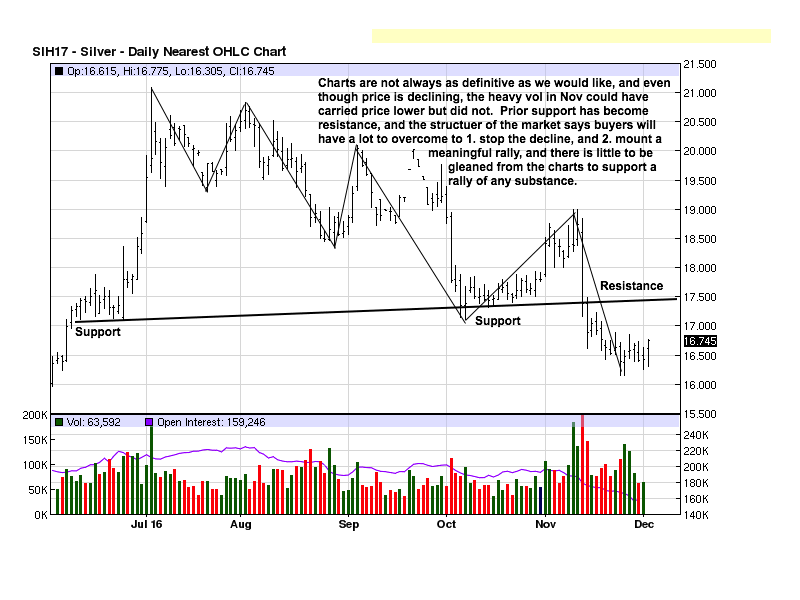 By Michael Noonan
Michael Noonan, mn@edgetraderplus.com, is a Chicago-based trader with over 30 years in the business. His sole approach to analysis is derived from developing market pattern behavior, found in the form of Price, Volume, and Time, and it is generated from the best source possible, the market itself.
© 2016 Copyright Michael Noonan - All Rights Reserved Disclaimer: The above is a matter of opinion provided for general information purposes only and is not intended as investment advice. Information and analysis above are derived from sources and utilising methods believed to be reliable, but we cannot accept responsibility for any losses you may incur as a result of this analysis. Individuals should consult with their personal financial advisors.
© 2005-2019 http://www.MarketOracle.co.uk - The Market Oracle is a FREE Daily Financial Markets Analysis & Forecasting online publication.

Only logged in users are allowed to post comments.
Register/ Log in