Donald's Trump Card Facism 101
Politics
/
US Presidential Election 2016
Dec 24, 2016 - 10:44 AM GMT


How did Donald Trump get elected? Can we pigeon hole Trump's ideology?
Very few people expected Donald Trump to win the Republican nomination.
But Trump received more TV coverage than all the other candidates combined on his way to winning the nomination. According to mediaQuant it was the equivalent of $5.2bn worth of free airtime.

Peopleunplugged.org
It seems the media, cable TV in particular, were accomplices in Trump's not only winning the Republican nomination but the U.S. Presidency.
"Television is skewed towards the sensational, the bizarre, whatever can increase the ratings of the TV networks. Trump has been good for business. His bold and controversial statements are highly entertaining, which explains why the media has wholeheartedly embraced Trump." Wilfred Clifton, The Great Entertainer
Trump's greatest presidential campaign accomplishments are:
Masterful manipulation of the media.
Limiting losses among minority voters.
Securing large white voter margins in America's blue-collar cities and smaller communities.
Securing 80% (Evangelicals make up 25% of American voters) of the white evangelical vote.
Donald Trump has been called many things, among them entertainer and fascist. There is no doubt Trump's Presidential run was highly entertaining and that Trump has a knack for the theatrical but is 'the Donald' a fascist?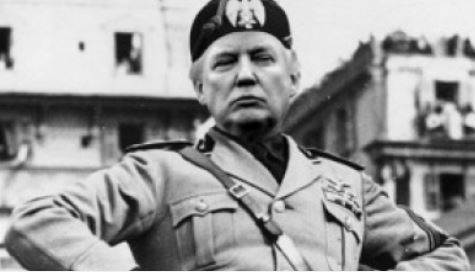 theatlantic.com
Much of what Trump did and said during his 2016 election campaign is drawn straight out of the fascism 101 handbook.
For example, a constant use of themes, from stereotyping different ethnic groups, ie sweeping mis-characterizations of Mexicans, to exploiting a fear of foreigners ie. cancerous Trojan Horse Muslim immigrants.
Other themes? Us versus them, the national decline, make the country great again, the isolationist slogan 'America First' and aggressive foreign policies.
Fascism easily lends itself to the theatrical - Trumps campaign was highly theatrical and the message, build walls, deport illegal's, Muslims bad etc was more than enough for many to drop a fascist label on Trump.
As Trump knew it would, his message resonated…
And it wasn't just with displaced, less-educated white working-class males. Other groups had a bigger impact on the election outcome.
Trump convinced 61 million Americans - 53% of white women, 63% of white male college graduates, 47% of white Americans between the ages of 18 and 29, almost 1 of 3 Hispanics and 48% of white college graduates - to vote for him to be the next U.S. President.
Among college-educated whites, only 39 percent of men and 51 percent of women voted for Clinton.
The average Trump voter is well educated, working and not living in a rural area, many are middle-class well off suburban whites – rural voters only make up 17% of the electorate. And a lot of Trump voters are not racist, having voted for Obama at least once, quite a few of them twice – of the 700 counties that twice voted for Obama, 1/3 flipped to Trump.


Donald's election campaign was able to tap into a lot of white people's fear of difference and social change. Many whites feel betrayed by large multinational corporations and their lackeys, the professional politicians running things – they know globalization, immigration, multiculturism and mechanization have not been good to them. Among white voters, 57 percent said Trump was not honest or trustworthy but 70 percent said the same of professional politician Hilary Clinton.
Trump's base GOP supporters, the racist, fascist radical right wingers weren't alone in their beliefs. Members of all the right wing parties, the conservatives, the Christian democrats, classical liberals and nationalists all feel the same sense of betrayal.
It wasn't if, it was when an electoral backlash would happen.
Q - But is all this Fascism?
A – No.
"Arguing that being part of the European Union is not in the British interest, that NATO has outlived its usefulness, that protectionist policies or anti-immigration policies are desirable is not fascist. These ideas have no connection to fascism whatsoever. They are far more closely linked to traditional liberal democracy. They represent the reassertion of the foundation of liberal democracy, which is the self-governing nation-state. It is the foundation of the United Nations, whose members are nation-states, and where the right to national self-determination is fundamental.
Liberal democracy does not dictate whether a nation should be a member in a multinational organization, adopt free trade policies or protectionism, or welcome or exclude immigrants. These are decisions to be made by the people – or more precisely, by the representatives they select…
What we are seeing is the rise of the nation-state against the will of multinational organizations and agreements. There are serious questions about membership in the EU, NATO and trade agreements, and equally about the right to control borders…
We are seeing a return to nationalism in Europe and the United States because it is not clear to many that internationalism, as followed since World War II, benefits them any longer." George Friedman, Nationalism is rising not Fascism
Fascist or Nationalist, to many people the two ideologies appear to be similar, but there are huge differences:
Nationalists believe in national pride, fascists believe in national superiority, a huge difference in degrees of radicalism - Aryan master race versus pride of country and self.
Nationalist's believe in the concept of self-determination, each state has the right to exist and to decide how it is governed. Hitler and Mussolini thought different.
Fascism emphasizes the need for an unquestioned all-powerful leader and complete opposition to democracy.
So is 'the Donald' a Nationalist?
"For 350 years, Western peoples have lived in a world in which national independence and self-determination were seen as foundational principles. Indeed, these things were held to be among the most precious human possessions, and the basis of all of our freedoms. Since World War II, however, these intuitions have been gradually attenuated and finally even discredited, especially among academics and intellectuals, media opinion-makers, and business and political elites. Today, many in the West have come to regard an intense personal loyalty to the national state and its right to chart an independent course as something not only unnecessary but morally suspect. They no longer see national loyalties and traditions as necessarily providing a sound basis for determining the laws we live by, for regulating the economy or making decisions about defense and security, for establishing public norms concerning religion or education, or for deciding who gets to live in what part of the world.
But those who have made this transition in fundamental political orientation have done so without making sure that everyone else was on board. Millions of people, especially outside the centers of elite opinion, still hold fast to the old understanding that the independence and self-determination of one's nation hold the key to a life of honor and freedom. These are people who believe that no one ever consulted them about giving up on the freedom of their nation to protect its people, their interests, and their traditions." Yoram Hazony, Nationalism and the Future of Western Freedom
Nationalism is on the march.
Conclusion

Data shows that black and minority voters supporters Ms Clinton, while whites flocked to Trump.
The biggest issue for Trump voters was immigration - 84% of Trump voters said the government should deport undocumented migrants rather than give them the chance to apply for legal status. Religious nationalism also played it's part.
Donald's trump card, his consistent pushing of an anti-immigration platform, managed to bring the old right, the religious right, the new right and the alt-right together.
Is Nationalism on your radar screen?
If not, maybe it should be.
By Richard (Rick) Mills
If you're interested in learning more about the junior resource and bio-med sectors please come and visit us at www.aheadoftheherd.com
Site membership is free. No credit card or personal information is asked for.
Richard is host of Aheadoftheherd.com and invests in the junior resource sector.
His articles have been published on over 400 websites, including: Wall Street Journal, Market Oracle, USAToday, National Post, Stockhouse, Lewrockwell, Pinnacledigest, Uranium Miner, Beforeitsnews, SeekingAlpha, MontrealGazette, Casey Research, 24hgold, Vancouver Sun, CBSnews, SilverBearCafe, Infomine, Huffington Post, Mineweb, 321Gold, Kitco, Gold-Eagle, The Gold/Energy Reports, Calgary Herald, Resource Investor, Mining.com, Forbes, FNArena, Uraniumseek, Financial Sense, Goldseek, Dallasnews, Vantagewire, Resourceclips and the Association of Mining Analysts.
Copyright © 2016 Richard (Rick) Mills - All Rights Reserved
Legal Notice / Disclaimer: This document is not and should not be construed as an offer to sell or the solicitation of an offer to purchase or subscribe for any investment. Richard Mills has based this document on information obtained from sources he believes to be reliable but which has not been independently verified; Richard Mills makes no guarantee, representation or warranty and accepts no responsibility or liability as to its accuracy or completeness. Expressions of opinion are those of Richard Mills only and are subject to change without notice. Richard Mills assumes no warranty, liability or guarantee for the current relevance, correctness or completeness of any information provided within this Report and will not be held liable for the consequence of reliance upon any opinion or statement contained herein or any omission. Furthermore, I, Richard Mills, assume no liability for any direct or indirect loss or damage or, in particular, for lost profit, which you may incur as a result of the use and existence of the information provided within this Report.
© 2005-2019 http://www.MarketOracle.co.uk - The Market Oracle is a FREE Daily Financial Markets Analysis & Forecasting online publication.

Only logged in users are allowed to post comments.
Register/ Log in