CIA Planning Rogue President Donald Trump Assassination? Elites "Manchurian Candidate" Plan B
Politics
/
Intelligence Agencies
Jan 04, 2017 - 03:30 AM GMT

The establishment elite still reeling from the failure of any of their bought and paid for candidates that populate both the Democratic and Republican parties to make it into the White house for the first time since perhaps JFK, are increasingly looking to the likes of the CIA to begin implementing the elite's PLAN B as President Elect Donald Trump takes office and starts to diverge from the elites interests. For instance it is is not in the elite's military industrial complexes' interests for the US to be friendly towards Russia, despite the fact that Russia literally poses a near zero economic or military threat to US global power. However, the operating system of US Military and Economic Global Power is such that it does not matter if a nations is a friend or foe, all are fair game, where the king of cyber warefare is the United States that can literally shut any nation down within hours, given that the so called free internet is a US military delivery system for malware infection for total access and control. So to imagine that the US full spectrum global empire assembled over the past 100 years will allow a Rouge President to disrupt it's activities is delusional.
The CIA lies near the top of the ruling elite pyramid where even it's former directors have gone on to become President's of the United States so as to ensure nothing ever really changes as the ruling elite keep ruling in perpetuity as they continue to concentrate wealth and power into their own hands whilst leaving the brainwashed masses to wave patriotic flags and go through the motions of voting in an illusion of democracy and freedom, all guided by the mainstream establishment media, the fake news empire!
However, for this US election, their time tested system of total control FAILED, and the reason it failed was because of Britain's BrExit vote as I explained in my video analysis and forecast conclusion of September 2016 of why Britain's Brexit meant that Trump would win, the alt-reality TV star who literally portrayed himself as the anti-establishment Mr Brexit would go on to become the next US President and thus shatter the agenda of the establishment elite who had been guiding Hillary Clinton under the cover of being America's first female president for over a decade. To follow on form America's bought and paid for first Black President, who when one looks at his actions or rather in actions whilst in office may as well have been WHITE!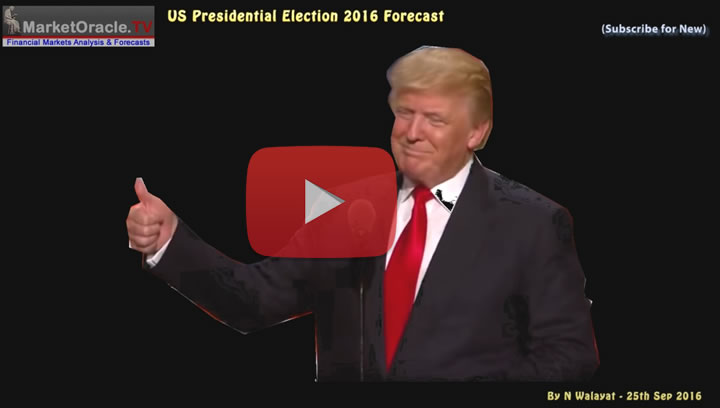 Trump's secret weapon is delirium which I explained in my post US election deconstruction video of why after over 40 years of lies being piled on top of lies, piled on top of even more lies had primed the American electorate to no longer care to try to even determine the difference between that which is fact and that which is fiction and thus embraced delirium which is what Donald Trump induced throughout his campaign.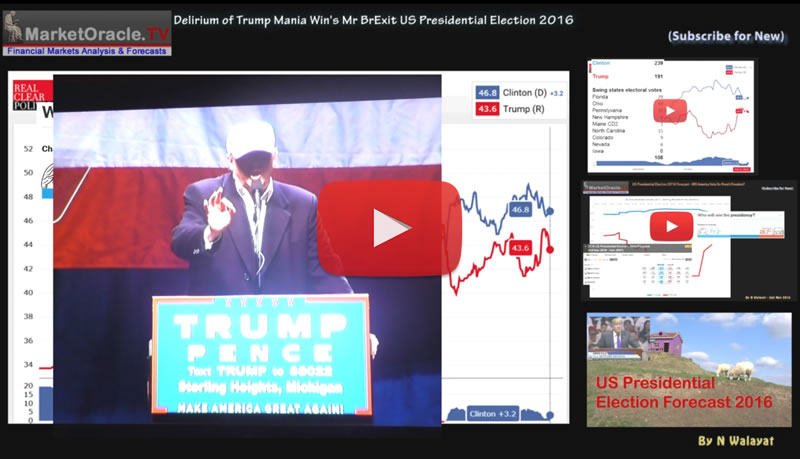 The CIA's PLAN B
So here we stand today with President Donald Trump set to take office in a little over 2 weeks time. He has already heavily criticised the CIA for its propaganda in justifying acts of terror and regime change across the world. For instance the whole Iraq war was built on the basis of CIA lies and propaganda by utilising the Sept 11th terror attacks that many internet conspiracy theorists conclude was also a CIA inside job, a false flag event. Nevertheless, the facts as best as one can determine facts in our propaganda infested world is that Saudi terrorists based in Afghanistan hijacked four planes and attacked the United States on the 11th of September 2001.
Now how does that convert into a war on Iraq? The answer is that a war on Iraq served the interests of the establishment elite, the military industrial complex and of course for the 140 billion barrels of crude oil parked under the Iraqi desert at the time worth $14 trillion, awaiting US oil companies to profit from.
Thus 20 years on from the collapse of the Soviet Union at the end of a highly profitable cold war it was time for another big war! Iraq was the perfect enemy, rich in oil, poor in military, so should be a push over for the worlds only remaining super power as over $1 trillion was spent on arms bought from america's industrial military complex.
So America's $1+ trillion Iraq war was for the purpose of enriching the establishment elite who directly profited from what was clearly an illegal war that would go onto sow the seeds of what we are witnessing today in the likes of Libya and Syria, nations destroyed with over a million killed.
The CIA has already effectively warned that Donald Trump is Putin's manchurian candidate as I covered in my extensive article (27 Dec 2016 - The Trump Reset - Regime Change, Russia the Over Hyped Fake News SuperPower (Part1) . So given the way things stand today, to imagine that a CIA death squad is not game playing the assassination of President Trump fly's in the face of the past 60 years of CIA history of worldwide and domestic slaughter. Where any perceived threat against the US establishment prompts extreme measures even of that threat is deemed to be from the office of the President of the United States.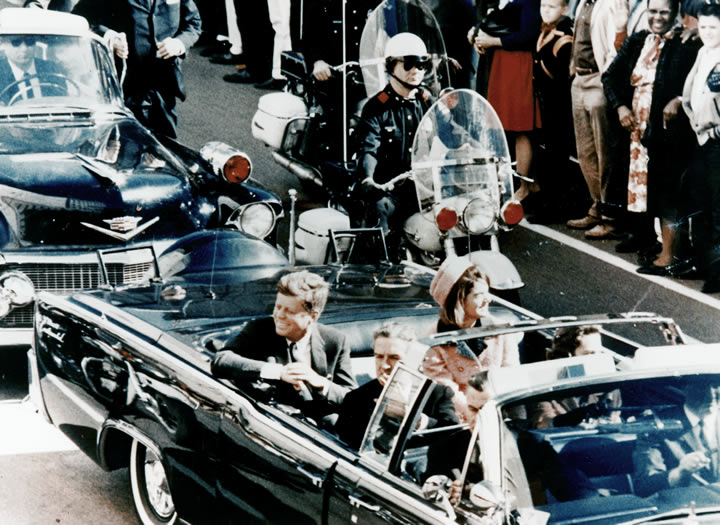 So how Could the CIA's PLAN B go down?
We'll the CIA In 1963 was a mere juvenile with lots of crude tools at its disposal such as sniper rifles. Still even at that time it was creative enough to formulate a plan for which it has remained able maintain a cover up that persists to this very day despite much speculation and fragments of leaked evidence that suggests that the CIA engaged the mafia to assassinate John F Kennedy for his resistance towards pushing the US into War with Vietnam that would turn out to be a hugely costly and bloody and highly enriching war for the establishment elite.
Today's CIA is far more technologically and pharmacologically advanced than it was in 1963, so expect the covert agency to be planning a covert assassination of Donald Trump by pharmacological means i.e. slipping something untraceable into his food that would bring Mr BrExit's Presidency to an abrupt 'natural' end.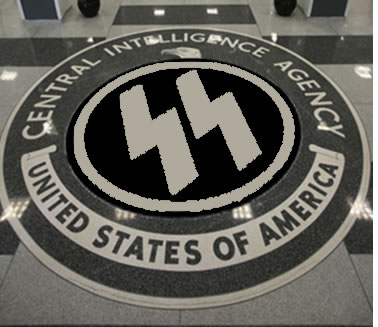 The timeline for this is unpredictable for it depends on how far Trump deviates from the establishment elites agenda whilst in office. If he works mostly in the elites interests, which looks increasingly probable, given the likes of who he has been appointing to White house posts then he could make to at least to the half way mark of his 4 year Presidency. Therefore to stick my neck out the most probable timing for and end to the Trump Presidency is between June 2019 and December 2019.
'I'm a smart person. I don't need to be told the same thing every single day' - Donald Trump rejecting CIA daily briefings / brainwashing
"These are the same people that said Saddam Hussain had weapons of mass destruction." - Donald Trump's response to the CIA's allegations about Russian hacking.
Clearly Donald Trump is fully aware of the CIA being professional liars and does not want to be subjected to their propaganda. Not the CIA nor the rest of the US intelligence apparatus comprising more than 50 secret police vested interest agencies spying on every aspect of the lives of ordinary americans. Therefore I don't see how the CIA given the tools at its disposal will not implement as Plan B of sorts given their loss of power, which is what the likes of the CIA fear the most, losing power.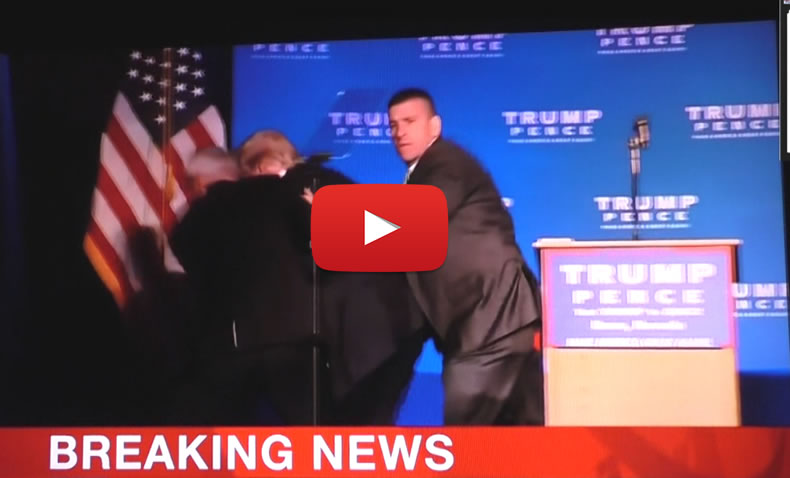 And this is BEFORE one considers the risks of being targeted by outside actors such as Islamic fundamentalists, home grown terrorists or from emerging new anti-Trump alliance such as the Mexican drug cartels angered by his anti-mexican rhetoric. So given how Trump has angered and outraged so many different groups, dividing America firmly down the middle then it is more probable than not that Donald Trump will be on the receiving end of an assassination attempt. After all in 1963 the CIA utilised an angry American mafia and the cuban dissidents outraged at JFK's response to Castro to deliver a patsy as cover for his assassination.
So the CIA over the next few years could easily put together a plan to utilise angry Mexican drug cartel members to undertake the dirty work of assassination whilst using a local patsy, an Mexican or Muslim immigrant angry at Trumps policy towards them personally or their family. Perhaps for being on the receiving end of Trumps new anti-migration regime, and thus be flagged on the CIA's PRISM radar as potential patsy's. And then there is the threat from within, Trumps own supporters for if Trump in their view betrays them by backtracking on the many outlandish promises Trump has made to America's right wing during the election campaign, then he may find himself on the receiving end of their wrath.
However, in my opinion it is more probable that a CIA assassination plot would manifest itself as one of 'natural causes' that would give Trump the big TV ratings funeral he has always hoped for, to be followed by a more docile Vice President taking over.
Though it would not be necessary for the CIA to engage in assassination plots to remove Trump from office, for the CIA has been busy exaggerating Donald Trumps ties to Czar Putin's regime and thus creating propaganda that suggests Donald Trump really IS a Manchurian candidate i.e. working for the Russians! Which could be enough to set in motion a sequence of events for Congress to remove Trump from office, especially given the huge number of skeletons in Trumps closet. Either way it does not look likely Trump will make it to the end of his Presidency, which will probably be terminated before the end of this third year on office.
Maybe Donald Trump will surprise all by buckling under and towing the one party line just as Obama and every President before him has, forgetting everything he promised, I can already imagine how this could play out -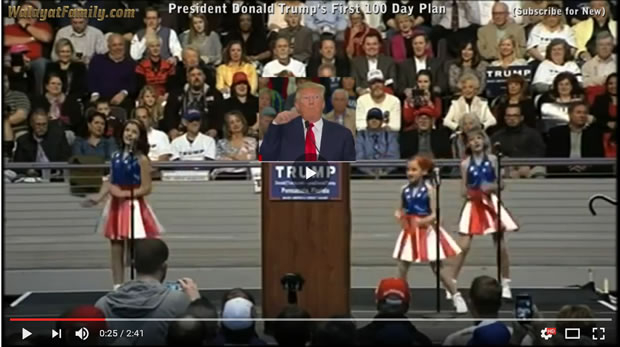 Stock Market 2017
See my recent video for a taste of what I expect the stock market to do during 2017 and what I am doing about it -
Ensure you are subscribed to my always free newsletter and youtube channel for forthcoming analysis and detailed trend forecasts aimed at capitalising on Trumps Coming War on China amongst other mega-trend drivers.
By Nadeem Walayat
Copyright © 2005-2016 Marketoracle.co.uk (Market Oracle Ltd). All rights reserved.
Nadeem Walayat has over 25 years experience of trading derivatives, portfolio management and analysing the financial markets, including one of few who both anticipated and Beat the 1987 Crash. Nadeem's forward looking analysis focuses on UK inflation, economy, interest rates and housing market. He is the author of five ebook's in the The Inflation Mega-Trend and Stocks Stealth Bull Market series that can be downloaded for Free.

Nadeem is the Editor of The Market Oracle, a FREE Daily Financial Markets Analysis & Forecasting online publication that presents in-depth analysis from over 1000 experienced analysts on a range of views of the probable direction of the financial markets, thus enabling our readers to arrive at an informed opinion on future market direction. http://www.marketoracle.co.uk
Disclaimer: The above is a matter of opinion provided for general information purposes only and is not intended as investment advice. Information and analysis above are derived from sources and utilising methods believed to be reliable, but we cannot accept responsibility for any trading losses you may incur as a result of this analysis. Individuals should consult with their personal financial advisors before engaging in any trading activities.
© 2005-2022 http://www.MarketOracle.co.uk - The Market Oracle is a FREE Daily Financial Markets Analysis & Forecasting online publication.
Comments
R.E.B
04 Jan 17, 20:26
Why Bother?


Wouldn't it be easier to just wait for the next election?



Nadeem_Walayat
04 Jan 17, 21:28
Intelligence


because the intelligence agencies arn't that intelligent.



4caster
09 Jan 17, 12:59
Freedom of expression


If you really think we are all in the iron grip of the CIA and GCHQ, and democracy is an illusion, how come you feel free to express these opinions? Are you not fearful for your own life? You would not be able to publish such opinions in China, Saudi Arabia, Iran or Russia!



4caster
09 Jan 17, 13:01
The President Elect's Make-up


What is a "Rouge President"? Does he wear lipstick and mascara too? Perhaps he is two-faced in more ways than one.



Nadeem_Walayat
10 Jan 17, 20:26
Limited Freedom of Speech


There is a limit to freedom of speech, If I stated everything I know about XXXX they would shut me down in an instant! If they can force the mighty guardian to physically destroy their hard drives then what do you think they could do with a lowly blogger!

For instance I first wrote of the banking crime syndicates fraud in Janaury 2007, and a bank threatened to sue me in the high court if I did not retract and refrain from republishing again, so I went silent on the subject until June 2007 and even then resisted stating what I wanted to state that they were a crime syndicate. It was not possible to write that a bank could go bust without getting sued! ONLY AFTER there was a run on Northern Rock could such posts be made.

There IS a REAL LIMIT TO FREEDOM OF SPEECH IN THE UK AND ITS GETTING WORSE!

I CANNOT PUBLISH EVERYTHING I WANT TO!

Publishing within bounds offers some protection, but not total!

NW




Only logged in users are allowed to post comments.
Register/ Log in