Asset Price Deflation Heralds Big Problems for Baby Boomers
Stock-Markets
/
Pensions & Retirement
Aug 06, 2008 - 02:33 PM GMT


Most of my readers and subscribers know that I have lived in Ajijic , Mexico for nine years. This is a 'village' of which several thousand foreigners call home. We are here are many reasons, hopefully #1 is the love of Mexico and the Mexican people, the climate (almost perfect year round) and what is, at least for now, a safe and welcome place for us foreigners. We have a great lifestyle and can live in a $100,000 home or a million dollar place, most of which is paid for with cash. Hang in there as I am getting to the point of this piece.


Real Estate agents here and others, most recently a professor living here part-time from the United States , believe that the baby boomers will soon be coming here in mass. They are playing off of the demographics basically in the United States and believe that many of them will be looking for and willing to live in a 'foreign country'. I must agree with them in part because of the large numbers of the boomers that will be retiring soon. The part of the argument the others are missing, in my opinion, is dollars. Will the boomers have the necessary dollars, to retire ? The strong possibility exists that the financial markets in the coming months and years will not cooperate with the boomers plans for retirement and they will thus not have the funds, either in a retirement check or in the retirement plans, IRA's or 401K's to venture, south of the border or anywhere else. Even some of the residents here now are finding the need to increase their incomes and many have ventured into the real estate and other businesses which are not always rewarding.
Many of the foreigners who have moved here have arrived way too early in life and are bored and find themselves under funded to live the lifestyle to which they are accustomed. Thus, they are seeking other business opportunities, i.e., real estate to fill their time in addition to a few more dollars.

So, with this introduction, I lead you into an article titled, Doscientos Mes . Some of you may have seen the title and just passed it over not understanding the words in Espanol. Ah, 200 Months in English. The writers at ContraryInvestor.com are talking about using 200 Month Moving Averages to see where we are today in the grand scheme of things. I encourage you to read this great piece in its entirety and share with you some of their closing comments.....

"...We know US credit cycle issues of the moment are incredibly important. We have called them generational in character in our discussions for literally years now. The advent of economic and financial market globalization is incredibly meaningful change. From a demographic standpoint, we have the baby boomers on the cusp of theoretical retirement at the exact time the ten year moving average of equity price only returns is as low as anything we have experienced in close to a generation. And we know the boomers are going to need to at least partially liquidate the financial assets they have accumulated along the way (inclusive of pension assets) to fund retirement lifestyles they believe they deserve. From our standpoint, we believe the multiplicity of issues converging at the moment are far from routine. They are far from cyclical. This is secular in terms of convergence. Again, we warned you this perhaps venture into the dark side would not be fun at all...."
While the financial markets are not yet at the point to declare this bear market a generational event we are getting close. The last time we had a generation event was in the 1973 – 1974 markets and guess what? The commodity markets were at this same time starting up in a major bull market as you can see from the two charts below.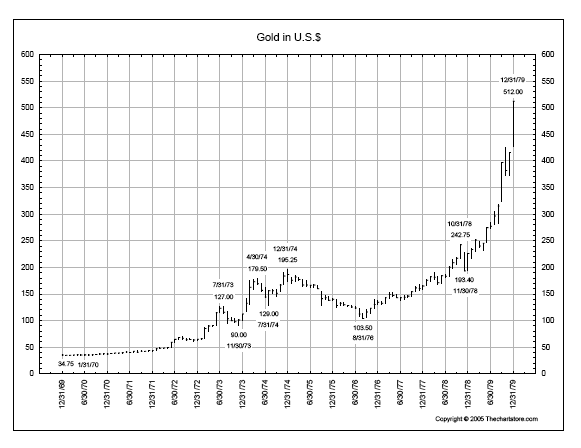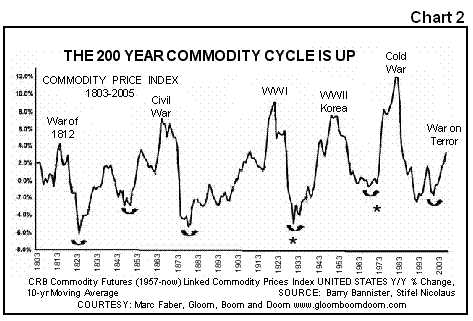 My closing comments are that the baby boomers should be looking for a different place to invest their dollars for retirement other than the traditional financial markets. What happens, if the financial markets experience a generational bear market just as millions of boomers are retiring? It may not be too late, if you act quickly .
The only place to be in our opinion is in gold, silver, mining shares (yes, they will come back) and long term warrants on selected mining shares.
For subscribers, we also provide a database for all companies with call options and leaps trading on the natural resource shares in addition to the warrants. A valuable tool for all investors.
For those readers desiring more information on warrants you may wish to visit www.PreciousMetalsWarrants.com where you will find much more information and education on warrants.
Dudley Pierce Baker
Guadalajara/Ajijic, México
Email: info@preciousmetalswarrants.com
Website: PreciousMetalsWarrants
Dudley Baker is the owner/editor of Precious Metals Warrants, a market data service which provides you with the details on all mining & energy companies with warrants trading on the U. S. and Canadian Exchanges. As new warrants are listed for trading we alert you via an e-mail blast. You are provided with links to the companies' websites, links to quotes and charts, tips for placing orders and much, much more. We do not make any specific recommendations in our service. We do the work for you and provide you with the knowledge, trading tips and the confidence in placing your orders.
Disclaimer/Disclosure Statement:PreciousMetalsWarrants.com is not an investment advisor and any reference to specific securities does not constitute a recommendation thereof. The opinions expressed herein are the express personal opinions of Dudley Baker. Neither the information, nor the opinions expressed should be construed as a solicitation to buy any securities mentioned in this Service. Examples given are only intended to make investors aware of the potential rewards of investing in Warrants. Investors are recommended to obtain the advice of a qualified investment advisor before entering into any transactions involving stocks or Warrants.
© 2005-2019 http://www.MarketOracle.co.uk - The Market Oracle is a FREE Daily Financial Markets Analysis & Forecasting online publication.

Only logged in users are allowed to post comments.
Register/ Log in